These soft and fluffy Cranberry Banana Muffins are so easy and perfect for breakfast! Full of real banana flavor, fresh cranberries, and a handful of chocolate chips, they're simply irresistible! A great muffin recipe to whip up during the busy holiday season!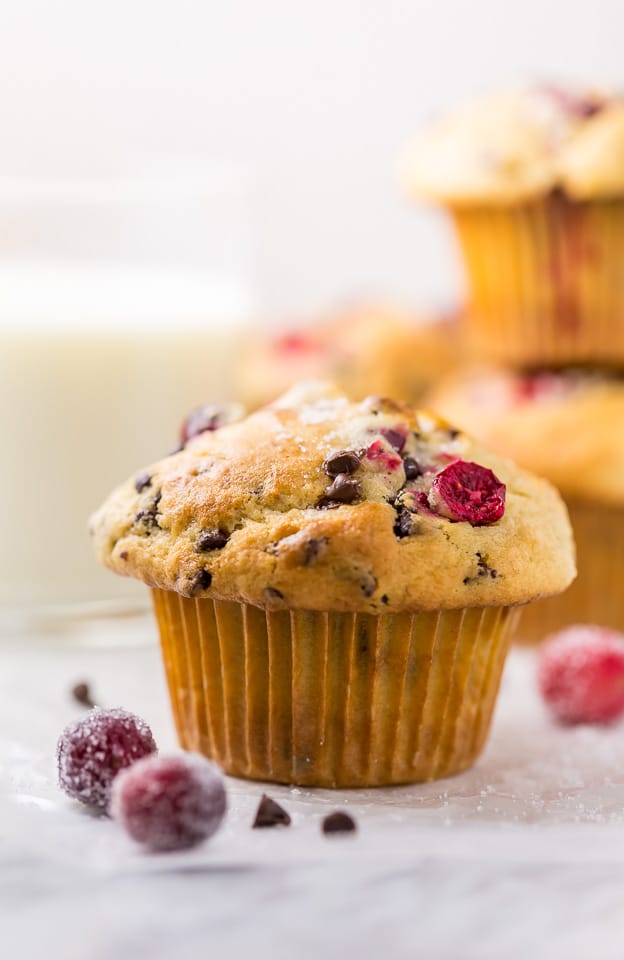 Cranberry Banana Muffin Recipe
Do you love cranberries? We're absolutely obsessed with them in our family! Especially around the holidays when fresh cranberries are so easily accessible. So when I found a bunch of half dead bananas in our fruit bowl, I decided to whip up a batch of cranberry banana muffins!
To be completely honest, I wasn't even planning on sharing this humble recipe. I was just making them as a snack for the family! But after one bite, that changed! Because these muffins are SO good. And hopefully a welcome change from all of the cookies and candy I usually share with you around this time of year. (That said… a new cookie recipe is coming tomorrow lolol).
These Cranberry Banana Muffins are:
moist and super fluffy
loaded with real banana flavor
bursting with fresh cranberries and chocolate chips
perfect for breakfast or an after school snack
a must bake this holiday season!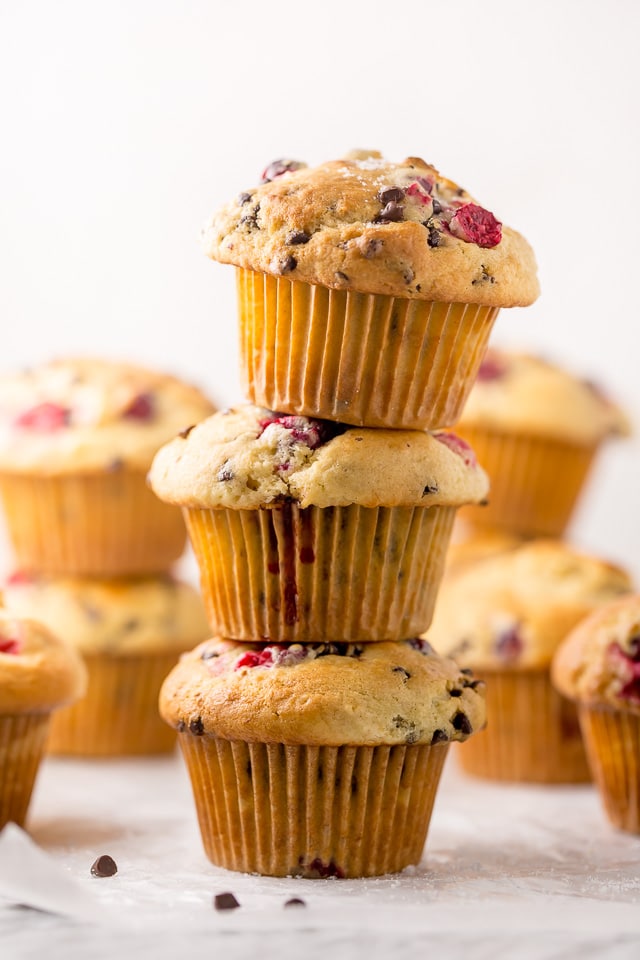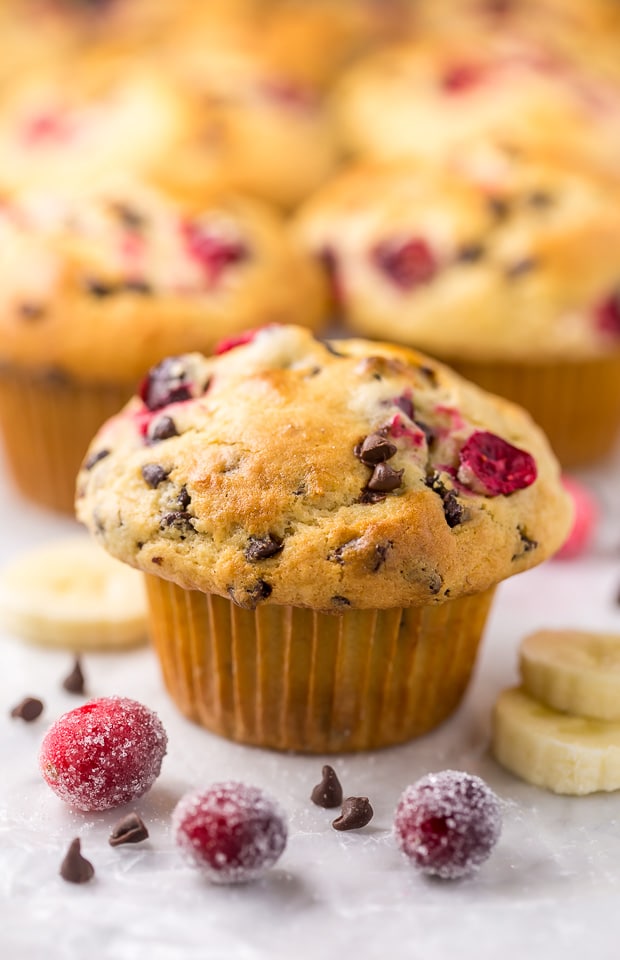 Tips and Tricks for Recipe Success:
Fresh cranberries can be found between late-September and December. You can also find fresh frozen cranberries in most grocery stores year-round! Frozen cranberries will work perfectly in this recipe, just don't thaw them before adding them to the batter.
These muffins are slightly tart thanks to the fresh cranberries, but not overwhelmingly so!
I have not tested this recipe with dried cranberries, so I cannot say how it will turn out if you make that change. That said, if you do use dried cranberries, I would suggest using 3/4 cup to 1 cup.
You'll want to use very ripe bananas for this recipe because they add moisture and sweetness! Unripe bananas will work… but the muffins will be less moist and sweet.
The chocolate chips in this recipe are totally optional! Feel free to increase the amount up to 1 cup, decrease the amount, or omit them all together. I used a mini variety of chocolate chips, but any variety will work. And you could even use chocolate chunks!
To flavor these muffins, you'll need vanilla extract and nutmeg. These ingredients can be easily omitted if you don't have them on hand, but they really take this recipe from "tastes like homemade muffins" to "holy yum, these taste like bakery-style muffins". So if you have them, use them!
This recipe yields exactly 1 dozen muffins! You'll divide the batter evenly among the muffin tins and bake for 18 minutes at 400 degrees (F). Be sure to allow the muffins to cool in the pan for at least 5 minutes before removing them.
In my opinion, these muffins are best eaten warm the day they're made, but they'll "keep" in an airtight container for 48 hours.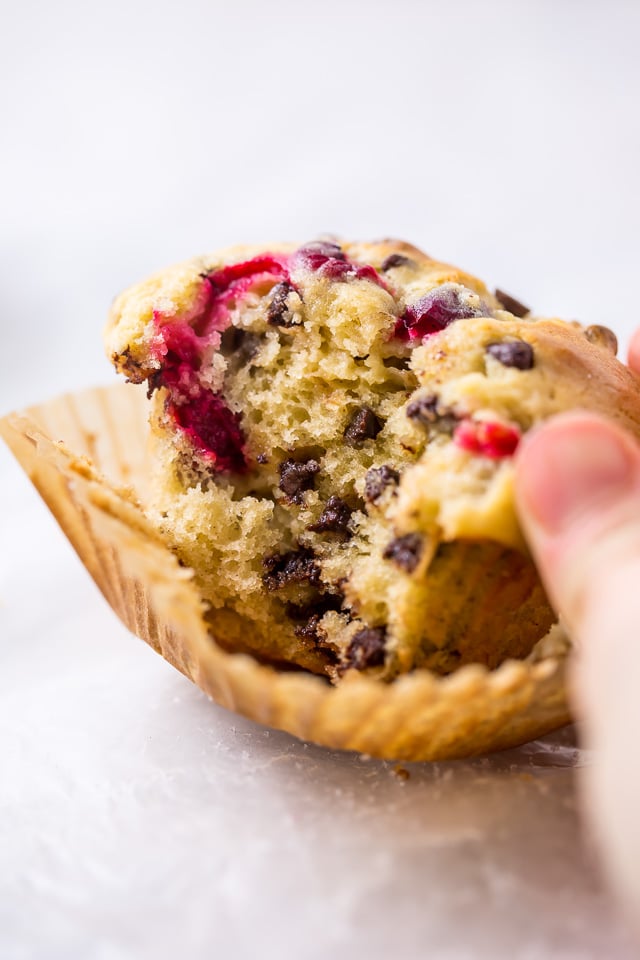 For more Muffin Recipes:
For more Cranberry Recipes: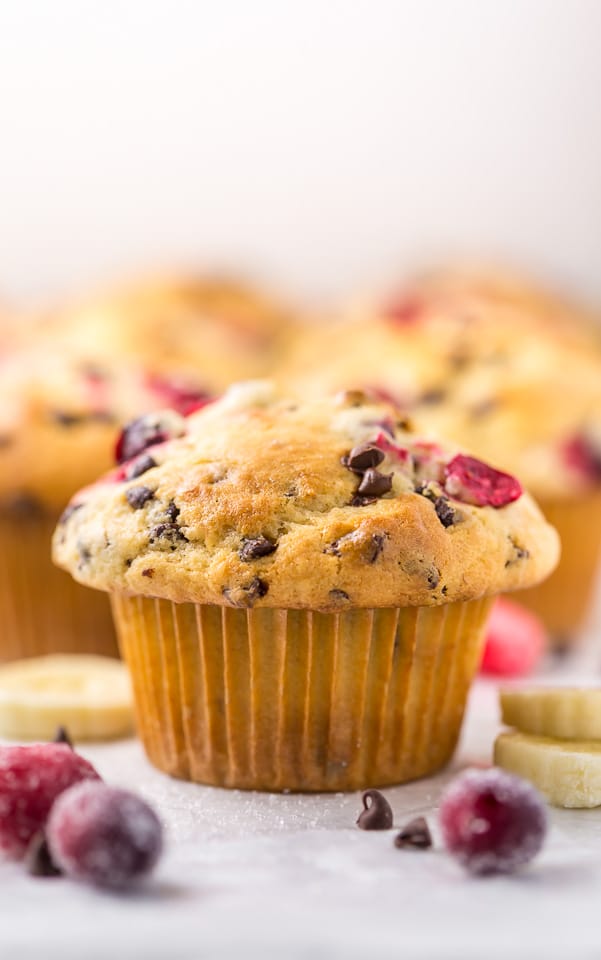 I hope you love these moist and fluffy cranberry studded banana muffins as much as we do! They're so good with a cup of coffee… especially when they're still warm from the oven.
If you try this recipe for Cranberry Banana Muffins, let me know! Leave a comment below and don't forget to snap a pic and tag it #bakerbynature  on instagram! Seeing your kitchen creations makes our day.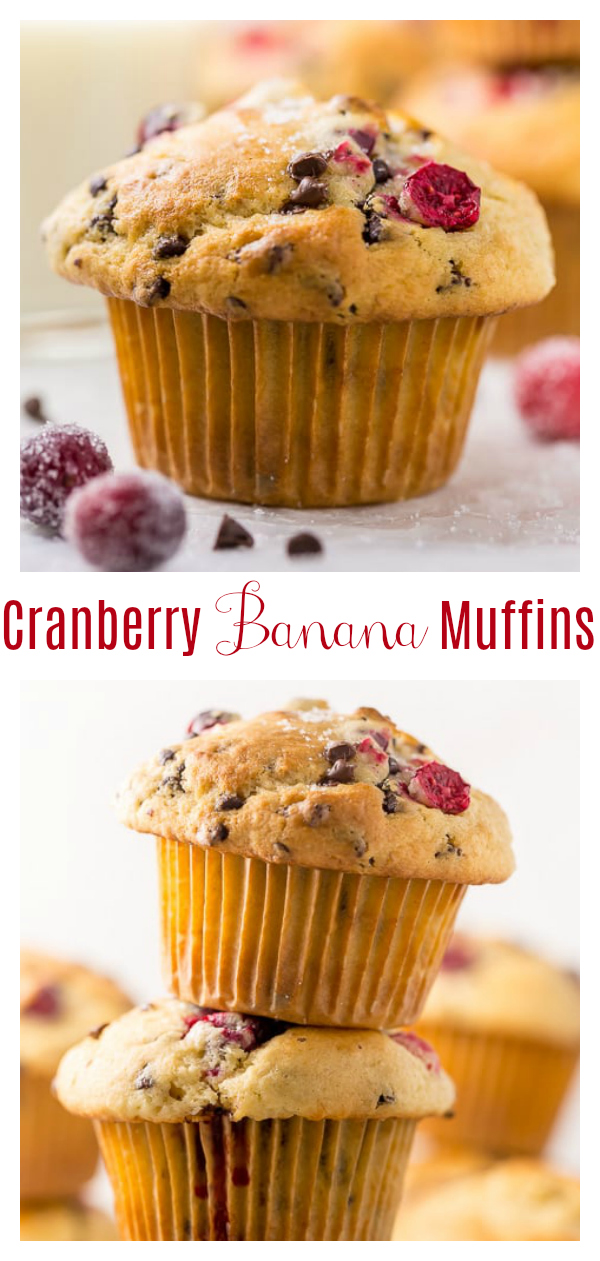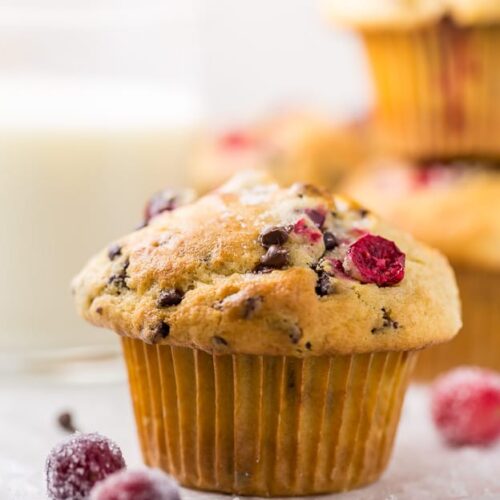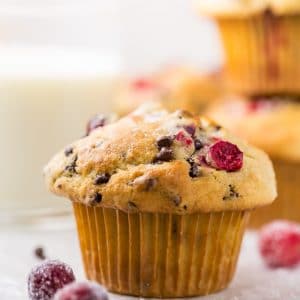 Cranberry Banana Muffins
These soft and fluffy Cranberry Banana Muffins are so easy and perfect for breakfast! Full of real banana flavor, fresh cranberries, and a handful of chocolate chips, they're simply irresistible!
Ingredients
2 cups all-purpose flour
3 teaspoons baking powder
1/2 teaspoon salt
1/4 teaspoon freshly grated nutmeg
8 tablespoons (4 ounces) unsalted butter, melted
2/3 cup light brown sugar, packed
1/2 cup granulated sugar
2 large eggs, at room temperature
2 teaspoons pure vanilla extract
1 cup full-fat sour cream
2/3 cup mashed ripe banana
1 cup fresh cranberries, roughly chopped
1/2 cup chocolate chips
Instructions
Preheat oven to 400 degrees (F). Line a 12 cup muffin tin with paper liners and it set aside.

In a large bowl, sift together the flour, baking powder, nutmeg, and salt; set aside.

In a separate large bowl, whisk together the butter, both sugars, eggs, vanilla extract, sour cream, and mashed bananas, mixing until ingredients are fully incorporated.

Add the dry mixture of ingredients to the wet mixture of ingredients and, using a rubber spat

Fold in the cranberries and chocolate chips, mixing just until combined.

Divide the batter evenly among prepared muffin tins, filling each tin all the way to the top. 

Bake for 16 to 18 minutes, or until the tops are puffed up and lightly golden brown, and a toothpick inserted in the middle comes out clean, or with a just a few moist crumbs attached. Cool muffins at least 5 minutes in the pan before transferring to a cooling rack.

Enjoy muffins warm, or store in a covered container for up to 2 days.