Summer is here! Let's gear up for this season with a quick, healthy, and absolutely delicious roasted red pepper sauce. If you love pasta as much as we do – this creamy sauce situation is sure to be a new best friend 🙂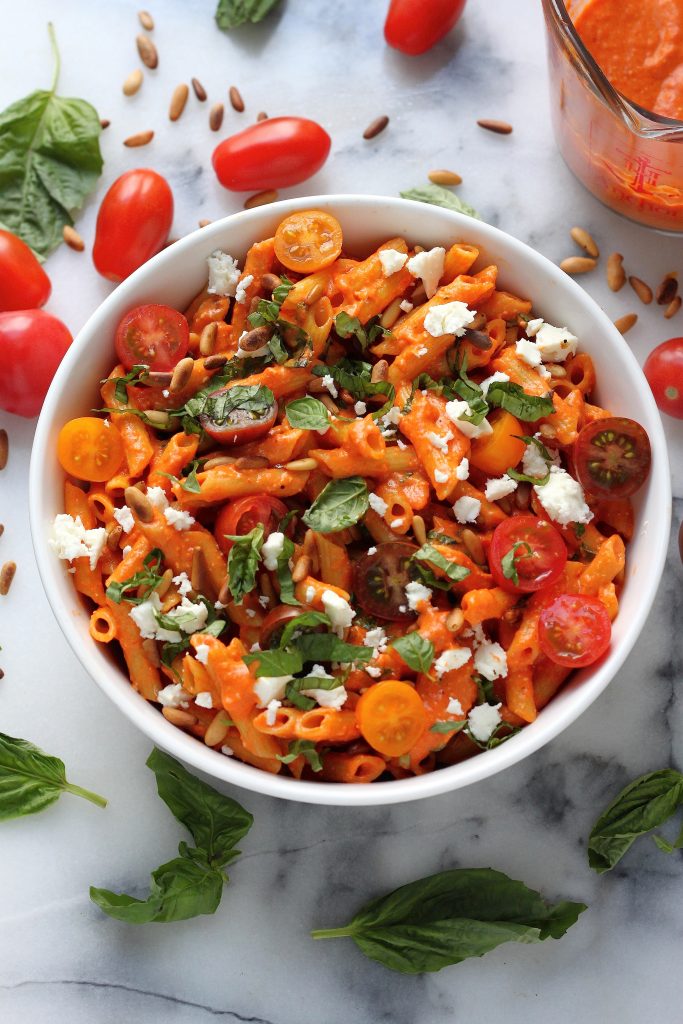 Aren't roasted peppers just the prettiest?! You can also roast these ahead of time, making this quick and simple sauce EVEN easier. Score!
Oh! I almost forget to tell you… I have a really delicious pasta recipe that goes with this sauce coming your way later today! xoxo
Creamy Roasted Red Pepper Sauce (Vegan, Paleo, Gluten-Free)
Ingredients
2 very large (or 3 smaller) red bell peppers, roasted
1/4 cup pine nuts, toasted
1 tablespoon olive oil
1 small red onion, diced
1/2 teaspoon crushed red pepper flakes
4 cloves garlic, minced
1/4 cup vegetable broth
1/2 cup unsweetened oat milk (I used Pacific brand)
1/4 cup fresh flat-leaf parsley, chopped
1/4 cup fresh basil, chopped
1 1/2 teaspoons salt
1 teaspoon ground black pepper
Instructions
To roast the peppers:
Preheat the oven to 500 degrees.

Place peppers on a heavy sheet pan and place in the oven for 40 - 45 minutes, or until the skins are very wrinkled and the peppers are charred. Turn peppers at half way point. Very carefully remove the pan from the oven, cover it tightly with aluminum foil, and set aside for 45 minutes. Don't rush this as the peppers will be very HOT!!!

Remove the stem from each pepper and gently tear them in half. Remove the peels and seeds and place the peppers along with any juices that have collected into the blender. Discard the stems, peels, and seeds.
To make the sauce:
In a blender or food processor, purée roasted red peppers and pine nuts; set aside.

Heat a large skillet over medium heat for 3-4 minutes, or until a drop of water places in the pan hisses ferociously. Add olive oil, onion and crushed red pepper; cook about 5 minutes, stirring occasionally, but allowing the onions to pick up some brown color from the pan. Stir in garlic, cook for 30 seconds, then add broth; cook for about 2 minutes, or until liquid has evaporated.

Stir in puréed red pepper mixture and oat milk, whisking until evenly combined. Simmer about 4 minutes, or until heated through, stirring constantly.

Remove from heat and stir in parsley, basil, salt and black pepper. Taste and adjust spices as needed.