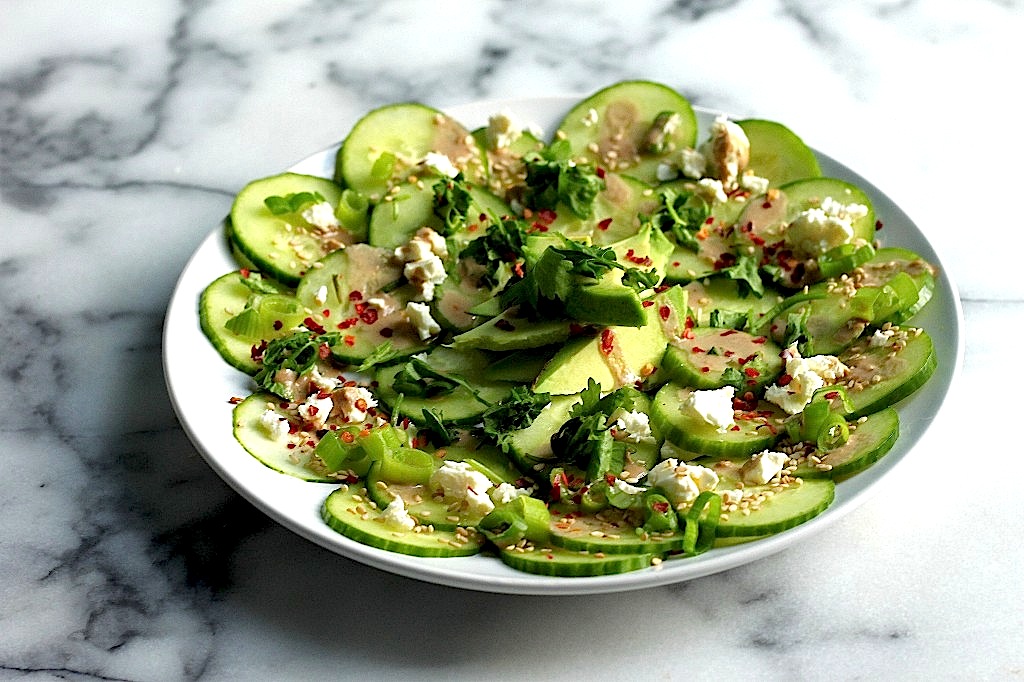 Whenever we eat out I always find myself drawn to carpaccio. If it's on the menu, I order it. It can be beef or tuna or anything really; I want it all! It's just such a great beginning bite before a big meal, and I love how light and dainty it tends to be.
Since I'm not brave enough to try and tackle a raw meat/fish version of this lovely dish, I kept things fresh and clean with a fun veggie version. Cucumbers and avocados are a dream team! And the slightly spicy/sweet soy ginger dressing is perfection!
Plus, it's pretty! Style and pizzazz are always a plus 😉
And really… what more could you want from a salad?
Cucumber & Avocado Carpaccio with Soy Ginger Dressing – Baker by Nature
Serves 4 – 6
Ingredients
For the Cucumber & Avocado Carpaccio:
1 english cucumber, cut into paper thin rounds
1 ripe avocado
1/4 cup cilantro, roughly chopped
2 tablespoons scallions, diced
1/4 cup feta cheese, crumbled
1 tablespoon sesame seeds
Instructions:
Arrange thinly sliced cucumbers on a large serving plate; top with sliced avocado, cilantro, scallions, feta, and sesame seeds. Lightly drizzle soy ginger dressing on top, and serve at once. Add a dash of crushed red pepper flakes if you love some heat!
For the Soy Ginger Dressing
2 cloves garlic, minced
1 teaspoon freshly grated ginger
1/4 cup soy sauce
2 tablespoons water
1 tablespoon honey
1/3 cup rice vinegar
1/3 cup olive oil
Instructions:
Pulse all of the ingredients in in a blender until smooth. Slowly add the olive oil, beating mixture with a whisk until completely emulsified.
*You will have more dressing than you need. It will keep for 3 days and tastes great on almost anything!