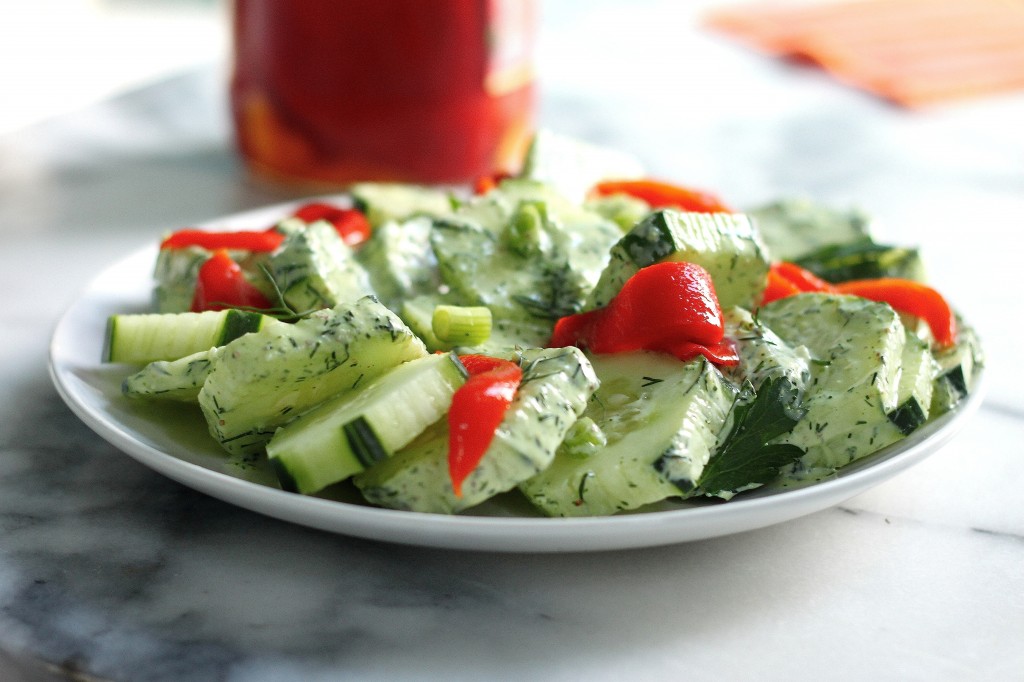 Hi friends!
Today we have a super simple cucumber salad that makes a great addition to any brunch table. I love it because it's pretty, cheap, and pairs wonderfully with salmon/eggs/toast/etc. But also because it's really flavorful, which you might not expect from cucumbers. I sometimes find them to be bland and blah! But the creamy dill dressing really makes them come alive 😉
I hope you guys are having a wonderful weekend! We're both sick with colds over here (BOO!), so it's a very lazy, chinese take-out kind of weekend. I'm also watching the first season of boardwalk empire, and really liking it. Any fans?
See you tomorrow! xo
Cucumber Salad with Creamy Dill Dressing – Baker by Nature
For the Cucumbers:
2 large english cucumbers, sliced into 1/4″ rounds
2 tablespoons lemon juice
1 tablespoon white wine vinegar
1 roasted red pepper, thinly sliced (optional, but I loved the color it added)
For the Creamy Dill Dressing:
1/2 – 1 teaspoon salt, depending on how salty you like things
(1) 7 oz container full-fat Greek yogurt (I used Fage)
1/4 cup fresh dill
2 tablespoons fresh parsley
1/4 cup olive oil
1/4 cup white wine vinegar
1/2 teaspoon salt
1 clove garlic, minced
Black pepper to taste
Instructions:
Wash cucumbers and dry well. Slice them into 1/4″ rounds and place them in a large bowl. Toss cucumbers with lemon juice, white wine vinegar, and salt. Set aside.
Place Greek yogurt, dill, parsley, olive oil, white wine vinegar, salt, garlic, and pepper in the body of a blender and pulse for 30-45 seconds, or until completely combined.
Arrange cucumbers on a large platter, and pour creamy dill dressing on top. Serve at once.