You could also call this "distraction from life in the form of peaches".
It's been one-of-those days.
Those days you wish watching the news didn't shake you with fear. Those days you're in bed way too long thinking up any reason legit enough to call out of life… and don't come up with one. Those days you look at your outbox from last night and wonder what exactly you were thinking when you clicked "send". Those days ripped jeans and old baseball tees suffice as getting dressed – you tell yourself you look retro-cute and try to believe it.
Can I be honest? These days happen to me a lot. I'm nervous, and anxious, and emotional. Way more than I should really even admit to. But it's the truth; It's who I am.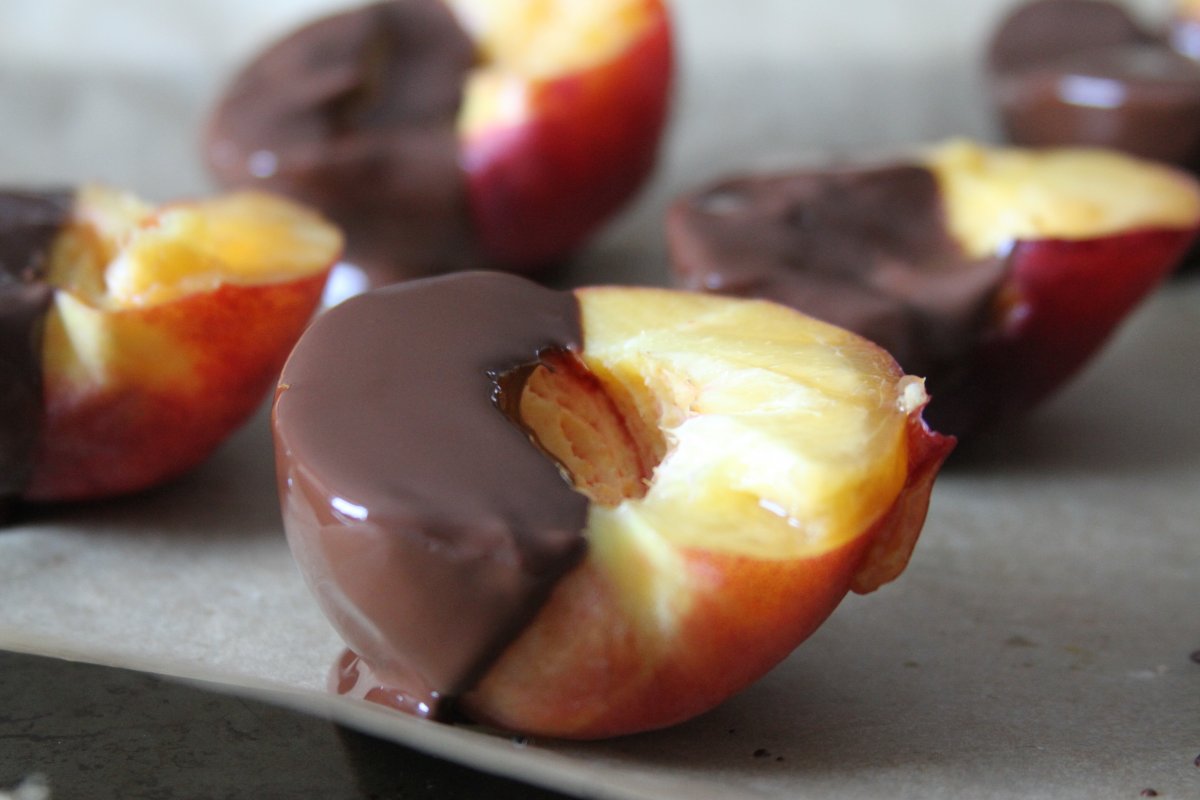 That being said, I've learned lots of little tricks to turn a day heading for disaster into something majorly sweet. A little dessert goes a long way. Dessert that feels fancy; dessert that defines ease. Let's talk about this!
Peaches! They're stunning right now – grab some. Slice them up, dip them in coconut oil infused dark chocolate, and sprinkle some chopped cashews all over. That would be good enough, right? But do I ever stop at good enough?
Nope! Curry and honey get swirled into creamy mascarpone cheese to make an exotic finishing touch to this fast summer dessert.
I hope you enjoy every second of life this weekend. And I love you. Really.
Dark Chocolate Coconut Dipped Peaches with Curry-Honey Mascarpone Filling – Baker by Nature
Serves 6-12 depending
6 peaches, cut in half and pitted
1 cup dark chocolate chips, melted
1 tablespoon coconut oil (optional)
1/4 cup cashews, finely chopped
8 oz mascarpone cheese, at room temperature
2 tablespoons honey
2 teaspoons curry powder
Instructions:
Slice clean peaches in half, pit, and lay them on a parchment- paper lined sheet pan, set aside. In a double boiler, or in the microwave, melt chocolate chips, and mix with coconut oil until completely smooth. Dip one half of each peach in the melted chocolate and then sprinkle with chopped nuts. Place the sheet pan with peaches in the refrigerator to cool while you make your filling.
Place mascarpone cheese, curry powder, and honey in a medium bowl and beat till smooth. Once the chocolate has hardened on the peaches, scoop the filling into the middle of each one (about a tablespoon or so each), and serve.