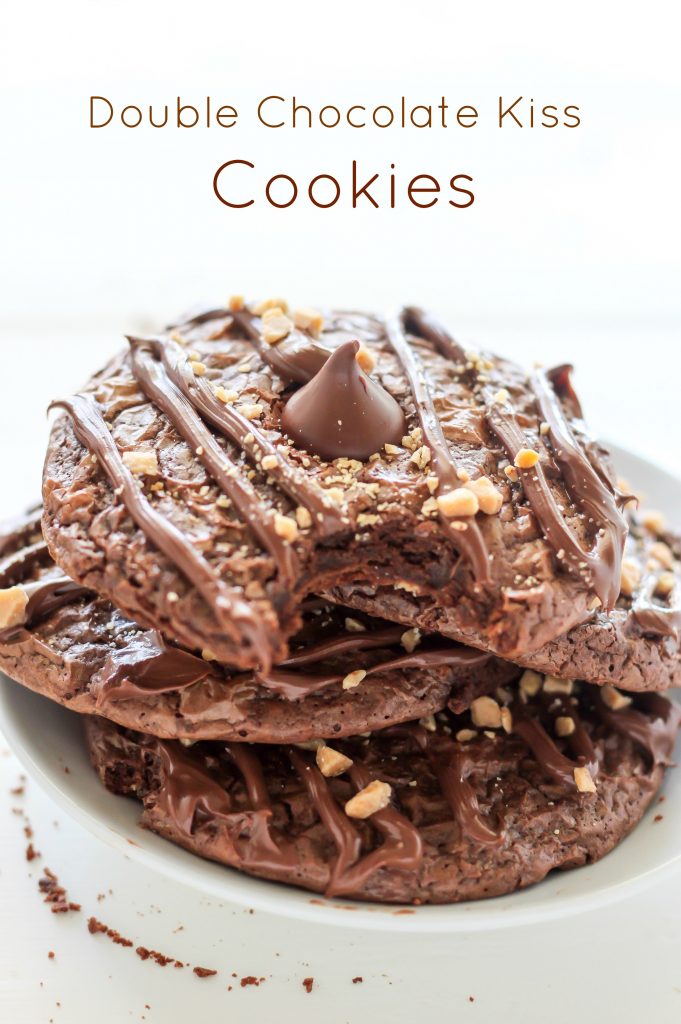 Thick and Chewy Double Chocolate Cookies are topped with a chocolate drizzle, toffee bits, and a chocolate kiss! A chocolate lovers dream.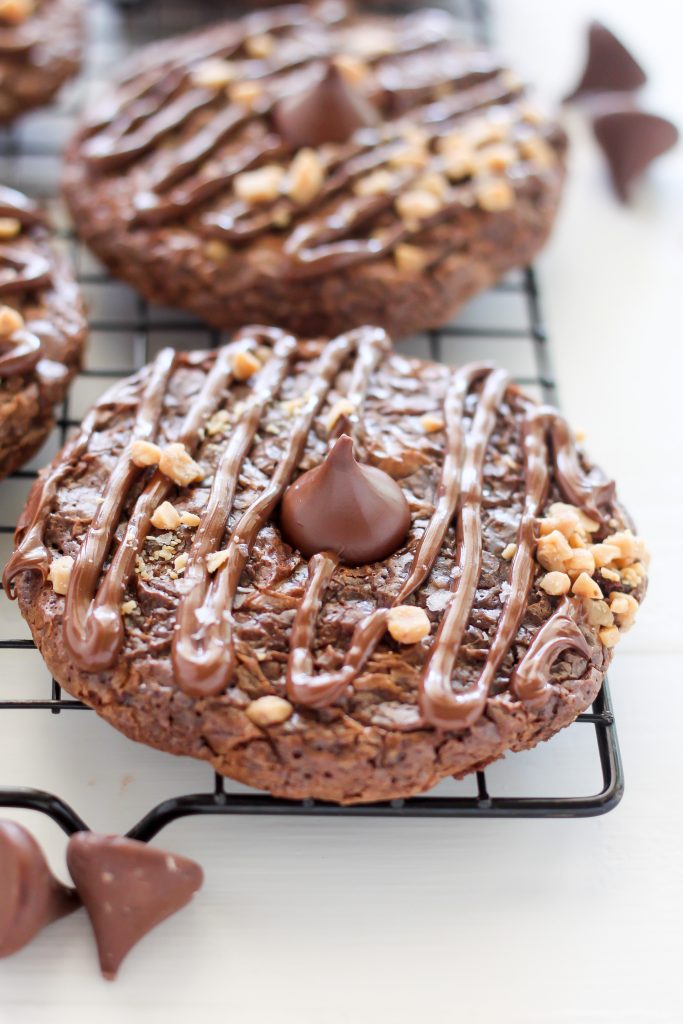 Happy Monday my friends! I hope you all had a wonderful weekend. It was warm and sunny here, and we had friends visiting from Brooklyn, so it was a great one for us. We ate all of our meals outside – which is my favorite way to dine, drank plenty of cocktails in the sunshine, and even squeezed in a tour of the FDR home. It was so much fun! Today however, it's back to real life. A house to clean. A job to do. Friends to miss. Also, it's cold and rainy. Safe to say: I've got a case of the Mondays. I'm consoling myself with cookies. Naturally.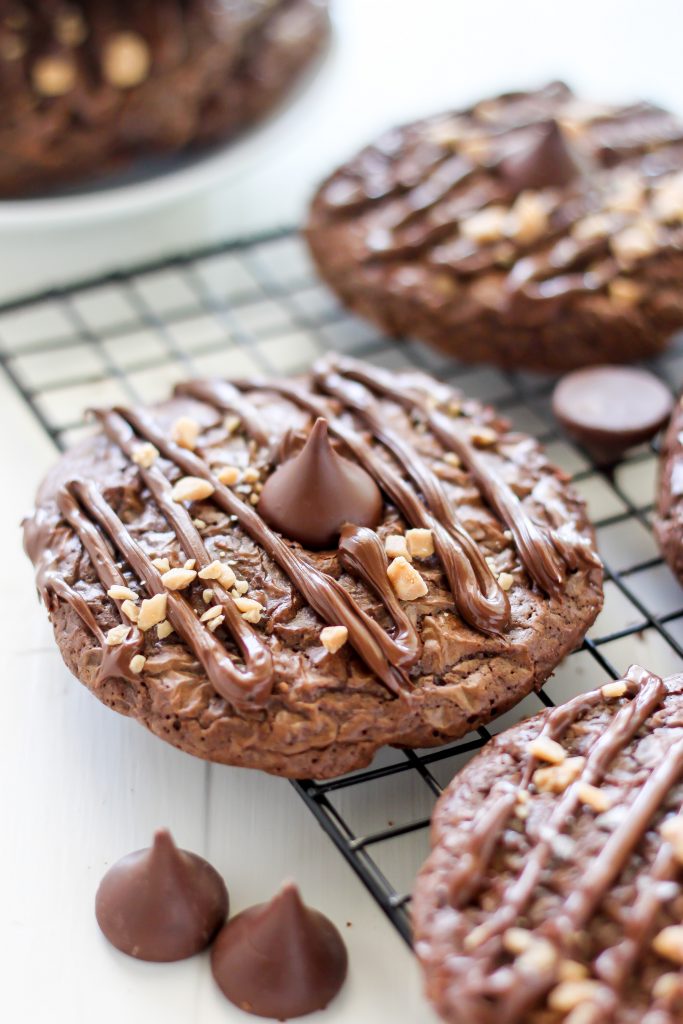 And that leads us to today's recipe! Today's recipe is one I'm quite excited about. Thick and chewy soft batch cookies, loaded with chocolate and toffee, and SO easy to make. So easy, in fact, I've made EIGHT batches in the past two months.
I know I know… and I'm just getting around to sharing the recipe now. Shame on me 😉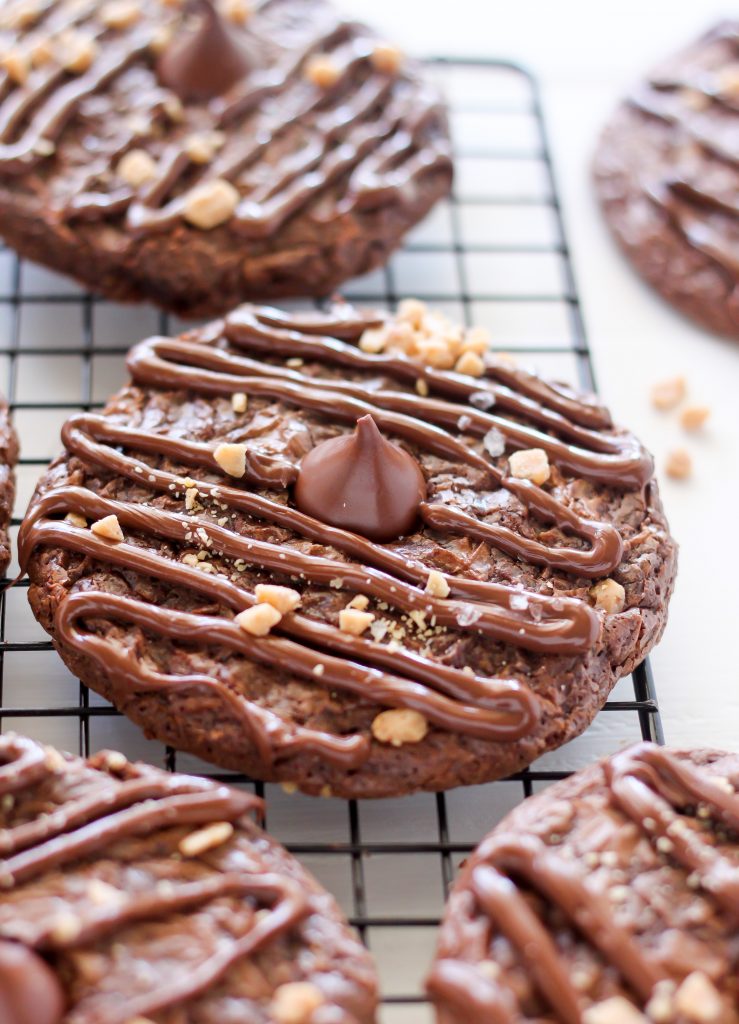 These cookies are baked at a lower temperature so that the exteriors bake up shiny and firm while the interiors stays niiiice and gooey. They kind of remind me of brownie cookies… But even better! <— A chocolate kiss and toffee bits have something to do with that.

When you pull the cookies from the oven, you'll press a chocolate kiss in the center of each warm cookie. Then the hard part comes – you must let the cookies cool completely before fancying them up with a chocolate drizzle. I also like to decorate the wet chocolate drizzle with an extra pop of toffee. Once you've decorated the cookies, let the chocolate set. You can do this by simply leaving the pan of cookies at room temperature for 10 minutes, or if you'd like to speed this step up, pop the pan in the fridge for 5 minutes. And that's it!
Time to eat them all 🙂
P.S. If you don't mind getting your hands a little messy, you can skip the step where you set the chocolate. Totally up to you!

Sweet, rich, and so decadent – these cookies will hit your chocolate loving sweet spot every time and are the perfect way to treat yourself. Now, go treat yourself to a batch and enjoy 🙂 xoxo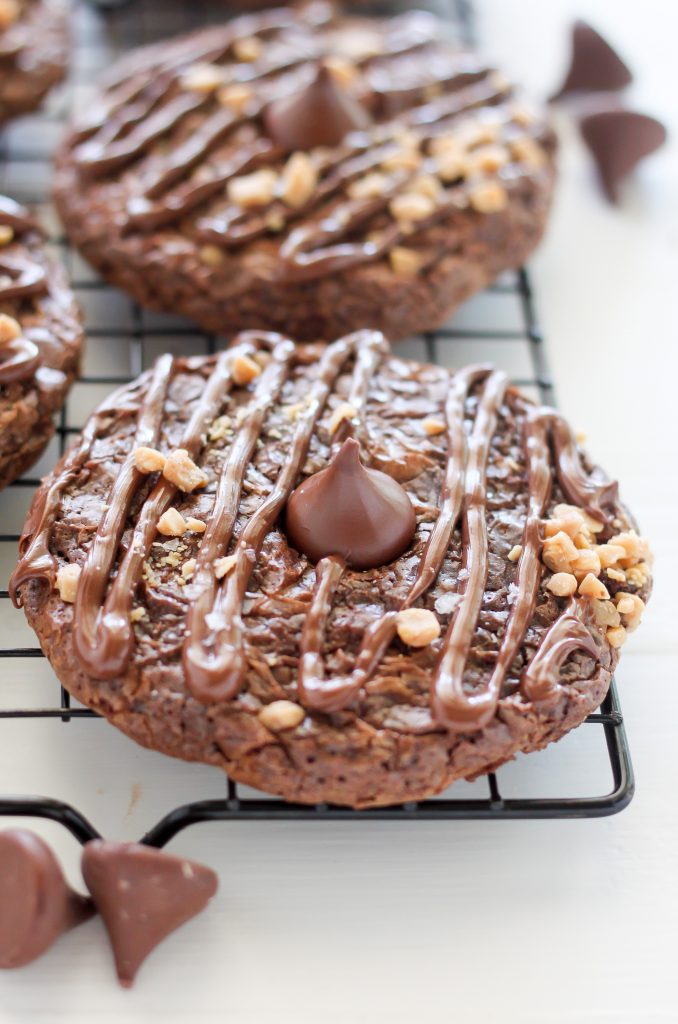 Double Chocolate Kiss Cookies
Ingredients
For the double chocolate cookies:
1 cup semi-sweet chocolate chips
2 tablespoons unsalted butter
1 cup + 3 tablespoons all-purpose flour
3 tablespoons unsweetened cocoa powder
1 teaspoon baking powder
1/2 teaspoon salt
1/2 cup granulated sugar
1/4 cup + 2 tablespoons packed light brown sugar
2 large eggs, at room temperature
2 tablespoons whole milk
2 teaspoons vanilla extract
1 cup baking toffee bits
For the chocolate drizzle and decoration:
1 cup semi-sweet chocolate, chopped
1 tablespoon coconut or canola oil
12 chocolate kiss candies, unwrapped
1/4 cup chopped toffee, for decorating, optional
Instructions
For the double chocolate cookies:
Preheat oven to 300 degrees (F). Line two large baking sheets with parchment paper, lightly spray them with non-stick spray, and set aside.

Place the semi-sweet chocolate chips and butter in a small, microwave safe bowl. Heat them in the microwave for for 15 second increments of time, mixing in between each, until butter and chocolate are completely melted and can easily be whisked smooth. Set aside. *You may also do this process on the stove top if you don't own a microwave.

In a medium-sized bowl whisk together the flour, cocoa powder, baking powder, and salt: set aside. In a separate medium-sized bowl whisk together the sugars, eggs, milk, and vanilla.

Add the dry ingredients into the wet ingredients, and stir to combine - be sure not to over mix here!

Fold in the chocolate/ butter mixture and the toffee bits into the batter, stirring until everything is just combined.

Using a lightly greased measuring cup, scoop 1/4 cupfuls of the batter on the prepared baking sheets. Baking one pan at a time, place the cookie sheet in the oven and bake for 18-20 minutes, or until the tops of the cookies are set and glossy. Press a chocolate kiss into the top of each warm cookie and set aside to cool completely. Once cool, drizzle with the chocolate glaze and decorate with chopped toffee if desired. Let the chocolate drizzle set before serving (about 10 minutes at room temperature; 5 minutes in the fridge). Repeat with second batch of cookies.
For the chocolate glaze:
Combine the chocolate and oil in a small microwave safe bowl. Heat them in the microwave for 15 second increments of time, mixing in between each, until oil and chocolate are completely melted and can easily be whisked smooth. Drizzle on cooled cookies, then decorate with toffee, if desired.