Dulce De Leche Chocolate Cupcakes! This SUPER decadent recipe is sure to become a new favorite.
Chocolate Dulce De Leche Filled Cupcake Recipe
I'm beyond excited for today's post, so I won't waste any time getting right to it! Today we're making Chocolate Cupcakes STUFFED with dulce de leche!!!
This cupcake recipe should be pretty to familiar to you by now. It's a little riff off of my Greek Yogurt Chocolate Fudge Cupcakes, which are a riff off of my Super Decadent Chocolate Cupcakes. Little changes, but basically, the same base recipe. What can I say…? When you find a good – no no, GREAT – chocolate cupcake recipe, you're set for life!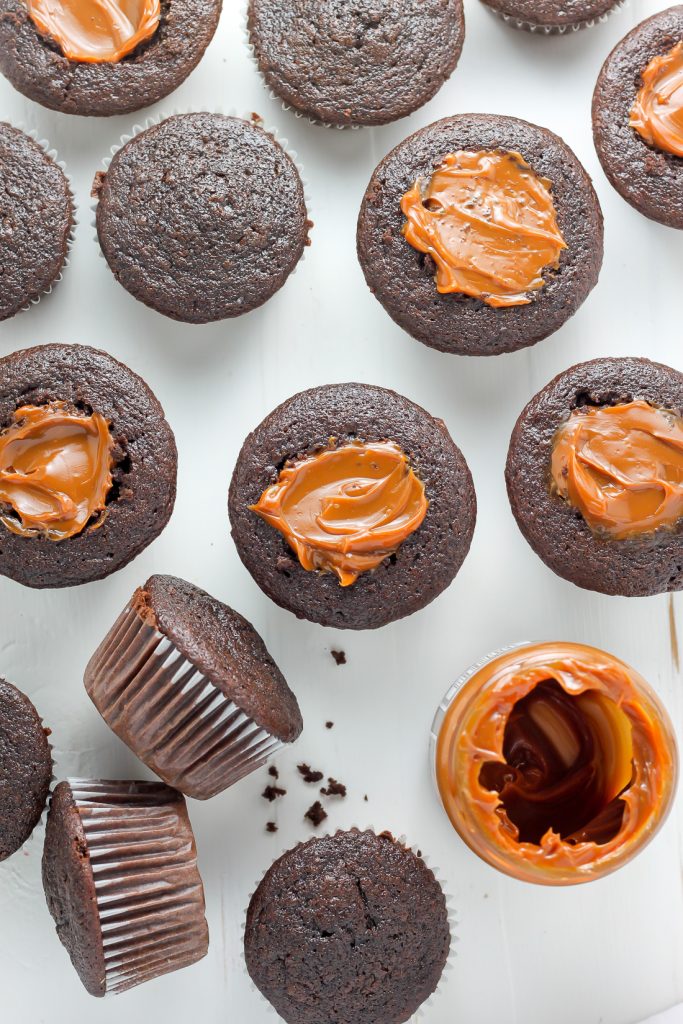 These rich, fudgy, ultra decadent cupcakes are stuffed with dulce de leche! Mmm.
Let the record show Dulce de leche stuffed Chocolate Cupcakes are LIFE CHANGING! AMAZING! EPIC!
If you're wondering what in the heck dulce de leche is… I'm here to help! Simply put, dulce de leche is a confection that's created by slowly heating sweetened milk until it changes texture and color and turns into a most delicious sauce. When it's literally translated it means something along the lines of "candy made of milk". It's thick, creamy, and irresistible! I buy a few jars from Trader Joe's (not an ad; just the truth!) whenever we get there to shop, but you can also make your own if you're feeling really ambitious.
I suspect right about now you're wondering about the frosting… am I right?
Let's get into it! The chocolate dulce de leche buttercream is thick, incredible creamy, and full of flavor.
A few tips to getting the perfect buttercream taste and texture:
Sift the confectioners' sugar and cocoa powder before adding it to the butter. This is an important step because confectioners' sugar and cocoa powder are lumpy by nature, and nobody wants to find lumps and bumps in their frosting.
Be sure your butter is VERY soft before getting started on the frosting. It should be softer than room temperature, but not melted. I like to place my stick of butter out on the counter for an hour in the cooler months, and for about 35 minutes in the warmer months.
Once all of your ingredients have been added to the frosting, whip it on medium-high speed for AT LEAST two minutes. This step is what really gives the frosting its light and airy texture. I like to set a little timer just to be sure I give it a full two minutes.
And if you plan on piping BIG, tall, skyscraper swirls (like I did for my photos), double the frosting recipe below. That said, the recipe noted in the box will make enough for 12 modestly frosted cupcakes 😉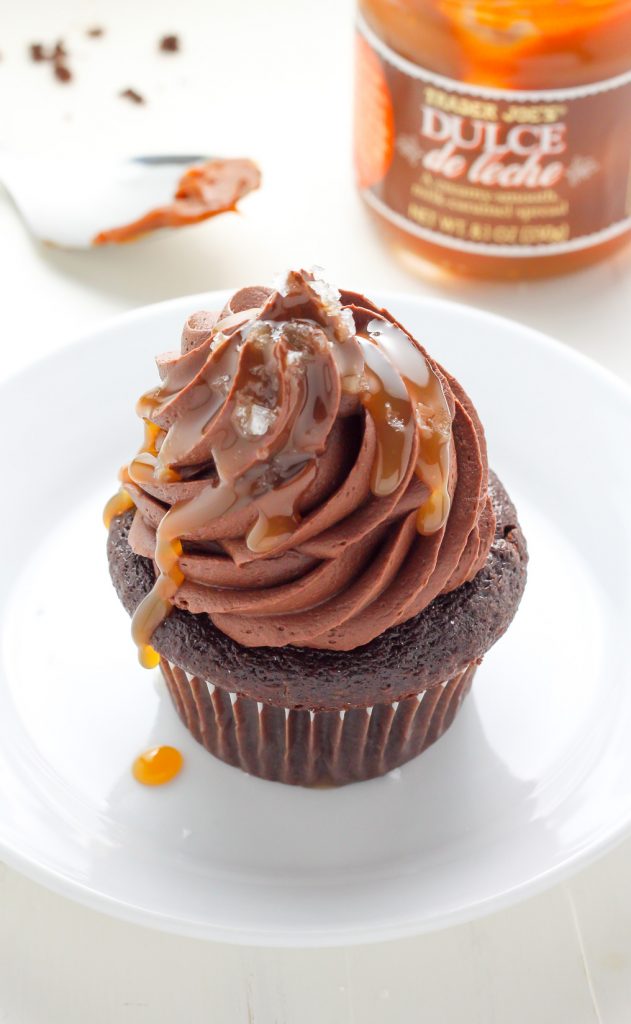 Happy cupcake making to you, my friend! See you soon with a stuffed SAVORY treat.
If you have any questions or comments, just leave them in the form below – I read each and every one and do my best to respond in 24 hours 🙂 LOVE YOU GUYS!
More Cupcake Recipes: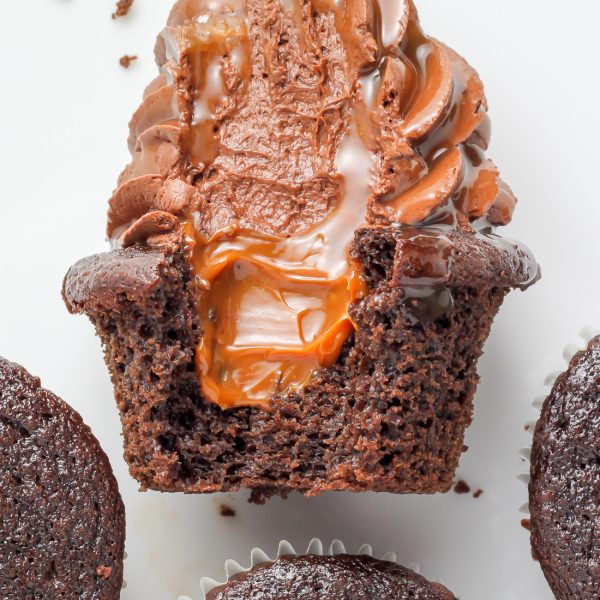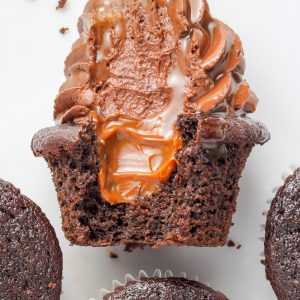 Dulce De Leche Chocolate Cupcakes
Chocolate Cupcakes stuffed with creamy Dulce De Leche! These are incredible.
Ingredients
2 tablespoons canola oil
1 stick unsalted butter, melted and slightly cooled
1/2 cup semi-sweet chocolate chips
1/2 cup granulated sugar
1/2 cup light brown sugar
2 large eggs + 1 large egg yolk, at room temperature
1/2 teaspoon vanilla
3/4 cup + 3 tablespoons all-purpose flour, not packed
1/2 teaspoon baking soda
1 teaspoon baking powder
1/2 cup unsweetened cocoa powder
3/4 teaspoon salt
1/2 cup full fat sour cream
1/2 cup boiling water
1/2 cup dulce de leche
For the Dulce De Leche Chocolate Buttercream:
1 stick unsalted butter, VERY soft
3 cups confectioners sugar, sifted
3/4 cup unsweetened cocoa powder, sifted
3 tablespoons half and half, more if needed (one tablespoon at a time)
1 heaping tablespoon dulce de leche
1/2 teaspoon salt
Toppings:
Dulce de leche, for drizzling, optional
Flaky Sea Salt, optional
Instructions
For the cupcakes:
Preheat the oven to 350 degrees (F). Line a 12-cup cupcake/muffin tin with cupcake liners and lightly spray the liners with non-stick spray (optional, but it does help them peel right off).

Melt the oil, butter,and chocolate together in the microwave, heating in 30 second increments, and stirring between increments each time. You may also melt the oil, butter, and chocolate over very low heat on the stovetop, but I find the microwave option to be much easier. Whisk mixture until completely smooth; set aside to cool.

In a medium sized bowl combine the flour, baking soda, baking powder, cocoa powder, and salt; stir together until thoroughly combined; set aside.

In a large bowl, whisk together the eggs, yolk, sugars, and vanilla; beat until smooth. Add the cooled oil/butter/chocolate mixture and whisk until smooth. Add half of the flour mixture, then half of the sour cream. Repeat the process until everything is added, and be sure to mix until JUST combined - then quickly stir in the hot water. It's important not to over mix, here! Just stir until evenly combined.

Divide the batter among the 12 liners in your prepared pan. Bake for 16-18 minutes, or until a toothpick inserted in the center comes out clean. Cool *completely before filling with dulce de leche and topping with frosting.

Once cooled, use a small sharp knife to carve out a small hole on the top of each cupcake. The size and depth of this hole is up to you, but I recommend not carving too wide or deep, since this may cause your cupcake to fall apart when bitten into. Fill each hole with 1-2 teaspoons of dulce de leche.
For the Dulce De Leche Chocolate Buttercream:
Sift together the confectioners sugar and cocoa powder, whisking well to ensure it's bump and lump free!

Using a handheld mixer OR a stand mixer fitted with the paddle attachment, beat the butter on medium-high speed until creamy; about 2 minutes. Reduce speed to low and slowly add the sifted sugar/cocoa powder, alternating with the half and half; add in the dulce de leche and salt. Once all of the ingredients have been added, beat on medium-high speed until light and creamy and combined; at least 2 minutes. Add more cream to the frosting if it seems too thick; add a touch more sugar to the frosting if it seems too thin.

Frost cooled, filled cupcakes and top with more dulce de leche and flaky sea salt, if desired.

Cupcakes can be kept in the fridge in an airtight container for up to 4 days; bring to room, temperature before serving.
Notes
Dulce de leche can be found at many grocery stores as well as specialty food shops. I recommend using one you know and enjoy - just be sure it's stirred well before using; you want it smooth and creamy!