Eggnog Frosted Gingerbread Cookies are a true taste of Christmas! Soft but chewy, loaded with festive spices, and covered in a soft eggnog glaze! Sure to become a family favorite!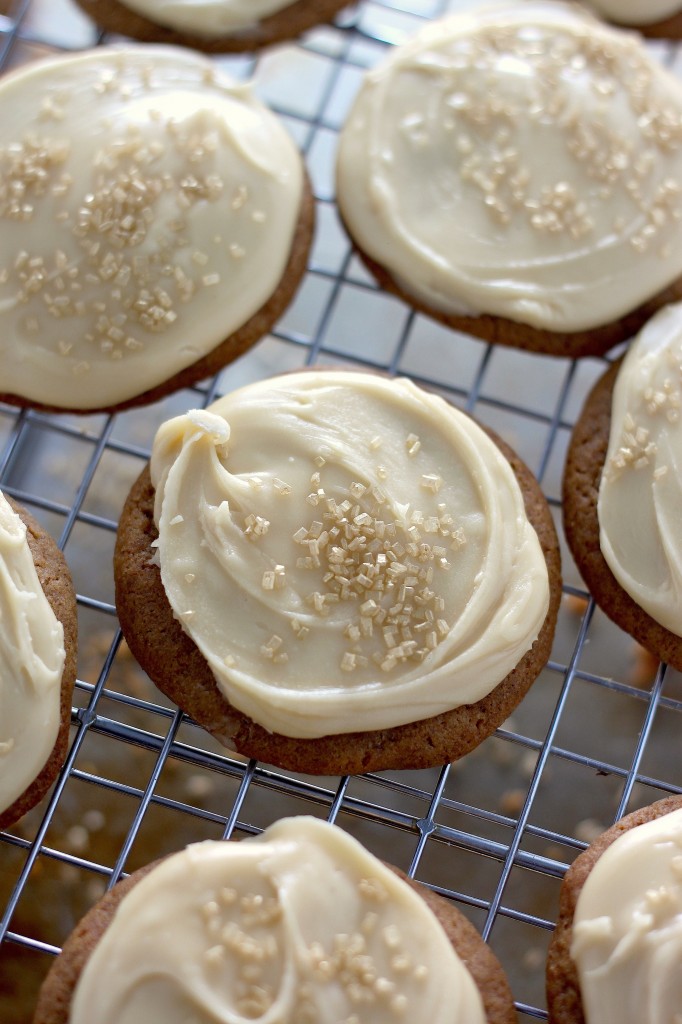 Eggnog Gingerbread Cookies 
YOU GUYS.
We're officially in the heart of cookie season! We've got like… what, 20 days till xmas?! And there are so many things to be baked! I have a ton of top notch cookie recipes heading your way this month (and pies and brownies and appetizers, too!), but today I want to focus all of our love, hunger, and attention on these epic little eggnog frosted gingerbread cookies!!!
Aren't they just so pretty?! And cute?! And yummy looking?!
I had to make this recipe quite a few times to get it just right, but boy am I glad I did! These cookies are truly perfect. The gingerbread cookie base is heavily spiced (but not overbearing), crisp at the edges, and wonderfully soft in the center. The eggnog frosting has a rich, deep, sugary sweet eggnog flavor that just screams IT'S THE HOLIDAY SEASON.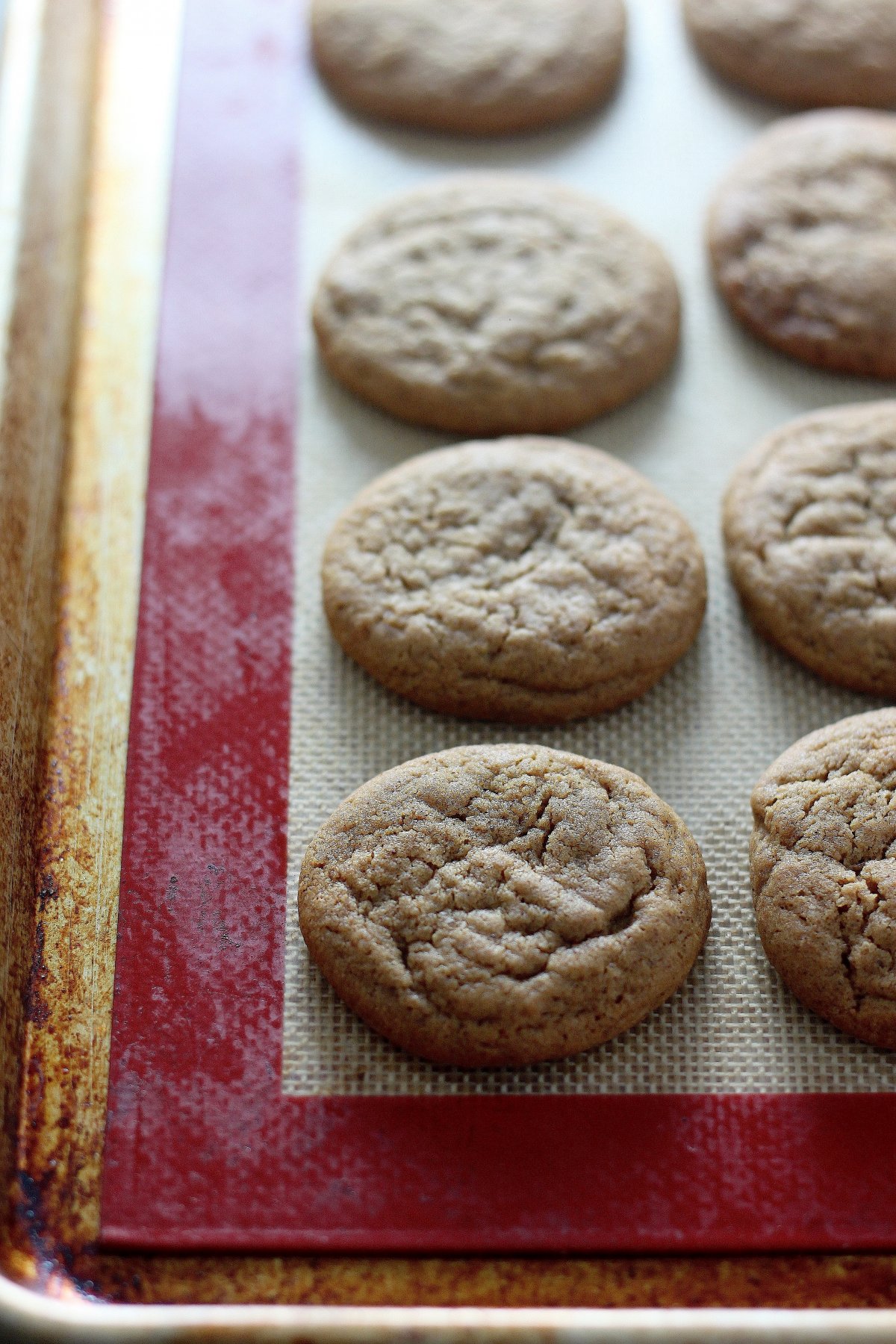 Add some sparkly gold sprinkles just cause they're purdy!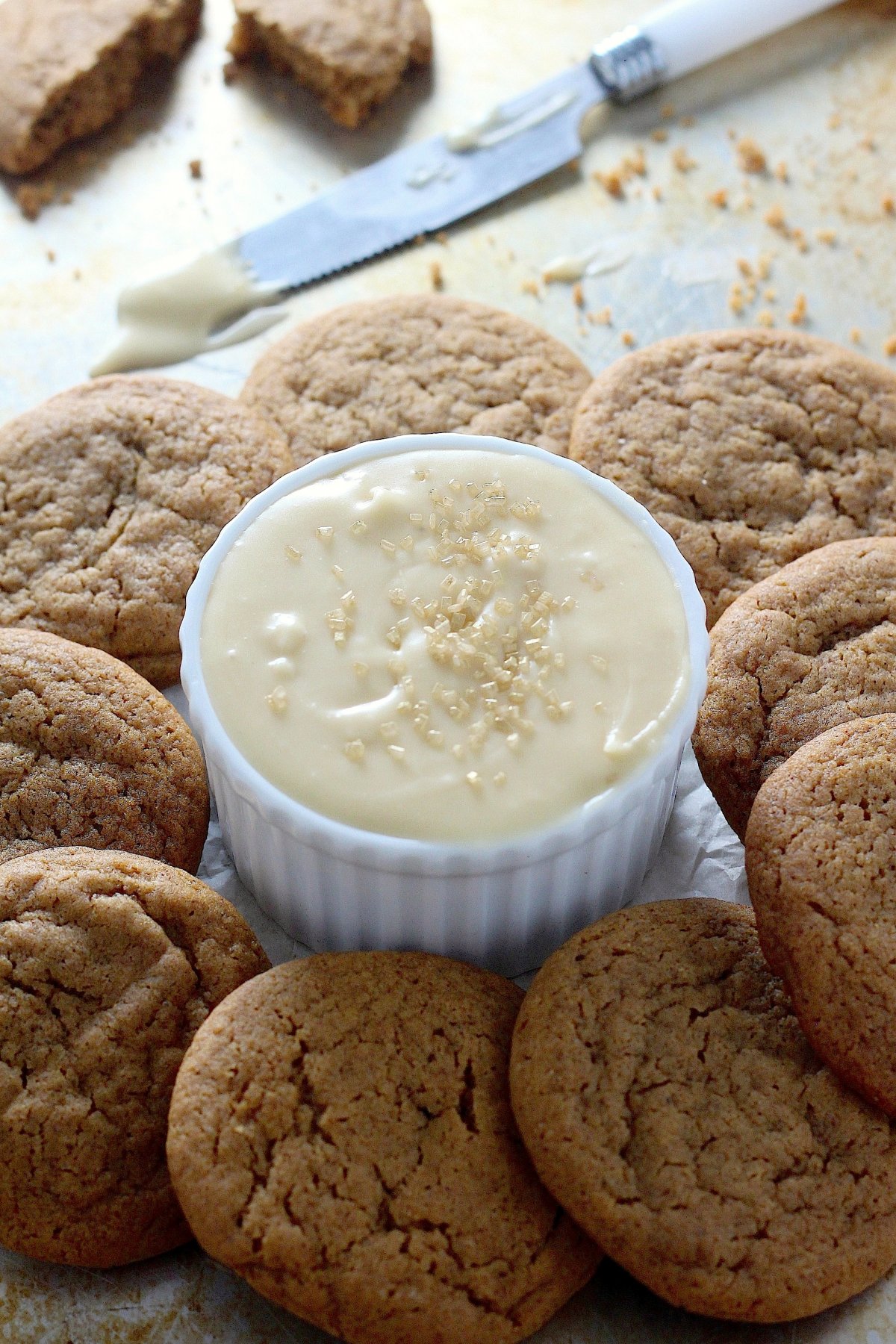 A few quick notes on the frosting:
1) This frosting is a bit more involved than a typical buttercream. You'll melt the butter, eggnog, and brown sugar in small saucepan, let it boil for two minutes, then remove it from the heat and let it cool down for a few minutes before adding the powdered sugar. It's really simple – BUT, you should stay present for the whole process as it moves quickly and the eggnog mixture can burn like that.
2) You will need a few tablespoons of cream close by while you ice the cookies. The frosting stiffens up as it sits (I recommend frosting the cookies *right after the frosting has been made), but you can add a tiny bit of cream to it, stir well, and it will smooth back up.
3) The frosting will harden once cooled (not rock hard, but solid enough that you could travel with them and the frosting will stay put), so feel free to make these ahead of time if you plan on packing them up for a party/ care package/ cookie exchange/ etc.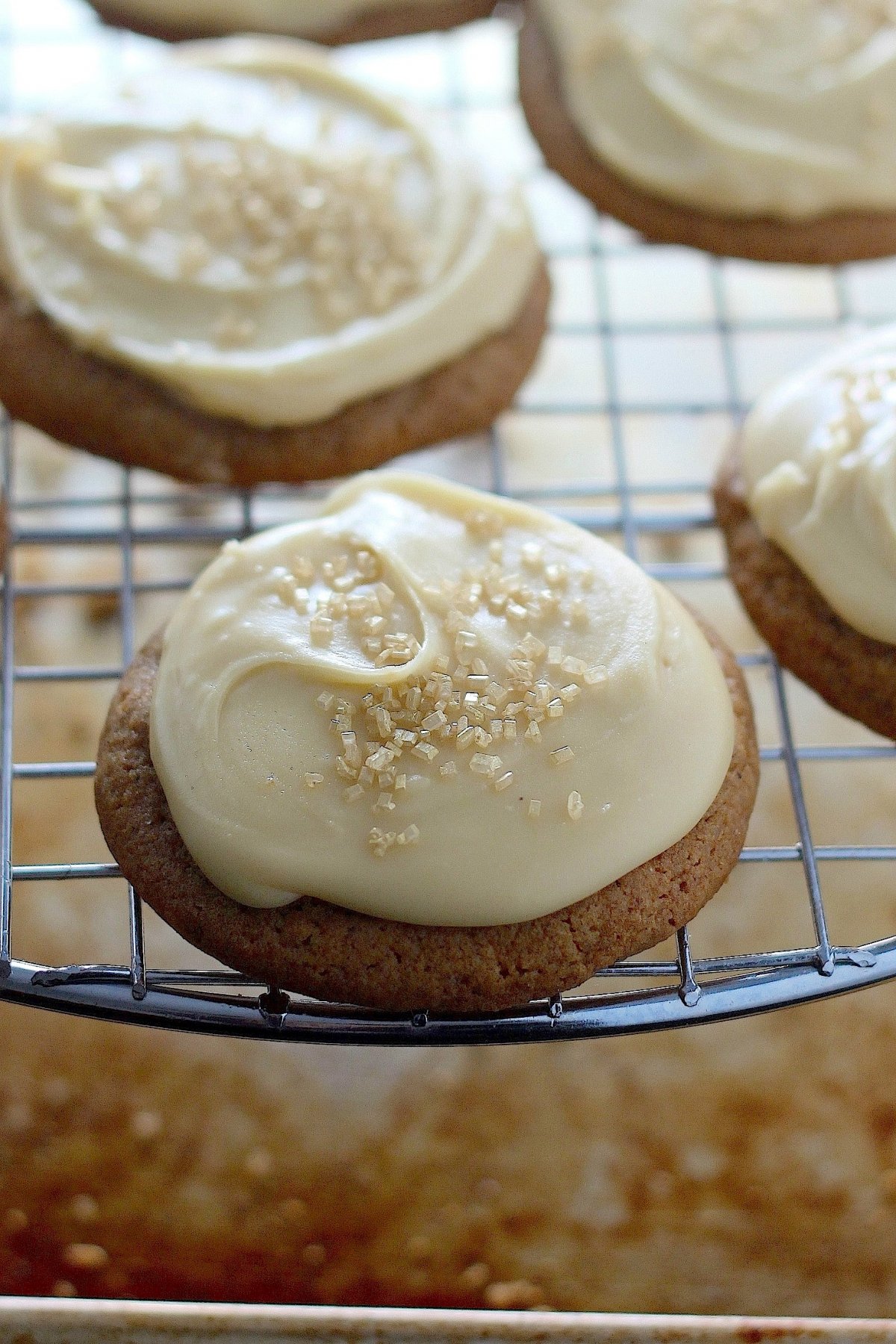 Easy… pretty… delicious… and sparkly —> cause that's how we roll. I hope you enjoy these lovely little sweets as much as we do! And happy baking. Love you guys! xoxo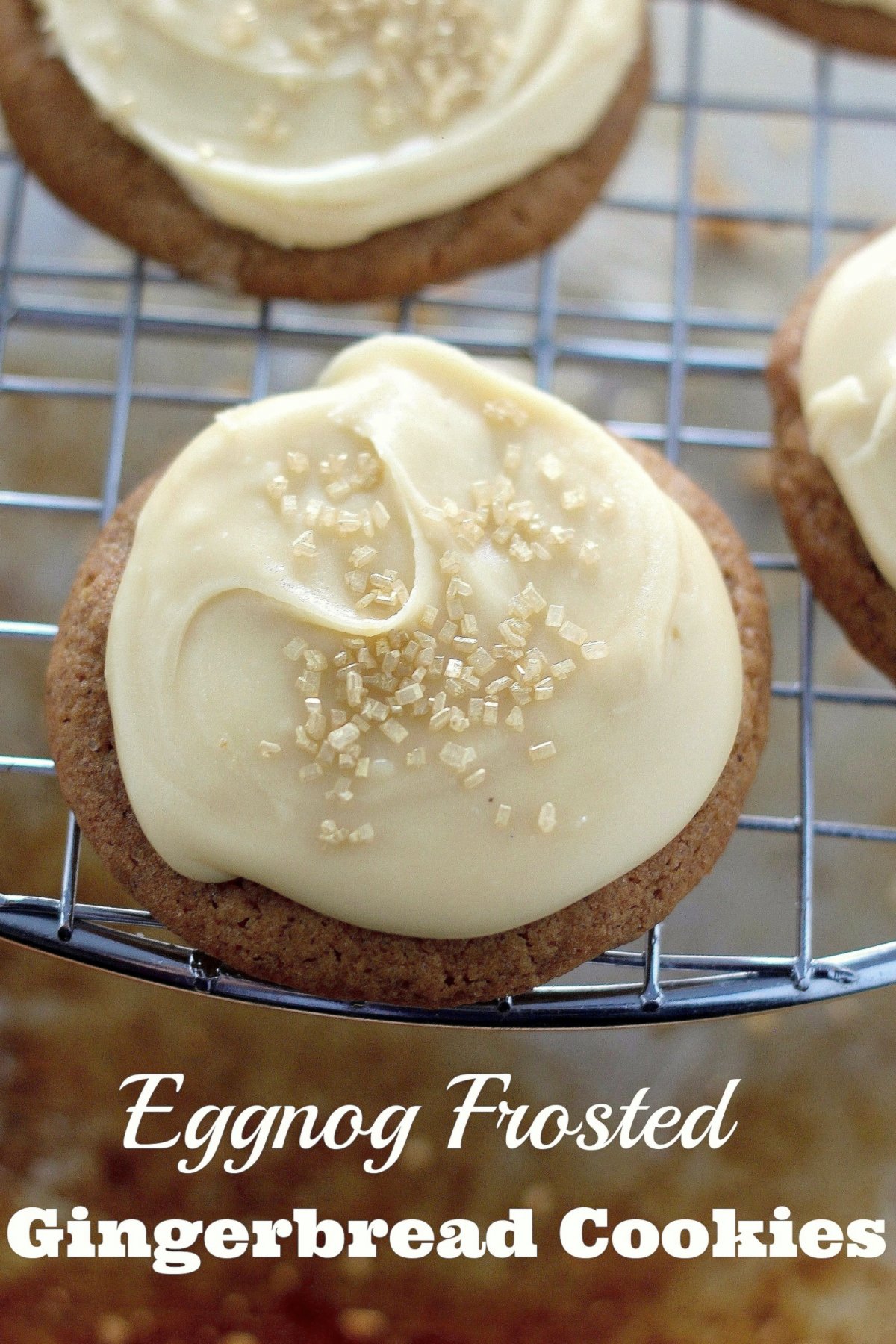 More Gingerbread Recipes:
Eggnog Frosted Gingerbread Cookies
Ingredients
6 ounces unsalted butter, at room temperature
3/4 cup granulated sugar
1/4 cup packed brown sugar
1 large egg, at room temperature
1/4 cup molasses (not blackstrap)
1 1/2 teaspoons vanilla extract
2 1/4 cups all-purpose flour
2 teaspoons ground ginger
1 teaspoon ground cinnamon
1/8 teaspoon freshly grated nutmeg
1/4 teaspoon ground cloves
1 teaspoon baking soda
1/2 teaspoon salt
Eggnog Frosting:
1/3 cup packed brown sugar
1/4 cup eggnog
2 tablespoons butter
1 and 3/4 cups confectioners sugar
1/2 teaspoon vanilla extract
1/4 teaspoon salt
2 tablespoons heavy cream
Gold sprinkles, optional
Instructions
Preheat oven to 325 degrees (F). Line a large baking sheet with parchment paper or a non-stick silicon baking mat; set aside.

In a large bowl, cream butter and sugars until light and fluffy. Add the egg; beat well. Stir in molasses and vanilla; mix well.

In a medium sized mixing bowl combine flour, ginger, cinnamon, nutmeg, cloves, baking soda, and salt; mix well to combine. Gradually add dry mixture to wet mixture; stir until just combined.

Drop cookie dough by tablespoonfuls, leaving 2 inches between each ball.

Bake for 13-15 minutes or until cookies spring back when touched lightly. Allow cookies to cool a few minutes on the baking sheet, then transfer to a wire rack and cool completely.
For the eggnog frosting:
In a large saucepan bring the brown sugar, eggnog and butter to a boil; cook and stir for 2 minutes, stirring occasionally. Remove from the heat and cool for 5 minutes.

Add confectioners' sugar, vanilla and salt; mix well. Frost cookies, then add sprinkles (if using).