An easy and delicious recipe for Overnight Eggnog French Toast!
As Christmas creeps closer, I can't help but daydream about the upcoming festivities. Cozy sweaters, eggnog by the fire, tearing open presents under the tree, and a luxuriously long brunch with the family are just a few of my favorite traditions.
Especially the brunch! It's one of the rare occasions our entire crew is under one roof, and I don't take it for granted.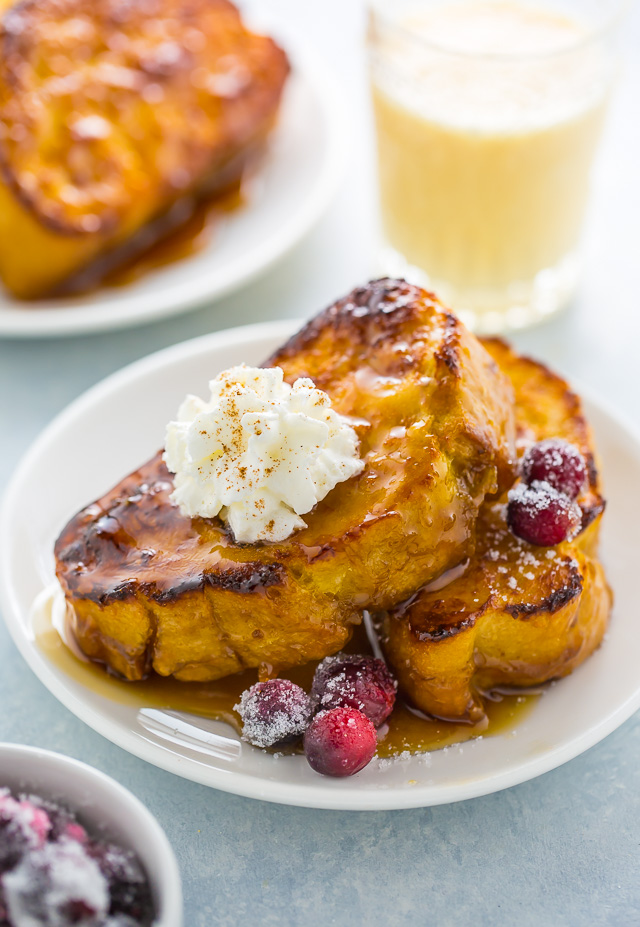 To avoid spending the entire day in the kitchen, I like to set a menu of items that can mostly be made ahead of time. This year I'll be whipping up a trio of overnight french toast recipes. There will be pecan pie french toast, gingerbread french toast (recipe coming soon!), and eggnog french toast! I'm also going to whip up a Quiche Lorraine and Smoked Salmon Frittata for the savory lovers. And mimosas… because it's CHRISTMAS! But I'm getting ahead of myself. Let's get back to this overnight eggnog french toast, shall we?
This recipe was inspired by my little brothers insane love for eggnog AND french toast. I figured why not combine the two and surprise him on Christmas morning. I'll take my big sister bonus points right now, than you very much 😉
Making this overnight eggnog french toast couldn't be easier! You'll simply soak the bread overnight, transfer it to a casserole dish in the morning, and bake it until golden and crispy. While it bakes, and makes your home smell amazing, you can make the buttery bourbon maple syrup. This part is 100% optional, but if you dig the whole spiked eggnog thing, it's a nice touch. Since the maple syrup is not cooked, I don't suggest serving it to the kiddos or teens at the table.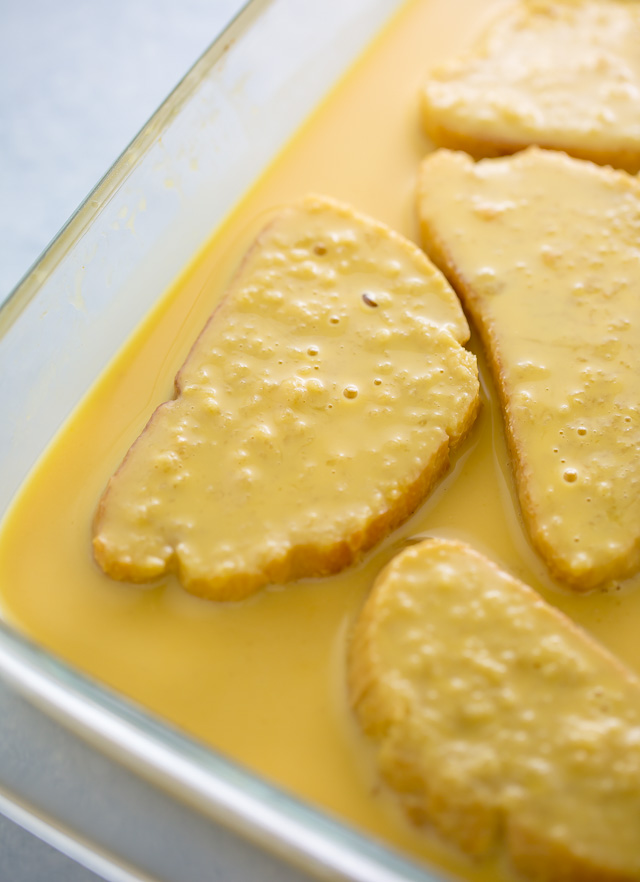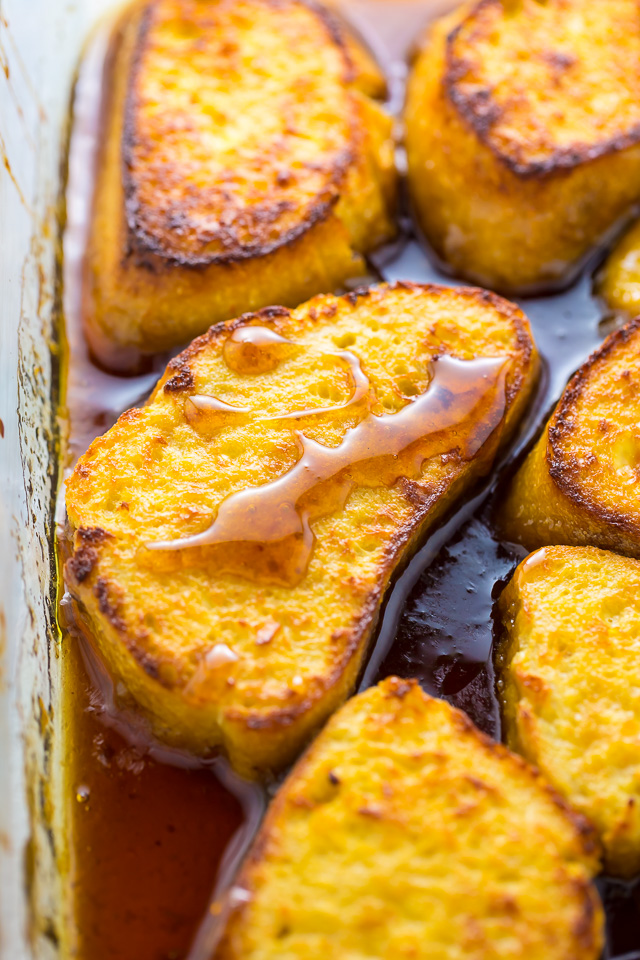 Tips and Tricks for Recipe Success:
For best results, I recommend using French bread for this recipe, however if you cannot find it, brioche is a good substitute. I don't recommend using sandwich bread, since it's very thin and will become soggy as it soaks overnight.
You'll want to soak the bread in a large, shallow bowl OR you can use a second 3 Qt baking dish, which is what I did. It's very important that the bread isn't overlapping as it soaks and that each piece is covered in the eggnog mixture.
For the best flavor, I suggest using real maple syrup. You can click here to check out our absolute favorite brand.
Once baked, this overnight eggnog french toast is best served right away. However it will keep, covered tightly in the fridge, for up to 3 days.
For an extra special treat, serve with buttery bourbon maple syrup and sugared cranberries.
Overnight Eggnog French Toast is a MUST try for eggnog lovers everywhere! Enjoy ♥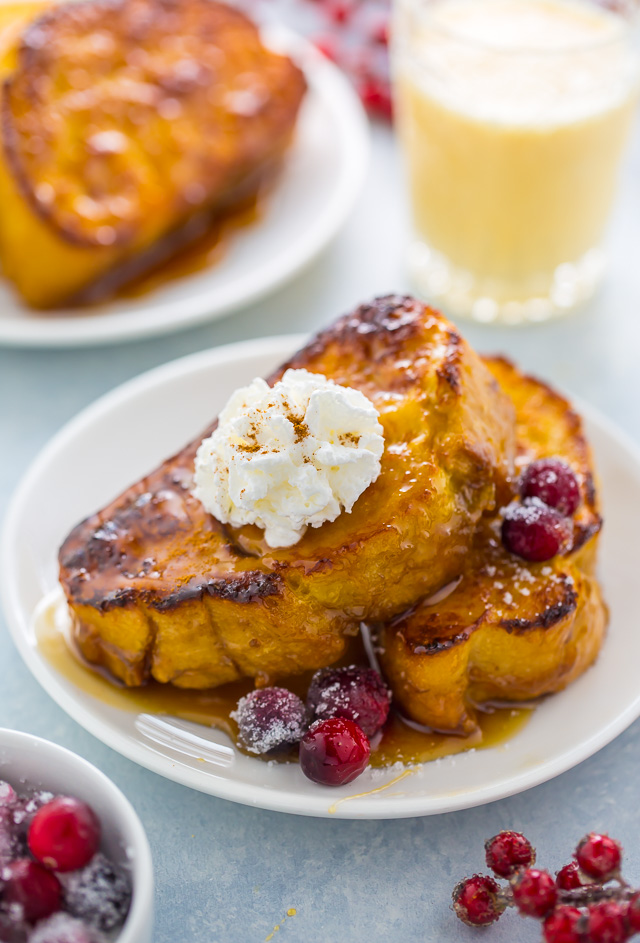 If you try this recipe for Overnight Eggnog French Toast, let me know! Leave a comment below and don't forget to snap a pic and tag it #bakerbynature on instagram! Seeing your kitchen creations makes my day. ♥
Overnight Eggnog French Toast
Yield 8 slices of french toast
An easy and delicious recipe for Overnight Eggnog French Toast!
Ingredients
For the overnight eggnog french toast:
1 cup eggnog
1/2 cup heavy cream
8 large eggs
2 tablespoons vanilla extract
2 tablespoons bourbon (optional)
1/2 teaspoon ground nutmeg
2 tablespoons granulated sugar
1 loaf French bread, cut into 8 slices
6 tablespoons unsalted butter
1 cup light brown sugar, packed
1/2 cup pure maple syrup
For the sugared cranberries (optional):
1 cup granulated sugar, divided
1 cup fresh or frozen cranberries, if using frozen do not thaw
For the buttery bourbon maple syrup (optional):
1 cup pure maple syrup
2 tablespoons unsalted butter, melted
3 teaspoons bourbon (more or less to taste)
1 teaspoon vanilla extract
Instructions
For the overnight eggnog french toast:
In a large bowl combine the eggnog, heavy cream, eggs, vanilla, bourbon (if using), nutmeg, and sugar; beat well and set aside. Arrange sliced bread in a large shallow bowl. Pour the liquid mixture over the bread, being sure every piece is soaked in the liquid. Cover tightly with plastic wrap and refrigerate for at least 8 hours, or overnight.
When ready to bake...
Preheat oven to 350 degrees (F). In a small saucepan over medium heat melt the butter. Remove from heat and whisk in the brown sugar and maple syrup. Spread this mixture evenly across the bottom of a 9x13 baking pan. Carefully arrange the soaked bread on top. Bake for 35 to 40 minutes, or until the bread is firm and lightly golden brown. Cool for 5 minutes, then serve warm!
For the sugared cranberries (optional):
Combine 1/4 cup granulated sugar with 1/4 cup of water in a medium saucepan. Place the pan over medium heat and bring to a light simmer, stirring frequently, until sugar is completely dissolved, about 2 to 3 minutes. Add in the cranberries and stir to coat. Using a slotted spoon, transfer the cranberries to a wire rack and let dry for at least 30 minutes.
When the 30 minutes are up, roll the cranberries in remaining sugar, working in small batches and tossing until well coated. Set aside to dry for at least 1 hour.
For the buttery bourbon maple syrup (optional):
In a medium-sized bowl combine the maple syrup, butter, bourbon, and vanilla. Drizzle over french toast right before serving.
Nutrition Facts
Serving Size 1 to 2 slices
Amount Per Serving
% Daily Value
* Percent Daily Values are based on a 2,000 calorie diet. Your daily values may be higher or lower depending on your calorie needs.