Fluffy and flavorful eggnog pancakes! These are so easy and perfect for Christmas morning! Serve with a cold glass of eggnog and plenty of syrup!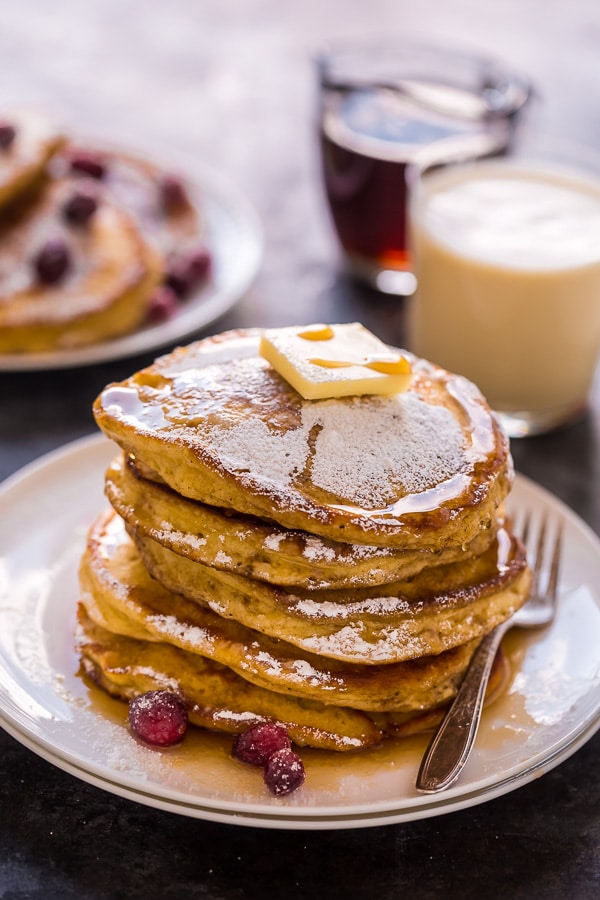 Eggnog Pancakes
It's no secret our family loves fluffy pancakes! Proof can be found by simply searching pancakes here on the site. Over two dozen recipes will pop up! And those are just the recipes I've posted. We have so many more in our breakfast rotation that I plan on sharing with you in the near future. Because if you're anything like me… you can never have too many pancake recipes! And if you have any requests, let me know in the comments below! I'm all ears 😉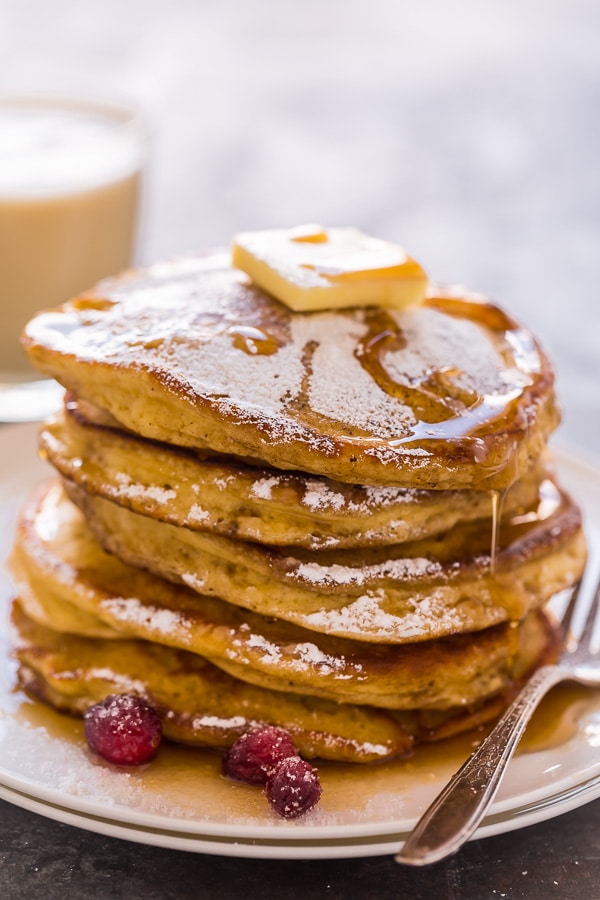 But with the holiday season in full swing, I knew I needed to share our favorite eggnog pancakes with you today! They're light and fluffy, full of eggnog flavor, and seriously so easy to whip up. Serve them with plenty of maple syrup! If you're feeling extra hungry, add some bacon and eggs. And if you're feeling EXTRA fancy, serve these eggnog pancakes with sugared cranberries and whipped cream. You can really make these pancakes as simple or as dolled up as you want!
So, are you ready to indulge in this festive breakfast with me?
Eggnog Pancake Recipe
To make these delicious eggnog pancakes you'll need:
all-purpose flour
sugar
baking powder
baking soda
salt
eggs
eggnog
and vanilla extract.
You'll also need maple syrup, confectioner's sugar, and a few pats of butter, for serving. I use Organic Valley Eggnog, but feel free to use your favorite brand! However I strongly suggest using regular eggnog. There are many new dairy-free, sugar-free, and low-calorie or "light" varieties on the market, but since this recipe has not been tested with them, I cannot guarantee using them will work well. So experimenting is a bit of a risk.If you'd like these eggnog pancakes to be a little boozy, try adding a tablespoon of rum or bourbon to the maple syrup! We do this for the adults in our family and it's a fun little twist. Plus, it's such a small amount of alcohol no one has to worry about getting buzzed or anything like that!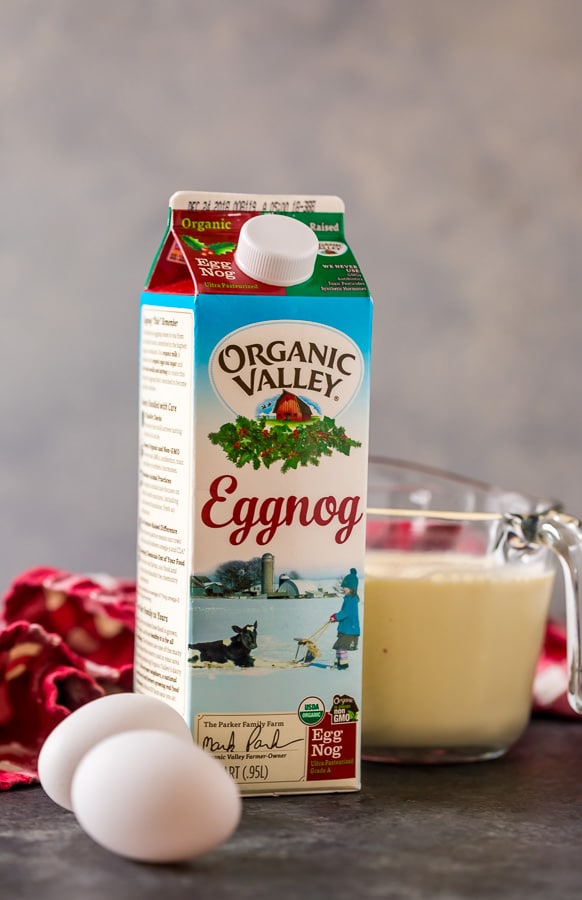 How to make Eggnog Pancakes
The batter for these eggnog pancakes comes together in just minutes! First you'll whisk together all of the dry ingredients in a large mixing bowl. Then you'll combine all of the wet ingredients in another large bowl, and whisk them together until well combined. After that you simply combine the wet and the dry and viola – you've have eggnog pancake batter! It's seriously that quick and easy!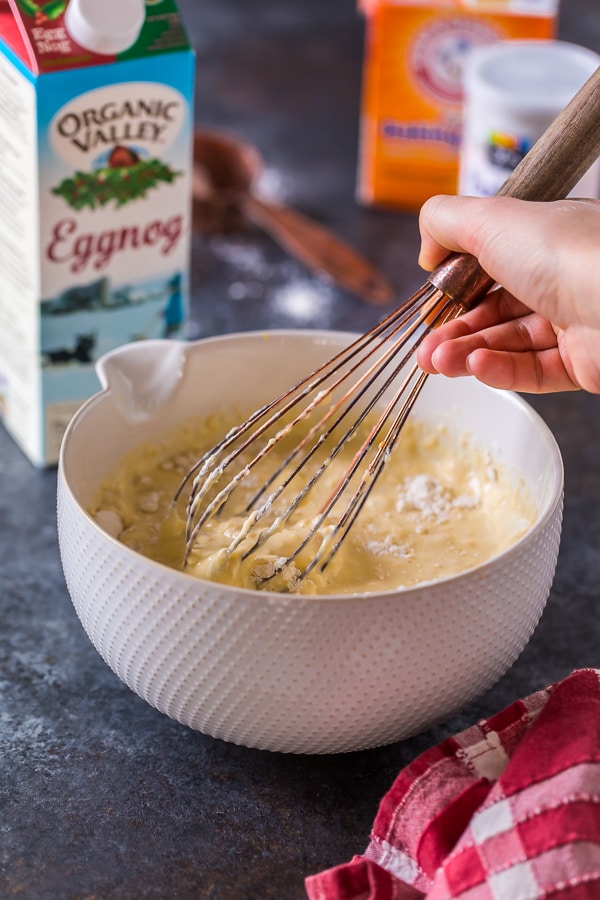 Cooking
The pancake batter is a bit thin, but don't fret – once it hits the hot pan it puffs up and transforms into fluffy eggnog pancakes! Promise.
Be sure to heat a griddle or pan for a few minutes before adding the pancake batter. You can it to be hot when the batter hits the pan!
Don't pour too much batter in the pan at one time. Instead, pour 1/4 cup per pancake. This will make perfectly sized pancakes that cook evenly.
Because every stove runs a little differently, I suggest cooking these pancakes – at least to start – on low to medium-low heat. You can always adjust the temperature as needed. But this way the pancakes have less of a chance of burning.
You'll know the pancakes are ready to be flipped when tiny bubbles form on the surface. Once you flip them, they'll need another minute or two to cook.
I find my pancakes cook perfectly over medium heat, 2 minutes on each side. After a few pancakes, you'll find your perfect timing and temperature 🙂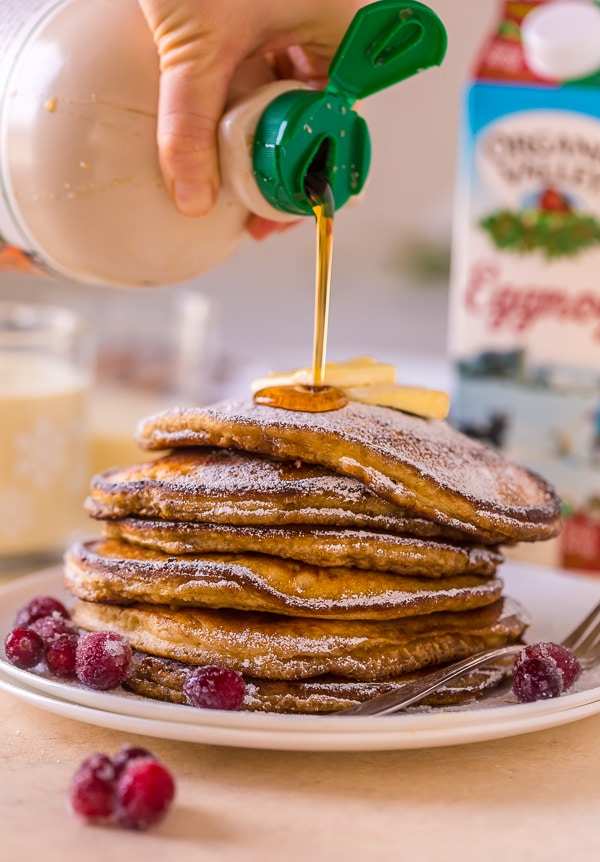 How to Keep Pancakes Warm
My little "secret" for keeping ready-to-eat pancakes warm while I cook the rest of the batter is to preheat the oven to lowest setting and place a large baking sheet inside. As the pancakes are cooked, I transfer them onto the baking sheet. The low temperature keeps them nice and warm without drying them out! Just be sure to use a potholder when removing the pan from the oven, as it will be very hot!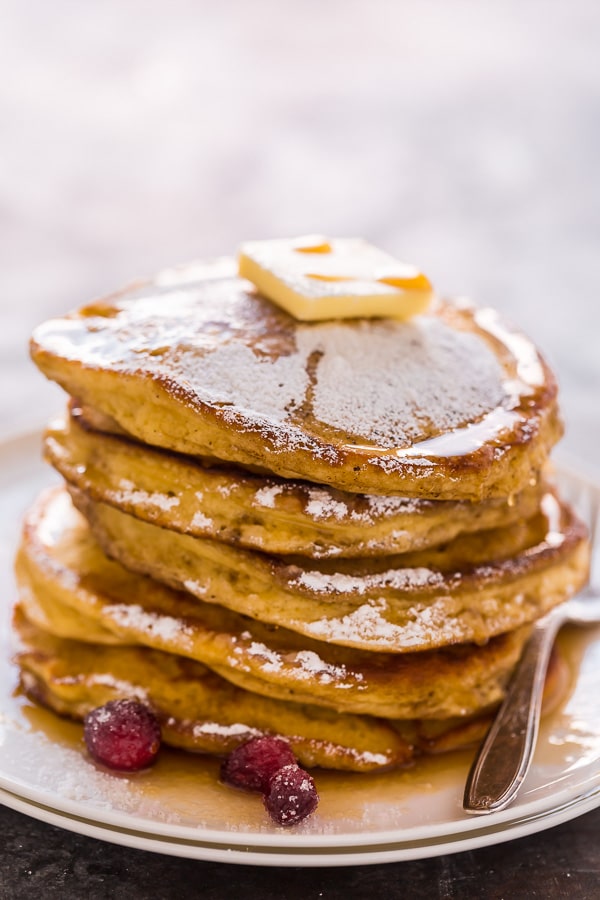 How to freeze – and reheat – Eggnog Pancakes
Freezing these eggnog pancakes is so easy! Simply place fully cooled pancakes between layers of wax paper, then place them in a freezer-safe plastic bag, squeeze out any excess air, and seal the bag. After that simply pop the bag in the freezer and store for up to two months.
To reheat, take the pancakes out of the freezer and preheat your oven to 375 degrees (F). Place the pancakes in a single layer on a large baking pan, cover with tinfoil, and heat in your preheated oven for 6 to 8 minutes, or until warm. You may also microwave 3 to 4 pancakes at a time, for about 40 seconds, or until heated through.
Richly spiced, fluffy, and flavorful… this is such a good pancake recipe. And a must make this holiday season. Enjoy!!!
IF YOU TRY MY RECIPE FOR THE BEST EASY EGGNOG PANCAKES, PLEASE LET ME KNOW WHAT YOU THINK! LEAVE A COMMENT BELOW, AND DON'T FORGET TO SNAP A PIC AND TAG IT #BAKERBYNATURE ON INSTAGRAM! SEEING YOUR CREATIONS SERIOUSLY MAKES MY DAY ♥
More Eggnog Recipes: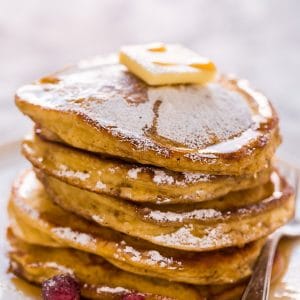 Eggnog Pancakes
The BEST fluffy and flavorful Eggnog Pancakes! These are the ultimate breakfast treat and so perfect for Christmas morning!
Ingredients
2 cups all-purpose flour
1/4 cup granulated sugar
3/4 teaspoon baking soda
1 and 1/2 teaspoons baking powder
1/2 teaspoon salt
2 large eggs, at room temperature
2 cups eggnog
2 teaspoons pure vanilla extract
Maple syrup, for serving
Confectioners' sugar, for serving
Instructions
In a large bowl add the flour, sugar, baking soda, baking powder, and salt; whisk well to combine. In a separate bowl add the eggs and lightly beat them with a whisk. Add in the eggnog and vanilla and beat until well combined. Stir the eggnog mixture into the dry ingredients, stirring just until everything is combined.

Pour batter by 1/3 cupfuls onto a buttered hot pan or griddle, adding only a few at a time so that they do not blend together. Cook for about 2 minutes - or until small bubbles form on top -before flipping them over. Cook on the second side until golden brown, about 1-2 minutes. Repeat with all pancake batter. Serve pancakes warm, with syrup and confectioners' sugar.