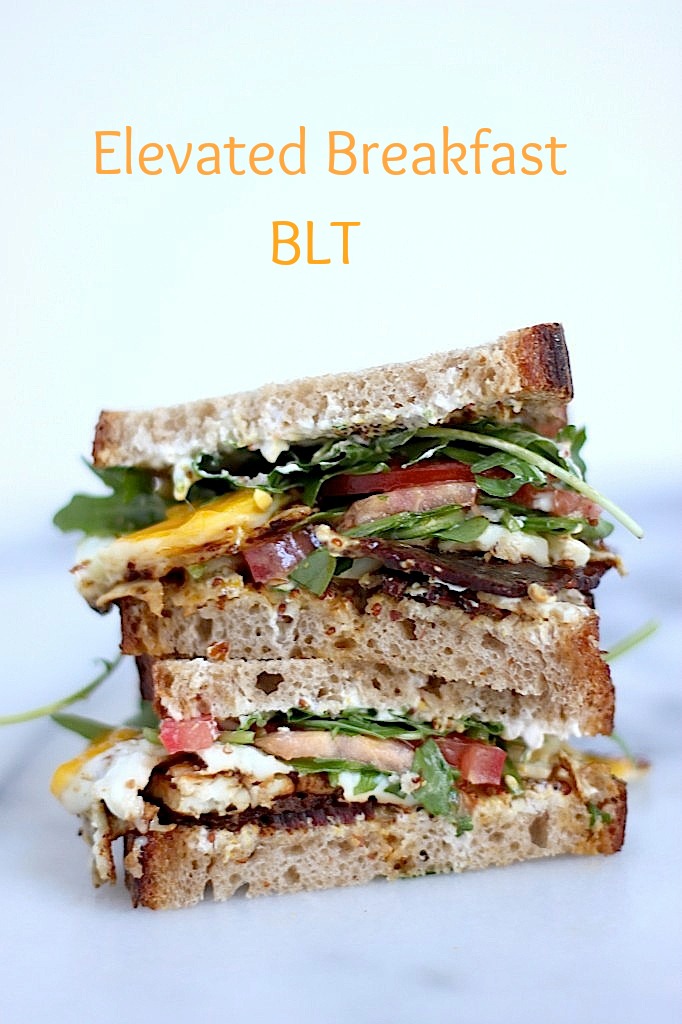 We are big bacon lovers over here. I've always preferred mine thick cut and extra crispy, while he is a big fan of the thinner – and healthier – turkey variety. A few months ago we tried duck bacon – yes, I said DUCK bacon – for the first time, and whoa, it was love at first bite. The kind of love that makes all other bacon varieties seem inferior and almost… insulting. It is addicting and perfect.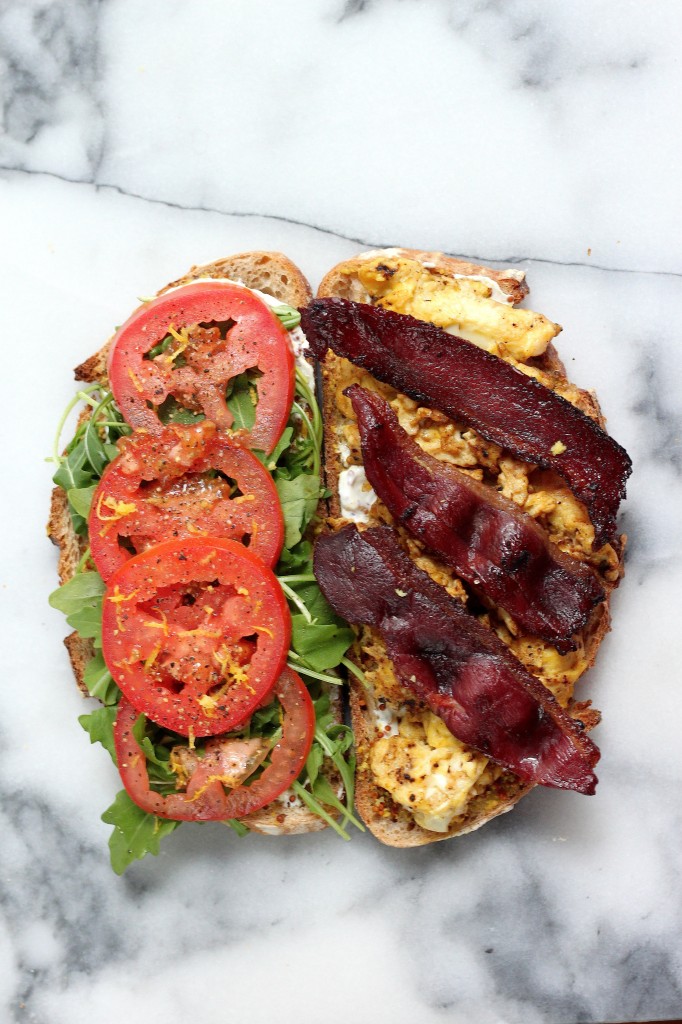 Last weekend I decided to spoil us with some fancy breakfast sandwiches, and in that act, discovered our new favorite way to BLT – the elevated breakfast edition! This involves duck bacon, of course. Also, a fresh – and slightly spicy – sprinkling of arugula, thinly sliced tomatoes, over easy eggs (you can also scramble them, if runny yolks aren't your thing), and a greek yogurt/ dijon spread that is just a dream! So much better (in taste and for you) than that mayo crap. And it adds that little pop of creaminess without a drop of guilt. Morning win!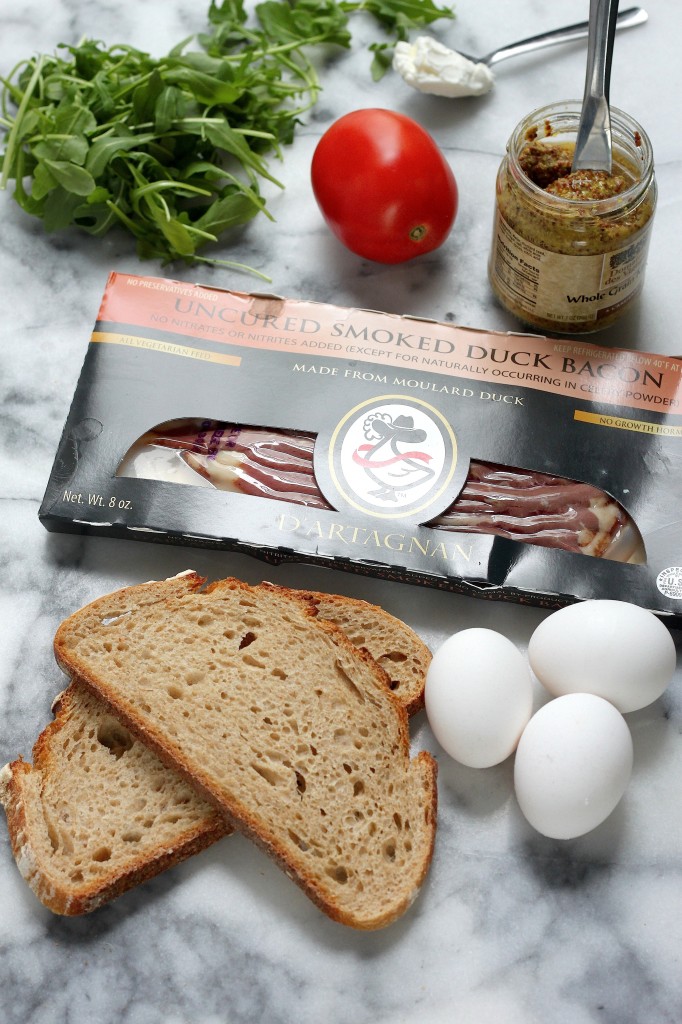 I also fried our eggs in the duck bacon fat (because why waste butter?), and they were powerfully flavored in the most fabulous way! I highly recommend you giving that a try.
These sandwiches are great for a simple yet special breakfast for two, or a show stopping brunch with friends. And the really great thing is they come together so quickly you'll be finished prepping and on to enjoying like that. Now… you should probably get to finding that duck bacon 😉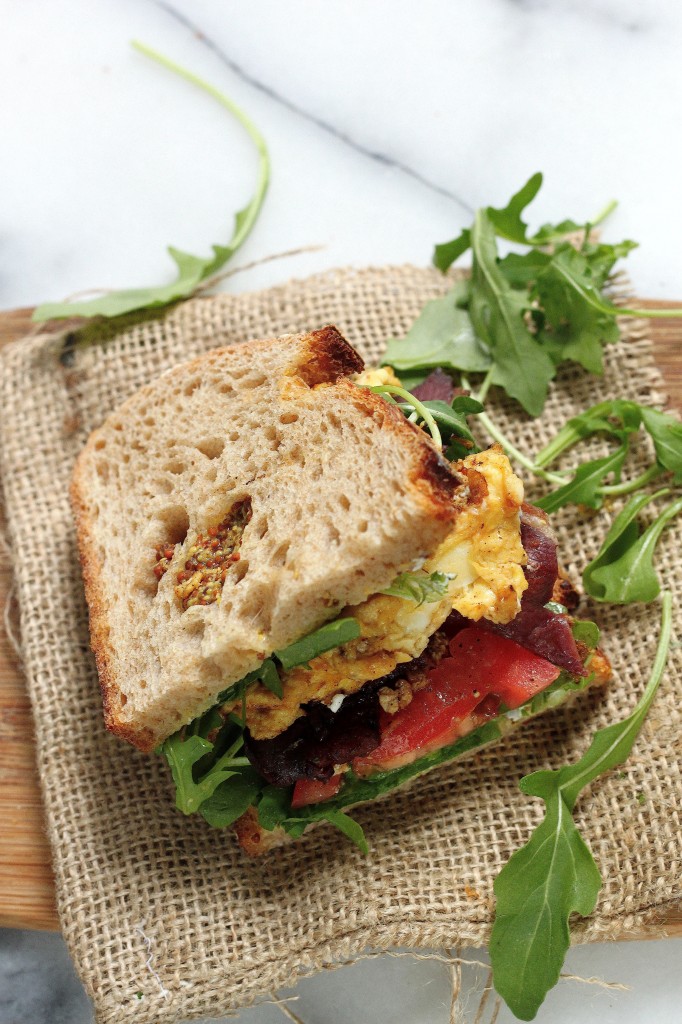 As you can see from these photos I made one BLT with over easy eggs (displayed in the first photo and eaten by ME before any more photos could be taken… oooops!) and one with scrambled eggs (displayed in the other photos and eaten by my very patient yolk hating partner). Both were delicious!
Elevated Breakfast BLT
Ingredients
Makes 2 sandwiches; double as needed
6 slices duck bacon, fried until crispy
4 eggs, scrambled or sunny side up
4 slices bread, toasted
2 tablespoons Greek yogurt
1 teaspoon dijon mustard
1/4 teaspoon salt
1 cup baby arugula leaves
1 roma tomato, thinly sliced
Salt, pepper, and lemon zest (optional)
Instructions
Fry bacon in a large skillet over medium-heat until crispy; about 4 minutes on each side. Transfer bacon to a paper towel lined plate. Add eggs to the same pan (in the bacon fat) and fry or scrambled. Transfer eggs to a paper towel lined plate.

In a small bowl whisk together the yogurt, mustard, and salt. Add mustard or salt if needed to reach your desired taste.

Spread a 1/2 tablespoon of the mustard mixture on each piece of toast, then layer two of the pieces with the arugula, tomatoes, bacon, eggs, salt, pepper, and lemon zest. Top with the other slice of bread, cut in half, and serve!