Say hello to the BEST Easy Overnight Cinnamon Rolls! We make these for decadent cinnamon rolls every Christmas morning and they basically fly out of the baking tray. So fluffy and delicious you'll want to make them every weekend!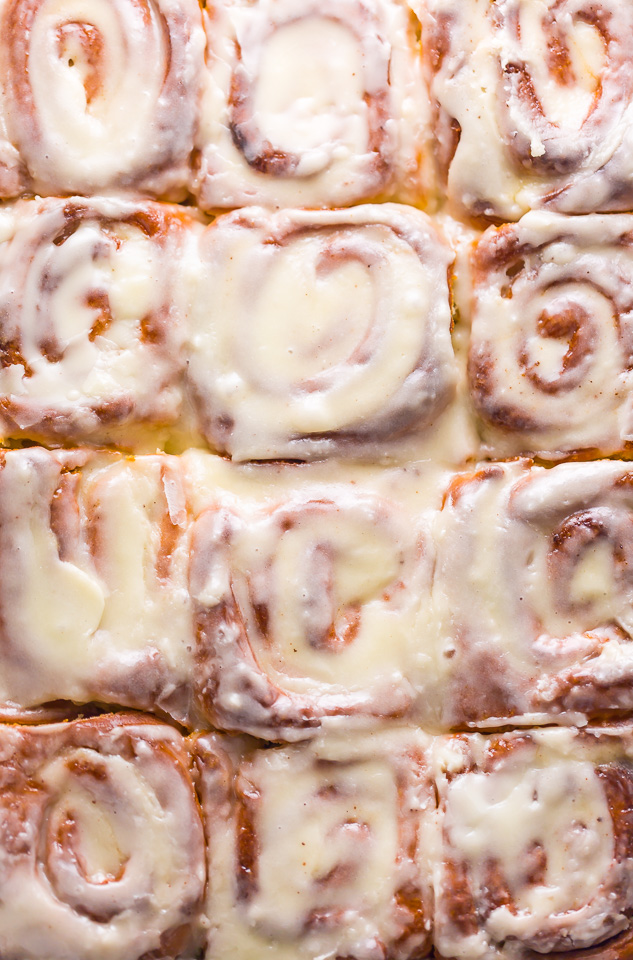 Overnight Cinnamon Rolls
If you follow me on Instagram, you know I've been testing these fluffy cinnamon rolls for ages now! And by ages… I mean like a few weeks. But still! When it comes to perfecting cinnamon rolls, a few weeks can feel like a lifetime. I know you agree because I've been receiving tons of messages asking me to hurry up and post the recipe already! Which gave me extra incentive to hunker down and get it right.
Which finally happened yesterday! And I was so excited about it I couldn't sleep. So I stayed up all night editing and writing so I could wake you up this morning to the sweet smell of cinnamon rolls!
So, without further ado, I present you with the BEST make ahead cinnamon rolls ever!!! They're super fluffy and slathered in simple glaze made from powdered sugar and heavy cream. But you could cover them in cream cheese frosting! Both ways are so delicious!
Easy Cinnamon Rolls
Tips and Tricks for Recipe Success:
While an electric stand mixer fitted with a dough hook is very useful for this recipe, it can be made without one. You'll simply knead the dough by hand (step 4) instead. This will take about 10 minutes.
For best results, use whole milk in this recipe.
Be sure your butter and egg have come to room temperature!
While you can certainly slice the rolls with a knife, I recommend trying the floss method. It puts less pressure on the rolls which helps the filling stay put. Just be sure to use unscented floss, otherwise your cinnamon rolls could have a minty or cinnamon aftertaste which is kind of gross.
You can use almost any kind of baking sheet or baking dish for these cinnamon rolls, but I prefer a 9X13-inch baking pan.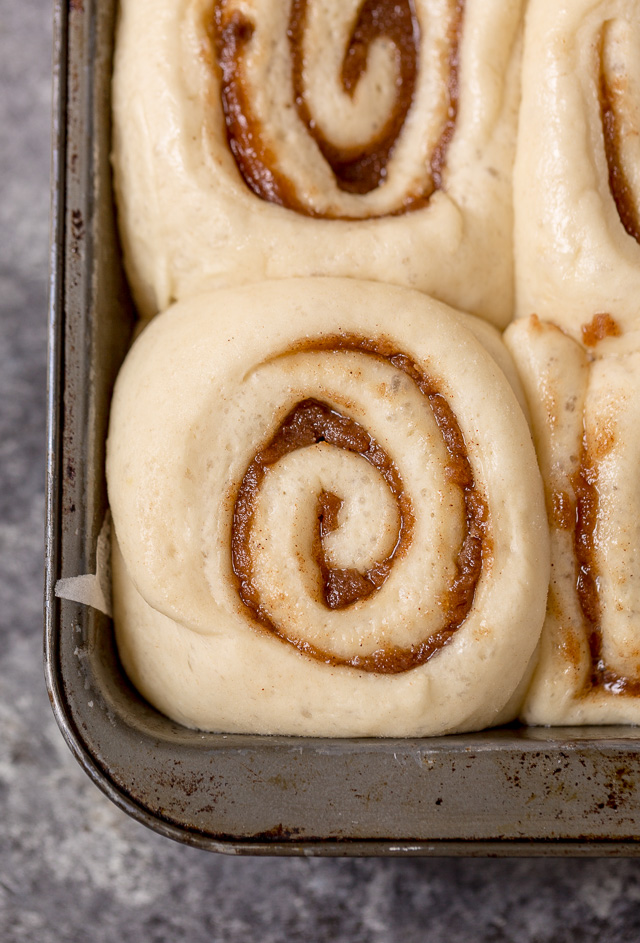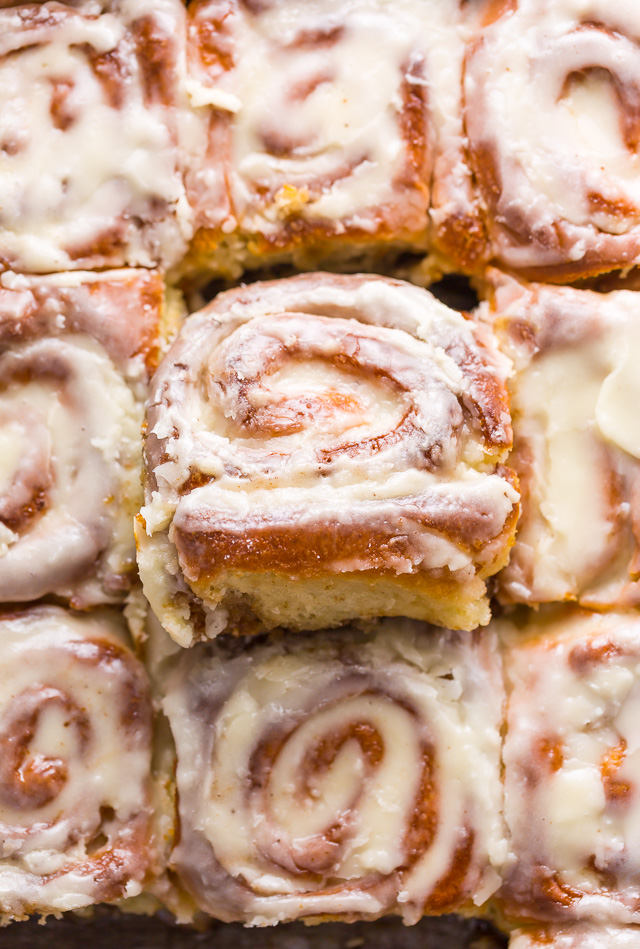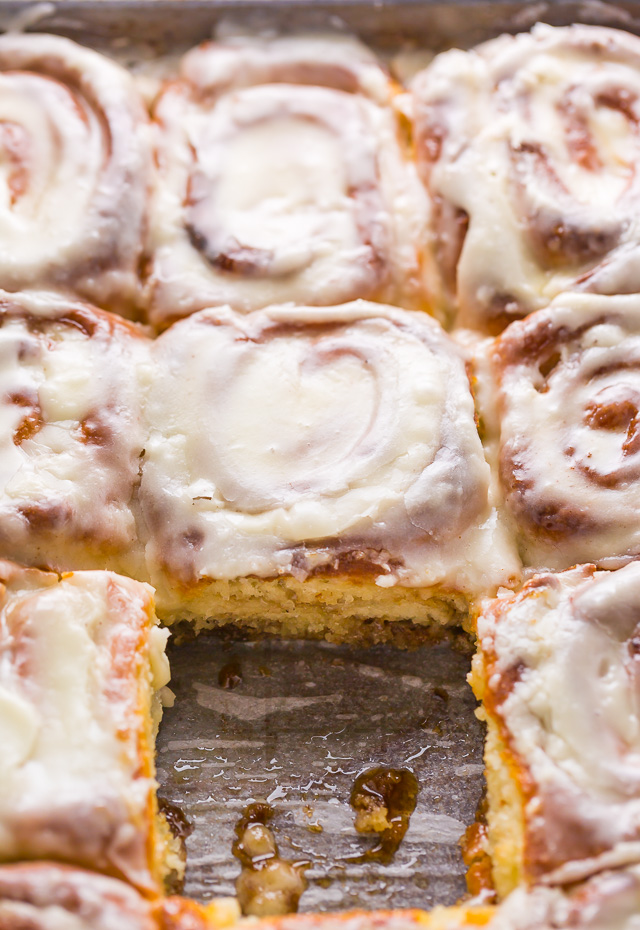 If you find your rolls are browning too much, you can cover them loosely with aluminum foil halfway through the baking process. Personally, I like my rolls with a good amount of color! Just be sure you bake them for at least 22 minutes, otherwise they could be raw or undercooked in the middle.
Make ahead tip: Baked rolls may be frozen for up to 2 months. Thaw overnight in the refrigerator and then warm them up in the oven before serving.
Don't want to wait overnight to bake? No problem! If you're planning to bake the rolls right away, skip sticking the rolls in the refrigerator, and instead loosely cover them with plastic wrap and let the rolls rise in a warm place until they've puffed up and almost doubled in size, about 2 hours. Then continue as directed.
Finally, once baked and frosted, the cinnamon rolls are best eaten within 24 hours. But between us bakers… I say eat them within an hour of pulling them out of the oven. Because is there anything better than a warm and gooey cinnamon roll?!
I think not ↓
Generously slather the glaze on the rolls and serve warm.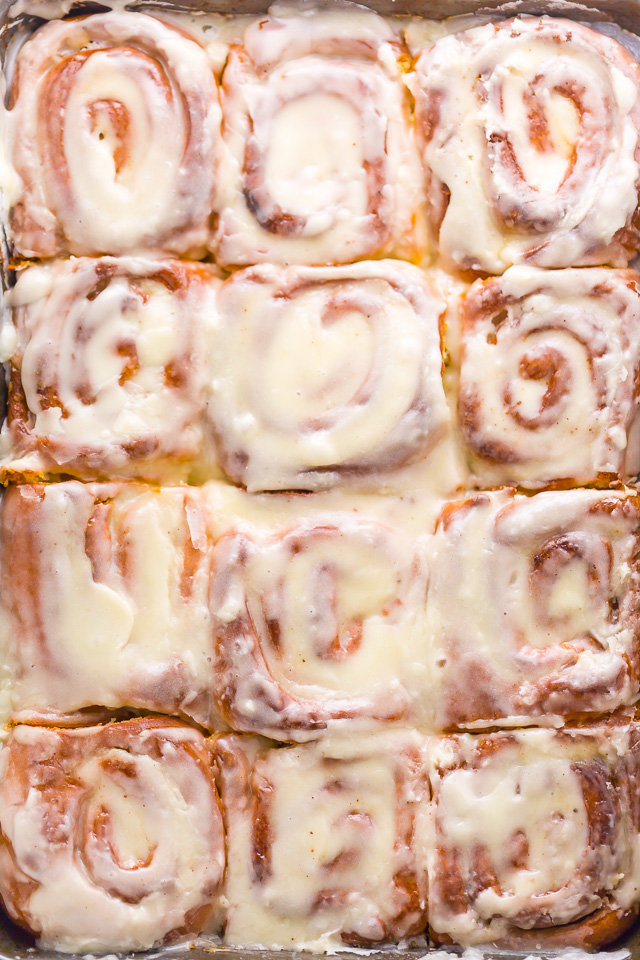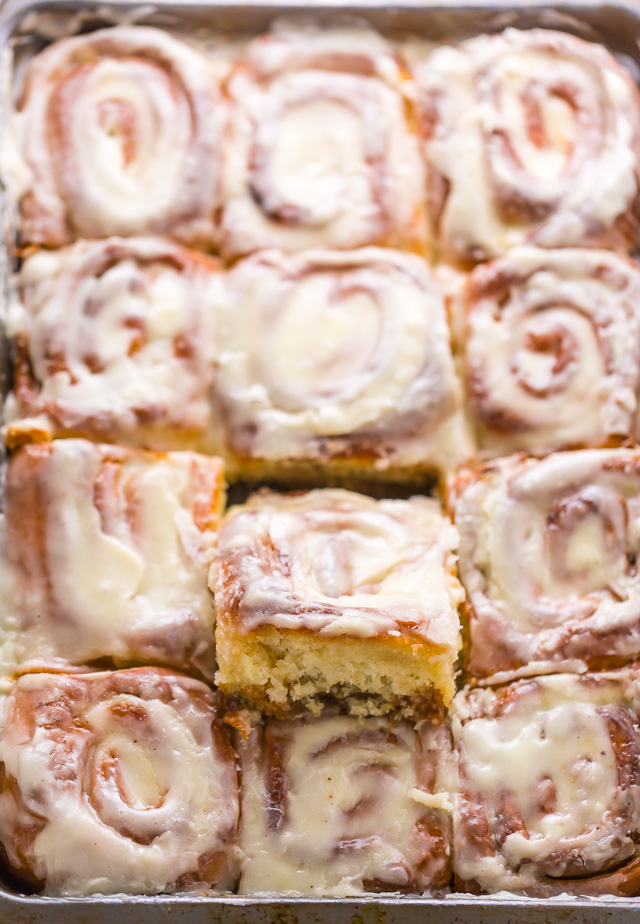 If you try this recipe for The Best Easy Overnight Cinnamon Rolls, let me know what you think! Leave a comment below, and don't forget to snap a pic and tag it #bakerbynature on instagram! Seeing your creations makes my day ♥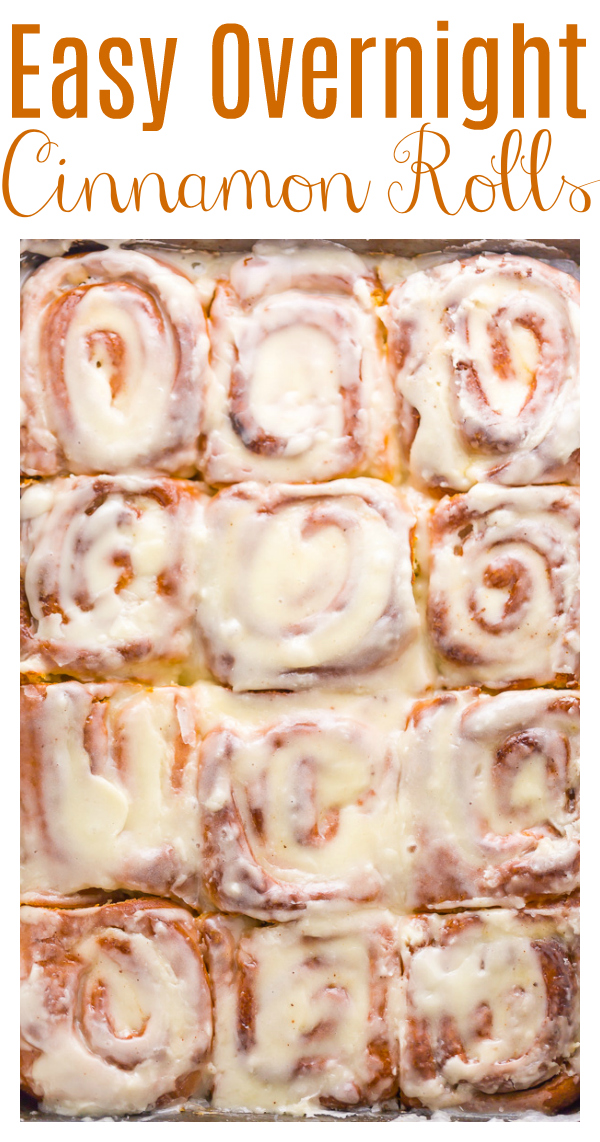 More Breakfast Rolls Recipes:
The BEST Easy Overnight Cinnamon Rolls
Say hello to the BEST Easy Overnight Cinnamon Rolls! So fluffy and delicious you'll want to make them every weekend!
Ingredients
For the Cinnamon Rolls:
1 cup whole milk (whole milk means full-fat)
4 tablespoons unsalted butter, very soft
3 and 1/3 cups all-purpose flour, divided
(1) 0.25 oz package active dry yeast
3 tablespoons granulated sugar
1/2 teaspoon salt
1 large egg, at room temperature
For the Filling: 
1 cup light brown sugar
1/2 cup granulated sugar
1 tablespoon ground cinnamon
1/4 teaspoon ground cloves
3/4 cup unsalted butter, melted
For the Glaze:
3 and 1/2 cups confectioners' sugar
1/3 cup heavy cream
1/4 teaspoon salt
Instructions
For the Cinnamon Rolls:
Lightly grease a large bowl and set it aside.

In a small saucepan over medium-low heat, warm the milk just until small bubbles begin to form around the edge of the pan; remove from heat. Add in the butter and stir until it's completely melted; let mixture cool while you mix your dry ingredients.

In the bowl of a stand mixer fitted with the dough hook attachment, combine 2 and 1/2 cups of flour, yeast, sugar and salt; mix on medium-low speed until ingredients are evenly combined. Add in the egg, then add in the warm milk mixture and beat until combined.

Add the remaining flour, a little bit at a time, mixing well after each addition.

Once all of the flour has been added, increase the speed to medium and beat for 5 minutes. The dough should form a ball around the hook and pull away from the edges of the bowl. 

Transfer the dough to a lightly floured surface and knead it with your hands for 1 minute. Form the dough into a ball and transfer it to the prepared bowl.

Cover the bowl with plastic wrap and let sit in a warm place until doubled in size, about 1 hour.

Generously grease the sides and bottom of a 9x13-inch baking pan and set it aside.

Gently punch down the risen dough, then turn it out onto a lightly floured work surface and, using a rolling pin, roll it into a 12x18-inch rectangle. Be sure the dough is evenly thick before adding the filling.
For the Filling: 
In a medium mixing bowl, combine the melted butter, both sugars, cinnamon, and cloves; mix well until it's a uniform paste. Using a small spatula or the back of a spoon, spread the sugar/butter combination all over the dough.

Tightly roll up the dough to form an 18-inch log. Using a piece of unwaxed/unflavored dental floss, slice the log into 12 even rolls. To do this, simply slide a 12-inch piece of floss under the roll where you want it cut, grab both ends of the floss (one in each hand), cross it over the top of the roll, and pull it until the slice you want is cut. Repeat for all slices.

Arrange the rolls in the prepared baking pan, cut sides up. Cover the pan tightly with plastic wrap and place it in the refrigerator for 8 to 12 hours.

When ready to bake, remove the pan from the refrigerator and let the rolls rise in a warm place until they've puffed up and almost doubled in size, about 2 hours.

Once the rolls have risen, preheat the oven to 375°F (191°C). Bake for 23 to 25 minutes, or until golden brown.

Remove pan from the oven and cool the rolls on a wire rack while you make the glaze.
For the Glaze:
In a large spouted measuring cup, combine all of the ingredients and mix until well combined. If the glaze appears too thick, add a little more cream; if the glaze appears too thin, add a little more confectioner's sugar.

Drizzle the icing over the warm rolls and serve at once, or set aside and allow the icing to set before serving.

Wrap any leftover rolls tightly in plastic wrap and store at room temperature for up to 2 days.