Rich and creamy, this is The Best New York-Style Cheesecake recipe around! Made with a graham cracker crust and an ultra creamy filling, this is sure to become one of your favorite cheesecake recipes. Serves a crowd!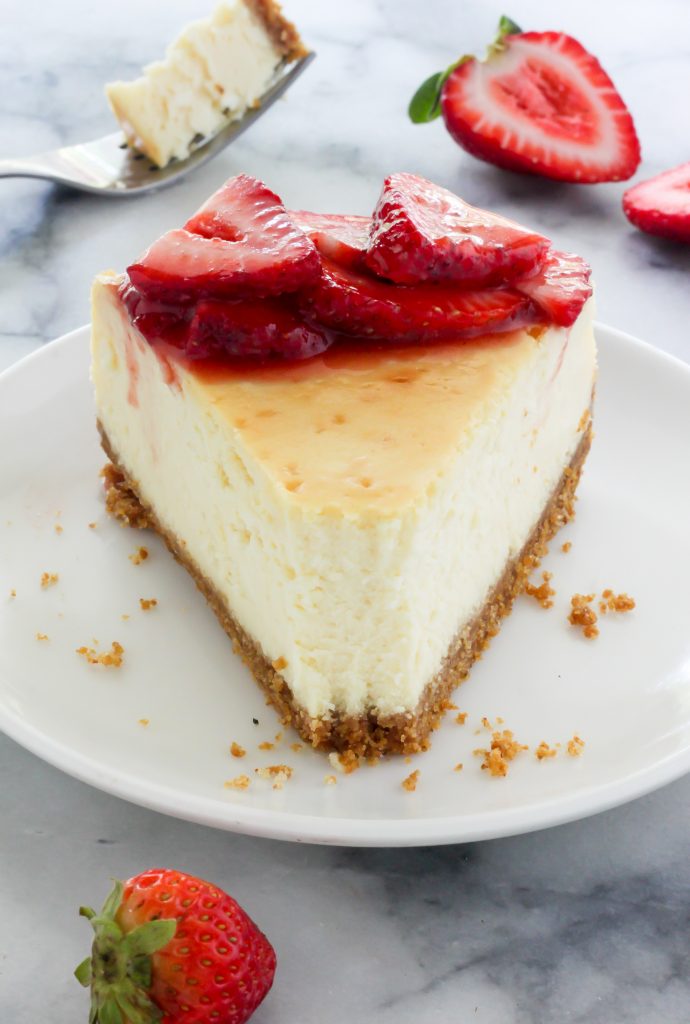 New York Cheesecake
If you're a cheesecake purist, this post is for you! Because today we're learning all about classic and creamy New York Cheesecake! Beginning with that thick and buttery graham cracker crust you know and love, topped with a seriously smooth cream cheese filling, and finished off with a fresh strawberry sauce. I have no doubt after one bite you'll consider this the world's best cheesecake recipe!
New York Cheesecake Recipe
To make this classic cheesecake, you'll need:
graham crackers crumbs: for the crust! you can buy them already crushed or buy sheets of graham crackers and pulverize the in a food processor.
salt: to balance sweetness.
melted butter: our binder for the graham cracker crust.
cream cheese: always use full-fat cream  cheese and make sure it's at room temperature – or softer – before making your batter.
sour cream: adds richness and a delightfully tangy flavor to the cheesecake.
vanilla: just a dash will enhance all the other flavors in this recipe.
eggs: this recipe calls for whole eggs and egg yolks because they thicken the batter and give it a smooth texture. be sure to add the eggs one at a time, and beat on medium speed until just combined.
flour: just a touch of flour gives this cheesecake it's trademark dense yet creamy texture.
heavy cream: this final ingredient is KEY! it makes the cheesecake insanely smooth and creamy, and should not be replaced. if you're going to want to make homemade whipped cream, you can use this ingredient for that, too!
Of course you'll also need a cheesecake pan! This 9″ Springform pan is my absolute favorite.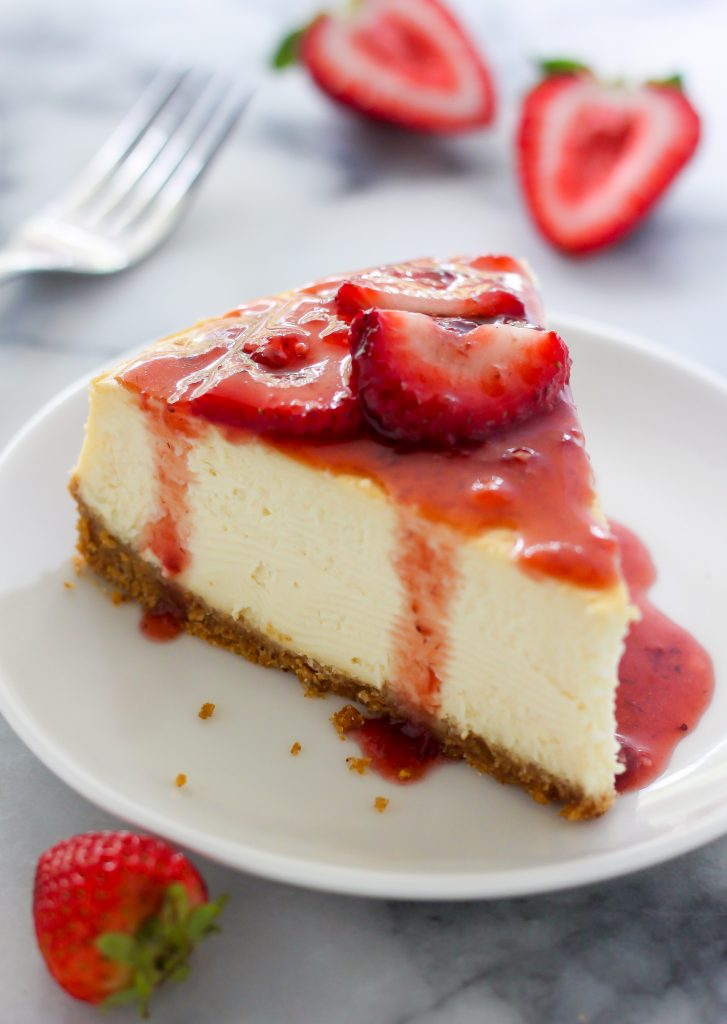 PRO TIP: BE SURE NOT TO OVERBEAT YOUR CHEESECAKE BATTER! THIS ALLOWS TOO MUCH AIR INTO THE BATTER, AND WILL CAUSE THE CHEESECAKE TO EXCESSIVELY RISE IN THE OVEN, THEN COLLAPSE WHEN REMOVED. TO MAKE A SILKY SMOOTH BATTER WITHOUT OVERBEATING, BE SURE TO FULLY BLEND THE CREAM CHEESE AND SOUR CREAM BEFORE ADDING THE REMAINING INGREDIENTS.
Do I have to make a Water Bath for this Cheesecake?
Yes, but I promise it's not as scary as it sounds. The water bath helps the cheesecake stay nice and moist! And it also ensures a crack-free presentation. The best type of pan to use for a water bath is a roasting pan or any other large baking pan with sides at least 2 inches high. You need a pan with high edges so you can put enough water into the pan without it overflowing. The best way to prepare a water bath is to place the wrapped cheesecake pan into the roasting pan, place the pan into the oven, and then – very carefully – add 2 inches of water into the pan. Since this recipe uses a springform pan, you'll need to wrap the bottom and sides of the springform pan first with aluminum foil to prevent water from coming through the bottom. To quote Mary Berry, "nobody likes a soggy bottom!" lol. So play it safe and use MULTIPLE layers of heavy duty aluminum foil. You'll want to bring the layer all the way up the sides of the pan, and in a crisscross pattern. I hope that helps!
If you'd like to avoid making a water bath at all costs, you can place the roasting pan full of water on the rack beneath the cheesecake. This work about 80% of the time for me, but occasionally when I do this I still get a little crack or two. But if you plan on covering this cheesecake with strawberry sauce, a few cracks aren't the end of the world.

Can you Freeze New York-Style Cheesecake?
Yes, of course! Baked cheesecakes freeze great! Simply cool the cheesecake completely, then wrap the whole cheesecake, or slices of the cheesecake, in multiple layers of saran wrap, then place in a freezer bag. This cheesecake will keep, stored properly in the freezer, for two months.
How do you Defrost a Cheesecake?
To defrost the cheesecake, simply thaw the wrapped cheesecake in refrigerator overnight. Do not attempt to thaw cheesecake in the microwave or oven!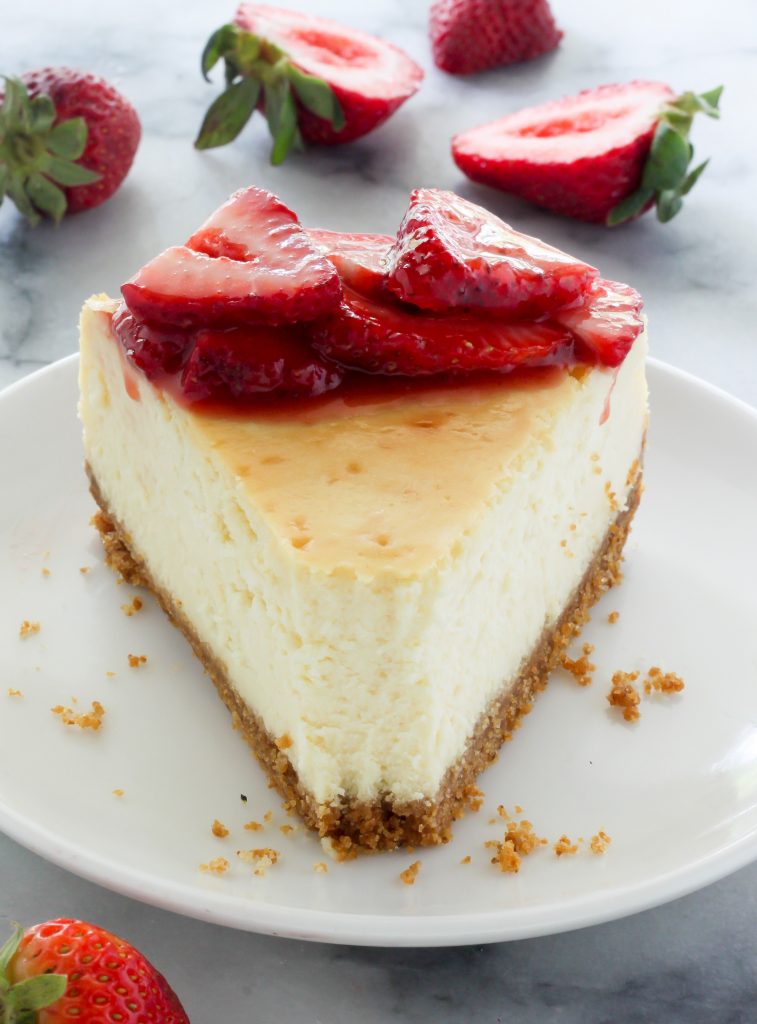 For more Cheesecake Recipes, Check Out:
AND IF YOU TRY THIS BEST NEW YORK STYLE CHEESECAKE RECIPE, LET ME KNOW! LEAVE A COMMENT BELOW AND DON'T FORGET TO SNAP A PIC AND TAG IT #BAKERBYNATURE  ON INSTAGRAM! SEEING YOUR KITCHEN CREATIONS MAKES OUR DAY.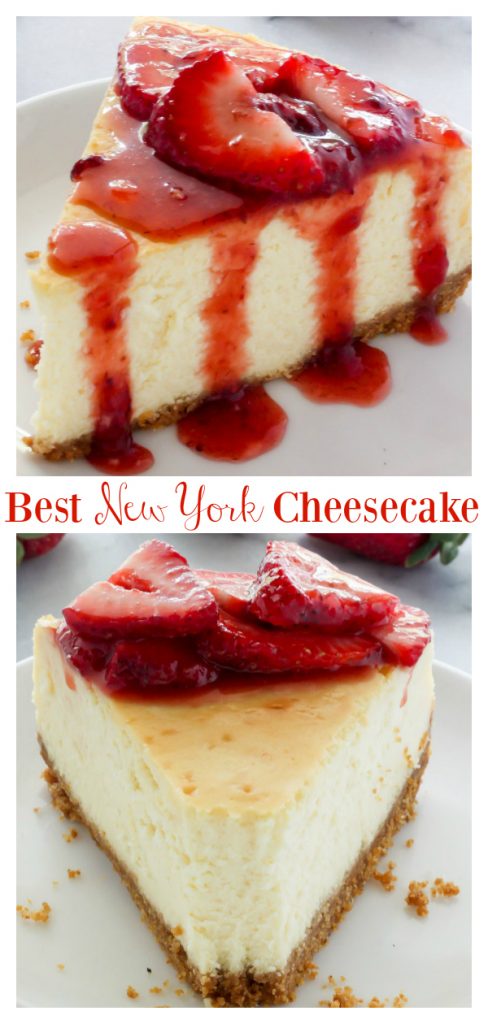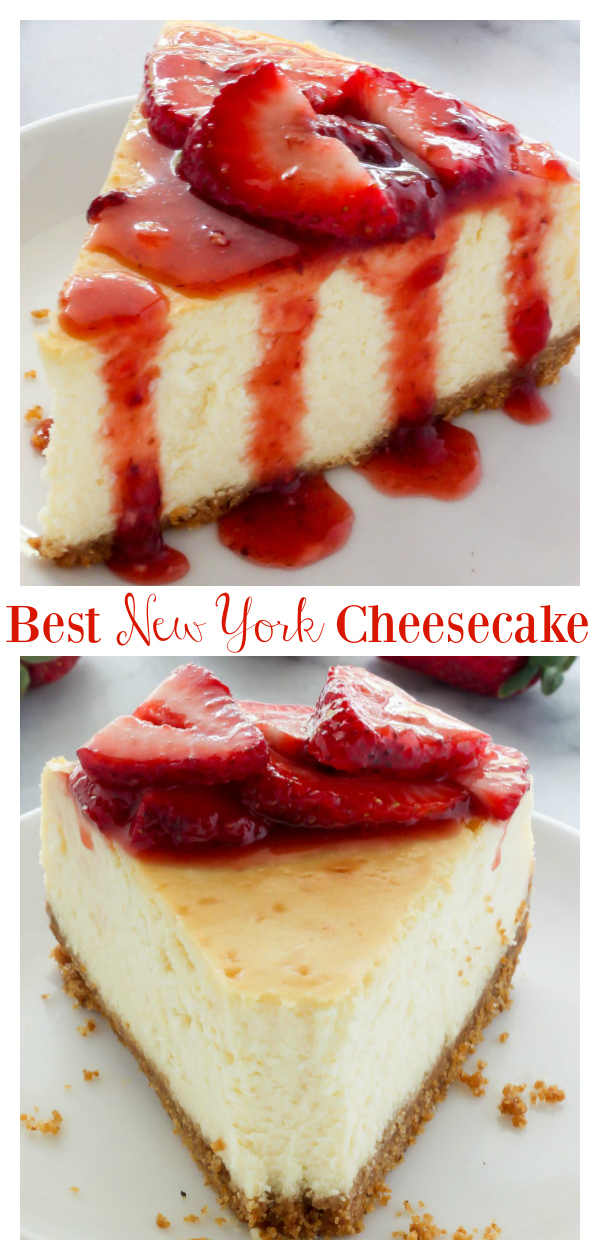 The Best New York-Style Cheesecake
Rich and creamy, this classic New York Style Cheesecake is always a crowd-pleaser! Made with a graham cracker crust and an ultra creamy filling, this is sure to become one of your favorite cheesecake recipes.  
Ingredients
For the Crust:
2 cups graham crackers, pulsed into crumbs
1/3 cup sugar
1/4 teaspoon salt
7 tablespoons butter, melted
For the New York-Style Cheesecake:
3 (8 ounce) packages cream cheese, very soft
1 cup Full-Fat Sour Cream
1 1/4 cups granulated sugar
2 teaspoons pure vanilla extract
3 large eggs + 2 egg yolks, at room temperature
3 tablespoons all-purpose flour
1/2 cup heavy cream
For the Fresh Strawberry Sauce:
1 1/2 cups fresh strawberries, hulled and sliced, divided
1/4 cup sugar
1 small lemon, zested
Instructions
Preheat oven to 325 degrees (F).
For the Crust:
Lightly spray a 9" springform pan with non-stick spray; set aside.

In the body of a blender or food processor combine graham crackers, sugar, and salt; blend until the crackers have been completely pulsed to crumbs. Add melted butter; stir well to combine. Press down firmly into the prepared 9-inch springform pan; set aside.
For the New York-Style Cheesecake Filling:
In the body of a high power blender, food processor, stand mixer fitted with the whisk attachment, or in a large bowl using a hand held mixer, beat the softened cream cheese and sour cream until completely smooth.

Add sugar and vanilla; beat until smooth, scraping down the sides and bottom of bowl as needed. Add in the eggs and yolks; beat until smooth. Stir in the flour, mixing just until combined.

Quickly stir in the cream, mixing just until it's incorporated in the batter.

Pour filling into prepared crust, and spread evenly.

Wrap the bottom of the pan in tin foil (I recommend doing a few diligent layers here; no one wants a wet crust).

Place the cheesecake pan into a large, deep pan. Fill the pan up with hot water half way. This is your water bath and will help ensure your cheesecake comes out crack free.

Place pan in the oven and cook cheesecake for 1 hour and 15 minutes. Turn oven off and let the cheesecake sit, undisturbed, for 45 minutes inside the oven with the door shut. The cheesecake should be still slightly wiggly.

Remove cake from oven, run a knife very gently around the edge of the cake, and let it sit in the pan for 15 more minutes before covering loosely with plastic wrap and refrigerating for at least 6 hours. When ready to serve, top with a dollop of whipped cream or fresh strawberry sauce and enjoy!
For the Fresh Strawberry Sauce:
Process 1 and 1/4 cups of strawberries, sugar and lemon zest in a food processor or blender until smooth. Transfer mixture to a medium-sized bowl, stir in remaining sliced strawberries, and chill for at least 1 hour before serving.