A flourless chocolate cake pretending to be a brownie! Rich, decadent, and so fudgy! A must try for chocolate lovers!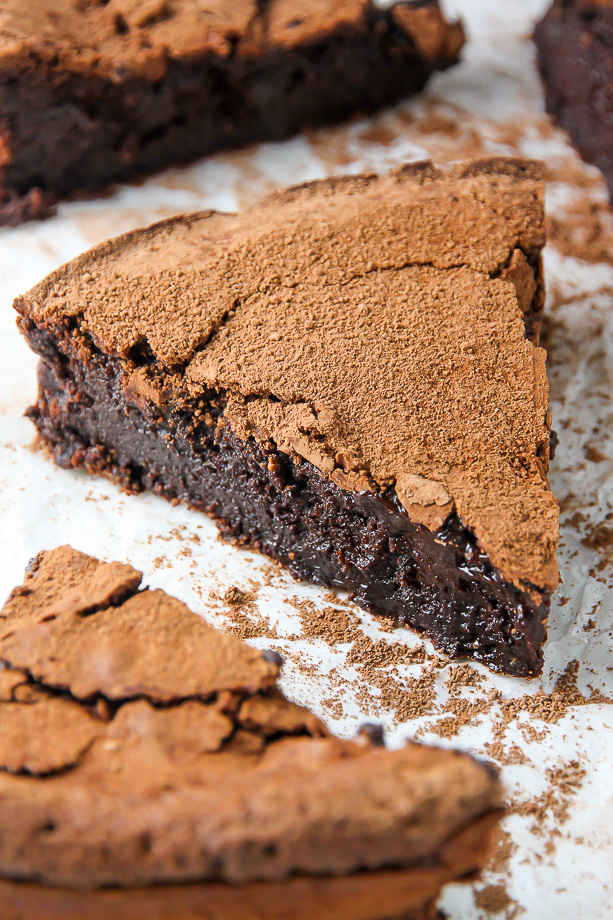 Flourless Chocolate Cake Recipe
I've been waiting all week to share this cake with you! It's rich, fudgy, and utterly decadent. It's Friday worthy! Cause we all know weekend calories don't count, right…? 😉
A few years ago I shared with you this Flourless Chocolate Whiskey Cake with Whiskey Pudding Sauce and – based on the comments and emails I've received – you guys love it! Not too long ago I started craving a slice for myself. The only problem? I was out of whiskey. No idea how that happened…
Instead of running out to the store, I decided to make an equally delicious booze free version for all of my fellow bakers who find themselves in a "dry" kitchen. The results? OMG so good.
Flourless chocolate cake? Yes. Flourless chocolate cake that tastes like a fudge brownie? Hell YES. Naturally I couldn't wait to share this with you!
Fudgy Flourless Chocolate Cake
This flourless chocolate fudge cake is really easy to make. First you'll need to set out 6 eggs – they need to come to room temperature. While you wait, melt your butter and chocolate. You'll need 12 ounces of both.
You'll stir the butter and chocolate together until both are melted and can easily be whisked smooth. If you use chocolate chips, I recommend staying near the pan the entire time as they melt much faster than chopped chocolate. Once melted, you'll remove the pan from heat and set it aside to cool for 10 minutes. You can use this time to assemble the rest of your ingredients.
Separate 4 of the eggs, placing yolks into one bowl, and whites into another. You'll want both bowls to be medium to large in size. In the bowl holding the yolks you'll add vanilla extract, the 2 remaining eggs, salt, cocoa powder, and half of the sugar.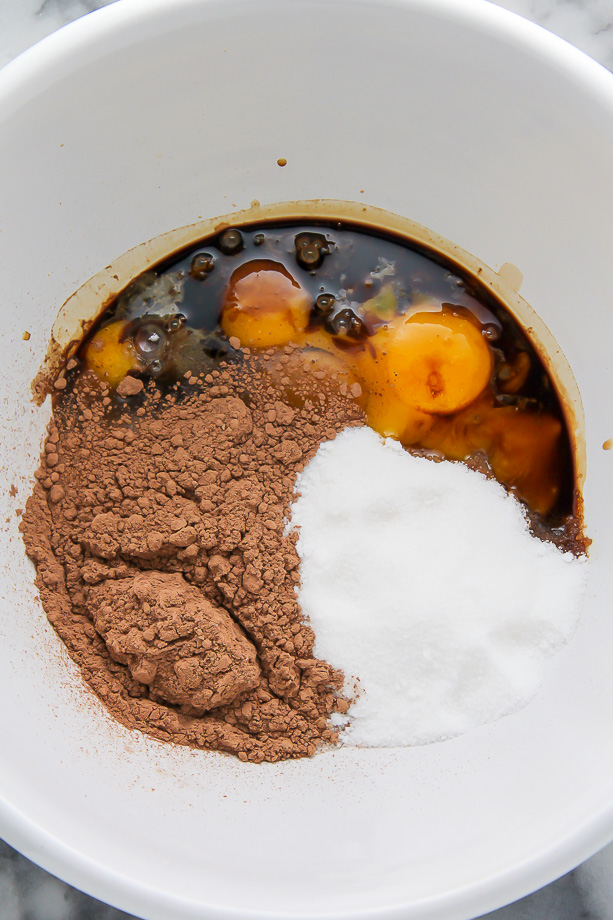 Next you'll use a handheld electric beater to whip the egg whites until they're very frothy. Add in the sugar and continue whipping until the mixture has formed stiff peaks. If you own a stand mixer, you can fit it with the whisk attachment and use it for this step. In my experience you can not make the peaks needed by hand, so make sure you have one of the electric options mentioned above available before you plan to make this.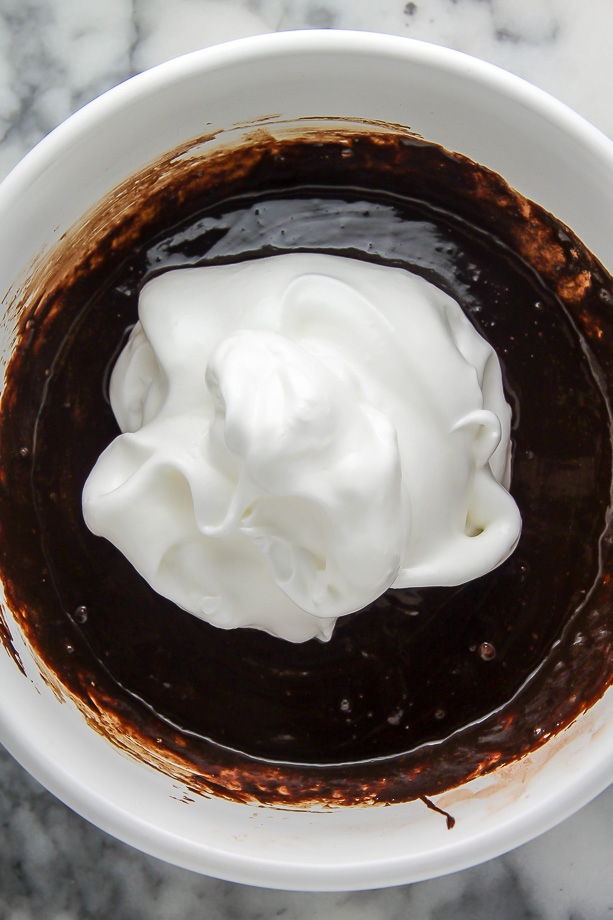 The batter will be dark, thick, and absolutely gorgeous.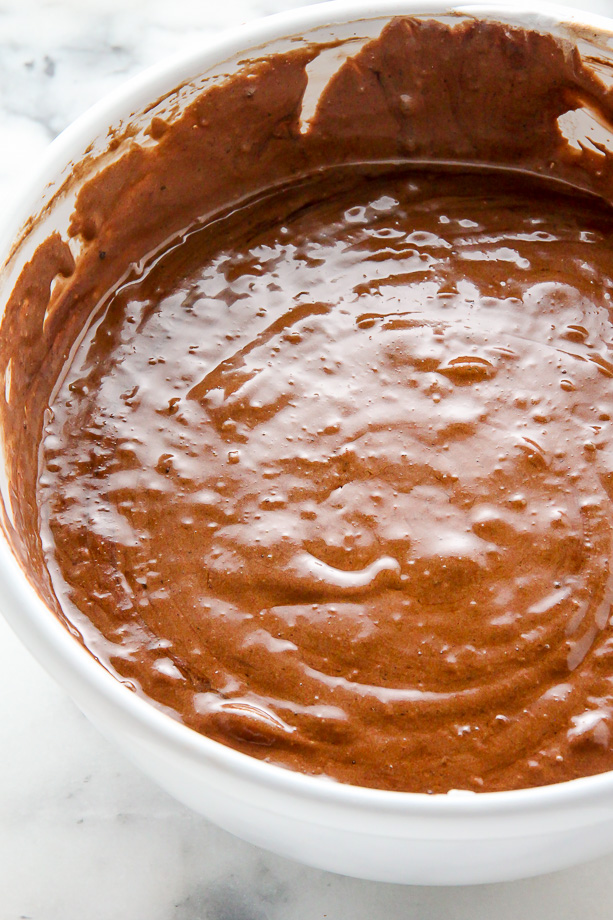 Time to bake! For this cake you'll need a 9-Inch Spring Form Pan
. The is too much batter for a regular 9″ baking pan. You'll bake the cake for 35 to 45 minutes, or until the top is shiny, slightly crackly, and the center no longer jiggles. Allow the cake to cool completely before cutting it into slices. I won't lie… the waiting is pure torture. But guess what I discovered? You can pop the cake in the fridge to help speed up the process.
I have no patience when it comes to dessert.
As far as decoration, the world is your oyster! I kept things simple and just dusted the cake with cocoa powder (there's always room for more chocolate), but you could add chocolate ganache, confectioners' sugar, or fresh whipped cream and berries. Tell me – how will you decorate yours?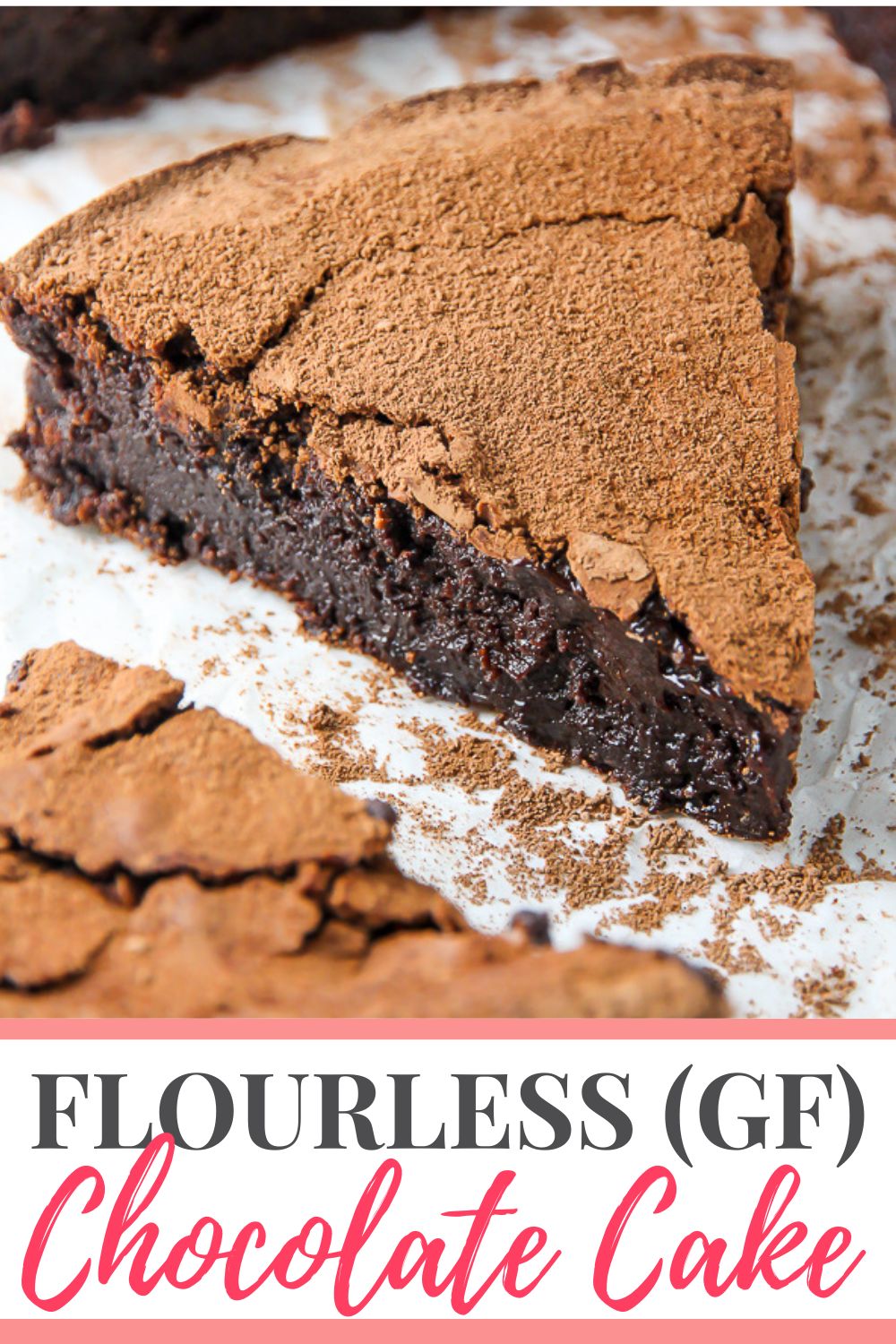 If you're a fan of rich, fudgy, decadent chocolate desserts you're going to FLIP over this cake! It's already one of my favorites.
More Chocolate Cake Recipes:
If you try this recipe, let me know! Leave a comment below and don't forget to snap a pic and tag it #bakerbynature on instagram! Seeing your kitchen creations makes my day. ♥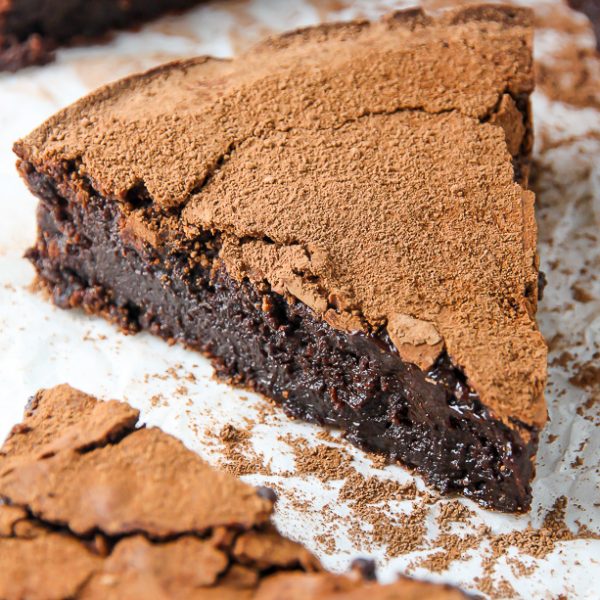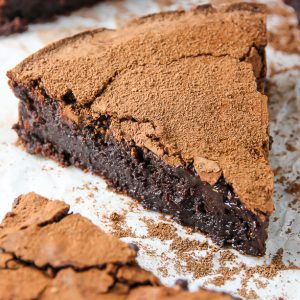 Flourless Chocolate Fudge Cake
Decadent flourless chocolate cake that tastes just like a fudge brownie!
Ingredients
12 tablespoons unsalted butter
12 ounces bittersweet chocolate, chopped into small pieces
6 large eggs, at room temperature, divided
1 tablespoon pure vanilla extract
1/4 cup natural, unsweetened cocoa powder
3/4 teaspoon salt (fine sea salt or kosher salt will work)
1 cup sugar, divided
Instructions
Preheat oven to 350 degrees (F). Grease and flour a 9" springform pan; set aside. Combine the butter and chocolate together in a small pan over medium-low heat; cook, stirring almost constantly, until both are completely melted. Whisk smooth then remove pan from heat; set aside.

Separate 4 of the 6 eggs, placing the egg whites and yolks in separate medium-sized bowls. In the bowl with with yolks add the vanilla extract, cocoa powder, salt, remaining eggs, and half of the sugar; whisk well to combine. Slowly add the cooled chocolate mixture into the yolk mixture; whisk well and set aside.

Using an electric mixer set to medium-high speed, beat egg whites until very frothy. Gradually beat in the remaining 1/2 cup sugar and beat until firm peaks form.

Carefully fold the egg whites into the chocolate mixture, stirring until incorporated. Pour the batter into the prepared pan and smooth top with a spatula.

Place pan in oven and bake until the top is slightly cracked and the middle no longer moves, about 35 to 40 minutes. Transfer cake to cooling wrack and let cool completely before cutting and serving.

Dust the cake with cocoa powder, confectioners' sugar, or top with a dollop of whipped cream and fresh berries!
Notes
This cake MUST cool completely before being sliced. To speed this up you can cool the cake on the counter for 30 minutes, then pop it in the fridge for another 20 minutes or so. If you slice into the cake before it's cooled, it will be too gooey in the middle. The cake sets as it cools.