All I want in my life right now is pizza. This pizza. On automatic replay. Over and over and over again.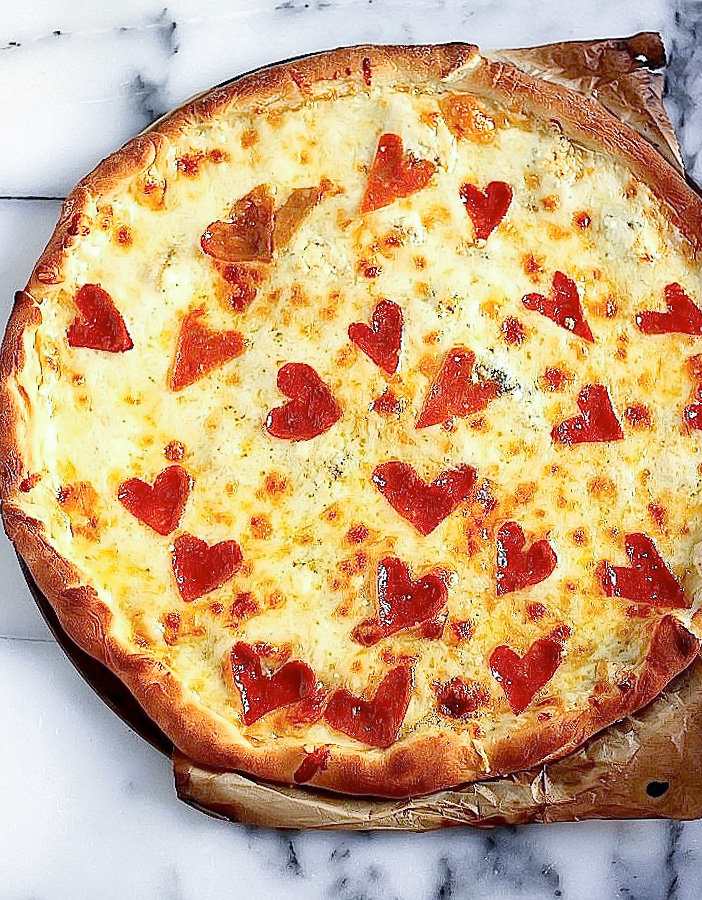 Warning: Once you've experienced this giant pizza decked out in four cheeses and spicy dots of pepperoni… you'll be just as reeled in!!! Helplessly hooked to its cheesy charms.
And I mean… really, who can blame you? No pizza judgement here! Never.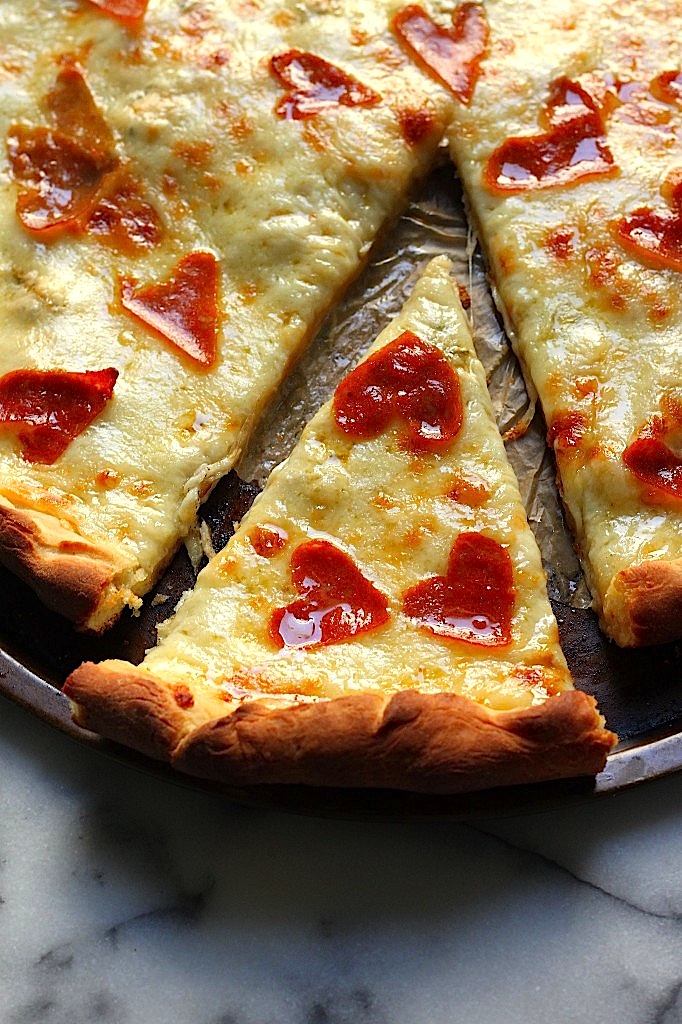 Crunchy golden crust, gooey melted cheese (x4), and chewy pops of pepperoni… it's the perfect food! All you need is a few great people to join you around this pie (and bring the wine!), and you're set for one amazing pizza party.
I got a little cutesy with my paring knife and carved the pepperoni rounds into tiny hearts, but you can totally use regular round slices, vegetarian pepperoni, or leave it off wholly! Up to you 😉
Oh, and if you have a mini heart cookie cutter, I think that would definitely work, too. I don't know why I'm just thinking of that now. Doh!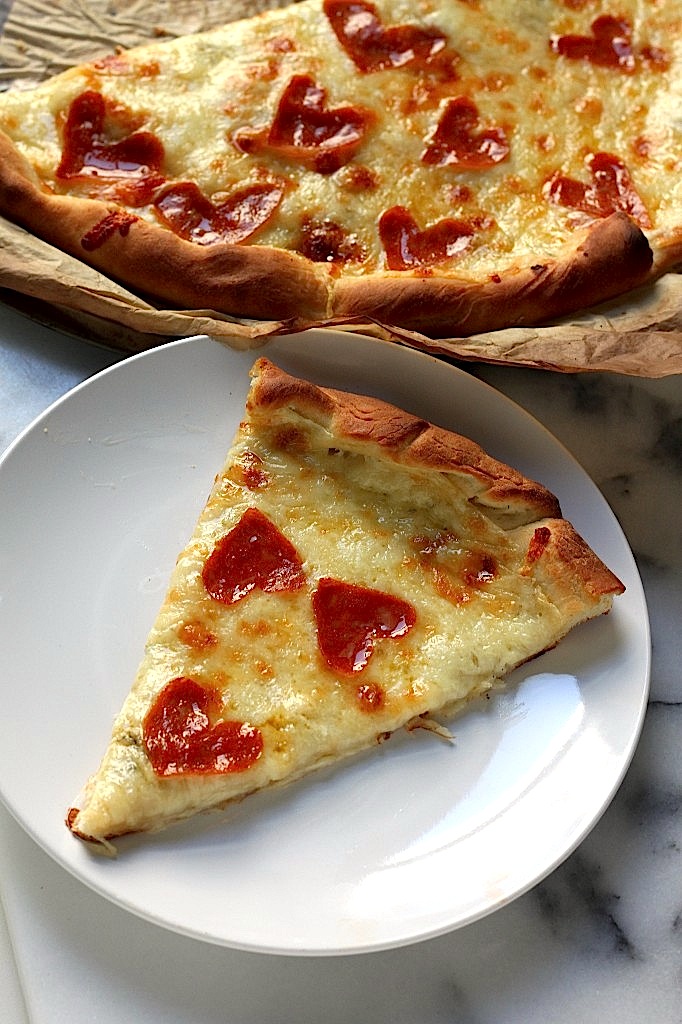 The four cheeses are mozzarella, Locatelli, Monterey Jack, and gorgonzola, and you guys, they are such a winning combination! They all have very distinct bold flavors that – when melted together – just work. And they work well!
So well in fact, you may find you and your significant other polished off the whole pie in one sitting…
Whhhaaaaaat? It happens 😉
Happy weekend! xo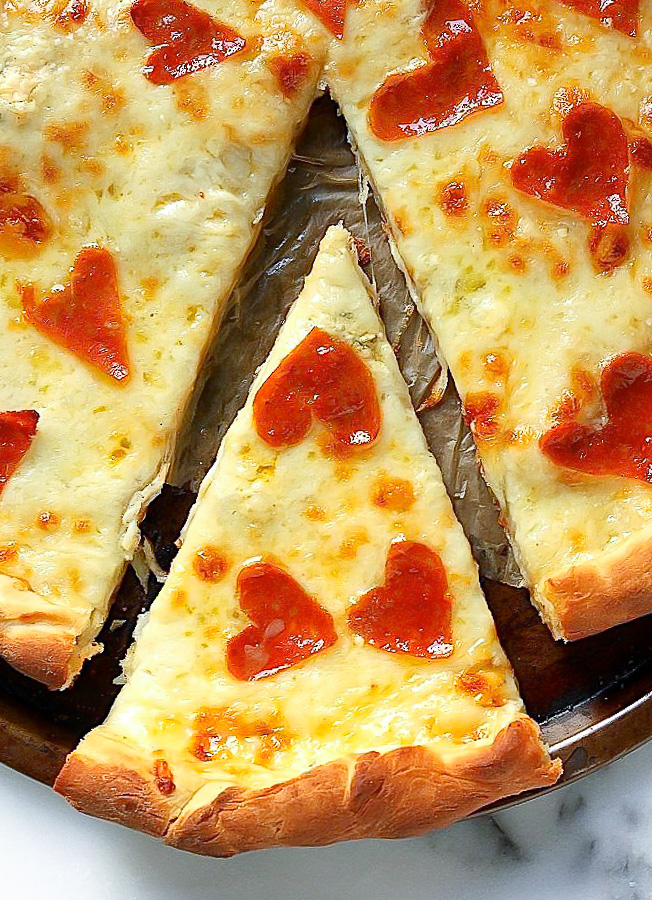 Four Cheese Pepperoni Pizza – Baker by Nature
Makes one large pie
Ingredients:
1 pizza dough, rolled out into a large (about 12"s across) circle
8 ounces mozzarella, shredded
3 ounces  Locatelli Romano Cheese, shredded
3 ounces Monterey Jack, shredded
2 ounces gorgonzola, crumbled
1/8 pound pepperoni, cut into heart shapes (optional!)
1 – 2 tablespoons olive oil, for drizzling
Instructions:
Preheat the oven to 500 degrees (F).
Roll the pizza dough to desired shape and place it on a large, lightly oiled baking sheet or a pizza stone.
Combine the mozzarella, Locatelli, and Monterey Jack in a large bowl.
Evenly distribute the cheese mixture over the crust. Top with pepperoni and gorgonzola, evenly distributing them around the top of the pie.
Drizzle with olive oil, and bake until the crust is golden brown and the cheese is completely melted, about 6 to 8 minutes.
Serve at once!