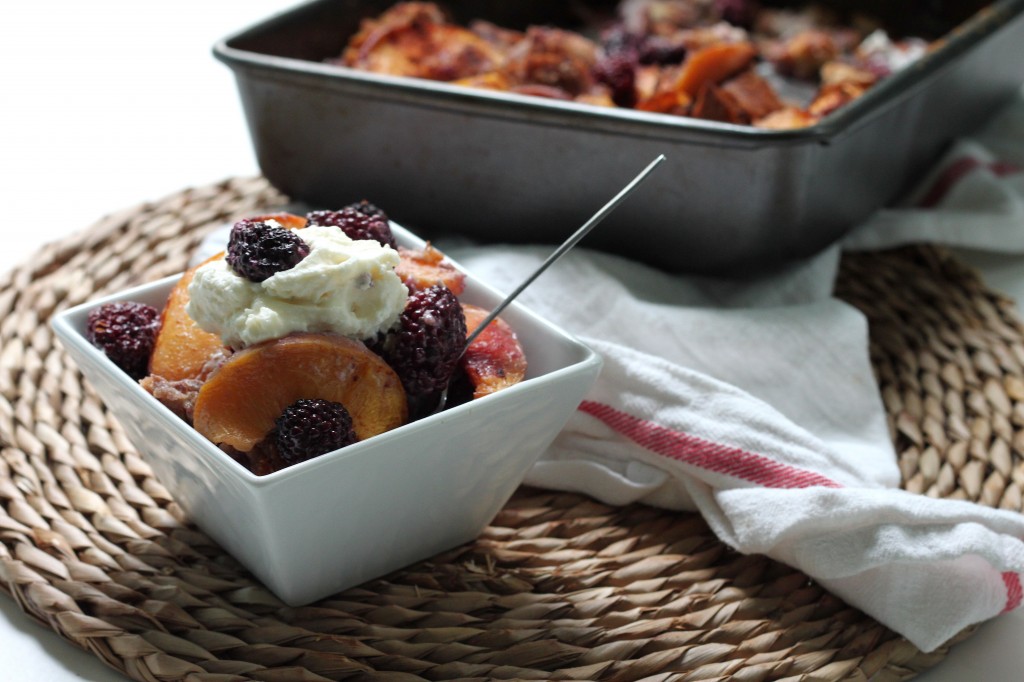 This is a super fruity & Summerlicious version of one of my all time favorite desserts: Bread Pudding! I can't even remember when bread pudding first entered my life – I know we didn't eat it as kids – but it's such comfort food that after a few bites you can easily feel  like it's something you've always know to be dear and delicious. And if you're as new to the bread pudding scene as I am, you'll also quickly realize you have a lot of catching up to do!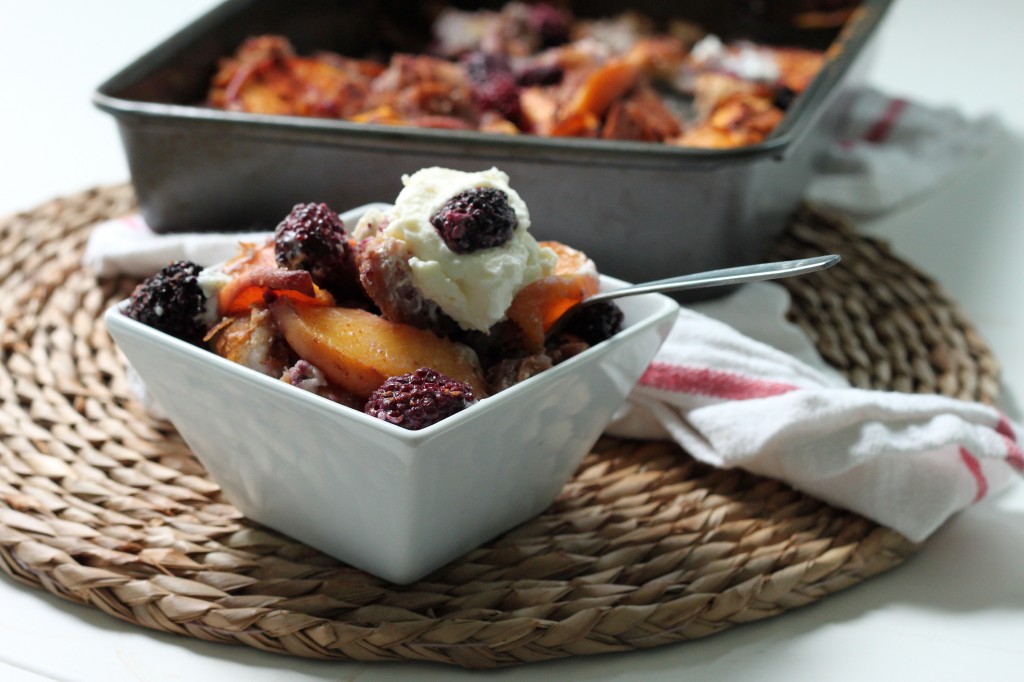 Stale bread gets a makeover thanks to fresh peaches, blackberries, and a whole lotta cream. There's bourbon hiding in there, too… I love when bourbon is sneaky like that.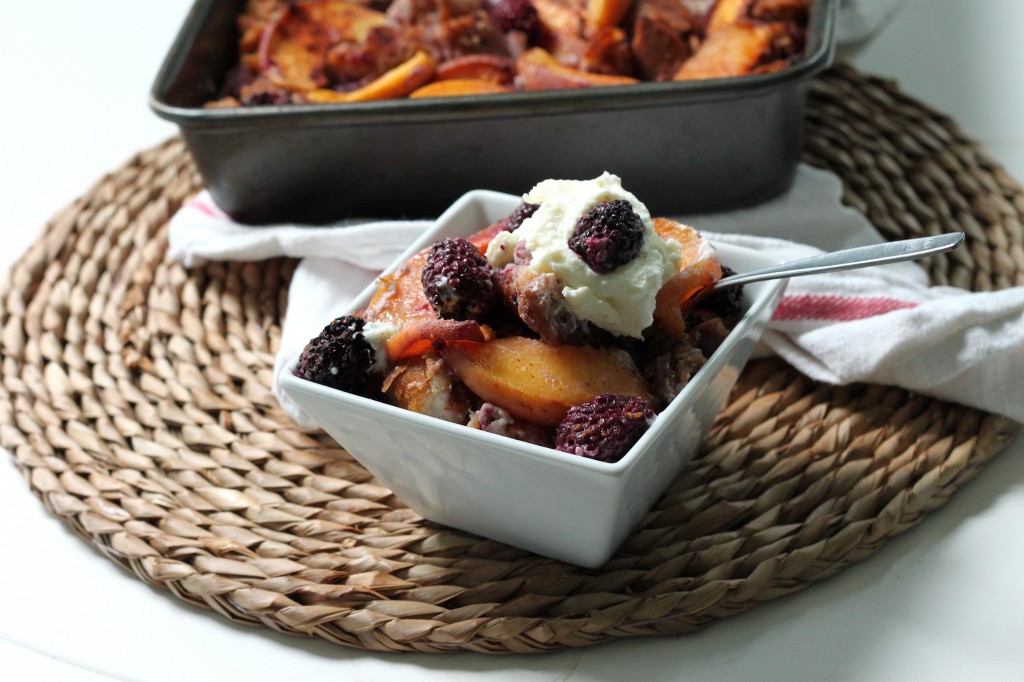 We finished off the last of the pudding in bed last night. We ate it as dinner, paired it with white wine, and slipped into a state of bliss that can only be found in such freedoms as pudding for dinner. The only thing that could have made it better was fresh fudge for dessert… and oh yeah, we had that, too! Life is good 🙂
Fresh Peach & Blackberry Bread Pudding – Baker by Nature
Ingredients:
16 ounces stale baguette (about two loaves) cut into bite sized pieces
4 ounces unsalted butter, melted
3 1/2 cups heavy cream
1/4 cup bourbon
1 1/4 cups granulated sugar
Zest of 1 lemon
6 large eggs
1 teaspoon vanilla extract
2 pints fresh blackberries
2 large peaches, pitted and sliced thin
1/4 cup whole milk for pouring
Instructions:
Preheat the oven to 400 degrees (F). Drizzle the melted butter over the bread cubes, then spread them on a large baking sheet and toast until lightly golden brown on all sides, about 10 minutes. Remove and let cool slightly.
In a small sauce pan bring the cream, sugar, lemon zest, and one pint of the blackberries to a simmer over medium heat, gently mashing the blackberries when they've softened. Whisk together the eggs and bourbon in a medium bowl. Slowly whisk the warm milk into the eggs and add the vanilla.
Transfer the bread cubes to a 9 by 15-inch baking dish and top with remaining blackberries & peaches, tossing the mixture with your fingers a few times so the fruit and bread get evenly combined. Pour the custard mixture over the bread/fruit combination and press on the bread to submerge in the custard. Cover with plastic wrap and let the pudding sit in the fridge for at least 6 hours, or over night.
When ready to bake, preheat oven to 350 degrees (F). Remove plastic wrap from the baking dish and drizzle the remaining 1/4 cup of milk over the top of the mixture. Bake for about 45 minutes, or until puffed up slightly and warmed evenly. Let rest at least 5 minutes before serving. This is great with whipped cream and/OR ice cream!