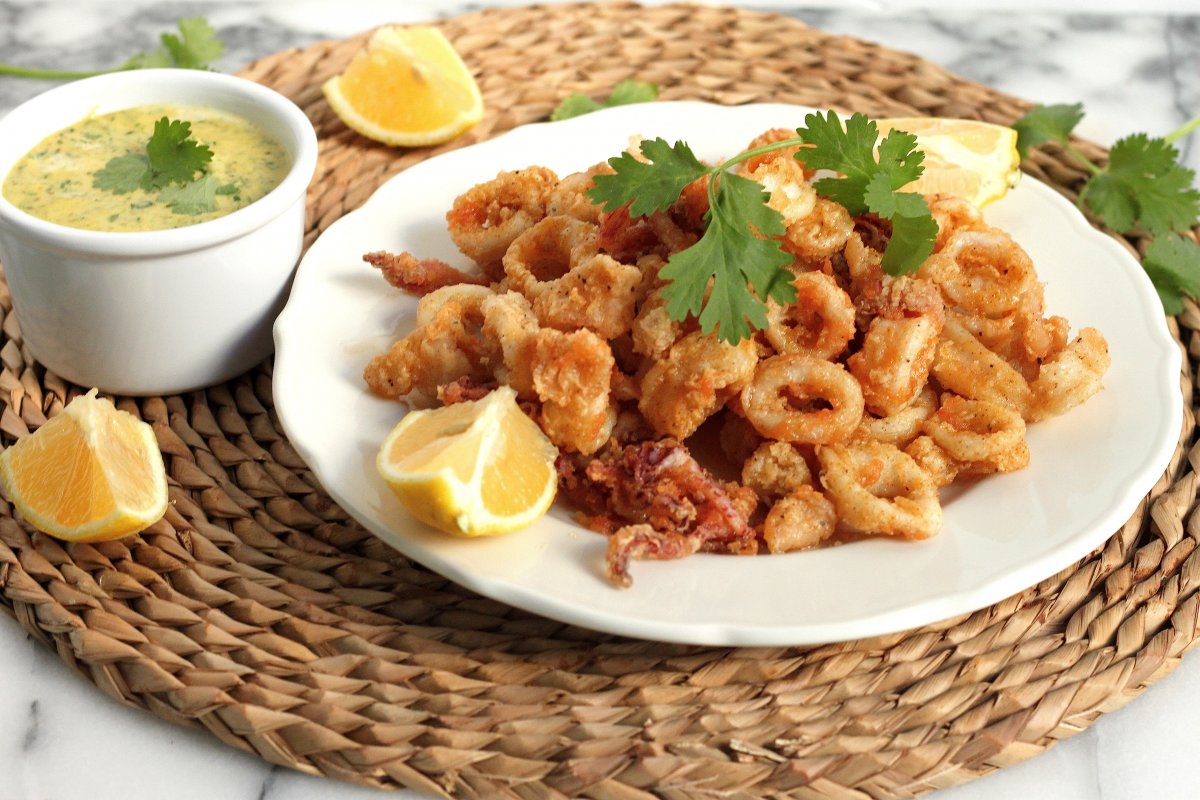 I love ordering fried calamari when we eat out, but I have to admit, it's one of those things I've always feared doing myself at home. This is mainly because I HATE frying; it scares the heck out of me. But also, buying squid just seems… intimidating. Is that weird? Maybe I have fish issues I need to work out.
Anywho! I finally (wo)maned up and took the leap into at-home-calamari making this weekend, and duuuuude, SO easy! More importantly, so damn delicious. Like, so delicious I went to the gym for the first time in 3 months…! I blame the tabasco and honey drizzle. It's totally addicting.
The actual calamari batter is a simple mix of flour, cornstarch, paprika, salt, and pepper. I'm glad I kept the base simple, because the drizzle and aioli add a TON of flavor. They're also quite simple to whip up! For the drizzle, you just whisk in a few dashes of hot sauce into the honey, and then DRIZZLE it all over the hot and crispy calamari. So easy! The aioli is a bit more complicated, but your blender does 99.9 % of the work, and if you want to cheat and use store bought mayo, it will make things even simpler. I have a thing against most store bought mayos and find it satisfying to make my own, but do what makes you happy.
If you're a calamari lover looking to spice up your at home appetizer scene, I think this is the way to go! And I can say from experience, guests will think your a total rock star for starting the meal this way 😉 Fry on!
Fried Calamari with Tabasco and Honey Drizzle and Cilantro Aioli – Baker by Nature
Ingredients
For the calamari:
1 pound clean calamari (squid), with tentacles, cut into 1/2″ thick rings
1/2 cup all purpose flour
1/4 cup cornstarch
1/2 teaspoon salt
1/2 teaspoon black pepper
1/2 teaspoon paprika
1 – 2 cups frying oil (depending on your pan size)
For the Tabasco & Honey Drizzle:
1 1/2 tablespoons honey
2 dashes tabasco sauce
For the Cilantro Aioli:
3/4 cup mayo (homemade or store bought)
1/2 cup clean cilantro leaves
1/2 teaspoon salt
1/4 teaspoon black pepper
1/2 teaspoon cumin
1 teaspoon lime juice & zest
Instructions
For the Calamari:
Heat the oil in a small sauce pan over medium-high heat. While it's heating up, cut the squid into 1/2″ rings.
Mix flour, cornstarch, and spices in a large bowl, then add calamari rings, and toss until completely coated.
Once the oil is hot enough (I didn't use a thermometer here and instead just waited until it sizzled ferociously when I added a drop of water), add 1/4 of the calamari, and fry for 3-4 minutes, or until crispy and golden. Place cooked calamari on a large platter (with a paper towel underneath), and continue to cook the calamari in batches until finished. Drizzle with tabasco & honey sauce, and serve with cilantro aioli. Best served right away!
For the Tabasco & Honey Drizzle:
In a small bowl whisk together honey and tabasco. Drizzle over hot, crispy calamari.
For the Cilantro Aioli:
In a blender combine all of the ingredients and pulse until smooth. Serve with calamari. This is also great on burgers and crab cakes!