This Gourmet Green Bean Casserole is loaded with tons of Bacon, Gruyère, and Caramelized Onions!!! This is the holy grail of green bean casseroles. And a must make for this holiday season!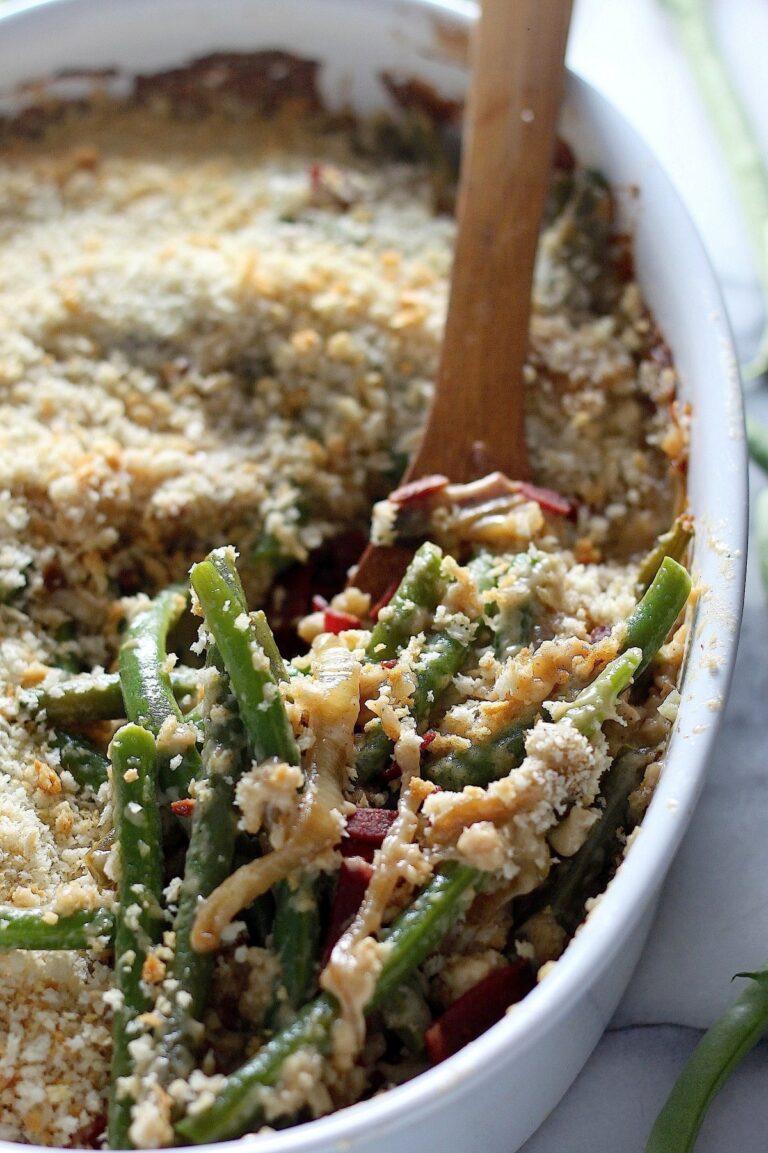 Gourmet Green Bean Casserole Recipe
So yeah… I'm totally the jerk bringing you (originally typed brining you… OY!) a green bean casserole recipe 3 days before Thanksgiving. What gives? Well. Here's the thing... I have been testing this recipe for the last 2 weeks. Yeah. That's a lot of casserole in mah belly, dude! And they've all been good; some better than others. But none of them were "blog worthy". None of them were worthy of you! See. Going into this holiday season I made a promise to myself. I made a silent vow not to share any "spins on the classics" unless they were perfect. Because there are a ton of green bean casserole recipes floating around these days, ya know? I didn't want to add to the conversation unless I really had something tremendous to say.
Lucky for us, today I do. Gourmet Green Bean Casserole with Bacon, Gruyère, and Caramelized Onions —> It's the bee's knees! The king of casseroles! A conversation piece that's sure to win you praise and admiration!
Start with fresh green beans!
You'll blanch them for 4 minutes (and only 4 minutes!), then plunge them into a frigid ice bath. This stops the cooking process and keeps them niiiice and green. We want that!
Next up, make the sauce! This is a two-step process, but so worth every ounce of work. Step one involves frying the bacon, then – in the same pan – caramelizing the onions. The onion part will take around 25 minutes, but holy cow is it worth it! The onions really make this casserole shine, so be sure to start with enough time to let them do their thang. The second step is quite simple and fast! You're just going to make a white sauce using butter, flour, milk, and cream. Once that mixture thickens up, you'll add the cheese and some spices. Then mix the creamy sauce with the onions and bacon and garlic – OH BOY! Things are getting really really yummy!
Now you'll pour this decadent sauce over the green beans…
Add panko…
and bake until it's golden and bubbling and as close to heaven as a casserole can get.
Ta-da! You did it. It's time to dig in! Creamy, flavorful, and just all around awesome. This is not your average green bean casserole – that's fo sho!
I seriously cannot wait to see my family's reaction to this killer casserole come Thursday! P.S. You making this is at the TOP of the good idea list… so go grab your green beans and gruyere now! xoxo
Gourmet Green Bean Casserole with Bacon, Gruyère, and Caramelized Onions
This Gourmet Green Bean Casserole is loaded with Bacon, Gruyère, and Caramelized Onions!
Ingredients
2 pounds Fresh Green Beans, ends trimmed
6 slices Bacon, Cut Into 1/4 Inch Pieces
4 cloves Garlic, Minced
2 tablespoons olive oil
3 whole Yellow Onions, thinly sliced
1 teaspoon brown sugar
4 Tablespoons Butter
4 Tablespoons All-purpose Flour
3 cups Whole Milk
1/4 cup Heavy Cream
2 teaspoons Salt, or to taste
1 teaspoon Freshly Ground Black Pepper, or to taste
1/4 teaspoon Cayenne Pepper (optional, but it breaks up the richness quite nicely)
8 ounces Gruyère, Grated
1 cup Panko Bread Crumbs
Instructions
Preheat oven to 350 degrees (F).

Trim the ends of both sides of the green beans; cut them in half if you prefer the pieces to be bite-sized.

Bring a large pot of lightly salted water to a rapid boil. Blanch the green beans by dropping them into the boiling water and allowing them to par-cook for 4 minutes. Remove them from the boiling water with a slotted spoon and immediately emerge them into an ice bath (a large bowl of ice cold water) to stop the cooking process. Drain the green beans once they're cool; pat them dry; and set aside.

Add bacon pieces to a large skillet over medium heat. Cook bacon for 3-4 minutes, or until it's cooked through but not crispy; remove with a slotted spoon and set aside.

Add the olive oil, thinly sliced onions, and brown sugar to the same pan the bacon was cooked in. Cook over medium-low, stirring occasionally, until the onions have deepened in color and caramelized; about 25 minutes. Stir in garlic and bacon and cook for another 2 minutes. Remove pan from heat and set aside.

In a separate skillet, melt butter over medium heat. Once it's completely melted sprinkle the flour into the pan and whisk immediately, evenly mixing it into the butter. Cook for a minute or two, then pour in milk and heavy cream. Continue cooking, whisking constantly, until the sauce thickens up; about 2 minutes. Stir in salt, pepper, cayenne, and gruyere. Stir constantly until cheese has melted completely into the sauce, then remove pan from heat. Stir the bacon/onion mixture into the cream sauce, mix well to combine.

Pour sauce over green beans and stir gently to combine. Pour the mixture into an oven-safe casserole dish, then top with panko bread crumbs.

Bake for 25-30 minutes, or until sauce is bubbling and panko crumbs are golden.