You'll love this fun and easy recipe for Red Wine Chocolate Truffles! Because is there anything better than red wine and chocolate?! These Truffles make a great homemade holiday gift!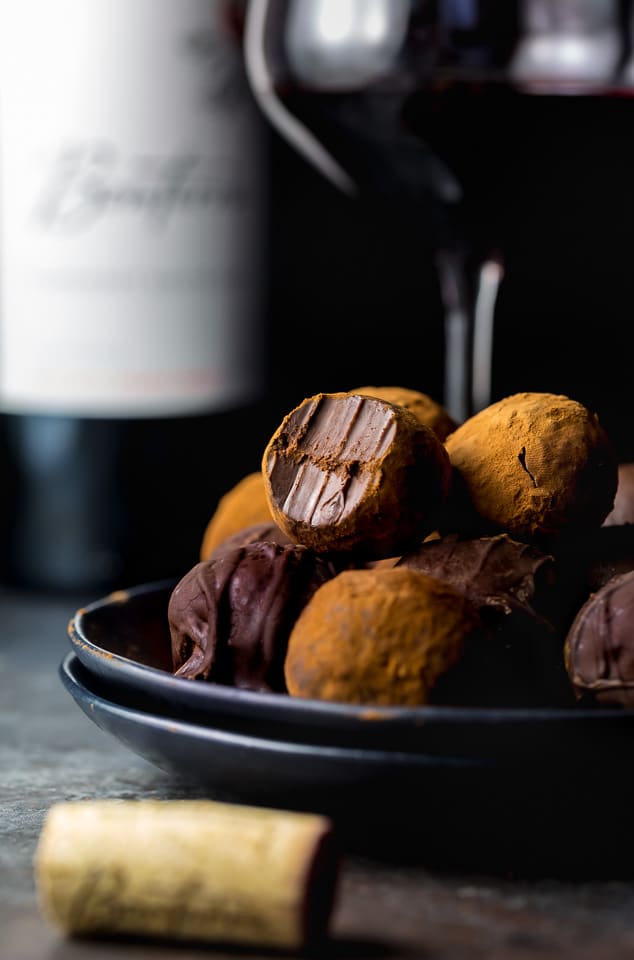 Red Wine Chocolate Truffle Recipe
If you're reading this, you and I probably have one thing in common: we both love red wine and chocolate! Last year I baked a red wine chocolate cake for Valentine's Day and it blew me away! So creating another red wine chocolate dessert was inevitable.
And what better way to combine red wine and chocolate than red wine chocolate truffles?! These luxuriously smooth truffles are made with just 5 simple ingredients: heavy cream, red wine, quality chocolate, vanilla extract, and butter. And I seriously hope you have those ingredients on hand?! Because after seeing this… I know you're going to want a bite (or 7) ↓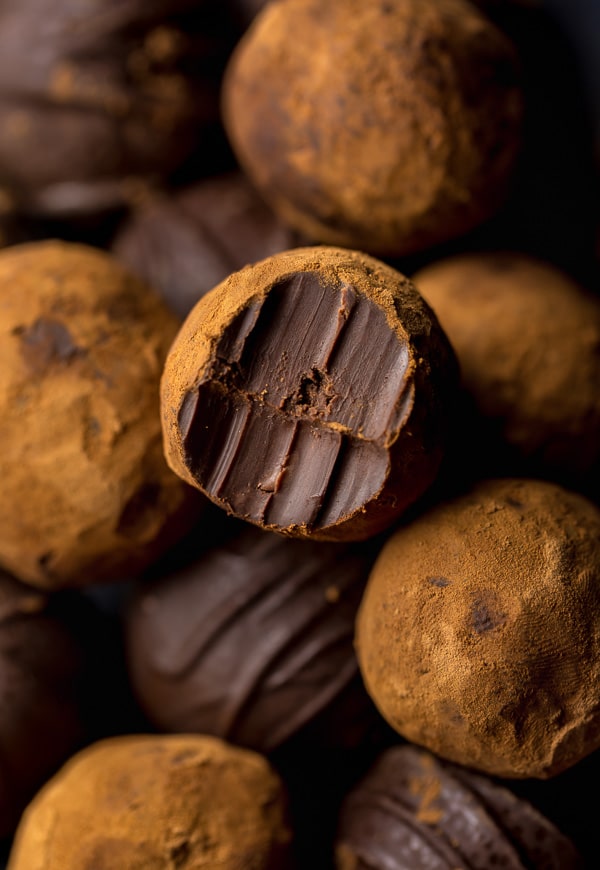 Red Wine Truffles
Tips and Tricks for Recipe Success:
This recipe calls for heavy whipping cream, which has a fat content between 36 and 40 percent. It's the high fat content makes these red wine chocolate truffles so rich and creamy. If you cannot find heavy whipping cream, regular heavy cream can be used in its place. Milk or actual whipped cream (like the stuff that comes in a can) will not work as a substitute.
Because this recipe only calls for 5 ingredients, I suggest using the best quality ones you can. You can really taste the difference!
And since the recipe only uses 1/2 cup of red wine, buy a brand you enjoy drinking! Because the only thing better than a red wine chocolate truffle is a glass of red wine WITH a red wine chocolate truffle. TRUST ME. Our favorite wines to drink – and cook with – are Bonterra and Natura. As for variety, I prefer a full-bodied Cabernet or Pinot Noir. But use whatever you know and love! Just be sure it's red wine… as white wine will not work in this recipe.
For a less sweet treat, dark chocolate may be used in place of the semi-sweet chocolate. But I don't suggest using milk chocolate, as it produces cloyingly sweet red wine truffles.
Chocolate chips should never ever ever be used in place of the chopped chocolate. They don't work well for this recipe.
The easiest way to shape the truffles is by using a small cookie scoop like this. You may also use a teaspoon, but it will be more work and the red wine truffles will be less uniform in shape and size. Either way you roll them, your hands will get sticky, so keep a damp dish towel near by.
I love dipping these truffles in more chocolate, but an easier way to decorate them is to roll them in cocoa powder.
You can store these red wine chocolate truffles in the fridge for up to two weeks. But I suggest letting them come to room temperature before serving them. An hour on the counter should do the trick!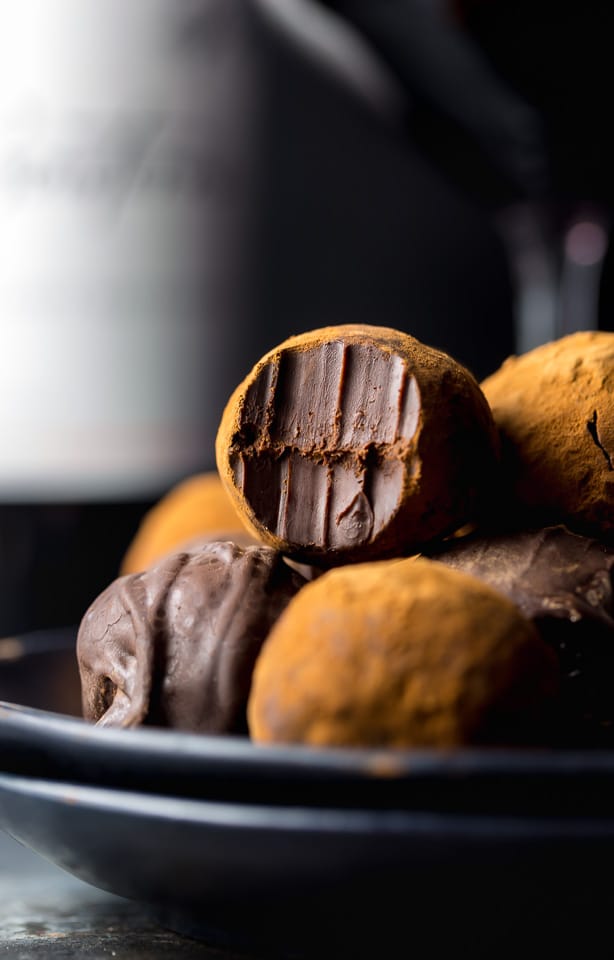 Making homemade truffles may sound intimidating, but trust me, the only thing fancy about this recipe is the name! This 5-ingredient recipe couldn't be easier. Especially since 75% of the time required for this recipe is "inactive" time. So pour yourself a glass of wine, bust out your chocolate stash, and let's make some truffles! P.S. this is a really fun recipe to make for a girls' night in! I had a few gal pals over last weekend and we had a BLAST blaring taylor swift, pouring wine, and getting our hands messy rolling a billion red wine chocolate truffles.
More Chocolate Truffles Recipes:
If you try this recipe for Red Wine Chocolate Truffles, please let me know what you think! Leave a comment below, and don't forget to snap a pic and tag it #bakerbynature on instagram! Seeing your creations seriously makes my day ♥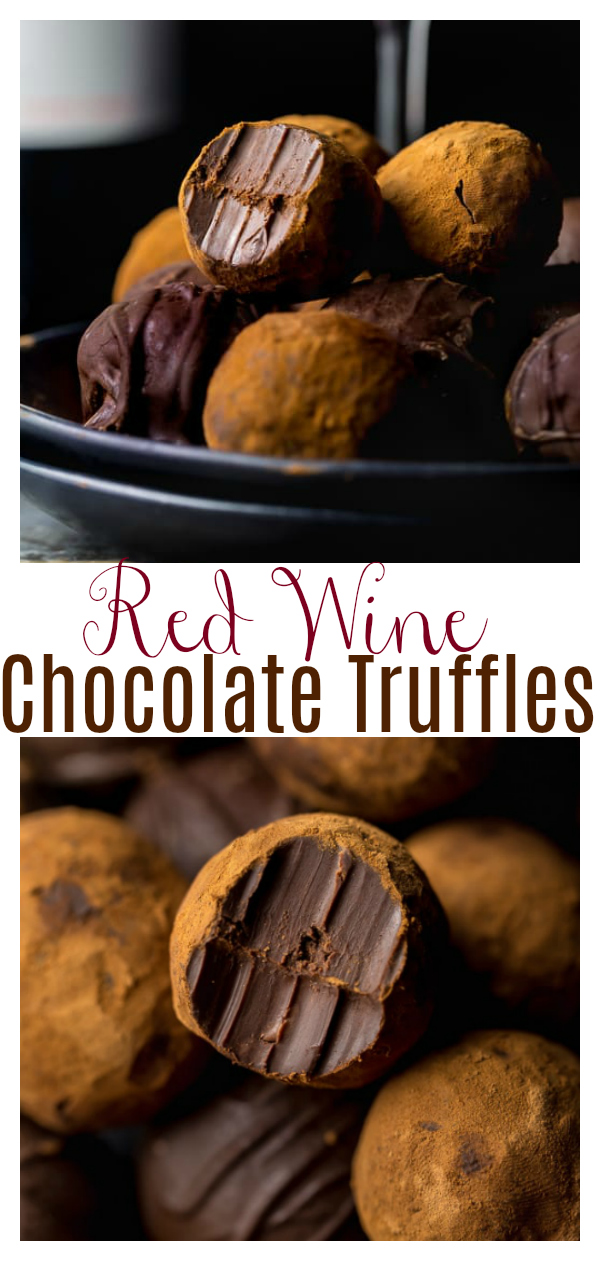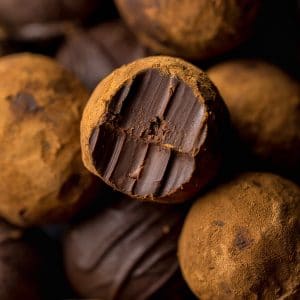 Red Wine Chocolate BonBons
Homemade Red Wine Chocolate BonBons are an incredible treat to yourself or someone you love!
Ingredients
For the red wine chocolate filling:
1 and 1/4 cups heavy cream
20 ounces dark chocolate, finely chopped
1 teaspoon vanilla
5 and 1/2 Tablespoons (78g/2.75 ounces) unsalted butter, cut into small cubes and at room temperature
1/2 cup full-bodied red wine
For the chocolate coating:
1 and 1/3 cups (226g/8 ounces) semi-sweet chocolate, chopped OR cocoa powder (see notes)
Instructions
For the red wine chocolate filling:
In a small saucepan over low heat, warm the cream just until it begins to boil. Remove cream from heat and add in chopped chocolate. Allow the mixture to sit, untouched, for two minutes, then whisk smooth. Stir in the vanilla and butter and vigorously whisk until smooth and shiny. Finally, whisk in the wine until completely combined. 

Pour the mixture into a medium bowl and cool to room temperature before tightly covering the bowl with plastic wrap and refrigerating for 4 hours, or until firm enough to scoop.
For the chocolate coating:
Fill a medium pot one-third full with water and bring it to a low simmer over medium heat. Place a heatproof bowl that will fit on top of the pan snugly, but will not touch the simmering water, on top of the pan. Reduce the heat to low and add two-thirds of the chopped chocolate into the bowl over the pot. Heat until the chocolate is completely melted, stirring occasionally with a rubber spatula. Once the chocolate is completely melted, remove the pan from the heat - keeping the bowl on top of the pan - and stir in the reserved chocolate.

Right before dipping, pour the melted chocolate into a liquid measuring cup. 
Assembly:
Before you begin, make sure you have enough room in your refrigerator for both baking sheets; the truffles must chill before being dipped in the chocolate coating.

Line two large baking sheets with parchment paper and set them aside.

Measure 2 teaspoons of the truffle filling and quickly roll it between your hands to form a ball. Transfer to the prepared baking sheet, and repeat with all truffles. Refrigerate the rolled truffles for at least 15 minutes before dipping in the chocolate.

Remove the chilled truffles from the refrigerator and begin dipping them into the chocolate using a small spoon or fork. Transfer the dipped truffles back onto the baking sheets.

Allow truffles to sit at room temperature until set, about 1 hour. 
Notes
If you cannot find heavy whipping cream, regular heavy cream will work. Regular milk should not be used as a substitute.
Be sure to finely chop the chocolate so it easily blends with the cream.
Use real chocolate, not chocolate chips.
Store truffles, at room temperature, for up to 1 week.
You may skip the chocolate coating and roll the truffles in cocoa powder instead.