When I cook for the people who hold my heart, I do my best in advance to get a feel on what they like to eat, love to eat, and most importantly, what they crave.
These are important things to know about the people you love!
Since cravings are typically strong and spontaneous (and at times can awaken longings we never even knew existed!!!) it's good to know a thing or two about improvising.
I find legit improvisational skills can take you far in life. It can also help you make some radical green rice. That's what I call a win-win.
Last Saturday I hosted an impromptu taco party, and this rice accidentally became the star of the show. I love it when accidents turn into beauty, and all the better if they taste beyond amazing. I mean, I don't even know how else to describe this green beauty. Let's stick with beyond amazing for now.
The ingredients are pretty rad, too! Lime, cilantro, garlic, avocado, jalapeno, and manchego cheese get blended together to give this rice a drop kick of flavor that leaves me… wanting more.
Plus, it's like totally green! Um, awesome.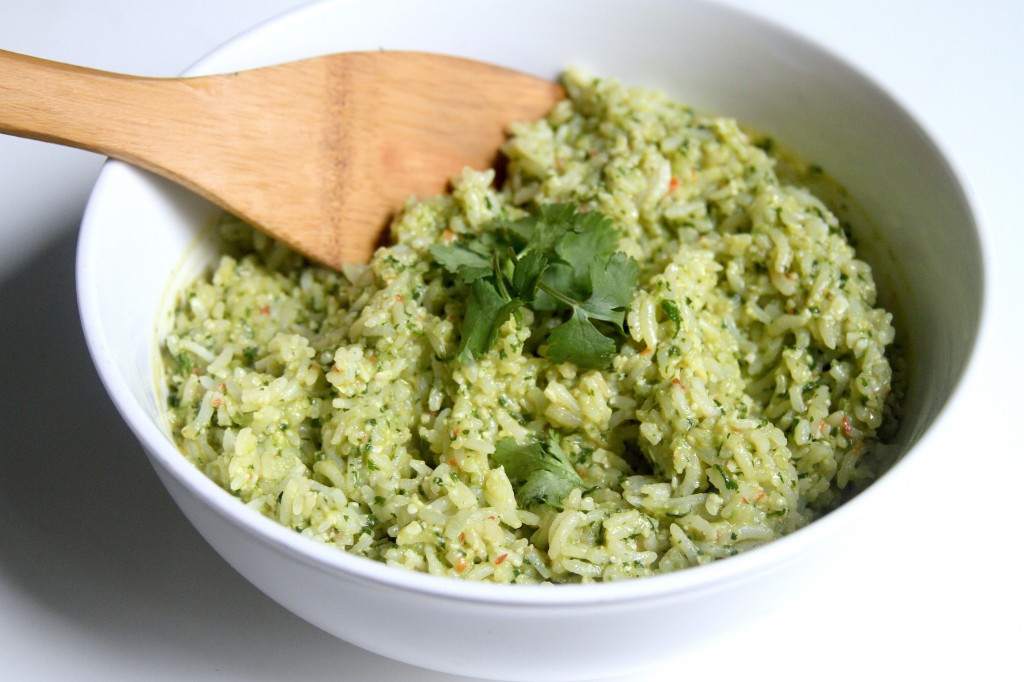 Green Rice – Baker by Nature
Serves 2 as a main meal, or 6 as a side
2 cups white rice, cooked (I'm going to be honest and tell you guys I used the microwave kind and it worked out just fine!)
1 jalapeno, grated using a microplane or cheese grater
1 clove of garlic, grated or very finely chopped
1/2 avocado, pitted and diced
1/2 cup (4 ounces) manchego cheese, grated
1/2 cup cilantro, chopped
1/4 cup fresh lime juice
2 tablespoons olive oil
salt and pepper to taste
Cook rice according to package details. Keep warm while you prepare the sauce!
In a blender, combine jalapeno, avocado, garlic, cilantro, lime juice, and olive oil and blend until smooth. Stir in cheese. Mix green sauce into cooked rice and fluff with a slotted wooden spoon or fork. Serve immediately.