There's nothing like pulling a warm tray of ham and cheese scones out of the oven! The best part? They're SO easy! Perfect for Easter brunch or to use up leftover Easter ham!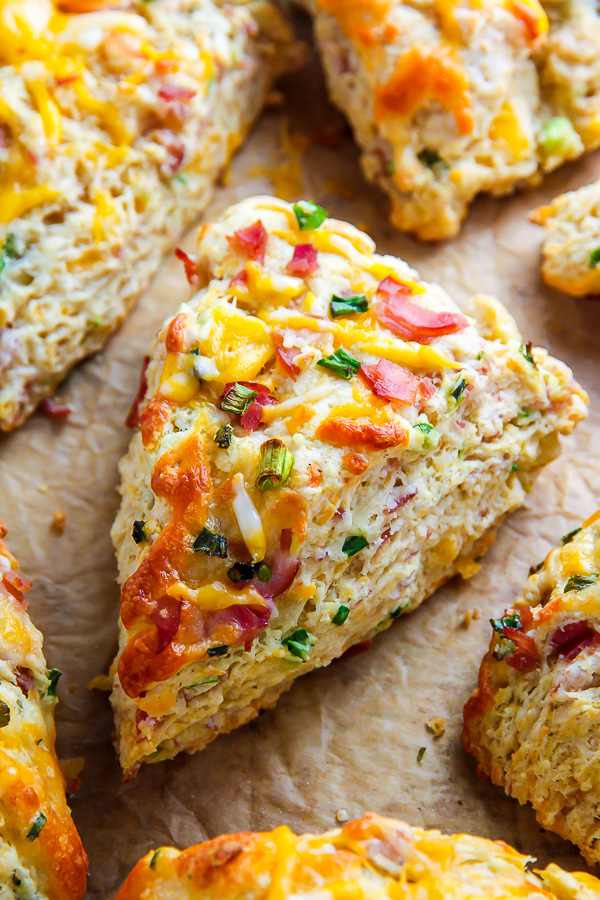 Ham and Cheese Scone Recipe
Goooooood morning! How's your week so far? Anything exciting going on? I'm typing this up, bolting to an early morning yoga class, then heading to the airport! SO excited. I'll be in gone for 5 weeks (!!!), but don't worry, I have plenty of new recipes to keep you busy in the kitchen. And who knows… maybe I'll even cook a little abroad! Maybe.

But first, breakfast! I made these savory scones for you earlier in the week and it was love at first bite. Gooey cheese, plenty of black forest ham, and fresh scallions all baked up in a flaky, buttery scone… I mean, does it get any better?!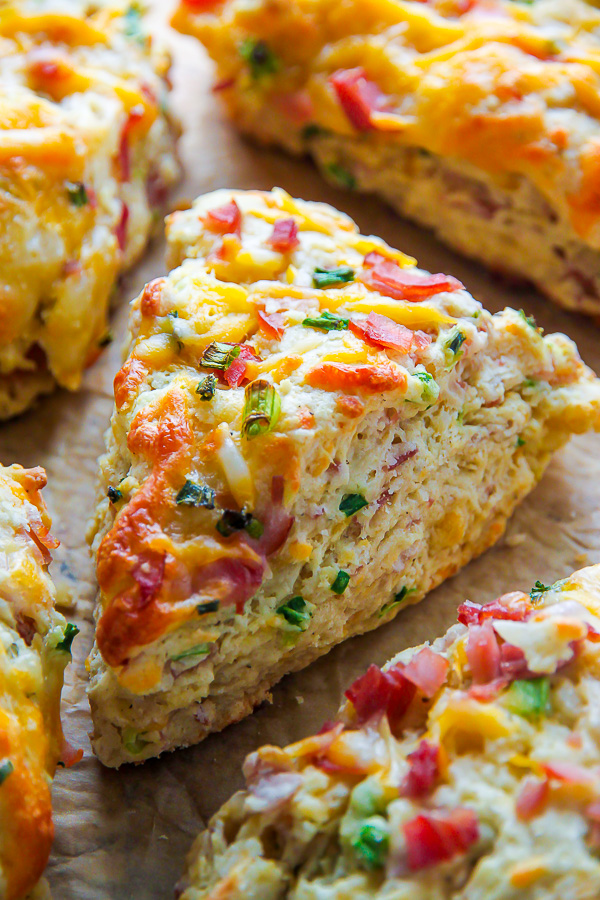 These scones are:
savory
flaky
buttery
melt-in-your-mouth tender
slightly crunchy at the edges
loaded with ham and cheese
sprinkled with fresh scallions
perfect for breakfast, brunch, or dinner
and incredibly hard to resist… especially warm from the oven.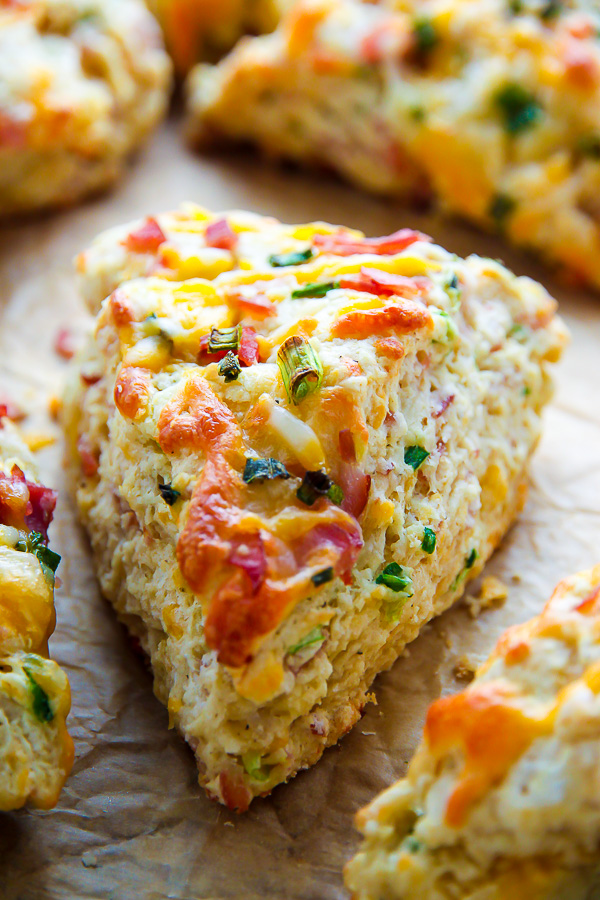 As mentioned earlier, these scones are really easy! To make them you're going to need flour, salt, black pepper, baking powder, baking soda, brown sugar, butter, an egg, plain full-fat yogurt, whole Milk, cheddar cheese, ham, and fresh scallions. I know, it's quite a list! But all of these ingredients combined is what makes these scones SO incredible.
Now. I know I'm like a broken record with this tip, but it's worth saying again: the key to flaky, bakery-style scones is very, very, very COLD BUTTER.
Why cold butter? Please read on! Cold butter is what creates scones that are flaky, just slightly crumbly, and tender. If your butter is warm and melts before baking, you're going to loose those buttery layers that are essential to a scone. When it comes time to add the butter into the dough, you should resist using your hands, if possible, since body heat will quickly melt the butter. Instead, use a pastry cutter or two forks. My favorite method is grating the butter then quickly working it into the dough with two forks.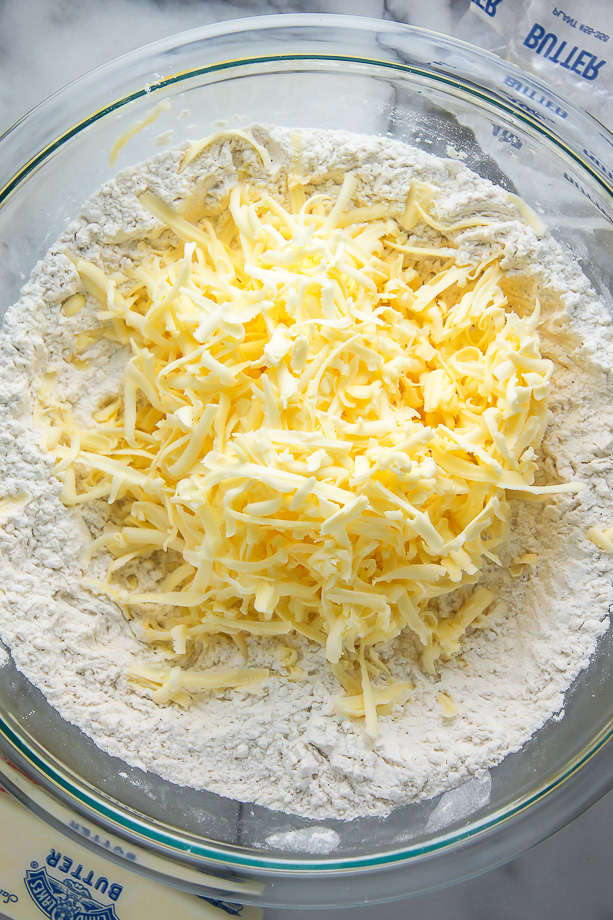 To cut the scones, simply use a large, sharp knife to slice the circle into 8 even triangles. And remember, scones are very forgiving, so don't beat yourself up if they look a little… rustic. The trick is to work very quickly and try not to handle the dough too much. If your dough feels warm or very sticky, simply pop it back into the fridge or freezer for a few minutes and let it chill, then get back to work.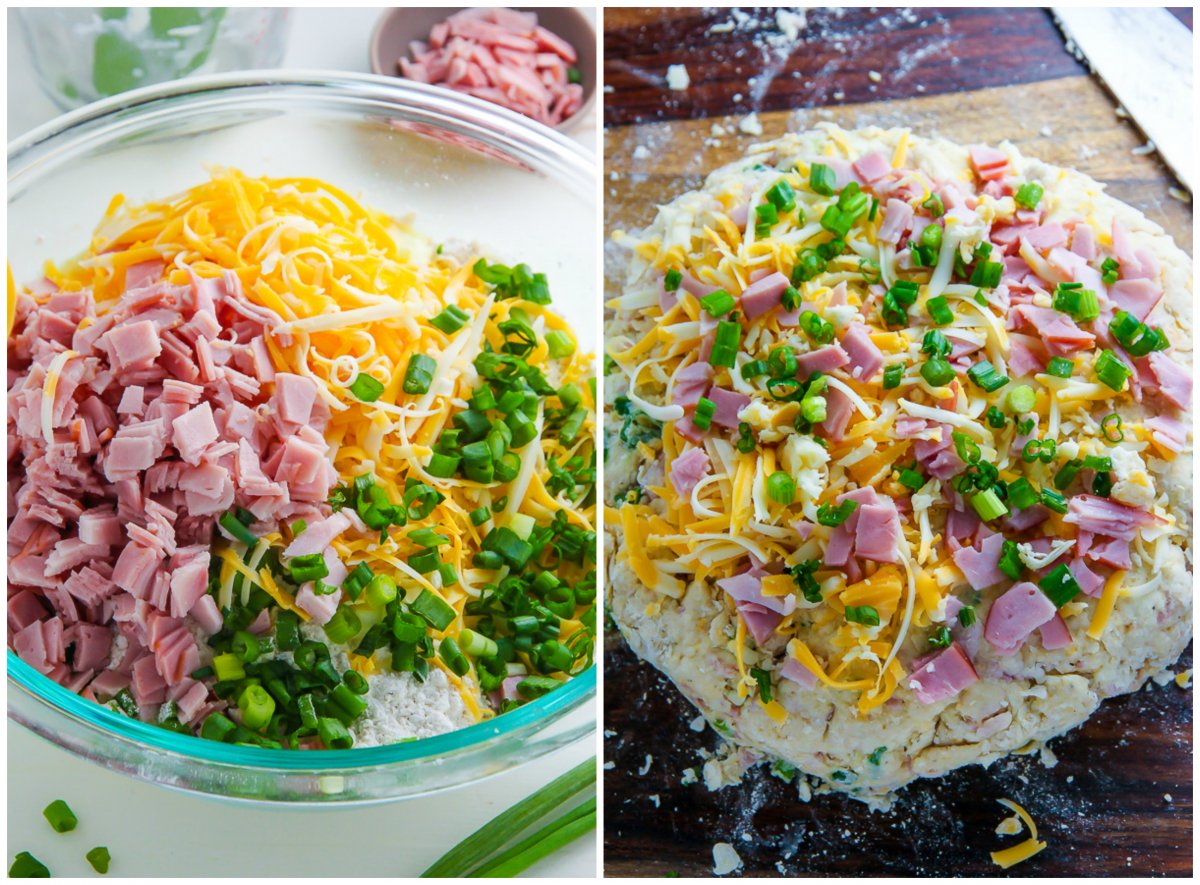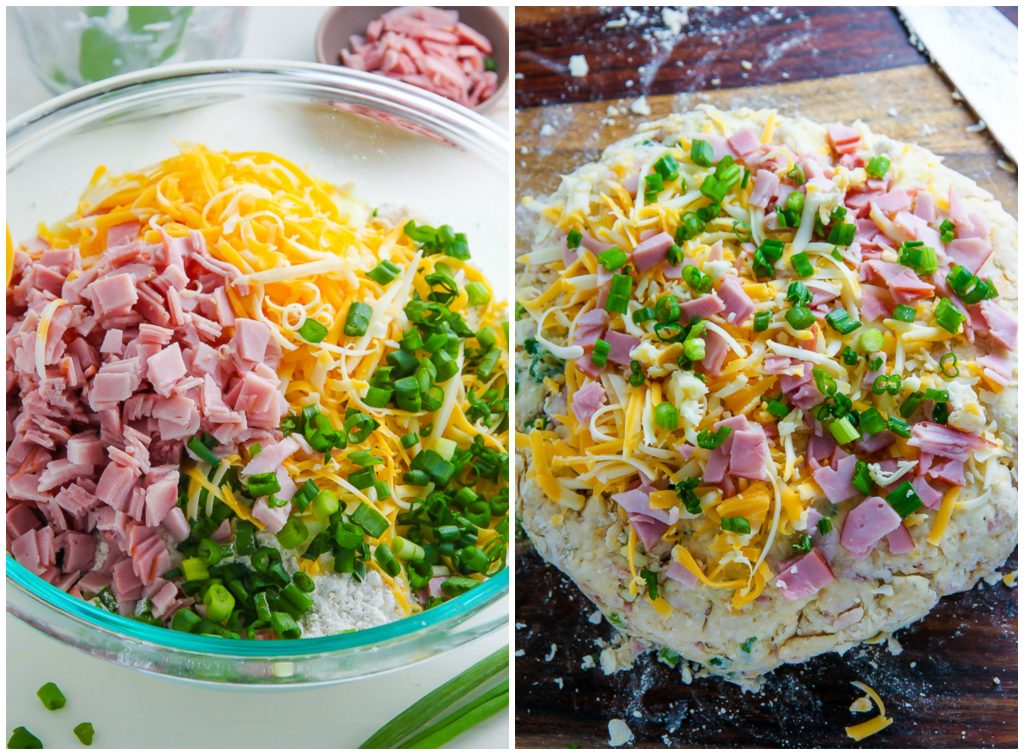 I chose to top these scones with extra ham, cheese, and scallions. This part is totally optional, but I just couldn't resist taking it to the next level. If you're not going to eat these right away, I'd suggest skipping the extra toppings. Trust me, they have plenty of yummy hiding inside.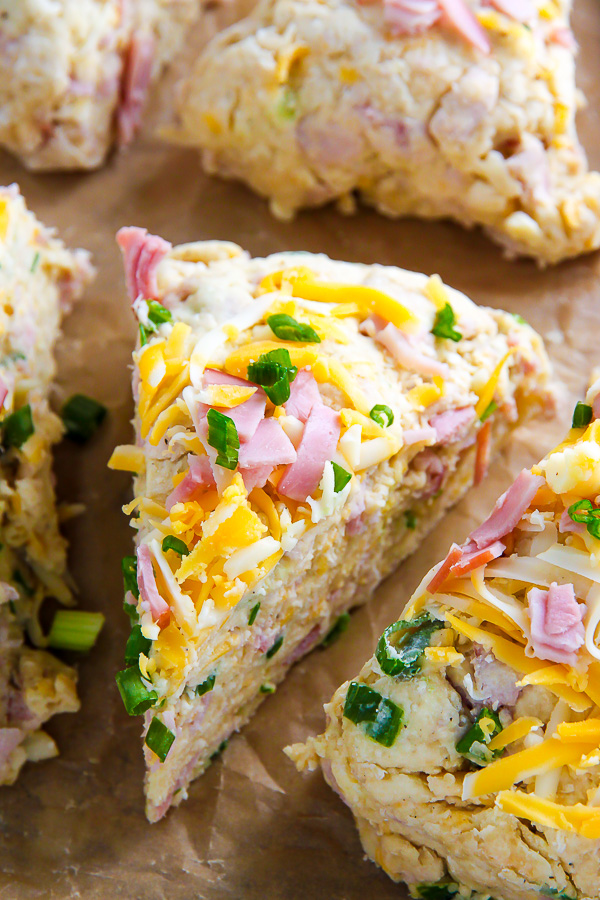 … anyone else getting hungry?! ↓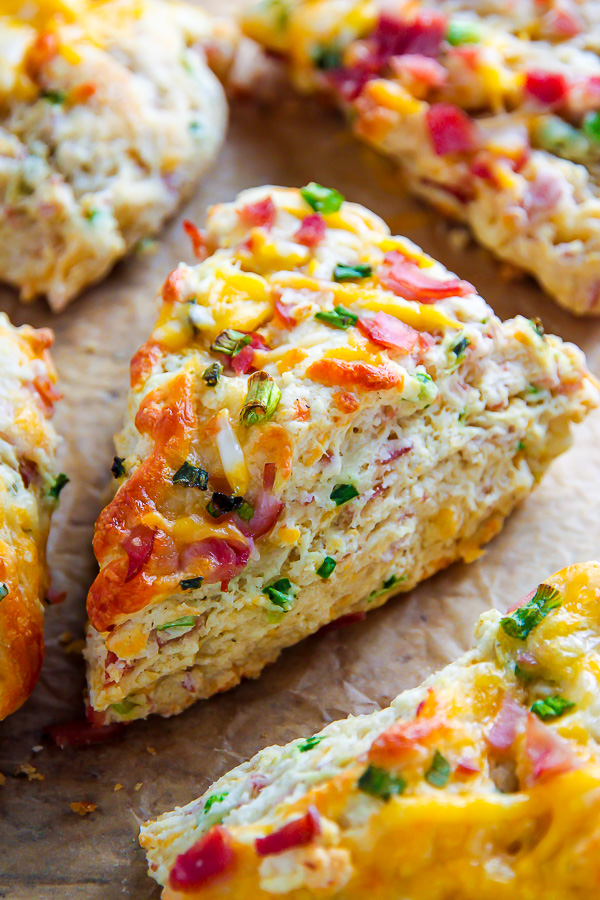 For more Savory Scone Recipes, Check Out:
These flaky and flavorful ham and cheese scones are perfect for pretty much any meal, but would be especially lovely for Easter brunch or Mother's day.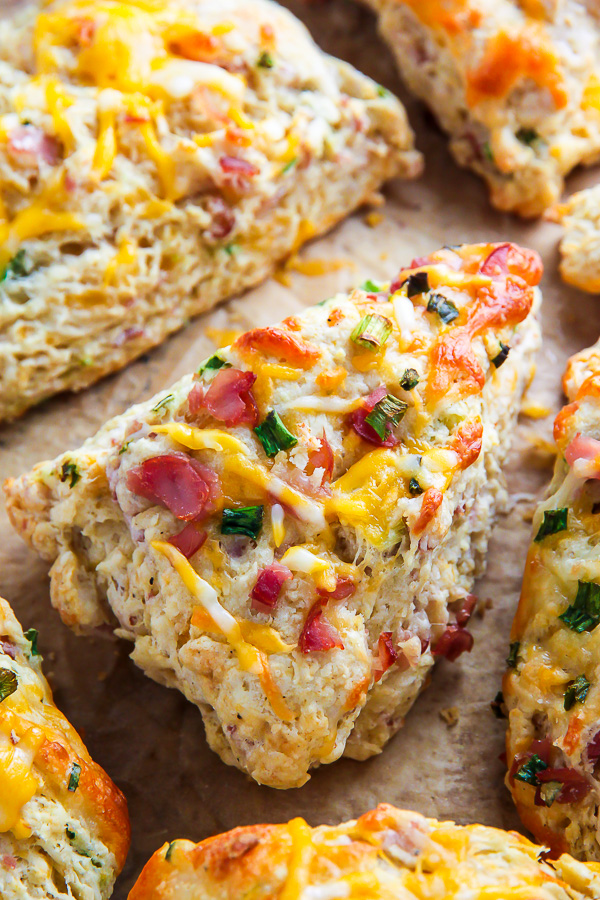 If you try this recipe for ham and cheese scones, let me know! Leave a comment below and don't forget to snap a pic and tag it #bakerbynature on Instagram! Seeing your kitchen creations makes my day. ♥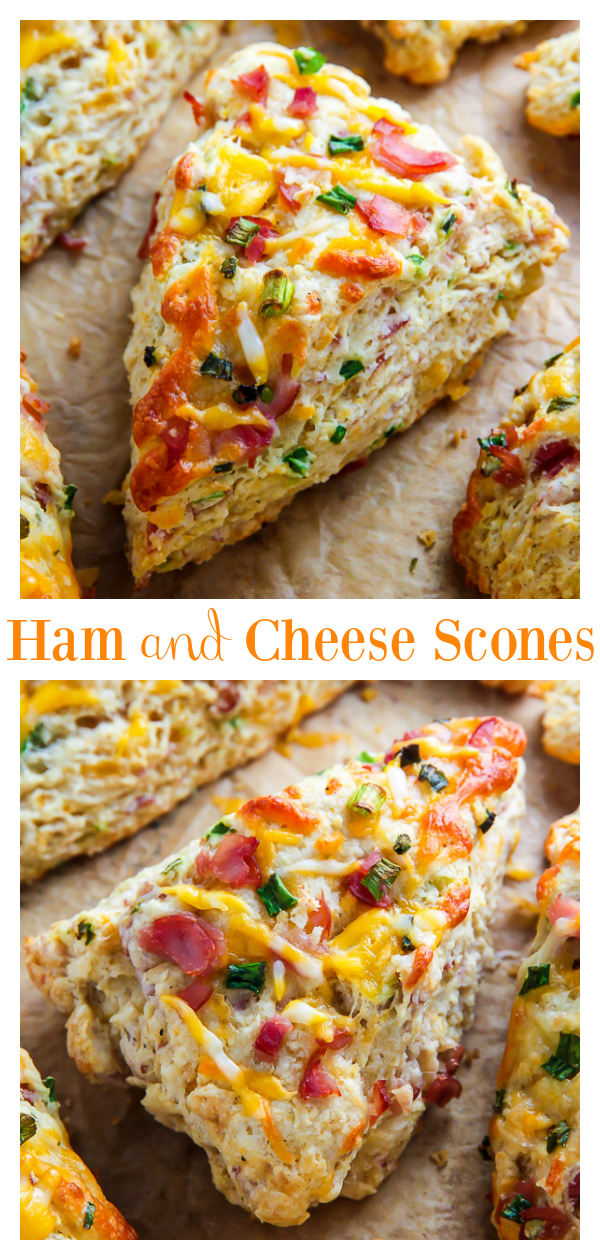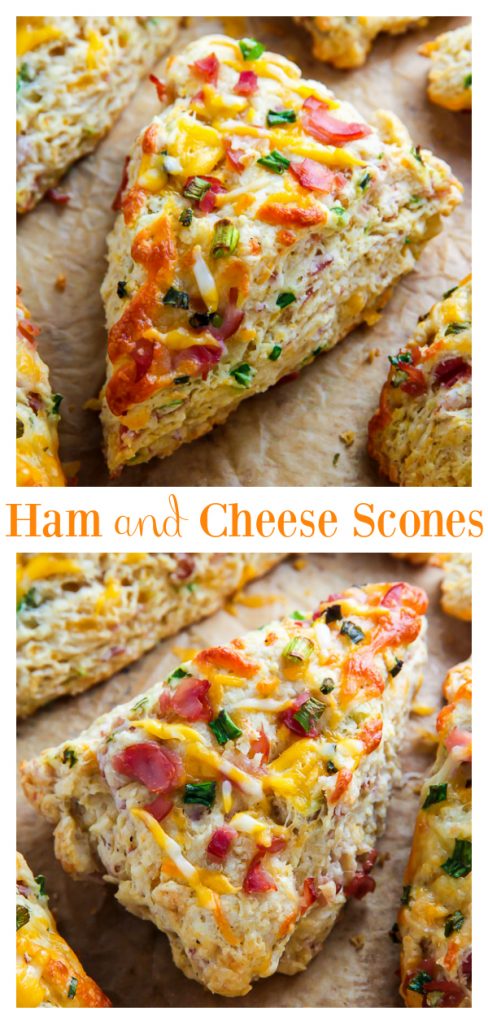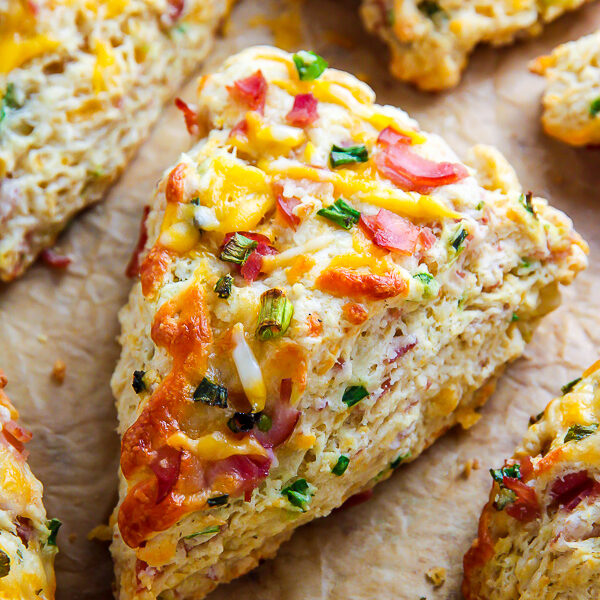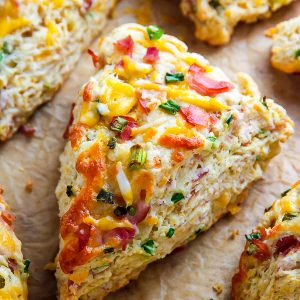 Ham and Cheese Scones
Flaky, buttery, super delicious ham and cheese scones! Perfect for breakfast, brunch, snack time, or dinner.
Ingredients
2 1/2 cups all-purpose flour
1/2 teaspoon salt
1/4 teaspoon ground black pepper
1 tablespoon baking powder
1/2 teaspoon baking soda
1/3 cup light brown sugar, packed
1 stick (4 ounces) unsalted butter, VERY cold and cut into tiny pieces
1 large egg, at room temperature, beaten
1/2 cup plain full-fat yogurt
2 tablespoons whole Milk
4 ounces cheddar cheese, shredded
4 ounces ham, diced
1/3 cup scallions, chopped
Instructions
Preheat oven to 400°(F). Line a large baking sheet with parchment paper; set aside.

In a large bowl add the flour, salt, pepper, baking powder, baking soda, and brown sugar; mix well to combine. Cut the butter into small cubes then quickly work it into the mixture (using your fingers) until it resembles a coarse meal. Set aside. In a small bowl whisk together the egg, yogurt, and milk, beating well to combine. Add the liquid mixture to dry and use a fork to stir everything together until just moistened.

Add in the cheese, ham, and scallions and gently fold them into dough with a spatula.

Pour the shaggy dough out onto a clean, floured work surface and shape the dough into an 8-inch circle. Cut the dough into 8 wedges and carefully transfer to the prepared sheet.

Bake for 18-20 minutes, or until the tops are lightly golden brown.

Cool for 5 minutes on the tray, then serve warm.
Notes
*Add a little extra ham, cheese, and scallions on top of each scone before baking if you'd like yours to look like mine do in the photos. *These scones are best eaten the day they are baked. *You can flash freeze the baked scones for up to 2 months.