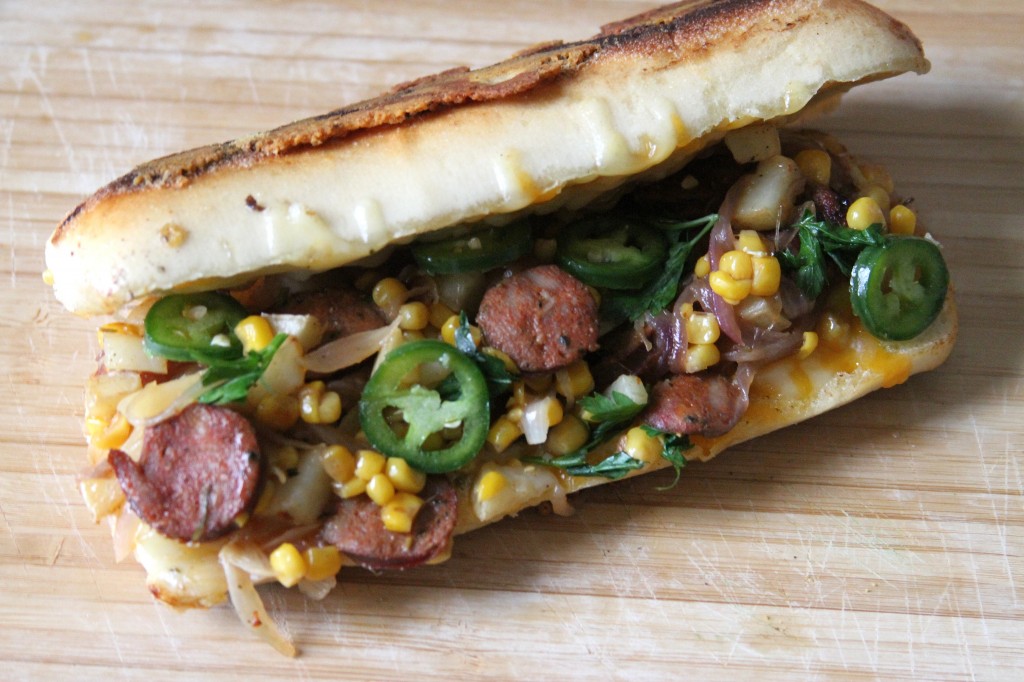 So, this sandwich… It's pretty ridic; I'll tell you that up front. It's also insanely delicious, and the perfect morning pick-me-up if you need a kick in the brain to jump start that little body of yours! Pickled jalapenos and pepper jack help with that 😉
I'm not one to repeat recipes, and yet I find myself whipping this bad boy up all-the-time! Honestly, it's just the perfect weekend brunch sandwich to scarf down with friends, and it keeps you full f-o-r-e-v-e-r!
We call it the He-Man cause, well, look at it! It could totally give you super strength.
Oh, and before you lovely vegetarians click out of this situation thinking it's not for you – WAIT!!! We make this with veggie chorizo all-the-time, and it's still hella good!
Don't forget the egg on top!
Are you man enough for this big guy? And yes… that's a challenge! xoxo
 He-Man Breakfast Sandwich – Baker by Nature
Makes two very (wo)manly sized sandwichs; double as needed
Ingredients:
2 hero rolls
2 tablespoons unsalted butter, plus more for the rolls
1 large red onion, thinly sliced
4 chorizo links, sliced
1 large potato, peeled and diced
1 cup corn kernels, frozen in fine!
1/4 cup sharp cheddar, shredded
1/4 cup Spanish queso, shredded
1/4 cup pepper jack, shredded
2 tablespoons cilantro or parsley, roughly chopped
2 tablespoons pickled jalapenos
4 fried eggs
Instructions:
Melt one tablespoon of butter in a large skillet over medium heat. Add red onion and saute for 25-30 minutes, or until the onion is begin to caramelize. Add the sliced chorizo, potato, and corn kernels – mixing well, and increase the heat to medium high. Add the last tablespoon of butter, and cook for about 10 minutes, or until the potatoes are crispy on the outside but easily pierced with a fork. Add 1/2 of the cheeses, and all of the herbs, mixing well. Cook for another 2-3 minutes, or until the cheese has melted and things are looking good! Remove pan from heat and taste to see if it needs any additional seasonings (salt, pepper, crushed red pepper flakes all made it into mine).
For the rolls & Assembly:
Preheat oven to broiler setting. Cut rolls in half, and spread each piece with about a 1/2 tablespoon of butter. Sprinkle with remaining cheese, then place rolls on prepared baking sheet and bake for 4-5 minutes, or until the cheese is bubbling. Remove from the oven, top with chorizo/potato mix, then finish with eggs and pickled jalapenos on top. EAT.