Healthier Flourless Fudge Brownies are rich, decadent and so delicious! Made with ingredients you can feel good about, this healthy brownie recipe is a game changer. Next try my flourless chocolate fudge cake!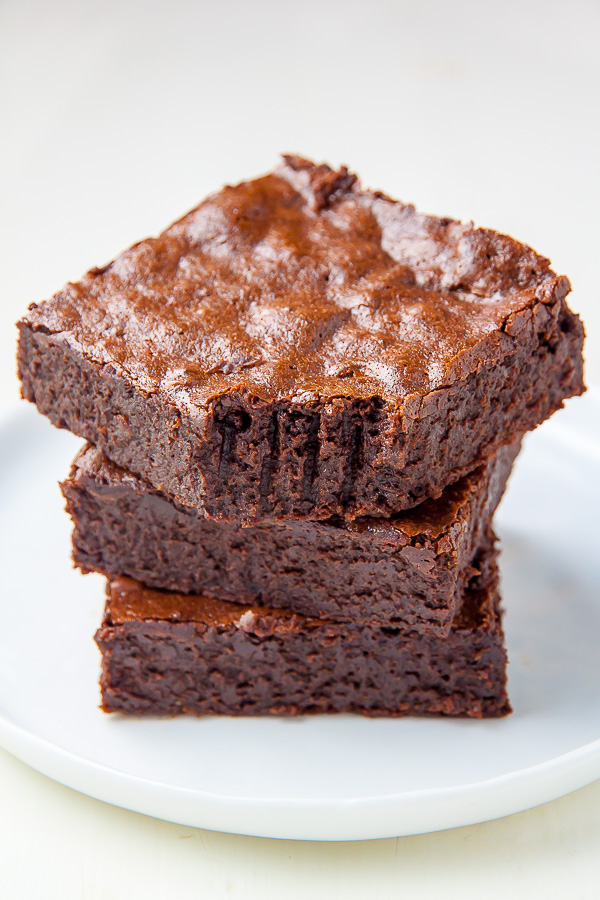 Flourless Brownies
It's no secret we LOVE chocolate. But, like many, we also try to keep a balanced diet. Especially with the wedding just a few months away now (omg!).
So I wanted to create a "compromise" recipe that's super decadent and satisfying… but also wouldn't leave you in a sugar coma for days. And that is where these flourless fudge brownies come into the picture! This easy brownie recipe is naturally gluten-free and made with healthier ingredients like coconut oil, dark chocolate, coconut sugar, and almond milk. I know some people may not consider these "healthy", which is why I decided to be proactive and label them "healthier". Which they totally are! They're a great candidate for days you're craving something sweet and indulgent, but also want to keep it clean(ish). And of course they're perfect for anyone who can't handle gluten!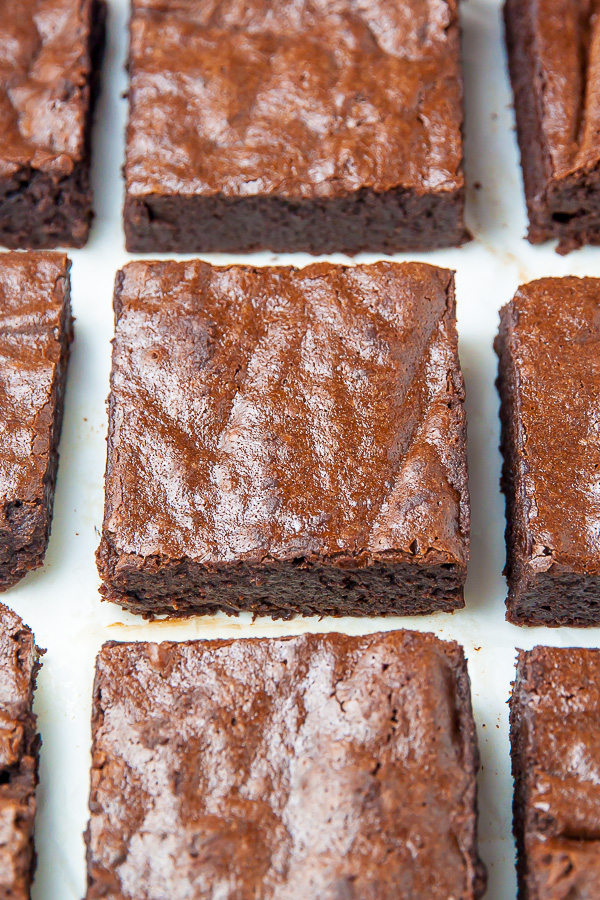 Healthy Brownies from Scratch
I highly suggest following this recipe exactly as written. I've tested these brownies over and over again to ensure the recipe is 100%, so if you change something – even the tiniest thing (!) – your results may be completely different than the brownies you see here. Small changes can make BIG differences in the baking world. Moral of the story? Stick to the recipe and you're golden!
These brownies are served chilled, and must be cooled first in the pan, then again in the fridge for a few hours. This dual cooling process allows the fudgy texture to develop, and is a MUST. If you serve the brownies before chilling them, the texture will be more foamy and less fudgy 🙁
Since these brownies are chilled, they're very make-ahead friendly! You can actually make them up to 3 days in advance – just keep them covered in the fridge until needed.
When you remove your brownies from your oven the edges should be set, but the center should still be just a little wiggly. They firm up a great deal and won't be gooey when you cut into them.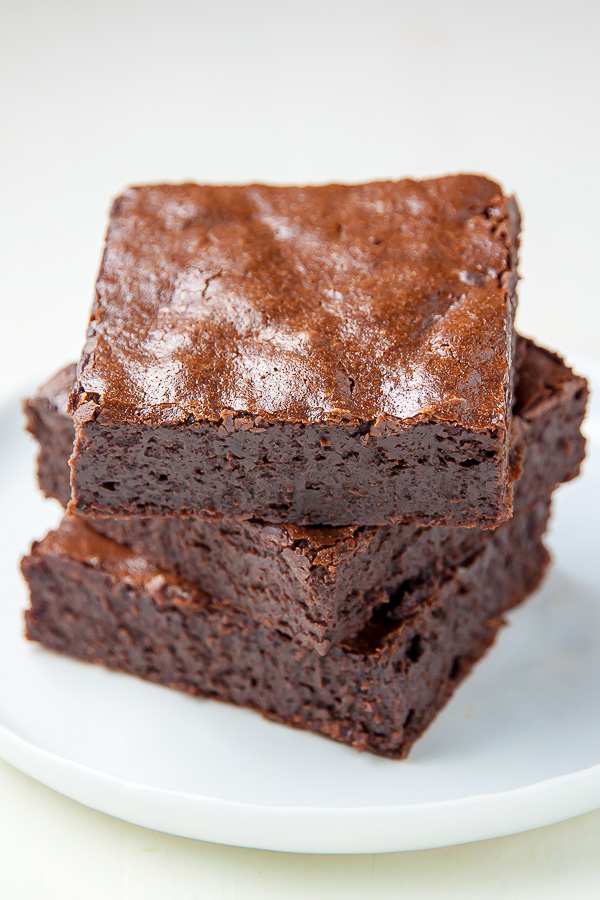 Chocolate lovers, get ready to fall in love with this one! ♥♥♥
If you try this flourless fudge brownies recipe, let me know! Leave a comment below and don't forget to snap a pic and tag it #bakerbynature on Instagram!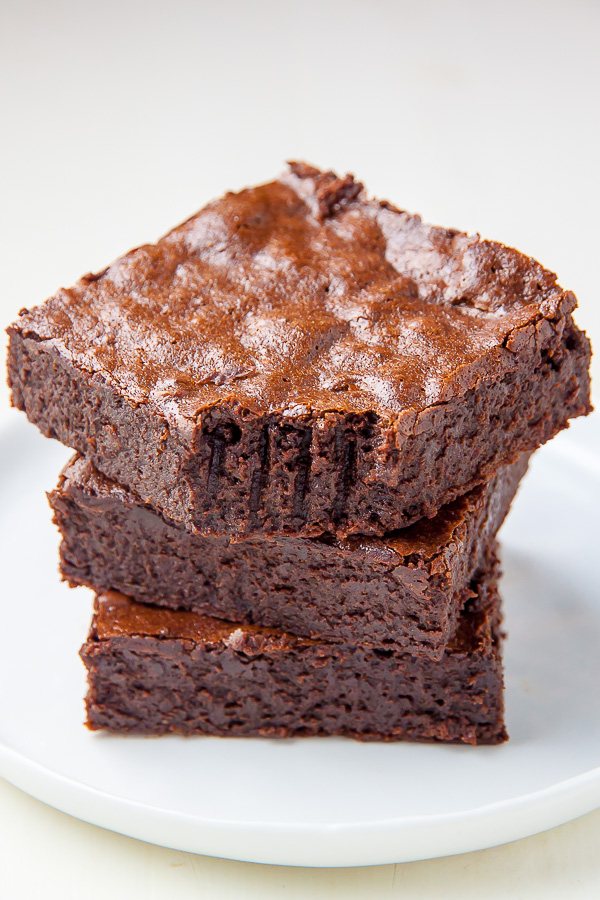 More Brownie Recipes:
Healthier Flourless Fudge Brownies
Fudgy Flourless Brownies made with healthy ingredients!
Ingredients
12 ounces dark chocolate, roughly chopped
1/2 cup coconut oil
2 tablespoons unsweetened almond milk
1/4 cup plus 1 tablespoon granulated sugar (coconut sugar may be used instead)
4 large eggs, at room temperature
1 teaspoon pure vanilla extract
1/3 cup unsweetened cocoa powder
Instructions
Preheat oven to 325 degrees (F). Line an 8x8 inch square baking pan with parchment paper. Spray parchment paper and any exposed pan with non-stick spray; set aside.

Combine the chopped chocolate, coconut oil, and almond milk in a medium saucepan over low heat; melt, stirring frequently, until chocolate and coconut oil are completely melted. Add in the sugar and whisk smooth; remove from heat. Beat in eggs, one at a time, then add in the vanilla. Fold in cocoa powder. Pour batter into prepared pan.

Bake for 25-28 minutes, or until the edges are firm and the center is only slightly wobbly. Cool brownies completely in the pan set on top of a wire rack. Place pan in the fridge for at least 4 hours before cutting and serving. These brownies are to be served to cold and should be stored in the fridge until needed - up to 3 days.
Notes
For best results, this recipe should be followed exactly as written. When cut into 18 brownies, each piece is 185 calories. Brownies must be chilled before serving.