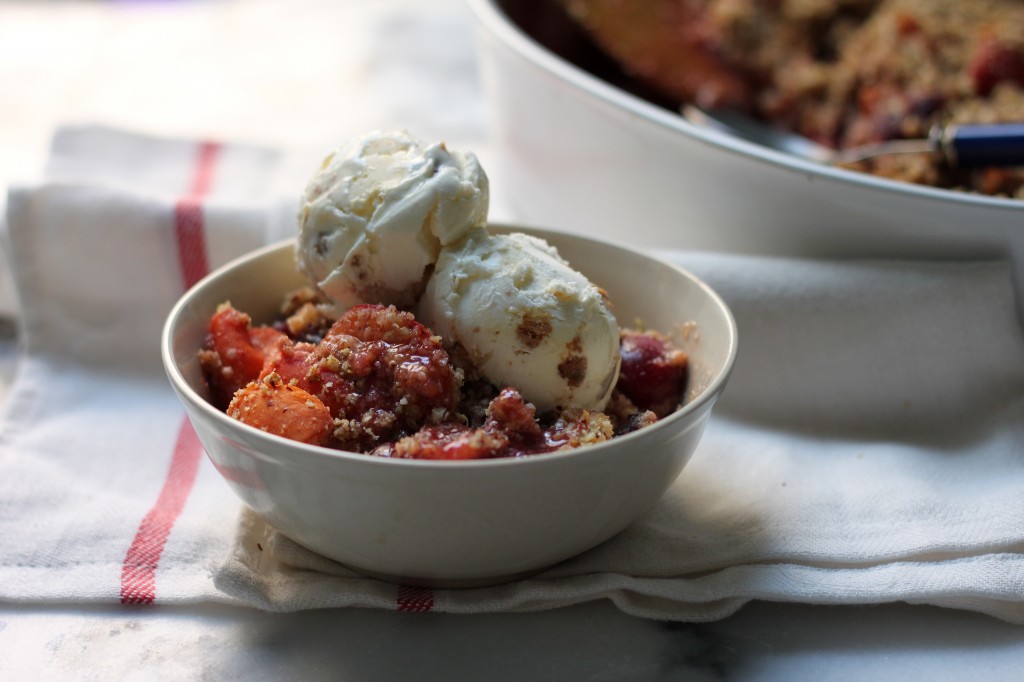 I don't know what's going on with me lately, but maaaaaaan, I've been thinking a lot about deep fried oreos. I don't know why. I mean, seriously dude, I don't even eat oreos. And yet. There they are! In mah brain. Looking all good. Looking all deep fried. Looking all like they wanna come a little closer and get weird.
It's a bizarre brain thing ahappening. That's for sure.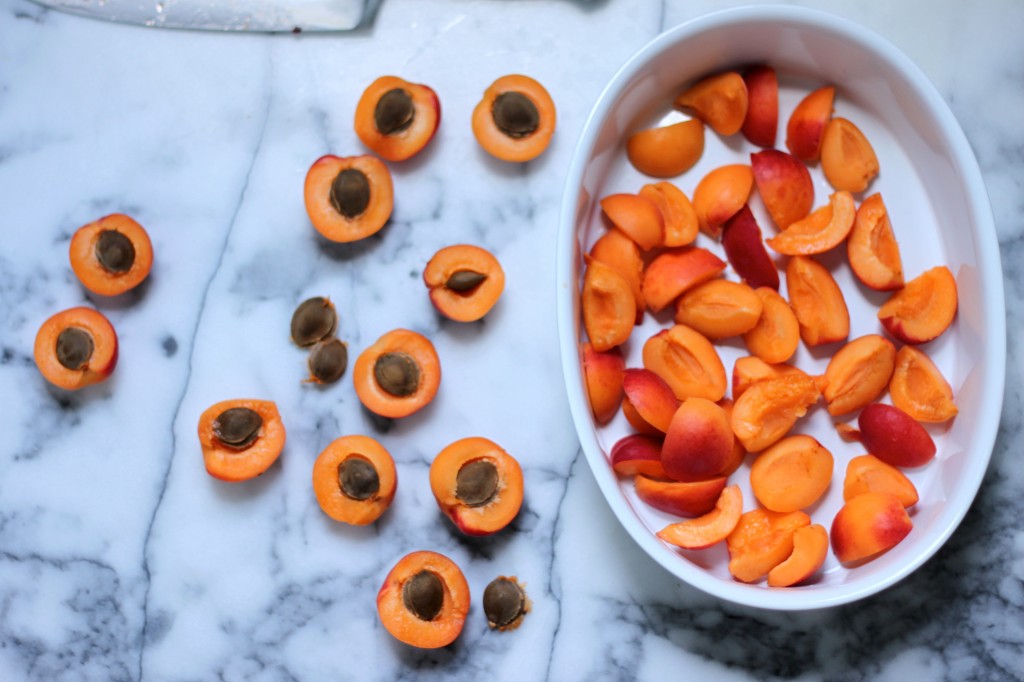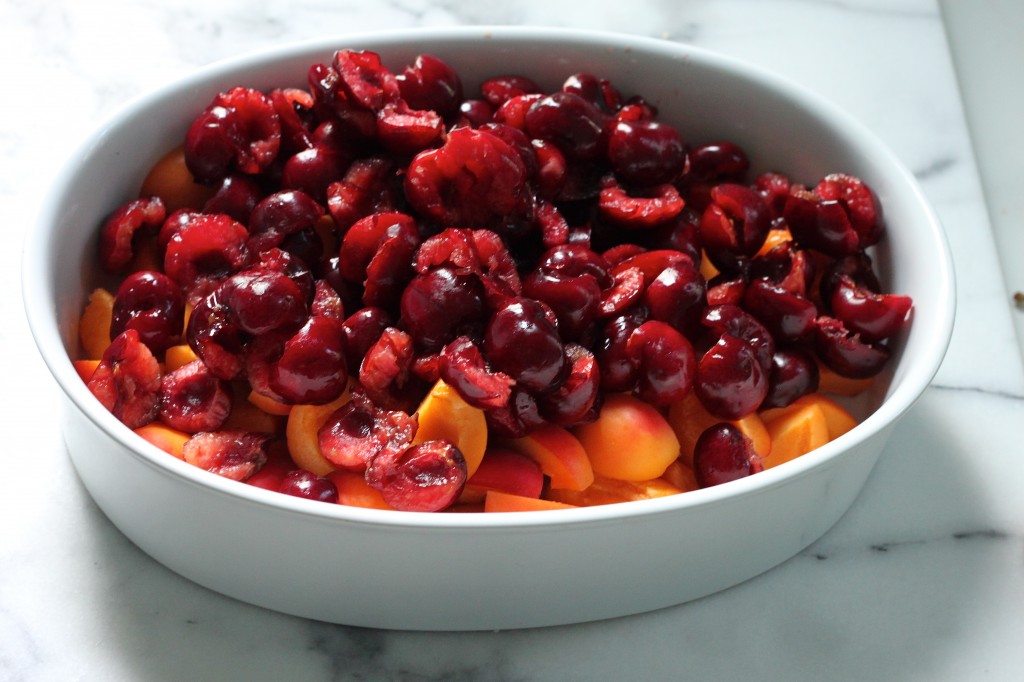 I must have seen someone eating one somewhere. Or a maybe a commercial. Or, I dunno, something! There must be some explanation for this sudden urge to suffocate myself in fried chocolate and cream cookies… right?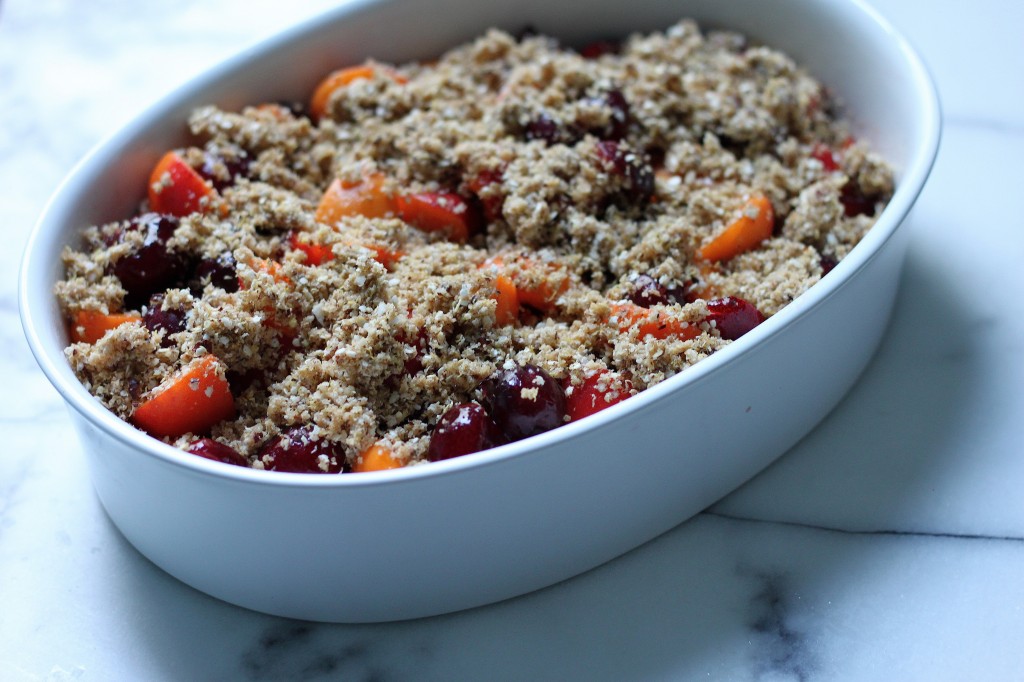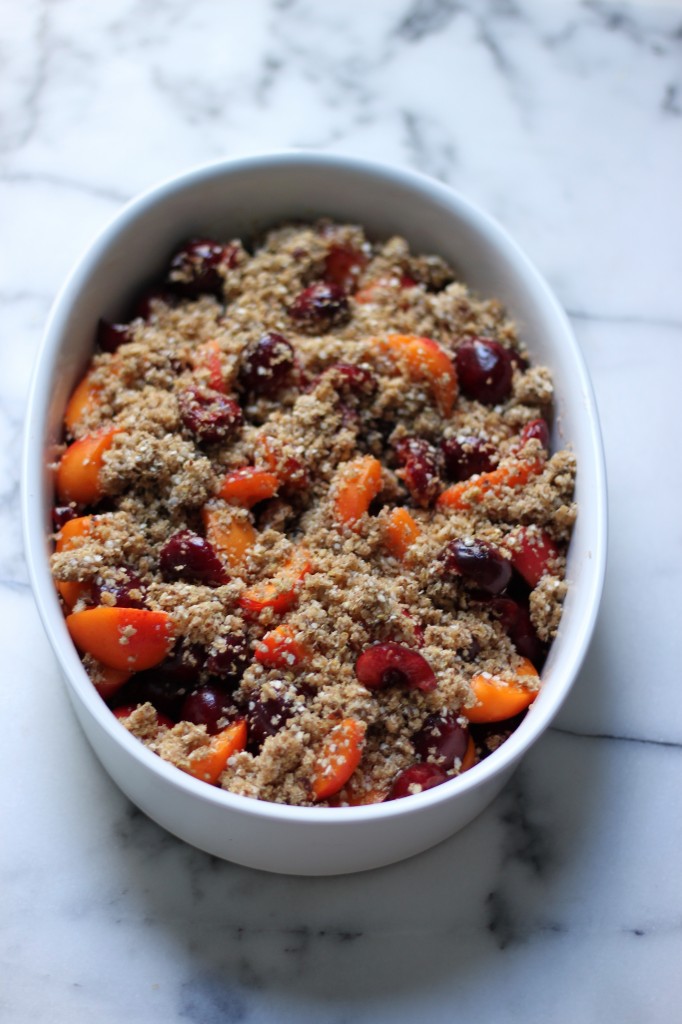 Ah. But enough is enough. I think I might just need to ship myself off to carnival town (Coney Island!!!), buy myself a dozen, and get it all over with…
Then I'll ride the cyclone. Ya know. To make it a whole experience and all.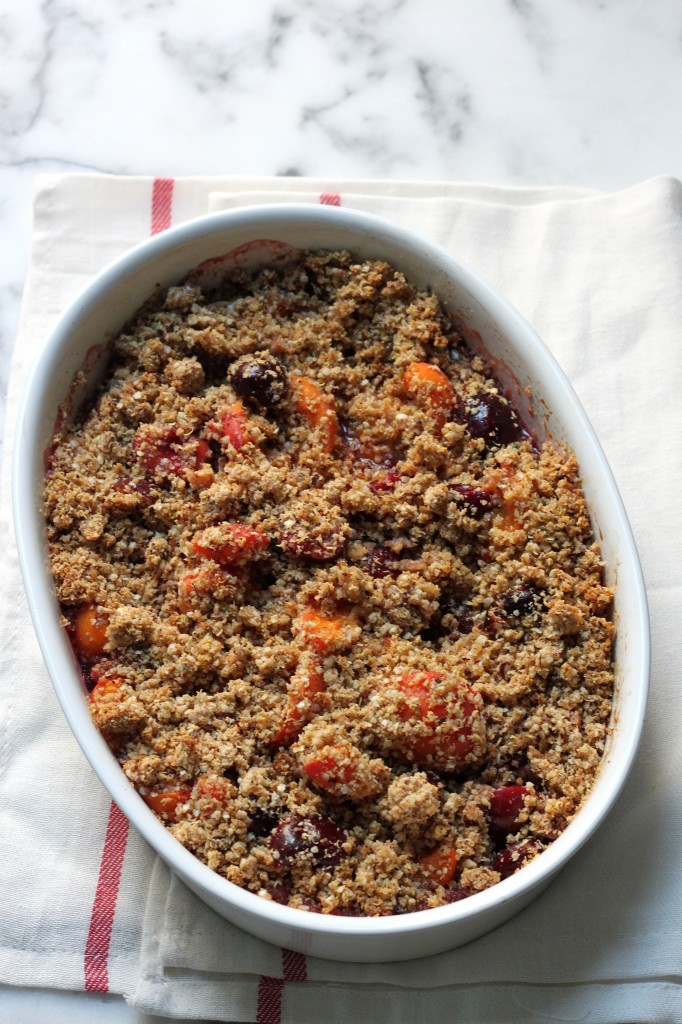 Lets hope I have a strong heart. And stomach. It's happening this weekend.
Wanna come along?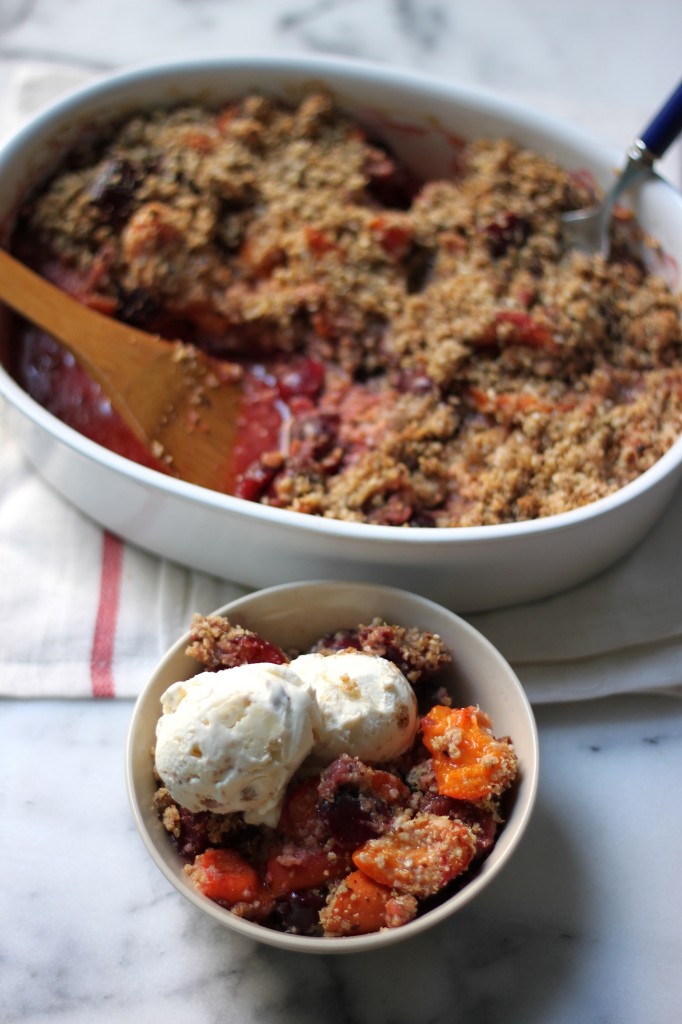 In preparation for this little trip, I made us a light, but totally delish fruit crumble that really lets the fruit be front and center. The star of the show! I'm a strong believer in letting Summer fruit give all its got.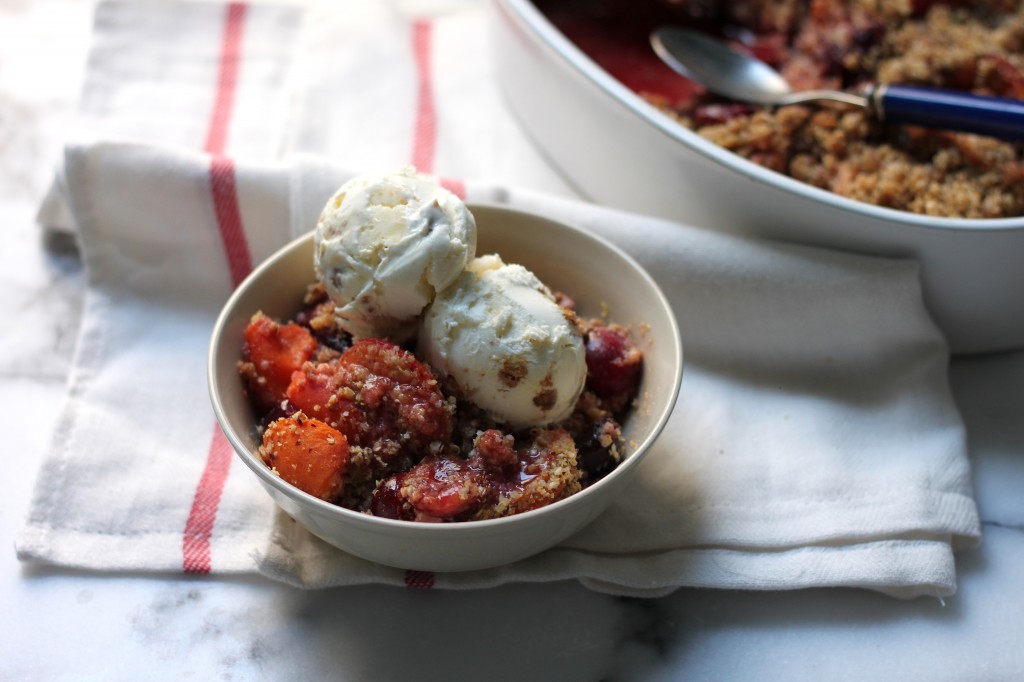 This crumble is also gluten free, which is pretty cool if you want to cut back on your gluten, or can't have it at all.
Just realized I think this one's vegan too. Double win!?
Healthified apricot & cherry crumble with no sacrifice?! That is what I call sweeeeeeeet!

P.S.
Have you guys ever had a deep fried oreo? Tell me what to expect!!! 
Healthy(ish) Cherry // Apricot Crumble  – Baker by Nature
Serves 6-8
Ingredients:
1 1/2 pounds apricots, pitted and quartered
1 1/2 pounds cherrys, pitted
1/2 cup maple syrup, divided
1/2 cup hazelnuts, pulsed into flour
3/4 cup quinoa flakes
1/4 teaspoon cinnamon
1/4 teaspoon salt
1/4 teaspoon vanilla
2 tablespoons coconut oil
Instructions:
In a large baking dish toss pitted cherries and apricots with 1/4 cup maple syrup. In a medium bowl mix hazelnut flour, quinoa flakes, cinnamon and salt. Drizzle remaining maple syrup and coconut over the dry mixture, and toss with your hand just until a crumble forms. Pour crumble mixture over fruit mixture and bake for 35-40 minutes, or until the top is lightly golden and the fruit is bubbling. Remove from oven and serve at once. This – obviously – goes great with ice cream!