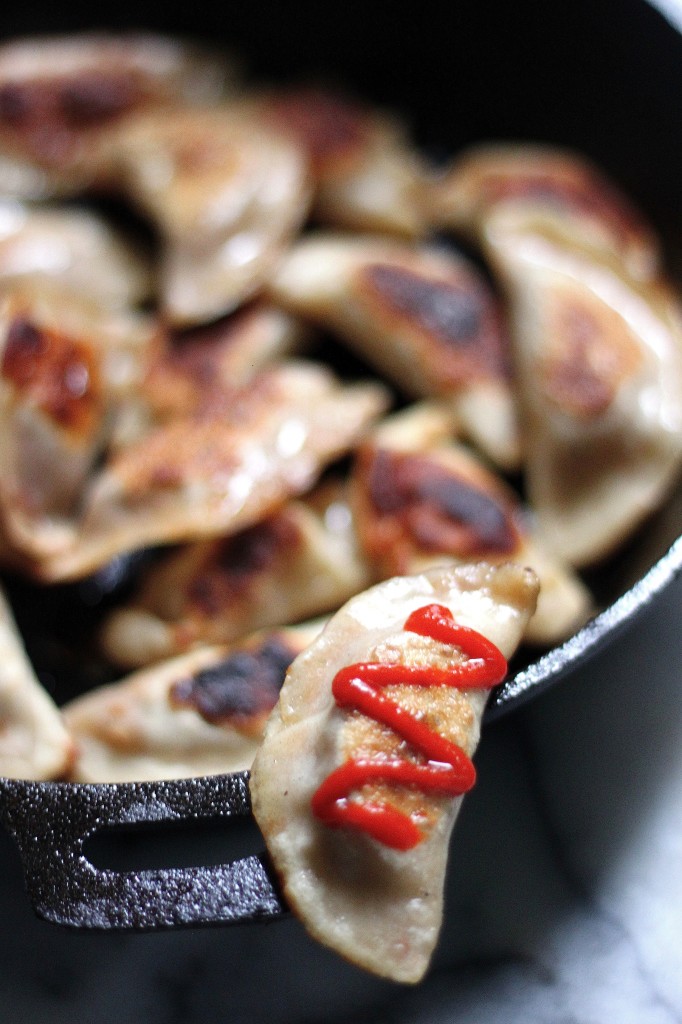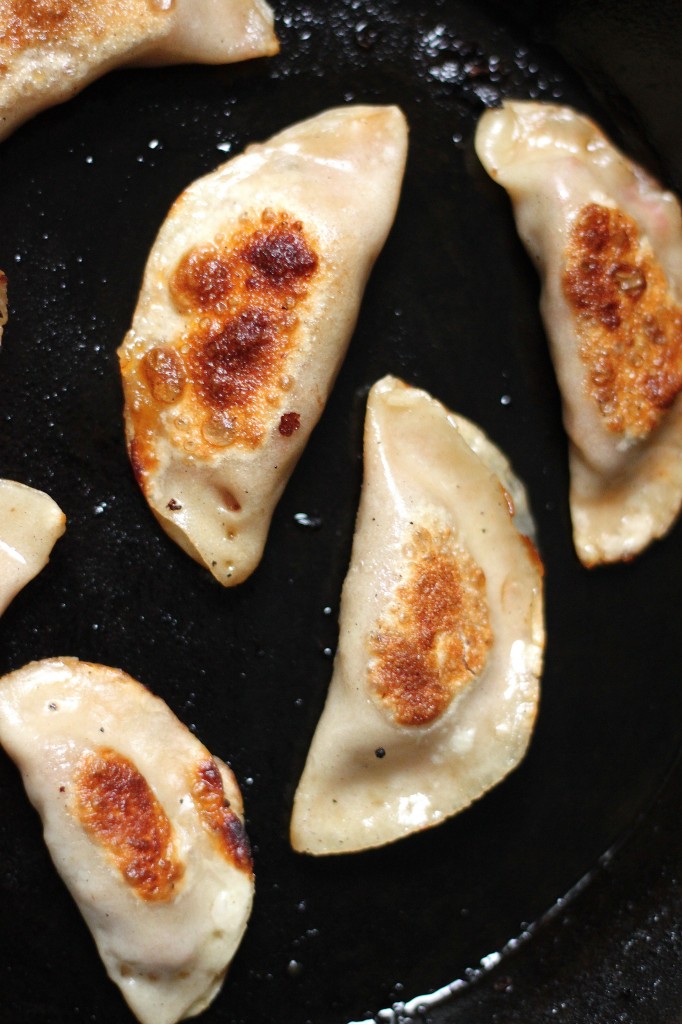 DUMPLINGS! Just typing that word makes me giddy. I hope you guys are excited for them, too!?
I became a hardcore dumpling fan a few years ago, and since then, we make them at least once a week. Finger food is just the best! Although chopsticks are fun, too 😉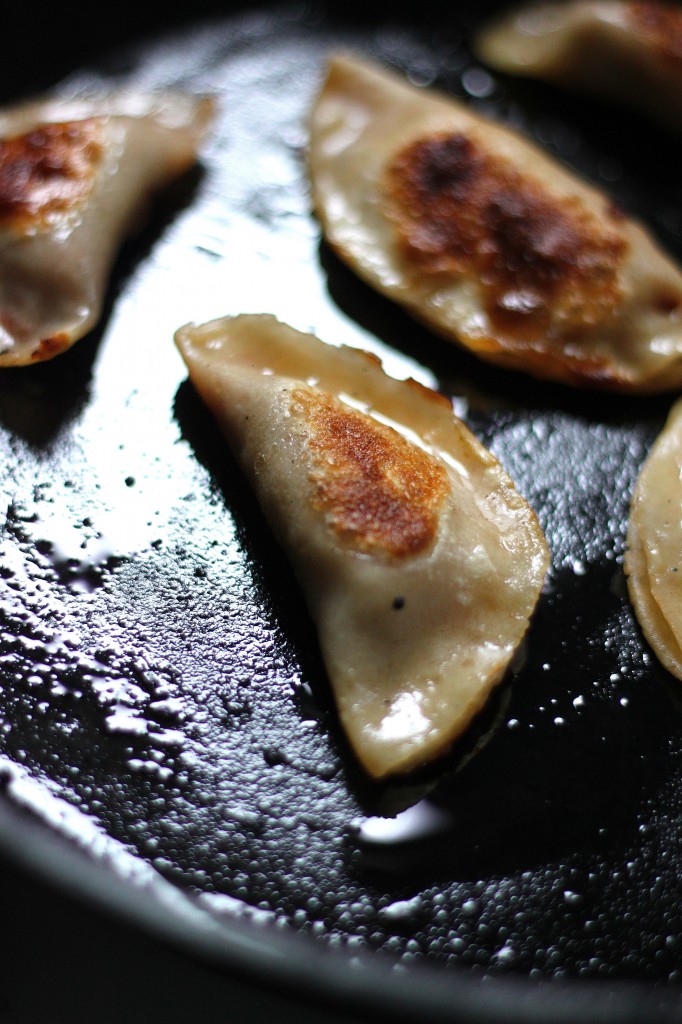 Last weekend I put a tasty Italian twist on these dumplings, stuffing them with sausage, peppers, onions, and a very light red sauce. So yummy!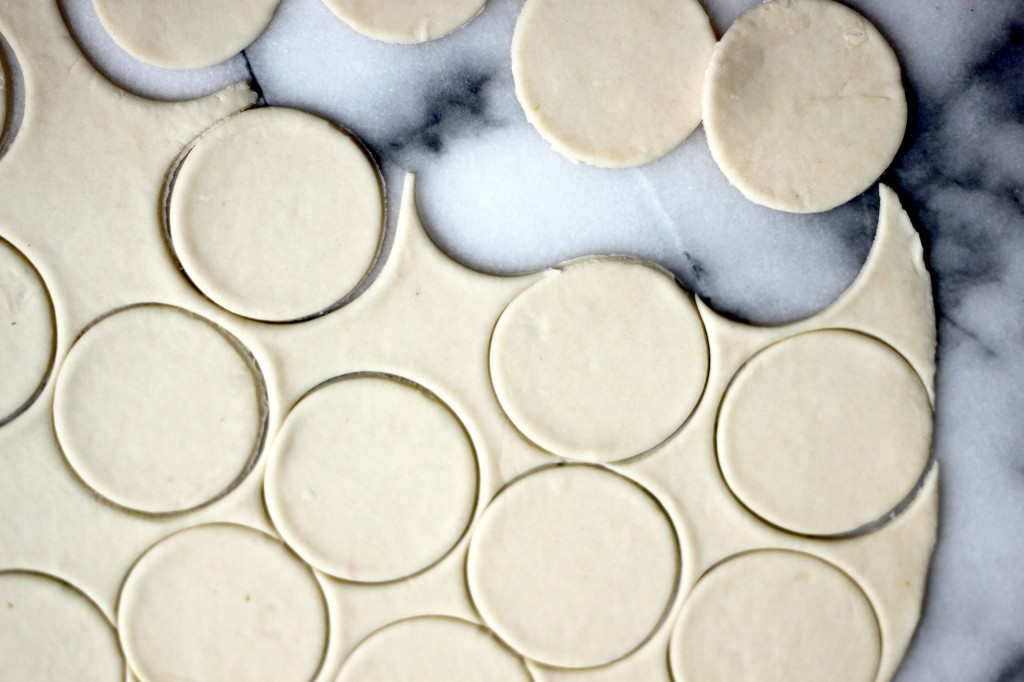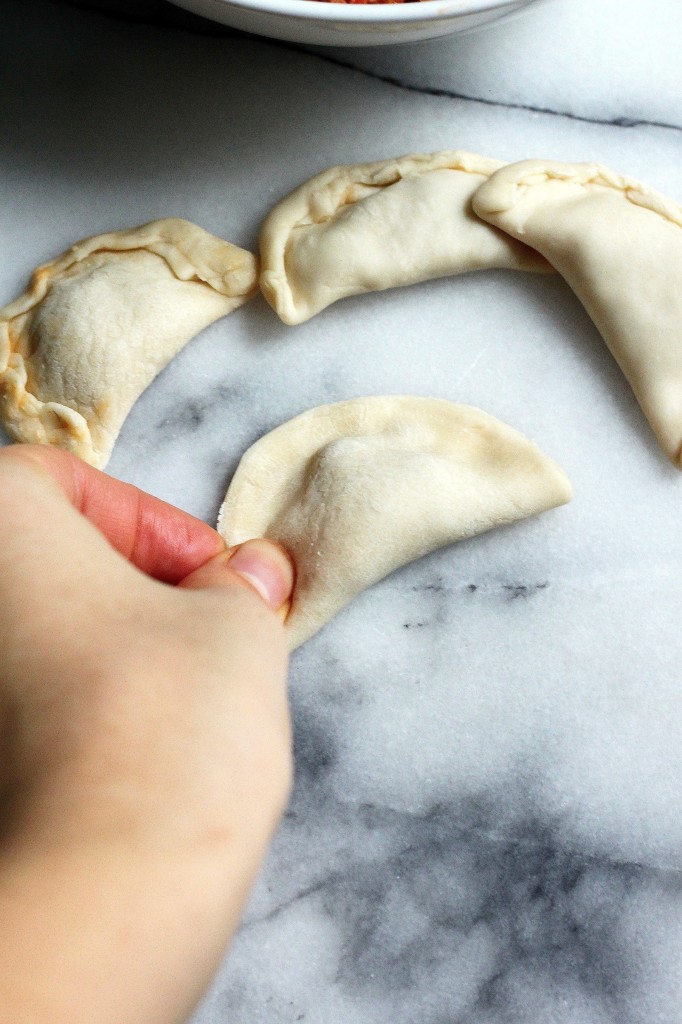 I made the dumpling dough using this recipe from chow, and I found it both simple and delicious. Win! But feel free to use pre-made dumpling wrappers if you're short on time/ patience.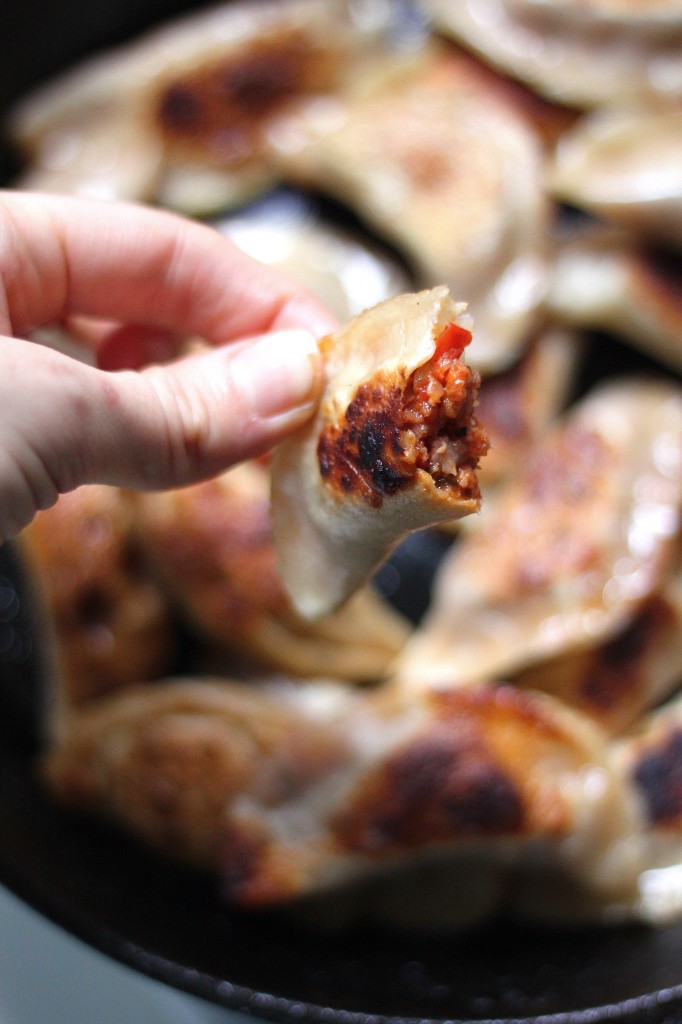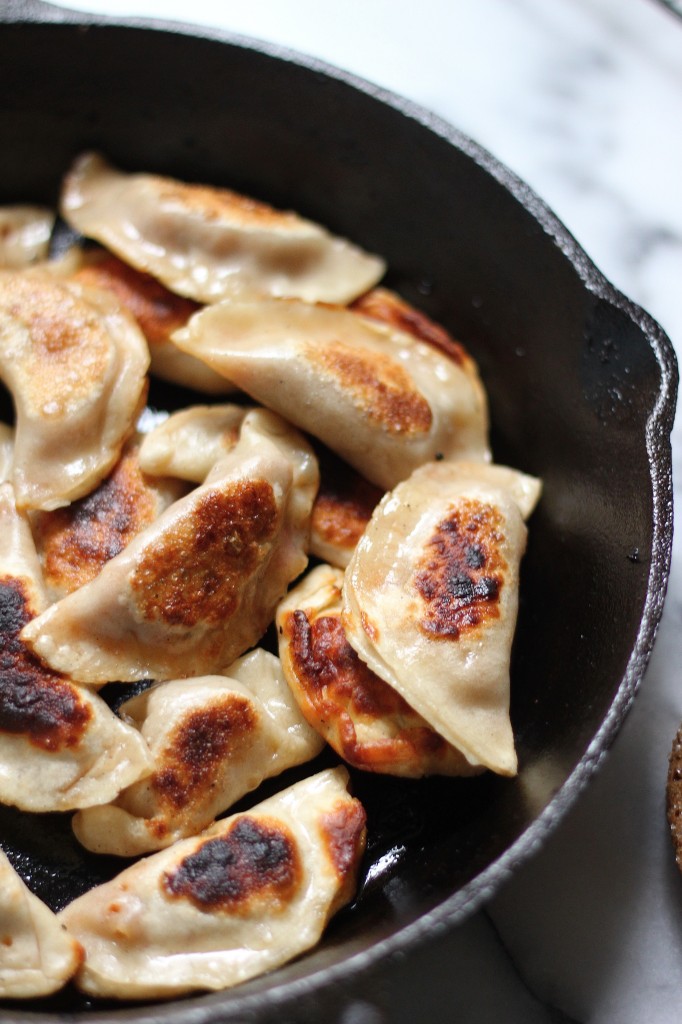 We didn't bother making a sauce for these because a squiggle of sriracha was all they really needed, but go ahead and add a dipping sauce if you feel like it! I'm sure a marinara, or even something a little creamier would be a dream addition to these darling little dumplings. Also, as you can see my dumplings are VERY dark and crispy on the outside, this was on purpose; we like the crunch. But if you want more tender results, just keep a close eye when cooking.
Happy Wednesday, folks! xo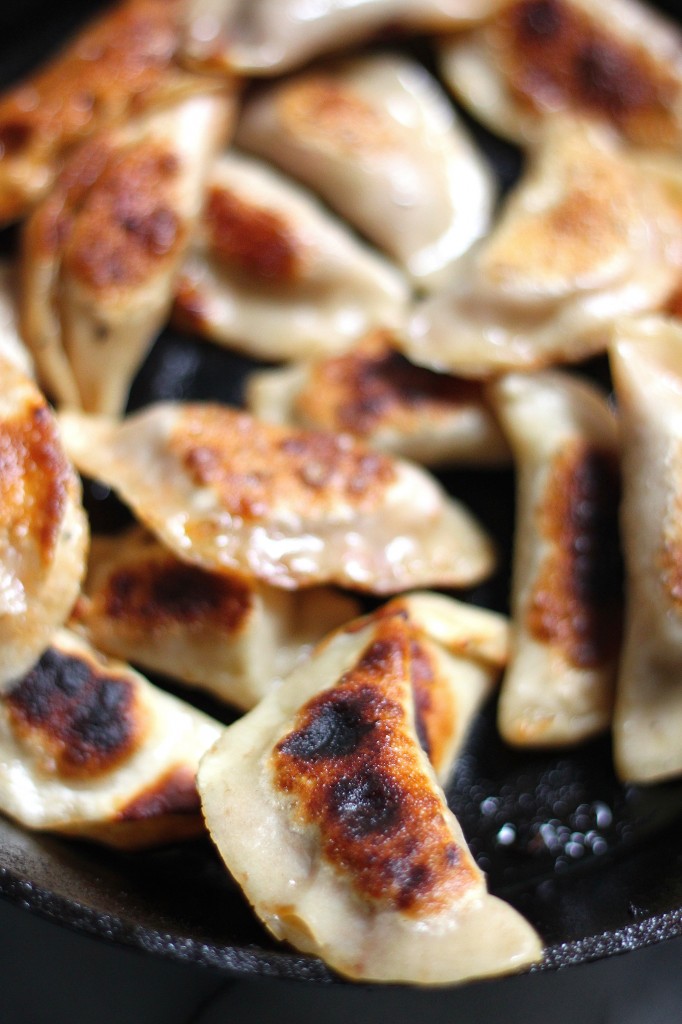 Italian Sausage, Pepper, and Onion Dumplings – Baker by Nature
Makes about 50 dumplings (don't worry, they go FAST!)
Ingredients:
2 packs of dumpling wrappers, or make your own
12 ounces ground Italian sausage (you can buy it ground, or just pulse cooked, cooled links in the blender until you reach the same consistency)
1/4 cup + 1 tablespoon olive oil, separated
1 very large red bell pepper, diced
1 large yellow onion, diced
3 cloves garlic, minced
1 teaspoon Italian seasoning
1/2 teaspoon salt
1 tablespoon tomato paste
Instructions:
In a large skillet, over medium-high heat, cook sausage for 4-5 minutes, or until it's sweating rapidly and just starting to brown. Using a slotted spoon remove sausage from pan and transfer to a plate lined with a paper towel; set aside.
Add one tablespoon olive oil, red pepper, and onion to the same pan and cook – stirring occasionally – for about 5 minutes, or until the onion has softened in texture and color. Add garlic and cook for another minute before stirring in the salt, Italian seasoning, and tomato paste. Cook mixture for another 3-4 minutes – just to let the flavors really melt together – then turn off heat and remove pan from burner.
Allow mixture to cool for a few minutes, then gather your dumpling dough! It's time to fill these babies up. And fry them 🙂
Place a small bowl of water near your workspace. Line a large baking sheet with parchment paper; set aside.
Place a dumpling wrapper in your palm and add 1/2 teaspoon – please don't overfill! It's tempting, but will cause your dumplings to open when cooking – of filling. Dip your finger lightly in the water and run it around the edges of the wrappers, then fold the dumpling in half (half moon style), and press the edges back to seal tightly. Place the wrapped dumpling on the prepared baking sheet, and repeat this process until you run out of filling.
Heat some oil (about a 1/8 cup; you will need more as you go along) in a medium skillet over medium heat. Add a few dumplings (just enough that can fit in the pan without touching), and pan fry for 2-3 minutes – just until the bottom is lightly brown. Flip the dumplings over, add 1 tablespoon of water, and cover to steam for about 1 minute, before adding a touch more oil to finish off the frying. Once your dumplings are crispy on both sides, transfer them back to the baking sheet. Repeat with all of the dumplings, and once finished, serve right away.