So light and airy, these Lemon Beignets with Fresh Berries are surprisingly easy and perfect for Summer!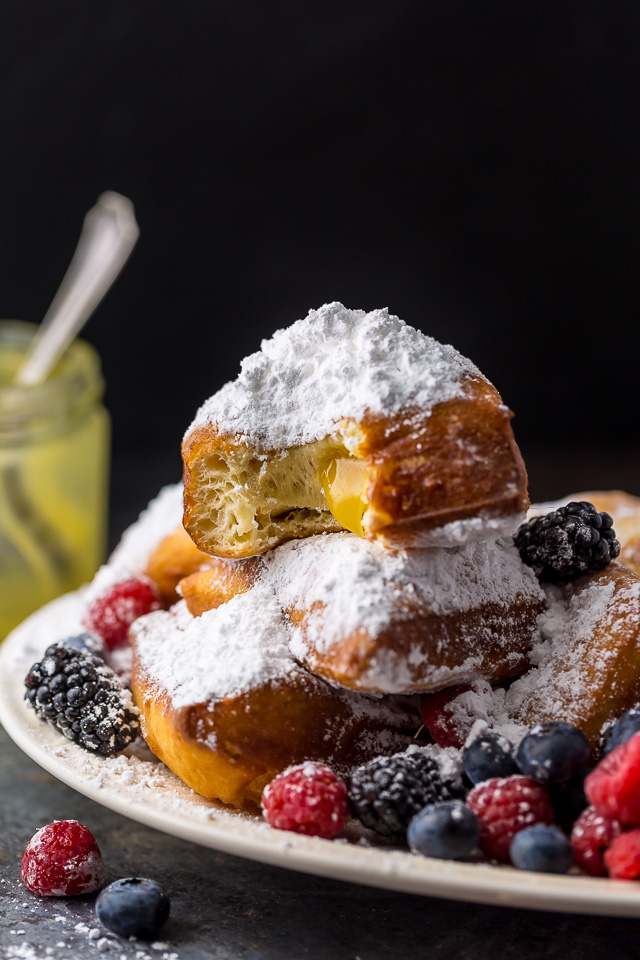 Lemon Beignets
Remember when I taught you how to make New-Orleans Style Beignets? Well I have a confession: I've been dreaming up new versions ever since I published that post! As a bonafide chocolate fanatic, you know I had to create a recipe for chocolate beignets! And with Spring in the air, I wanted to pop in and share this bright and sunshiny sweet version with you!
So without further ado, allow me to introduce you to my current obsession: lemon beignets filled with creamy lemon curd and served with fresh berries! Sounds pretty amazing, right?!
Tastes even better ↓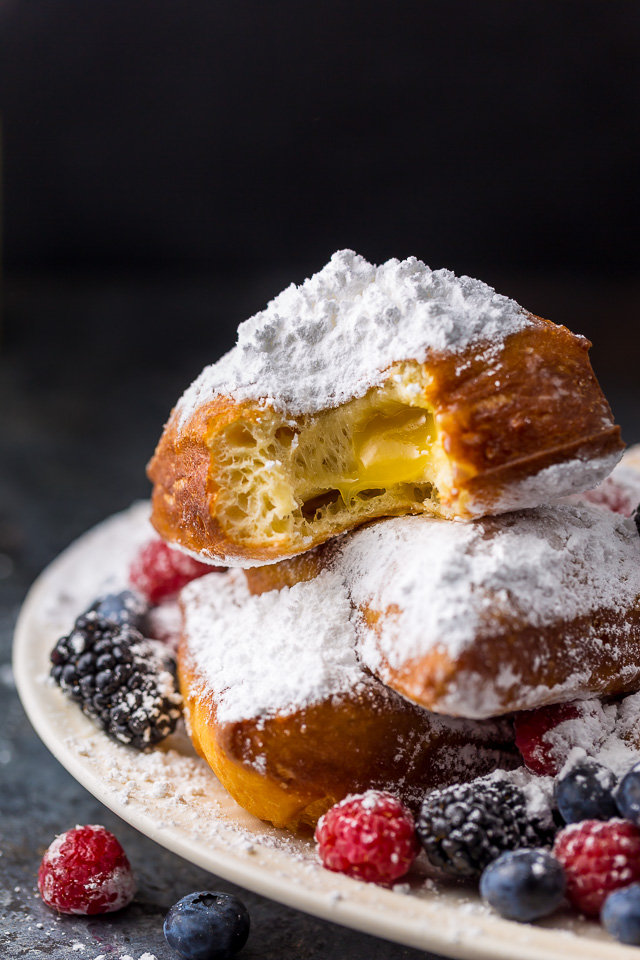 And if you haven't checked out my fresh lemon curd recipe yet! Click here and whip some up. It's a 5 ingredient recipe and tastes so much better than the stuff they sell at the store. But of course you can use store bought in a pinch 😉 Do you!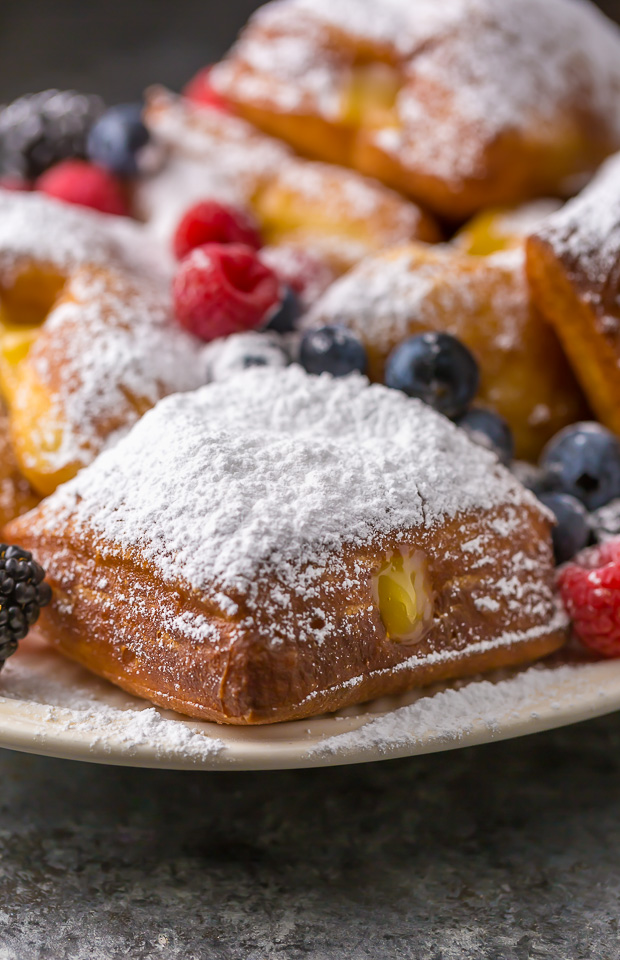 Tips and Tricks for Recipe Success:
Because yeast doesn't last forever, you'll want to make sure yours is fresh and not expired. Active yeast will dissolve completely into the warm water and start bubbling after a few minutes. If this doesn't happen, your yeast is inactive and you'll need to start over.
Set your dough to rise in a warm area of your home. If your home is on the cooler side, place the bowl somewhere naturally warmer, like the top of a fridge or in a slightly warm, but turned off, oven. If your home is on the warmer side, your dough may rise a little more quickly than expected.
Use a thermometer to accurately determine your water is the right temperature before adding the sugar and yeast. You'll want warm water that's between 110 and 115 degrees (F). Yeast is a living organism. If the liquid in which the yeast is dissolved is too hot, it will kill the yeast cells; if it's too cold, the yeast will remain dormant and won't raise the dough. I bought my candy thermometer for 7 bucks. Worth every-single-penny, my friends!
Because beignets are best eaten hot, I highly suggest serving these as soon as possible! When they sit for too long, they become soggy and unappealing.
This recipe requires bread flour. Bread flour is a high-gluten flour that has a tiny amount of barley flour and vitamin C added. The barley flour helps the yeast activate, and the vitamin C increases the elasticity of the gluten and its ability to retain gas as the dough rises.
You should also know this recipe makes a TON of beignets! So I suggest having friends or family over to help you eat them all. I'm going to make these for Mother's Day!
I used the handle of a small spoon to make a hole in the side of each beignet and then used a piping bag fitted with a round tip to fill them. Easier than you might think!
Finally, don't skip the confectioner's sugar! Without it, the beignets are quite plain. To make "dressing" the beignets an easy affair, place them in a paper paper – a few at a time – with a generous amount of sugar and shake for a few seconds.
Filled with creamy lemon curd and served with fresh berries, these sugar dusted beignet beauties are the ultimate Spring or Summer treat!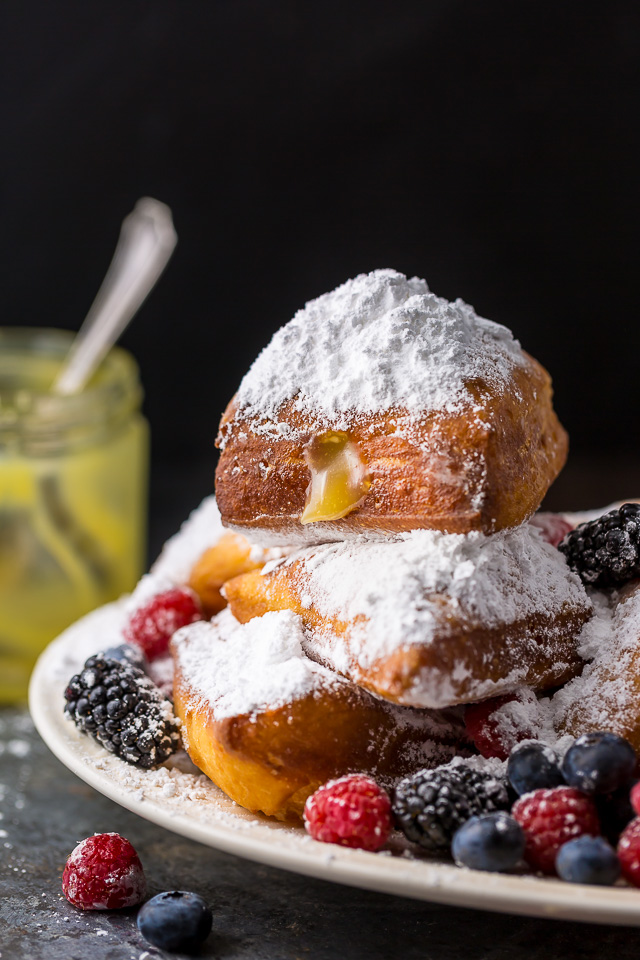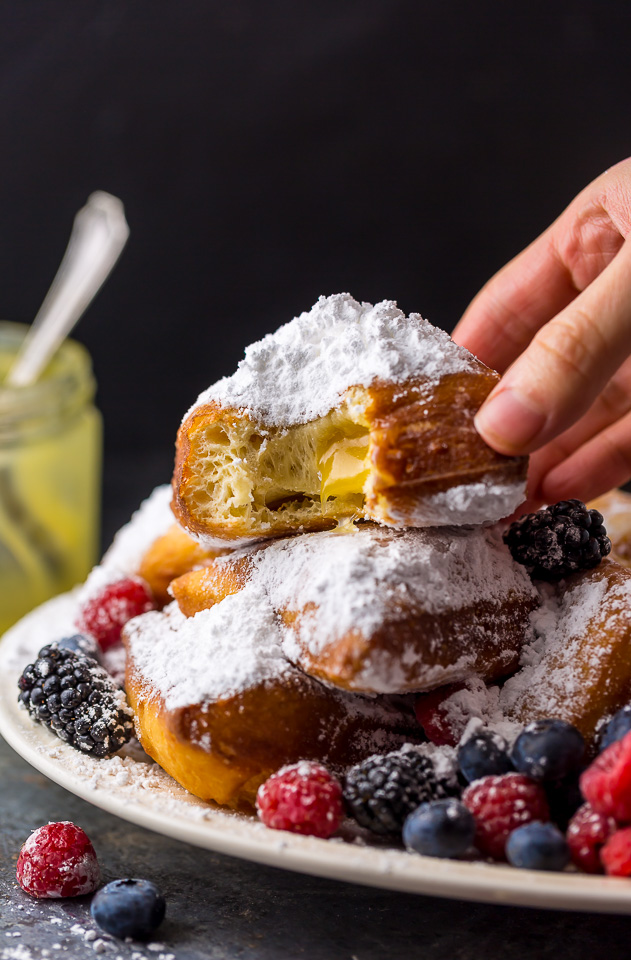 If you try this recipe for Lemon Beignets with Fresh Berries, let me know what you think! Leave a comment below, and don't forget to snap a pic and tag it #bakerbynature on instagram! Seeing your creations makes my day ♥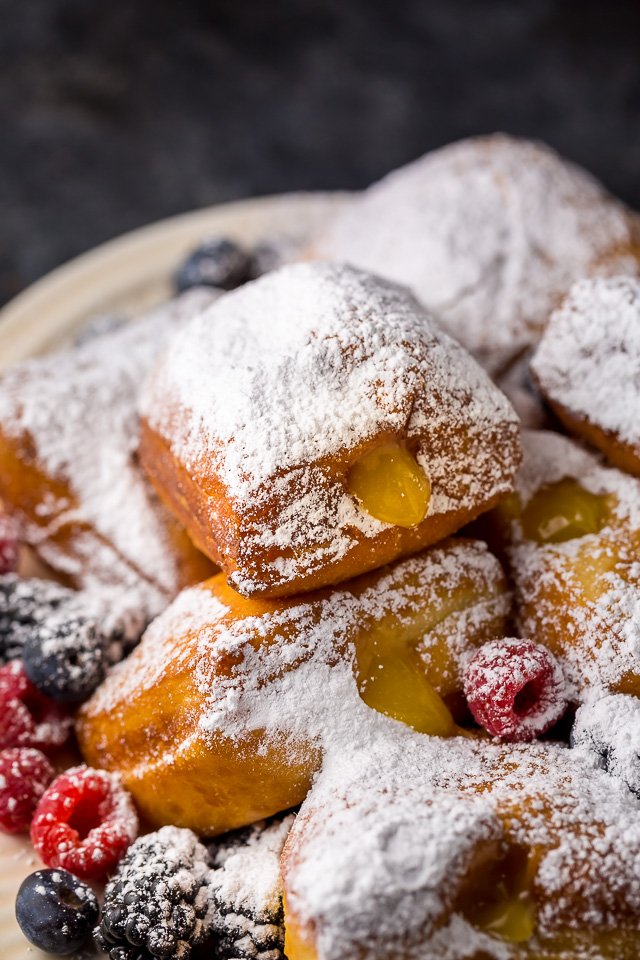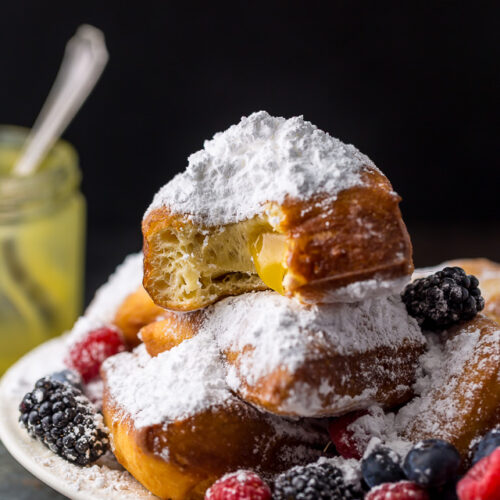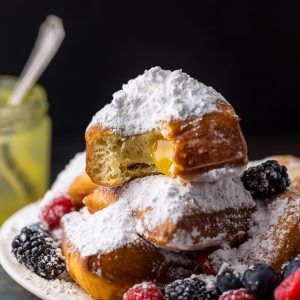 Lemon Beignets with Fresh Berries
So light and airy, these Lemon Beignets with Fresh Berries are surprisingly easy and perfect for Summer!
Ingredients
1 and 1/2 cups warm water, between 110 and 115 degrees (F)
2/3 cup granulated sugar
2 teaspoons lemon zest
2 and 1/4 teaspoons active dry yeast
2 large eggs, at room temperature
1 cup evaporated milk
2 and 1/2 teaspoons pure vanilla extract
7 cups bread flour
1 and 1/2 teaspoons salt
5 tablespoons unsalted butter, at room temperature
4 cups peanut oil, for deep frying
2 cups confectioners' sugar
1 cup lemon curd
1 cup fresh blueberries
1 cup fresh raspberries
1 cup fresh blackberries
Instructions
In a medium-size bowl, add the warm water, sugar, and yeast and whisk well to combine. Sit aside for about 10 minutes, or until the mixture has bubbled up and become foamy.

In the bowl of a stand mixer fitted with the paddle attachment,  beat the eggs until smooth. Beat in the vanilla and evaporated milk. Beat in 3 and 1/2 cups of the flour until smooth. Turn the mixer to low speed and slowly pour in the yeast mixture (careful here - this mixture can splash up if added to quickly!); beat until smooth. Add in the butter and beat until incorporated. Finally, beat in the remaining 3 and 1/2 cups of flour and salt. Beat until dough is smooth and cohesive; about 2 minutes. Cover the bowl tightly with plastic wrap and refrigerate the dough for at least 2 hours, or up to 24 hours.

Line a large rimmed baking sheet with three layers of paper towels, set aside.

In a large enameled cast-iron pan, heat 4-inches of oil to 360 degrees (F). Remove the dough from the refrigerator. On a lightly floured surface, roll the dough out into a 1/4-inch thick rectangle. Cut the dough into 2 and 1/2-inch squares.

In batches, fry the dough until they puff up and are golden brown in color, about 1 minute. Using a slotted spoon, transfer the beignets to the prepared baking sheet and repeat with remaining dough.

Fill a piping bag (fitted with a small tip) with the lemon curd. 

Using the end of a small spoon (or your finger) make a small hole in the side of each beignet. Insert the tip into each hole and fill until the center puffs up a bit (or the curd begins to spill back out the hole). 

Dust with powdered sugar, top with berries, and serve at once!