Lemon Blueberry Bundt Cake… Aka how to use up your abundance of blueberries this Summer!!! Topped with lemon cream cheese frosting and extra blueberries, this is a great Summer dessert. Everyone loves this!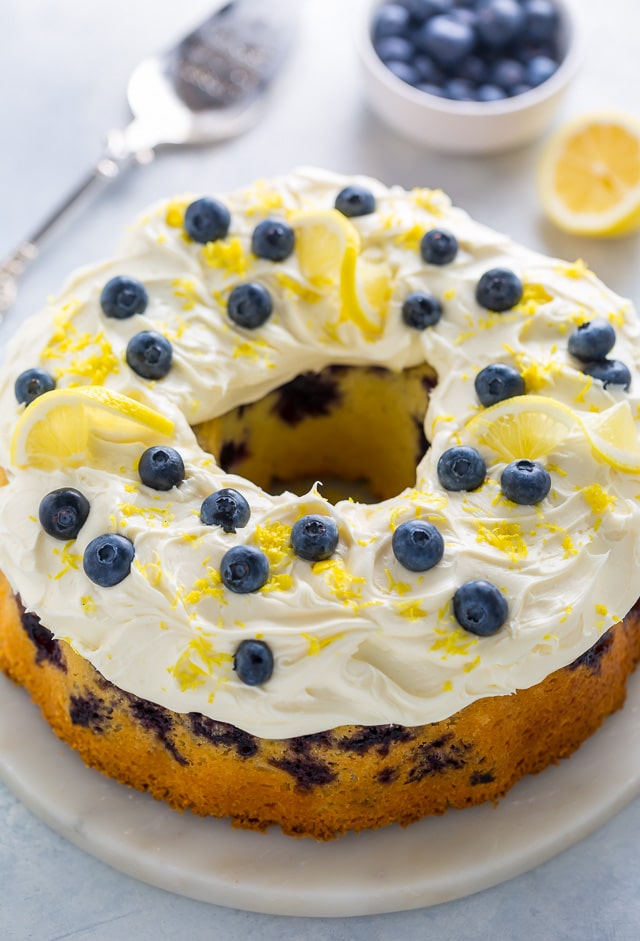 Lemon Blueberry Cake with Cream Cheese Frosting
If you know me, you already know how I feel about Summer baking. I LOVE IT. And the reason for that is simple: berries, berries, berries! Blackberries, raspberries, strawberries, and especially blueberries make this the season to bake up a storm!
Suuuuure, you may have to run the air conditioner 24/7 to escape melting like a fudge pop… but it's a small price to pay for a surplus of fresh juicy berries!
Don't you agree?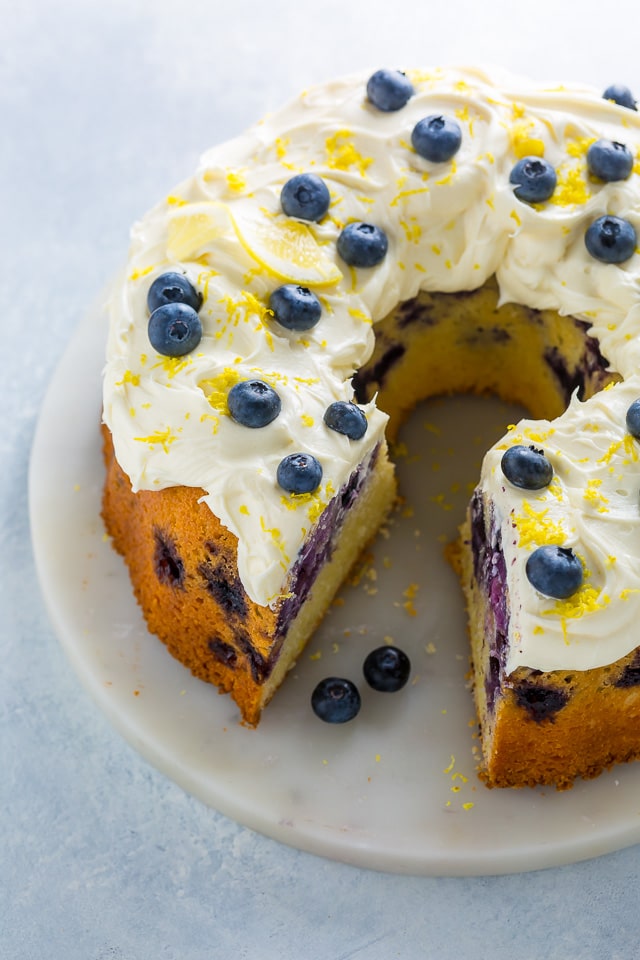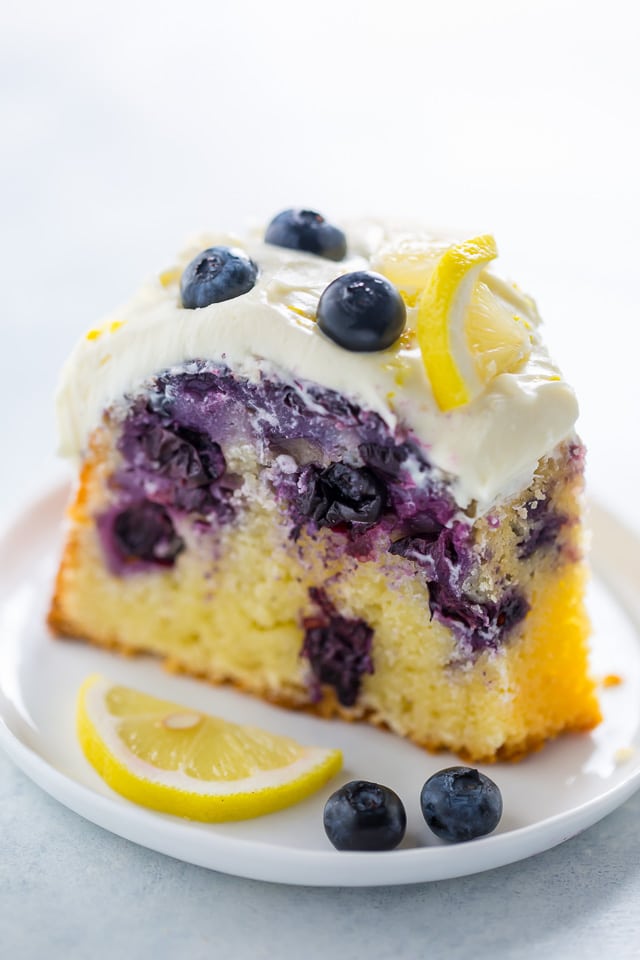 If you're still reading, I assume you love Summer baking as much as I do! Which is great news because today's recipe for Lemon Blueberry Bundt Cake is best made with fresh, juicy blueberries. Sure, you could use frozen… but nothing beats fresh, in my opinion! Especially in the Summer.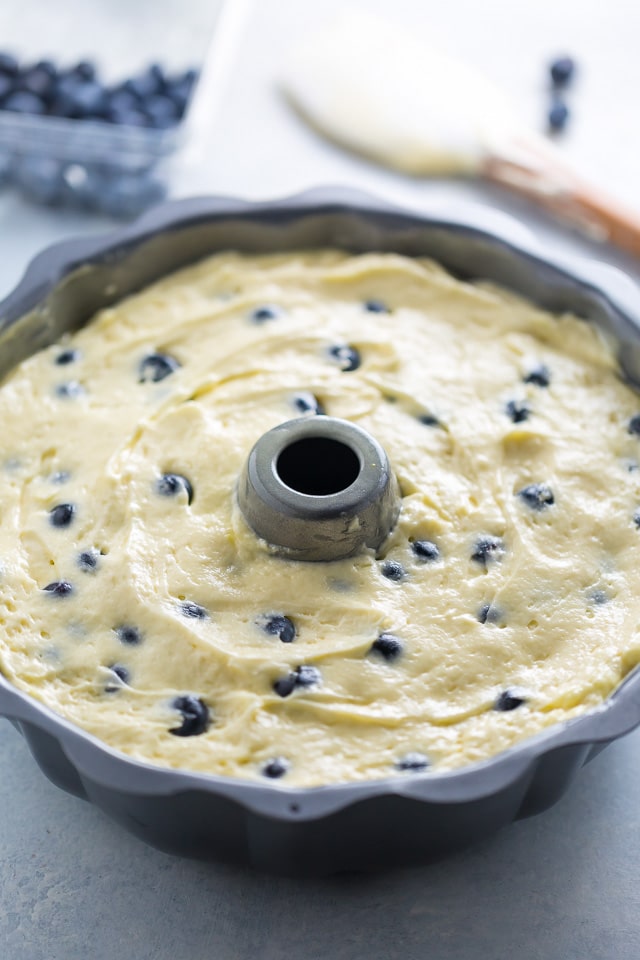 Lemon and Blueberry Bundt Cake
Tips and Tricks for Recipe Success:
This recipe calls for cake flour. Cake flour is extra finely ground, which gives our lemon blueberry bundt cake its silky soft texture. In most grocery stores you can find cake flour in the baking aisle. If you can't find it – don't fret! You can buy it here online, or make your own! Making your own cake flour is easy and only requires two ingredients: cornstarch and all-purpose flour. Here's what you do: For every 1 cup of flour called for in the recipe, remove 2 Tbsp of flour. Then add in 2 Tbsp of Cornstarch for every 1 cup of flour (you're replacing the tablespoons of flour taken out with cornstarch). Sift this mixture a few times (you want it well combined) and that's it – you just made ready-to-use cake flour.
When you measure your cake flour, be sure you're not packing it into the measuring cup. Packed flour will yield dense and dry cake.
Make sure your butter, eggs, and sour cream have all come to room temperature. Cold ingredients do not bond!
I love Watkins pure lemon extract for this recipe because it's 100% natural, doesn't contain any artificial flavors, colors, or additives, and just tastes like pure lemon. I promise I'm not getting paid to say that; I just really love their lemon extract!

I don't recommend adding more blueberries than called for to the batter. Adding too many berries will weigh down the cake as it bakes, causing it to sink the middle and bake unevenly. You can add plenty of extra blueberries on top of the frosting 😉
Be sure to generously grease every inch of your bundt pan to avoid sticking! I love using a non-stick baking spray because it makes this step super quick and easy.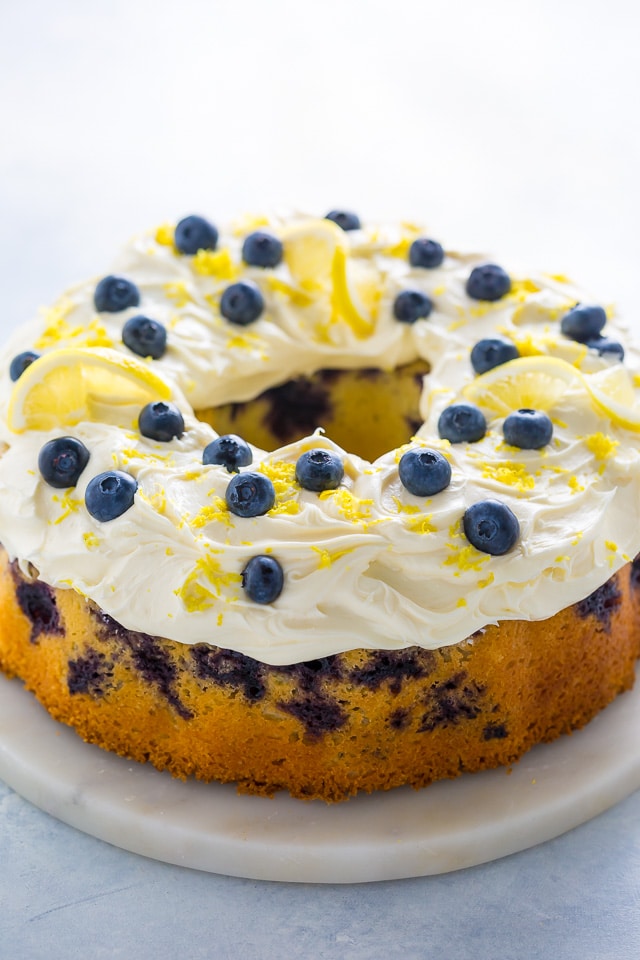 More Lemon Blueberry Recipes:
More Bundt Cake Recipes:
If you try this recipe for Lemon Blueberry Bundt Cake, let me know! Leave a comment below and don't forget to snap a pic and tag it #bakerbynature on instagram! Seeing your kitchen creations makes my day. ♥