Fluffy Lemon Cupcakes are topped with BLACKBERRY Buttercream! These Lemon Blackberry Cupcakes are so pretty and always a showstopper. Their refreshing flavor makes them perfect for Spring and Summer celebrations!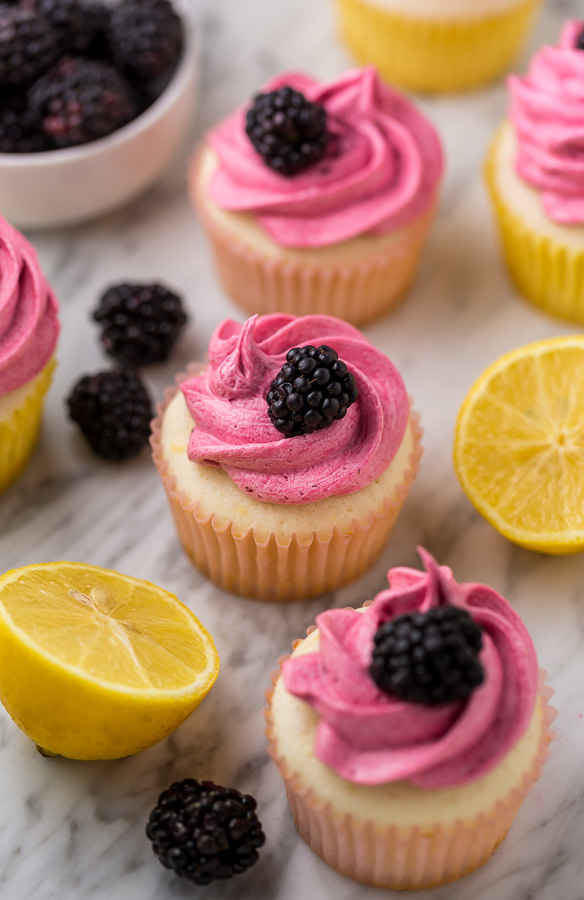 Moist Lemon Cupcakes topped with Fluffy Blackberry Buttercream
Fact: I'm a little cupcake obsessed this Summer. Cannot get enough of them! Doesn't matter if they're Super Decadent Chocolate Cupcakes or of the Perfect "One Bowl" Vanilla variety – I WANT THEM ALL.
Question Tiiiiime: What's your favorite cupcake flavor? Are you into crazy flavor combos? Or more of a classic chocolate/strawberry/vanilla kinda guy (or gal)?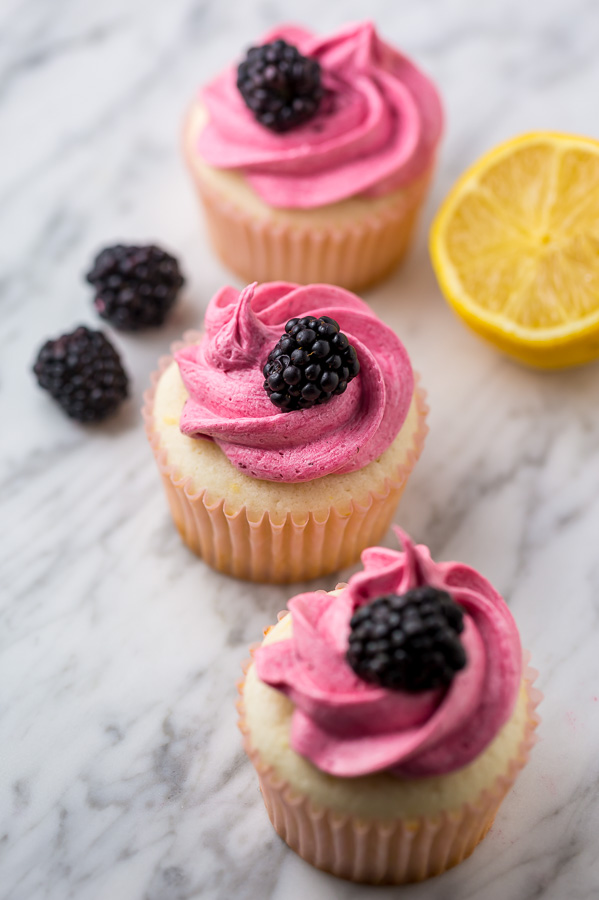 Homemade cupcakes can seem like a lot of work to some people, but I'm here to tell you these lemon blackberry beauties are totally doable in just over an hour, and virtually impossible to screw up. They're also just downright FUN to make! Cupcake baking is one of my favorite ways to spend an afternoon or evening, and the workload is even easier (and a lot more FUN) if you have a friend joining in on the action. I baked 3 different cupcake recipes down the beach with my nieces, and it was a BLAST! I definitely think we have some budding bloggers in the fam 😉
This simple but lovely flavor combo was inspired by the late Summer wave of (very fresh and affordable) berries we have at our fingertips. Cheap and juicy berries… such a luxury! I ate 2 cartons standing over the sink, and decided halfway through the third to regain some self-control and make a vibrantly flavored (and colored) buttercream with what was left. Thank goodness that self-control kicked in! This buttercream is killer 😉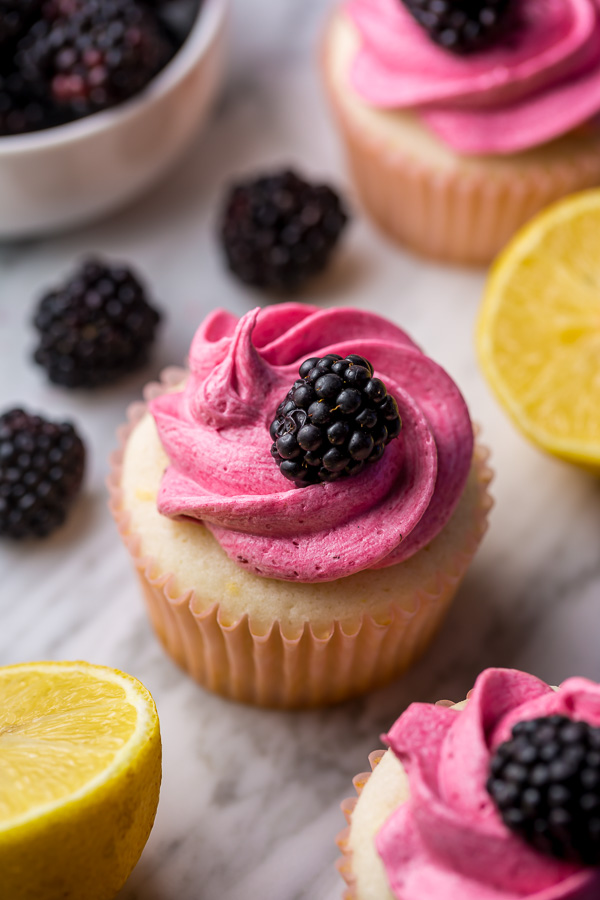 These cupcakes are a little more work than the store-bought kind… but they're also SO much more rewarding in the end. The base of this recipe features an easy-to-make lemon cupcake. These cupcakes are made with lemon sugar, butter, flour, baking soda, sour cream, milk, vanilla and egg whites. The method is very simple, and you can make them with or without a stand mixer.
Two things to be sure you do do:
1) Separate your eggs and use only the whites! This keeps the cupcakes light in color and nice and fluffy. If you add the whole egg it will mess with the consistency of the cupcake, since the whole egg is much more liquid.
2) Place the sugar and lemon zest in a small bowl and RUB the lemon zest into the sugar with your fingertips. This releases the oils in the lemon zest. Lemon oil = nice and light lemon flavor in our cupcakes! Yum.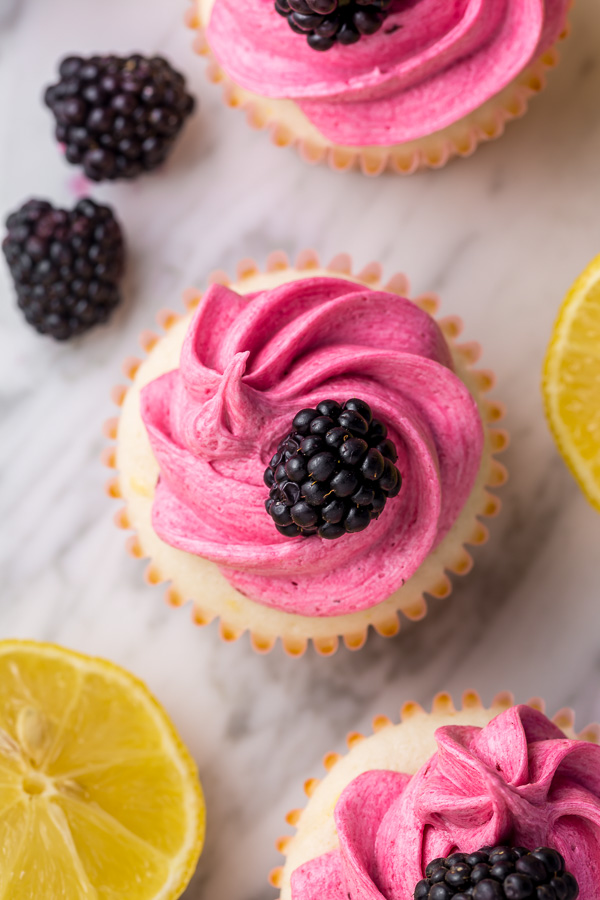 The blackberry buttercream is probably the trickiest part of this recipe, but I think once you read how it's done, you'll find it's really not tricky at all 😉 The first time I tested this recipe I tried adding fresh blackberries straight into the buttercream. That did not work. The berries broke up, released liquid, and made the buttercream a very strange texture. Hmm. Onto batch two! For my second go, I tried using a store-bought blackberry jam. This one came out OK… but the jam was sweetened, and I found the blackberry taste was mute. I wanted a bold blackberry taste. So for the third try (the winning round!) I made a blackberry reduction from blackberries, lemon juice, and just a touch of sugar.
Now, if you're like, EEK. A blackberry reduction sounds like a lot of work. Relax 🙂 It's really easy. You're just going to place the blackberries in a small saucepan, add the lemon juice, and cook it on a low simmer for about 20 minutes. During this time the berries will burst, release juice, and cook down to a nice, thick berry puree. Once it's reduced to about a quarter cup, you'll set it aside to cool, maybe do some dishes, and then add it to the buttercream. See! Easy, right?
So next time you need/want to get your cupcake on, ditch the store-bought stuff and make your own! Once you see how simple and fun making them from scratch is, you'll never want to go back to the box. And that's a promise 😉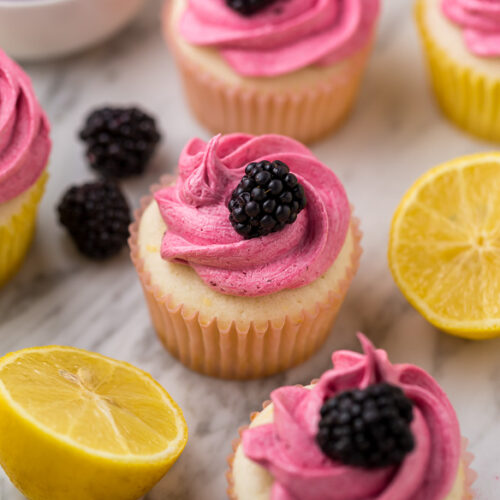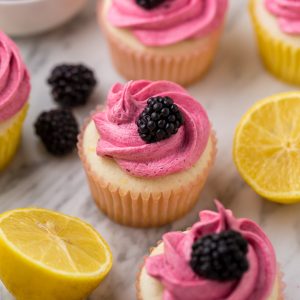 Lemon Cupcakes with Blackberry Buttercream
Fluffy Lemon Cupcakes are topped with BLACKBERRY Buttercream! These Lemon Blackberry Cupcakes are so pretty and always a showstopper. Their refreshing flavor makes them perfect for Spring and Summer celebrations! 
Ingredients
For the cupcakes:
1 3/4 cups cake flour
1 1/4 teaspoons baking powder
1/2 teaspoon baking soda
1/4 teaspoon salt
1/2 cup sour cream (I used full fat)
1/2 cup milk (I used whole)
2 teaspoons vanilla extract
2 large egg whites, at room temperature
1 stick (4 ounces) unsalted butter, melted
1 cup granulated sugar
*Zest of one lemon (about 2 teaspoons)
For the Blackberry Buttercream:
1 cup blackberries
2 tablespoons lemon juice
2 sticks (8 ounces) unsalted butter, VERY soft
1/2 teaspoon salt (do not SKIP!)
4 cups confectioners sugar (more if needed), sifted
Instructions
Preheat oven to 350 degrees (F). Line a 12 mold muffin tin with paper liners; set aside.

In a medium bowl combine flour, baking powder, baking soda, and salt; mix well to combine. Set aside.

In a large measuring cup or bowl combine sour cream, milk, vanilla, and egg whites; mix well to combine. Set aside.

In a small bowl combine sugar and lemon zest. Using your fingertips, rub the zest IN to the sugar, until fragrant and well combined.

In a large bowl or stand mixer fitted with the paddle attachment beat melted butter and sugar on medium speed until well combined; about 2 minutes.

Slowly add the flour mixture to the butter/sugar combination, beating until just combined. Add in sour cream/milk/egg combo and beat on low until *just combined. Over-mixing will result in a dryer/denser cake.

Divide the cupcake batter evenly into the 12 molds, then place the pan in the oven. Bake for about 16 minutes, or until a toothpick inserted into the center of a cupcake comes out clean. Allow cupcakes to cool completely before topping with frosting.
For the blackberry buttercream:
Combine the blackberries and lemon juice in a small saucepan. Bring to a simmer over medium heat, and stir constantly until blackberries have become soft enough to mash effortlessly.; about 6-7 minutes It will look like blackberry jam. Once the mixture can coat a spoon (you will have about 1/4 cup of blackberry puree) remove from heat. Place a fine-mesh strainer over a small bowl and push the puree though, leaving any seeds/large chunks behind. Allow mixture to cool completely before using.
When ready to make buttercream:
Place soft butter in the body of a stand mixer fitted with the paddle attachment; beat butter on medium-speed until completely smooth, scraping down the sides when needed; about 2 minutes. Add in the blackberry puree and beat until completely combined, scraping down the sides of the bowl if needed. Add in the confectioners sugar, one cup at a time, on low speed. Once all of the sugar has been added, add in salt then increase speed to medium-high and beat for 2 full minutes. Ice cupcakes as desired.

*Cupcakes can be made up to 6 hours ahead of time, but be sure to store in the fridge and bring to room temperature 30 minutes before serving.
Notes
*For a stronger lemon taste, add 1 or 2 teaspoons of lemon juice to the batter. To do this, quickly stir it in right at the end, mixing just until combined.