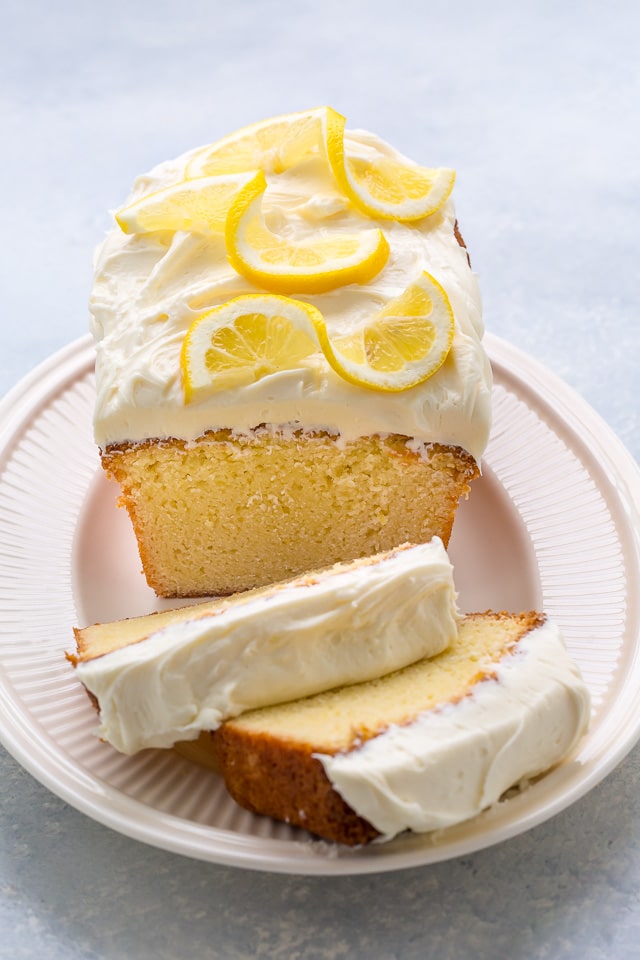 Lemon Pound Cake with Lemon Cream Cheese Frosting
Yield 9" Loaf
Dense yet moist, this Lemon Pound Cake with Lemon Cream Cheese Frosting is bursting with flavor!
Ingredients
For the Lemon Pound Cake:
1 cup (8 ounces) unsalted butter
1 cup (7 ounces) granulated sugar
1/4 cup (1 and 3/4 ounces) light brown sugar, packed
1 teaspoon pure vanilla extract
1 teaspoon pure lemon extract
2 tablespoons lemon zest
1 tablespoons lemon juice
4 large eggs plus 2 egg yolks
1 and 3/4 cups (7 ounces) cake flour
1/2 teaspoon salt
1 teaspoon baking powder
For the Lemon Cream Cheese Frosting:
(1) 8 ounce block full-fat cream cheese, VERY soft but not melted
1/4 cup (2 ounces) unsalted butter, VERY soft but not melted
1/4 teaspoon pure lemon extract
2 cups (8 ounces) confectioners' sugar, sifted (more if needed)
Instructions
For the Lemon Pound Cake:
Adjust an oven rack to middle position, then preheat oven to 375 degrees (F). Spray a 9x5 inch loaf pan with non-stick baking spray; set aside.
Melt the butter in a small saucepan over medium heat. Pour melted butter into a large bowl, then whisk in both sugars. Add in vanilla extract, lemon extract, lemon zest, and lemon juice and beat well. Add in the eggs and yolks, one at a time, beating well after each addition.
In a separate medium-sized bowl combine the cake flour, salt, and baking powder. Add dry ingredients to wet ingredients and gently whisk together until just combined.
Pour batter into prepared pan and smooth the top with a rubber spatula. Bake for 20 minutes, then reduce oven temperature to 325 degrees and continue baking for about 40 minutes, or until the top is golden brown and a cake tester inserted in the center comes out clean. Cool cake in the pan for 15 minutes before transferring it to a cooling rack to cool completely (about 1 hour).
For the Lemon Cream Cheese Frosting:
In the bowl of a stand-mixer fitted with the paddle attachment, or in a large bowl using an electric handheld mixer, beat the cream cheese, butter, and lemon extract on medium-high speed until completely smooth; about 2 minutes. Reduce the speed to low and gradually add the sifted confectioners' sugar. Once all of the sugar has been added beat on high-speed for 1-2 minutes. If the frosting appears too thin, add a little more confectioners' sugar, 1/4 cup at a time. Once the cake has completely cooled, spread the frosting over the top of cake and decorate with lemon slices, if desired. Slice and serve! Store this cake in the fridge, covered, for up to 3 days.
Courses Breakfast, Dessert
Cuisine Cake
Recipe by Baker by Nature at https://bakerbynature.com/lemon-pound-cake-lemon-cream-cheese-frosting/