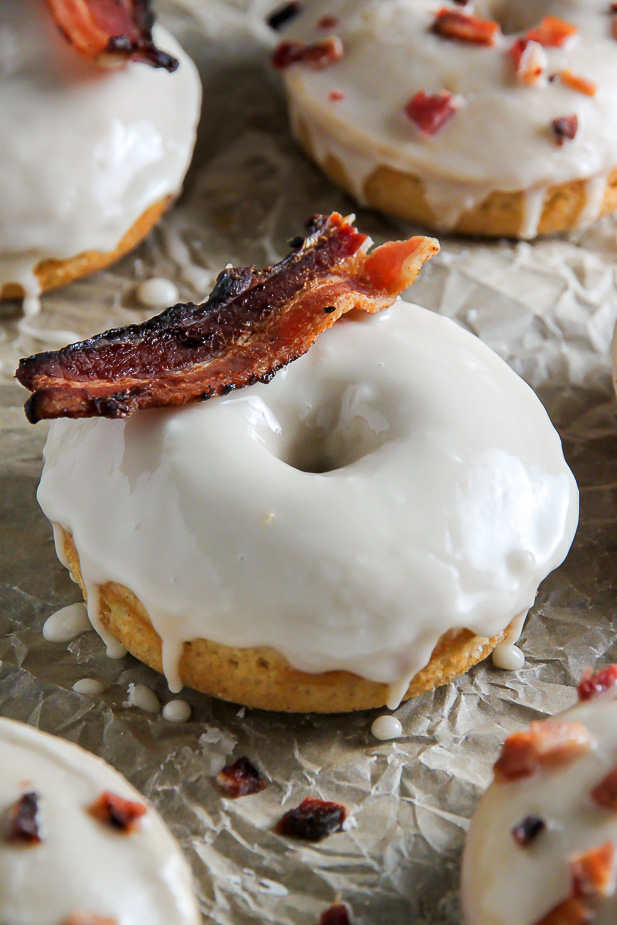 Baked Maple Bacon Donuts
Happy Wednesday! We're making donuts today. And not just any donuts… maple bacon donuts! The perfect sweet and salty sugar rush to get us through the afternoon.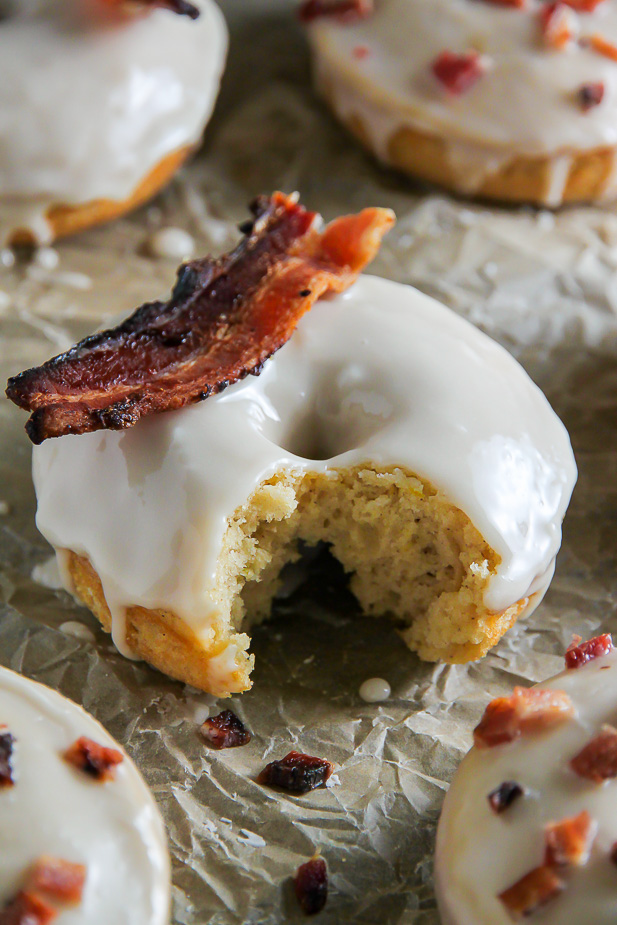 I know it's only October, but can I tell you a little secret? I'm already thinking about the holidays. We have a lot of holiday traditions in our family, but by far, my favorite of them all is Christmas Day brunch. Endless eggnog pancakes, mimosas with mom, and an afternoon of goofing off with my brothers… it's the best.
↑ Did I mention I'm the one who cooks said brunch every year? It's equal parts fun and crazy, but I love every moment of it. This year the menu will consist of our standard spread (sausage, bacon, eggs, pancakes, bagels, lox, whitefish, and fruit salad) and one very special dessert: maple bacon donuts! Seriously, doesn't the combination of maple and bacon just scream BRUNCH? I know my family is going to go nuts over these babies.
Alright so let's get down to details. I'm bonkers for bacon and mad for maple, so I'm not sure why it took me so long to dream up the delicious idea of combing the two. For the donut base you're going to need flour, baking powder, salt, cinnamon, nutmeg, brown sugar, milk, butter, bacon, and bacon grease. If you've never baked with bacon grease before, don't worry! You're only going to use 1 tablespoon for this recipe, and you'll have plenty leftover from frying the bacon, so simply scoop a tablespoon out of the pan before discarding it. Using a combination of butter and bacon grease for the fat in this recipe allows the bacon flavor to really shine through, without being overwhelming.
Bonus: these donuts are baked – not fried. So in the grand scheme of donuts, they're on the healthier side. ← All about balance, right? If you're in the market for a donut pan and don't know where to start, here is the one I have been baking with
for the past few years. It's considerably affordable and very good quality!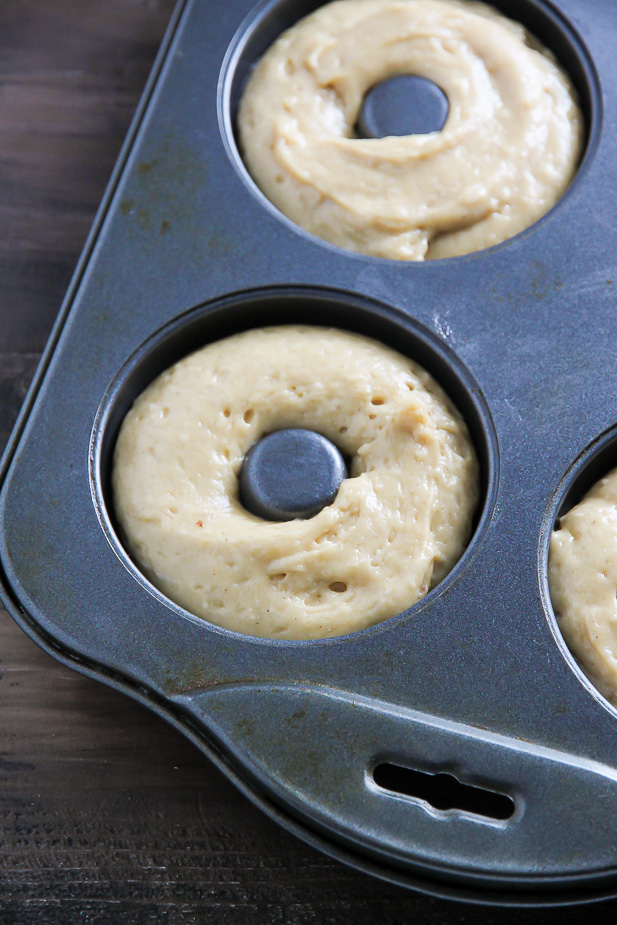 Let's talk about the glaze. It's sweet, rich in maple flavor, and just begging to get topped with a sprinkle of crispy bacon bits. To make this maple glaze you'll need confectioners' sugar, milk, a pinch of salt, maple syrup, and pure maple extract. This is the pure maple extract
I have at home and I really love the clean maple flavor it adds to baked goodies. If you cannot find maple extract, vanilla extract will work as a substitute, however the maple flavor will not shine through as much if this change is made.
When it comes time to top your donuts, you have options. You can decorate the top of each donut with crispy bacon crumbs OR simple add a whole slice of bacon right on top. You can also be like me and do both 😉
These are my perfect donuts. They're soft, fluffy, sweet, salty, and have the most delightful crunch thanks to a sprinkle of crispy bacon, which in my opinion, is the real star of these donuts. They're easy to make and ready in just 20 minutes. Get ready to fall in love with this recipe!
What are you waiting for? Go bake these donuts!
P.S. This recipe was inspired by this maple bacon donut I ate on vacation in New Orleans. More on that trip coming soon. ♥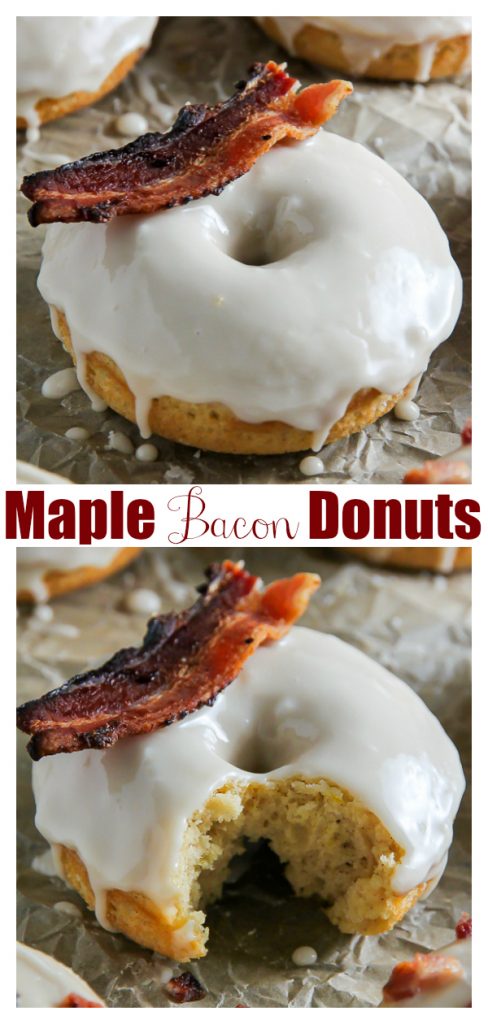 Maple Bacon Donuts
Maple Bacon Donuts are baked - not fried - and ready in just 25 minutes! The ultimate sweet and salty treat.
Ingredients
For the donuts:
6 slices bacon, fried until crispy
1 cup and 1/4 cups all-purpose flour
1/2 cup light brown sugar, packed
Pinch of nutmeg
1/4 teaspoon ground cinnamon
1/2 teaspoon salt
1 teaspoon baking powder
2 tablespoons unsalted butter, melted
1 tablespoon bacon grease (just save a tablespoon when you're done frying the bacon)
1/2 cup milk (I used whole, but any type will do)
1 teaspoon maple syrup
1 large egg
For the Maple Glaze:
2 cups confectioners' sugar
1/4 teaspoon salt
2 tablespoons maple syrup
1/2 teaspoon pure maple extract (see post for more information on this)
3 tablespoons milk (I used whole, but any type will do)
Instructions
Preheat oven to 350 degrees (F).
For the donuts:
Generously grease a donut pan; set aside.

Fry bacon in a large skillet over medium-heat until brown and crispy; about 4 minutes per side. Transfer bacon to a paper towel lined plate and set aside. Reserve 1 tablespoon of bacon grease and set it aside.

In medium-sized mixing bowl combine the flour, brown sugar, nutmeg, cinnamon, salt, and baking powder; whisk well to combine (use your fingers to break up any large clumps of brown sugar); set aside.

In a separate medium-sized bowl combine the melted butter, bacon grease, milk, maple syrup, and egg; whisk well until completely combined. Pour the liquid mixture into the dry mixture and fold together with a rubber spatula until just combined - don't over mix here.

Spoon the batter into the prepared donut pan OR pour the batter into a ziplock baggie, snip off the end, and pipe the batter into the prepared donut pan. Bake for 10-11 minutes, or until donuts are set and gently spring back when touched. Allow donuts to cool in the pan for 5 minutes before transferring to a cooling rack.
For the maple glaze:
Combine all of the ingredients in a large bowl; whisk smooth. If the glaze appears too thick, add a little more milk; if the glaze appears too thick, add a little more confectioners' sugar.
Assembly:
Once the donuts are cool enough to handle, dip them in the maple glaze, allowing excess glaze to drip back into the bowl before placing them back on the cooling rack; repeat with all donuts. Decorate wet glaze with bacon bits or a full slice of bacon. Let glaze set a few minutes then serve! These donuts are best eaten the day they are made.