There's a donut shop exactly two blocks away from the house I grew up in. A good donut shop, I should note. The owner – Suzy Jo Anne (yes; real name) – makes exactly 120 donuts each day – and each day, without a doubt, ALL said 120 donuts FLY off the shelves. If you want any chance of scoring your favorite flavor – or any flavor, for that matter – you gotta get there early… otherwise it's slim pickings.
My favorite? Marble frosted donuts. A soft and sweet buttery ring topped with thick vanilla glaze AND a swirl of chocolate >>> It's the best of both worlds, baby! It's also always the first donut to go! When I'm home for the holidays I wake at the crack of dawn so I can call first dibs on ALL of those marble frosted beauties 🙂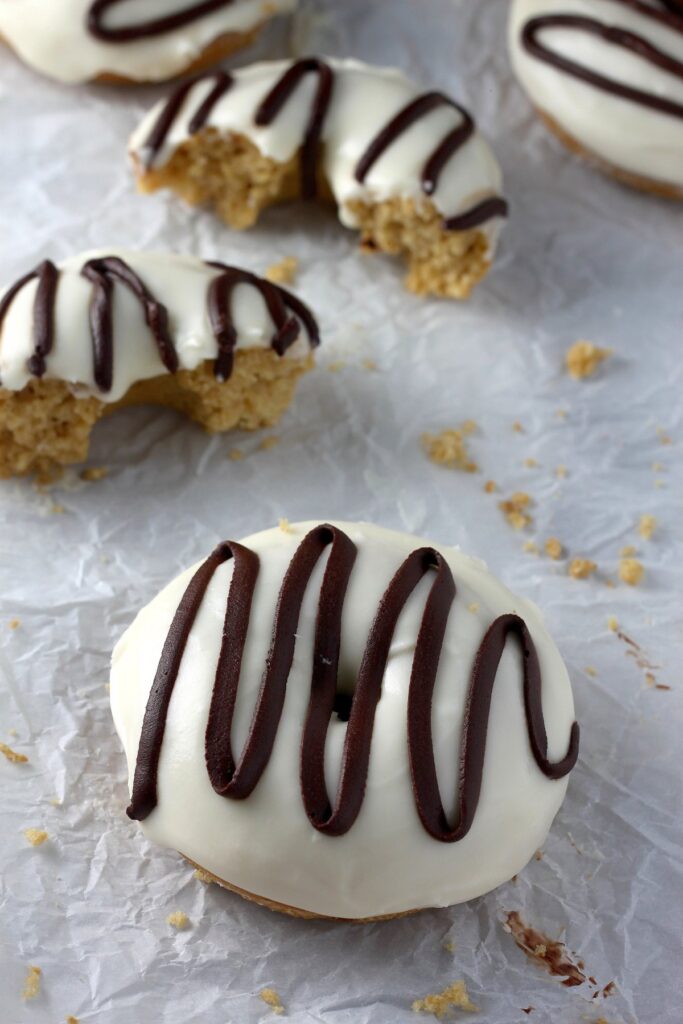 Lucky for you, I've recreated this "famous" recipe so you can make your very own batch at home. This recipe alone is worth spending the 8 bucks on a donut pan.
The biggest difference between my recipe and the ones you would buy at the bakery is the fact that these donuts are baked – not fried. I've created a recipe for the base that is dense enough to hold up to the thick glaze (I hate when my donuts fall apart…) but moist and tender to the bite. So many fantastic buttery crumbs! Nom nom nom.
The glaze part will take two bowls. One for your vanilla glaze, and one for the chocolate. Both are so simple to assemble and will take only seconds to pull together. The vanilla is simple confectioners sugar, cream, and vanilla. The chocolate is confectioners sugar, cocoa powder, and cream. Easy peasy! Unlike many donut recipes, you're actually going to frost these donuts with a knife. Well, the vanilla frosting, at least. For the chocolate swirl I recommend scooping the frosting into a ziplock baggie, snipping off a tiny corner on one end, then swirling to your hearts delight! There's really no wrong or right way to frost these donuts… as long as your having fun 😉 They taste delicious pretty and not-so-pretty…. promise!
Marble Frosted Donuts
Ingredients
1 cup + 2 tablespoons all-purpose baking flour
1/2 cup dark brown sugar
1/2 teaspoon salt
1 teaspoon baking powder
1/2 cup whole milk
2 1/2 tablespoons unsalted butter, melted
1 large egg, at room temperature
For the vanilla frosting:
2 cups confectioners' sugar
2 tablespoons heavy cream (you may need more)
1 teaspoon vanilla extract
For the chocolate swirl:
1/2 cup confectioners sugar
1/2 cup cocoa powder
3 tablespoons heavy cream
Instructions
Preheat oven to 350 degrees (F).
Lightly grease a doughnut pan; set aside.
In a large bowl whisk together the dry ingredients. In a separate bowl whisk together the milk, butter, and egg. Gently fold the wet mixture into the dry mixture - don't over mix!
Spoon mixture into prepared doughnut pan, and bake for 10-11 minutes, or until the doughnuts spring back when lightly pressed. Allow doughnuts to cool a few minutes in the pan before transferring to a wire wrack to cool completely.
As the donuts cool, make your frosting(s).
In a medium sized mixing bowl combine powdered sugar, heavy cream, and vanilla. Mix well. The frosting should be very thick, but easily spreadable. If it's too thick, add a small amount of cream until it reaches your desired consistency.
In a separate medium-sized mixing bowl combine powdered sugar, cocoa powder, and cream. Mix well. The frosting should be thinner than the vanilla frosting, add extra cream as needed.
Once donuts have completely cooled, generously frost the tops of each with the vanilla frosting, then swirl each top with a little (or a lot) chocolate frosting.
Courses Breakfast
Cuisine Donuts