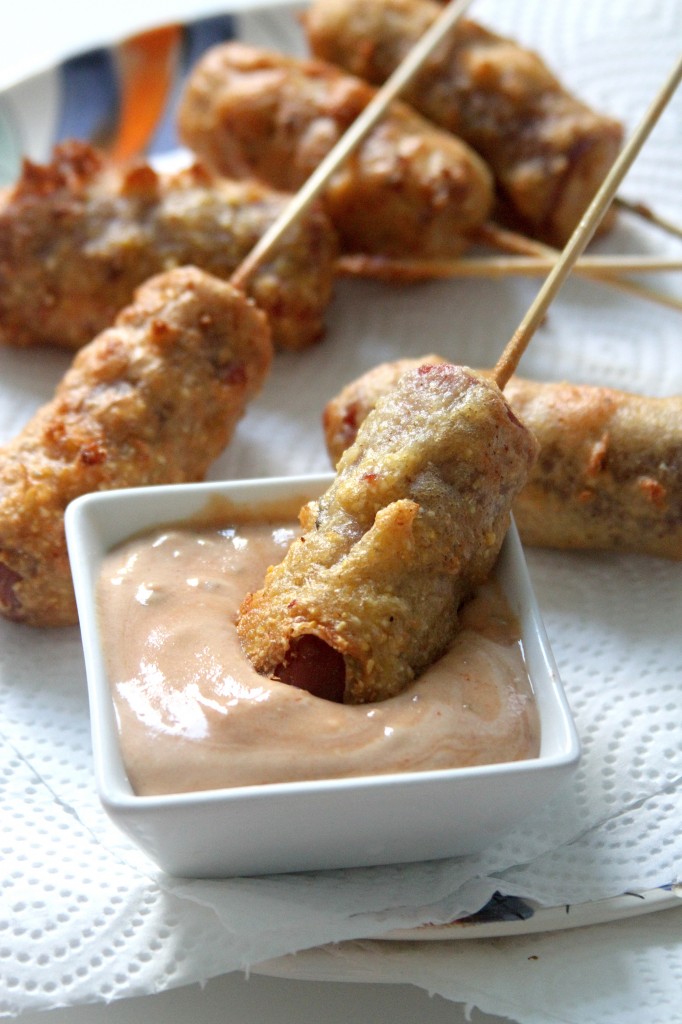 I love carnival food. I mean, I don't eat it a lot, but when I do, it's just so seriously satisfying. It's definitely one of those hurt-so-good situations, but I think we all deserve a deep fried day once in a while, don't ya think?
These mini bacon batter corn dogs were inspired by a recent trip I took to Coney Island.
I find Coney Island so enchanting and full of nostalgic charm, and after spending a day there – eating my face off on hot dogs, funnel cake, and cotton candy! – I felt inspired to bring a little bit of the boardwalk into my very own kitchen.
Hello, Corn dogs!
I don't fry a lot (like ever…) but I made an exception for this occasion and whipped out the heavy bottomed pan and cooking oil! I'm a wild woman when I want to be. Ha.
We were entertaining friends and so I figured these little baby corn dogs would be a fun appetizer – and a good excuse for me to fry! It was actually really fun, and not even a little bit scary. (oh, and I didn't even use a thermometer – ooops!).
I'm currently taking part in a Saucy Mama mustard contest, so I thought these corn dogs would be a super fun way to incorporate their awesome chili hatch mustard into this recipe. I used it in both the batter and the sauce, and I just loved the subtle hint of chili that popped out in both. The sauce is insanely easy, but it has a great POP of flavor, and it's perfect for an easy entertaining dip.
Psssst – If you're having guests, I highly recommend you make double the portions; these babies fly off the platter! Plus, you're going to gobble 3 hot out of the oil… just trust me.
Mini Bacon Batter Corn Dogs with "Special Sauce" – Baker by Nature
Makes 16 mini corn dogs
Ingredients:
8 hot dogs, grilled (or cooked in a skillet until charred on all sides) and cut in half
1/2 cup flour extra to douse hot dogs in
1/2 cup cornmeal
1/2 teaspoon salt
1/2 teaspoon black pepper
4 slices bacon, cooked and crumbled
2 tablespoons sugar
1 tablespoon honey
1 tablespoon chili mustard
1/2 teaspoon chili powder
1/4 teaspoon cayenne pepper
2 teaspoons baking powder
1 egg
1/2 cup well shaken butter milk
1 quart vegetable oil
16 wooden skewers
Instructions:
In a medium bowl combine the cornmeal, flour, salt, pepper, bacon, sugar, chili powder, cayenne, and baking powder. Stir in the egg, buttermilk, mustard, and honey.
Preheat oil in a deep, heavy bottomed pan until it reaches 350 degrees (F). Insert the skewers into the end of each cut hotdog, roll in flour (shake off any excess), then roll in the batter until well coated.
Fry 2 or 3 corn dogs at a time, keeping a close eye they don't get too brown (they should be done in about 2 or 3 minutes). Place corn dogs on a paper towel to soak up any excess oil.
"Special Sauce" 
Ingredients:
2 tablespoons sour cream
2 tablespoons Saucy Mama Hatch Chili Mustard
2 tablespoons ketchup
Instructions:
Whisk ingredients together in a small bowl and serve with corn dogs.