These Mini Pineapple Upside-Down Cakes are simple, sweet, and sure to put a smile on everyone's face! Just like the classic dessert, but in mini form! Perfect for parties and celebrations!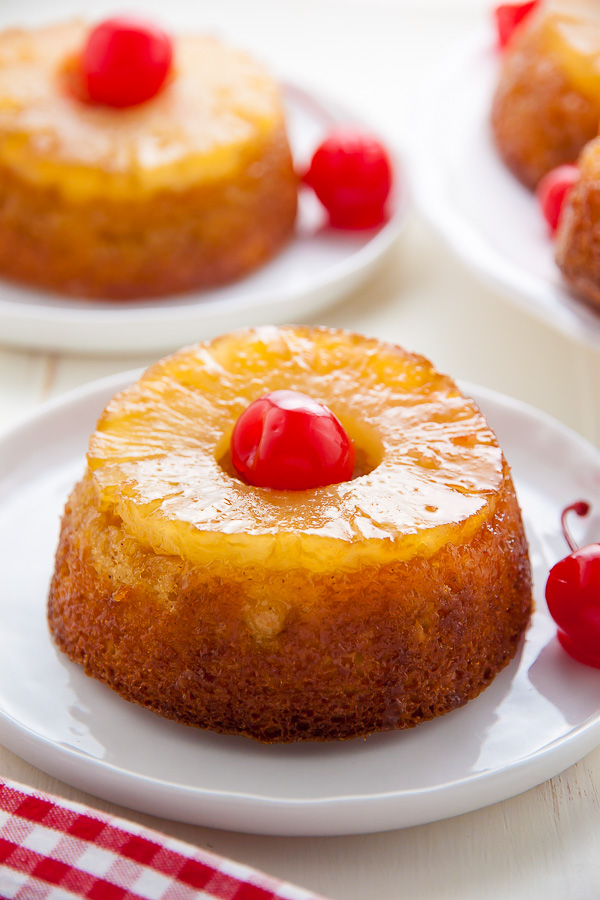 Mini Pineapple Upside Down Cake from Scratch
Easter is quickly approaching, and one of my favorite recipes to bake for this holiday is pineapple upside-down cake! In the past I've treated my family to fun recipes like skillet pineapple upside down cake and pineapple upside-down donuts. But this year I'm completely breaking the mold and baking them these adorable mini pineapple cake. So cute and so delicious!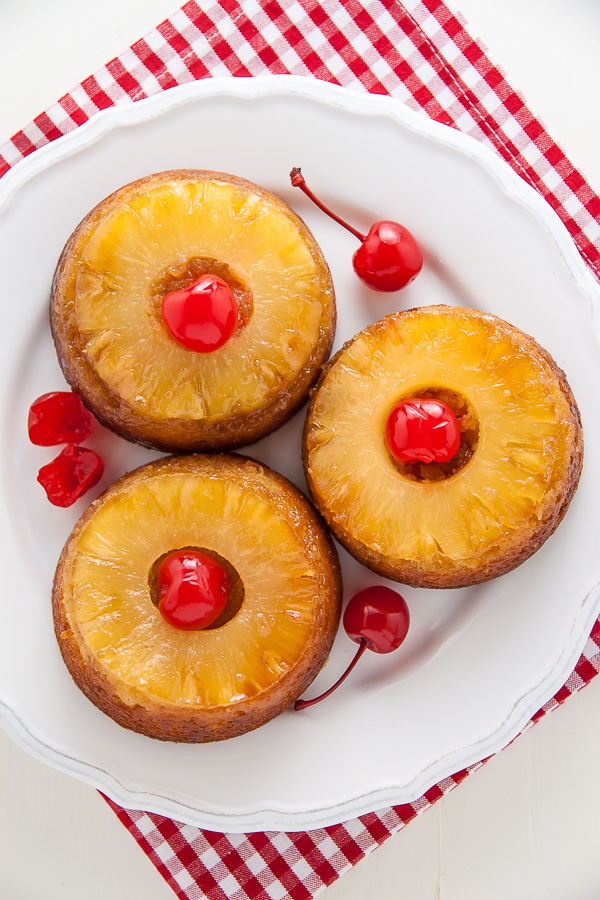 First things first: to make this recipe you're going to need a jumbo muffin tin. The pineapple slices won't fit in a regular muffin tin, and while you could cut them up into tiny pieces, I highly suggest springing for the pan and following the recipe as written. Plus, once you buy a jumbo muffin tin you can make other great recipes like these nutella stuffed chocolate chunk zucchini muffins. Win-win! I purchased my jumbo muffin tin at Sur la Table, but you can also buy one from amazon.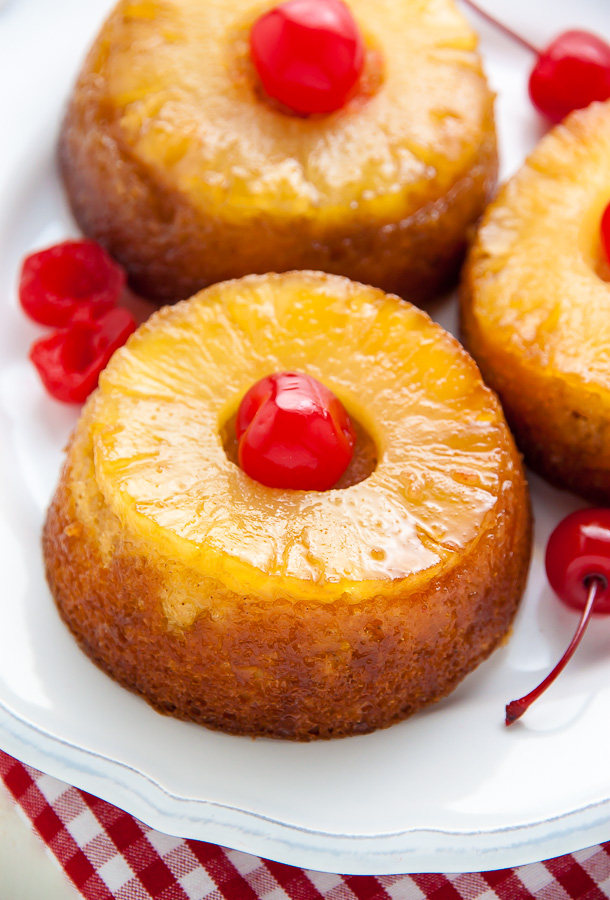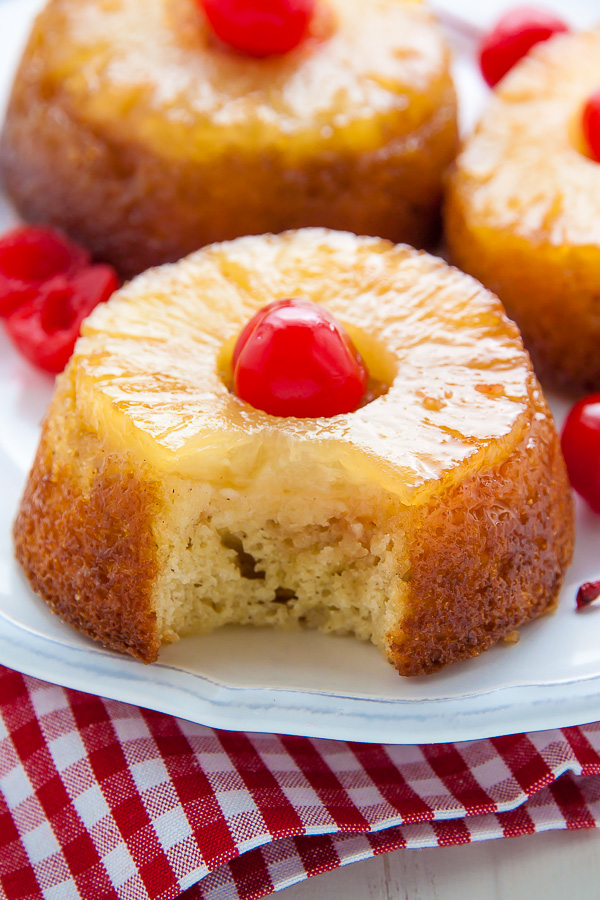 Mini Pineapple Upside-Down Cake Recipe from Scratch
Now that we've covered pan business, let's talk ingredients. To make these mini pineapple upside-down cakes you'll need flour, cornstarch, brown sugar, granulated sugar, cinnamon, salt, baking powder, rum OR vanilla extract (totally your call!), pineapple juice, pineapple slices, and maraschino cherries. If you buy the sliced pineapples in real pineapple juice, you should have enough juice from the can 😉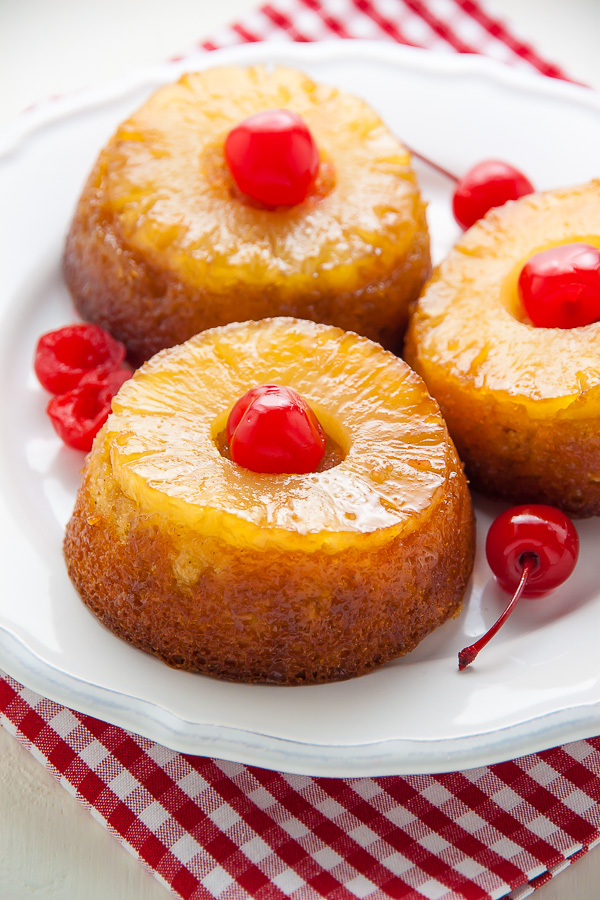 In one bowl you'll make your cake mix. The cake batter involves whisking the eggs first, then adding in the sugars, rum, pineapple juice, and dry ingredients. The cake batter does not call for any butter or oil, but bakes up extremely moist thanks to the pineapple juice and gooey brown sugar topping. The brown sugar topping does contain butter, as well as brown sugar, a pinch of salt, and more rum.
To assemble you'll scoop 2 tablespoons of topping into the bottom of each muffin tin, then add a slice of pineapple and a maraschino cherry, then finally top with cake batter. Be sure to only fill the molds 3/4 of the way up! Otherwise you will have an oven mess to clean up, and ain't nobody have time for that 😉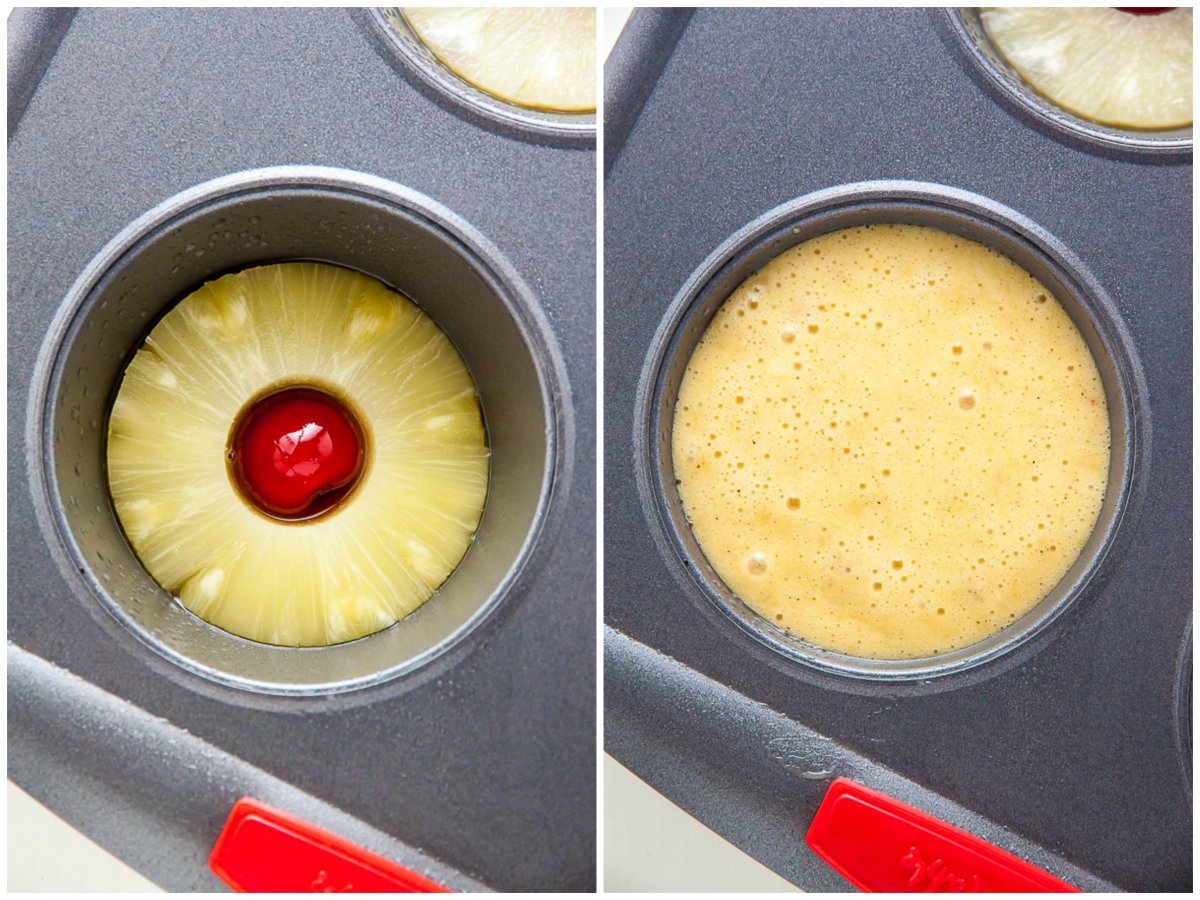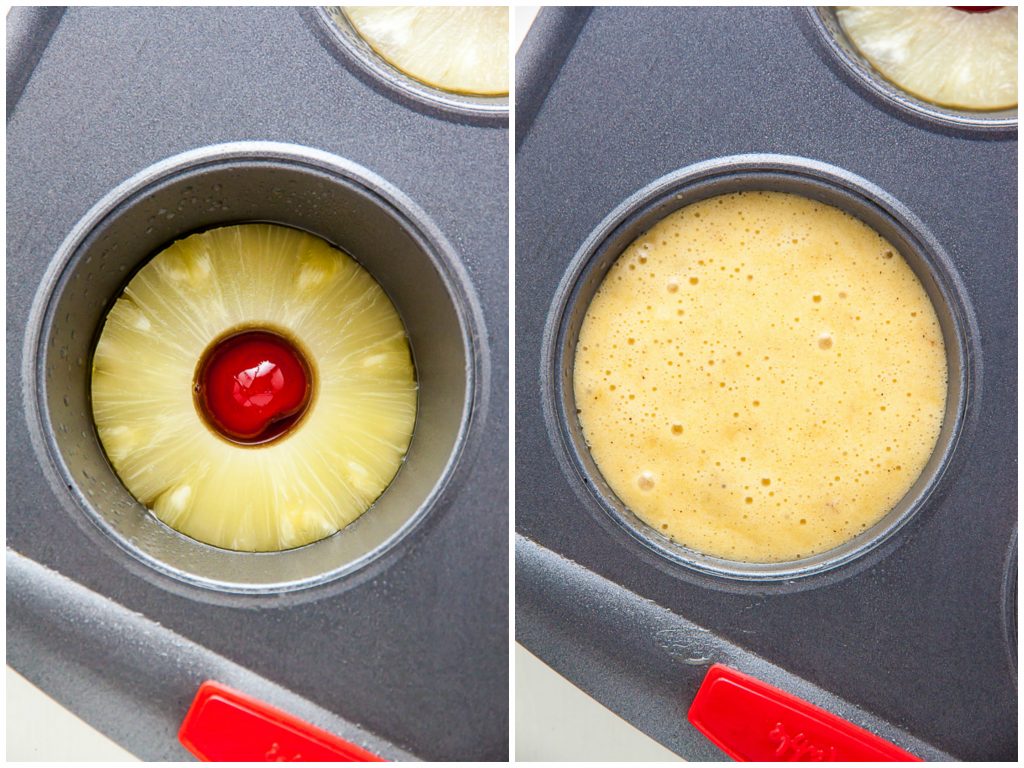 Perfect for parties, barbecues, and baby showers, these pineapple upside-down minis are definitely going to be in high rotation this Spring!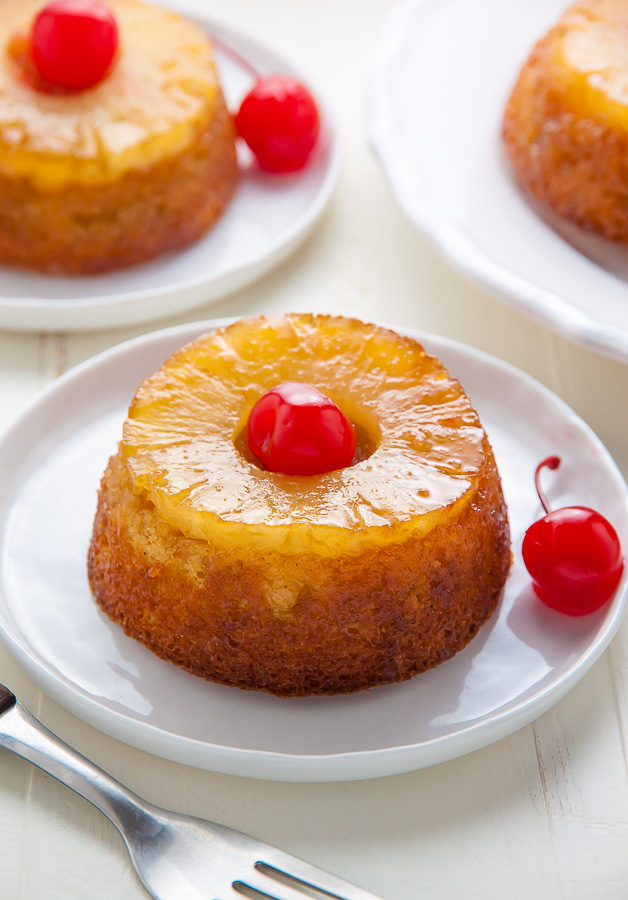 If you try this recipe, let me know! Leave a comment below and don't forget to snap a pic and tag it #bakerbynature on Instagram! Seeing your kitchen creations makes my day. ♥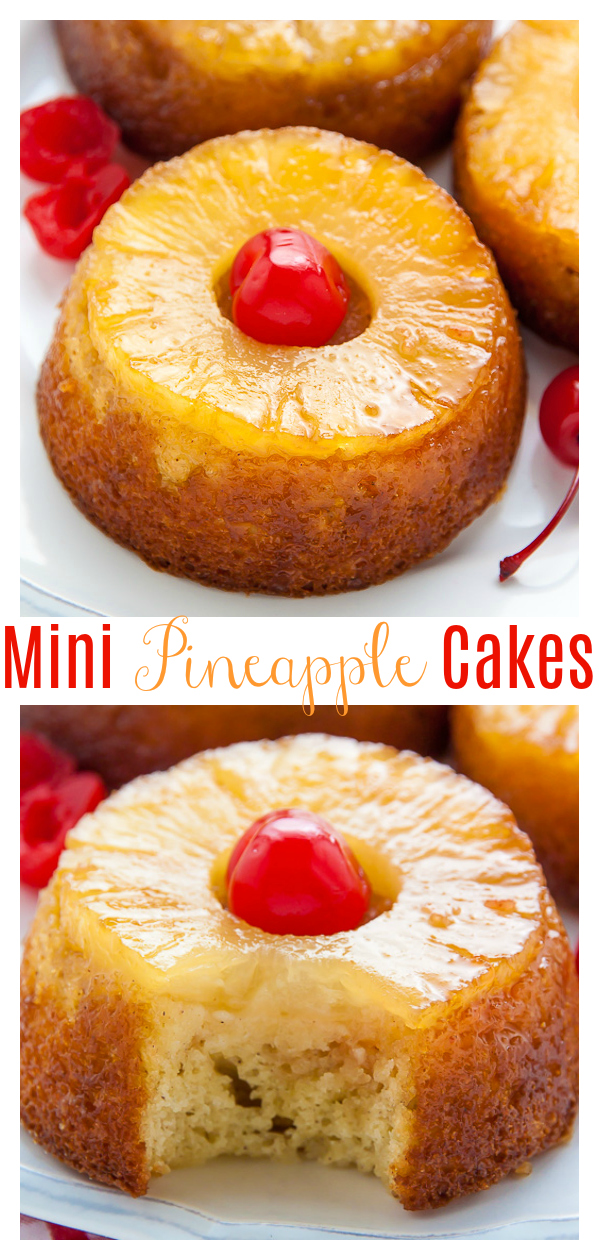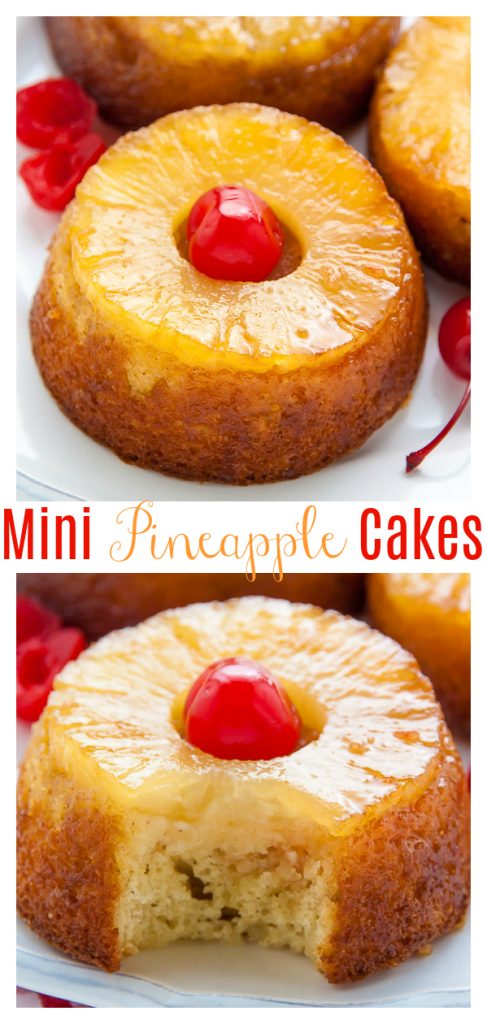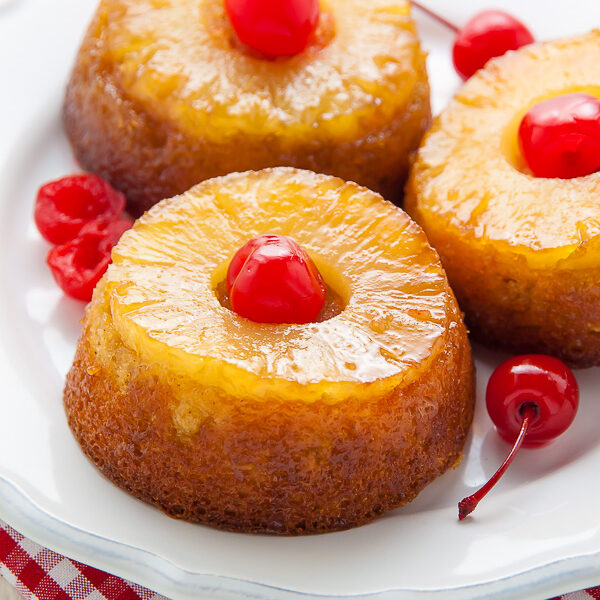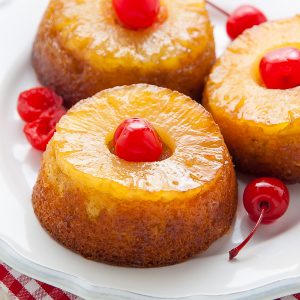 Mini Pineapple Upside-Down Cakes
These Mini Pineapple Upside-Down Cakes are simple, sweet, and sure to put a smile on everyone's face!
Ingredients
For the cake:
4 large eggs, at room temperature
1 and 1/4 cups granulated sugar
1/4 cup dark brown sugar, packed
1/2 cup pineapple juice
2 teaspoons rum (or pure vanilla extract)
1 and 1/2 cups all purpose flour
2 and 1/4 teaspoons baking powder
1/2 teaspoon cinnamon
1/4 teaspoon salt
2 tablespoons cornstarch
For the topping:
6 tablespoons unsalted butter
1 and 1/2 cups dark brown sugar (packed)
1 teaspoon rum (or vanilla extract)
1/8 teaspoon salt
12 pineapple rings
12 maraschino cherries
Instructions
Preheat oven to 350 degrees (F). Generously spray a 12-mold JUMBO muffin tin with non-stick cooking spray; set aside.

Crack the eggs into a large mixing bowl; whisk smooth. Add in the granulated sugar, brown sugar, and rum (or vanilla), and beat smooth. Stir in pineapple juice and set aside. In a separate bowl, sift together the flour, baking powder, cinnamon, salt, and cornstarch. Gradually add the dry ingredients into the wet ingredients and whisk until just combined. Be sure not to over mix here! Set mixture aside while you make the topping.
For the topping:
In a small sauce pan, melt the butter over medium heat. Add in the brown sugar, rum, and salt, and cook for 1 minute, whisking constantly. Remove from heat.

Spoon 2 tablespoons of the topping mixture into the bottom of each muffin tin; place a pineapple ring on top, then place a cherry in the middle of each pineapple ring. Divide the cake batter evenly among the prepared tins, fill each muffin tin 3/4 of the way full. Bake for 20-22 minutes, or until the tops are puffed and golden brown, and a toothpick inserted in the center of the cake comes out clean.

Remove from the oven and cool in pan for 5 minutes. Gently run a knife around the edge of each cake to help loosen any stuck bits, then gently place a wire cooling rack on top and quickly flip over. You may want to place the cooling rack on a large sheet pan before doing this, to help make it less messy. Serve cakes warm or at room temperature.
Notes
Rum may be substituted with pure vanilla extract. Cakes are best eaten the day they are made, but may be stored in the fridge, in an airtight container, or on a plate covered tightly with plastic wrap, for up to 3 days.