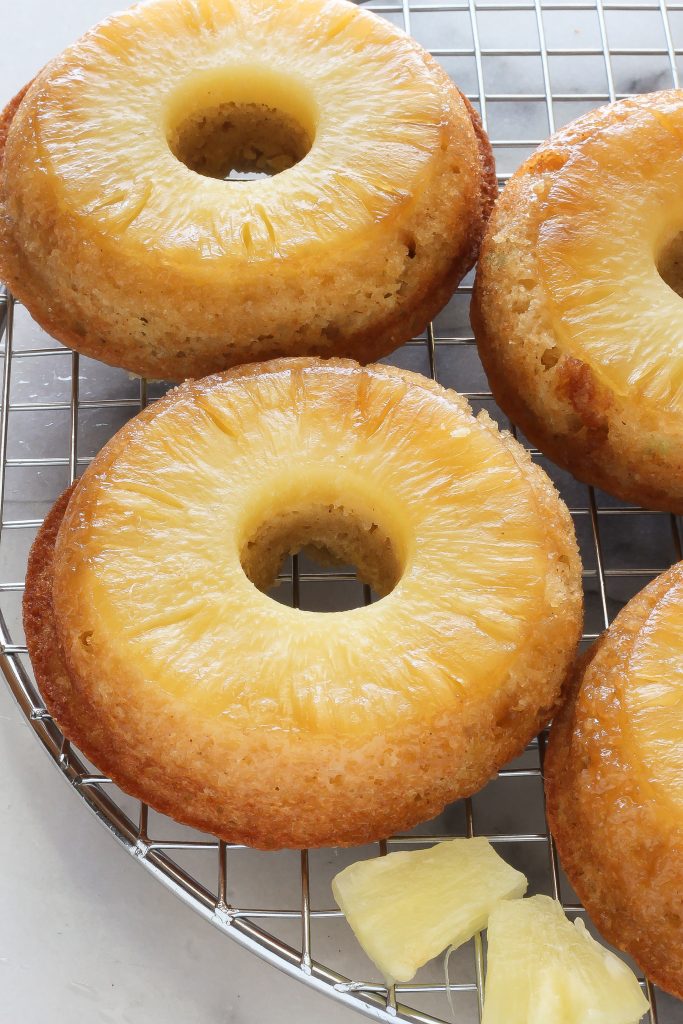 It's donut o'clock! Which is pretty much my favorite time of day – all day//everyday. I just can't get enough donuts. I love them! And these pineapple upside-down donuts are sure to be a new favorite near and far! Sticky, sweet, and ready in less than 20 minutes… these are a dream come true for donut lovers everywhere!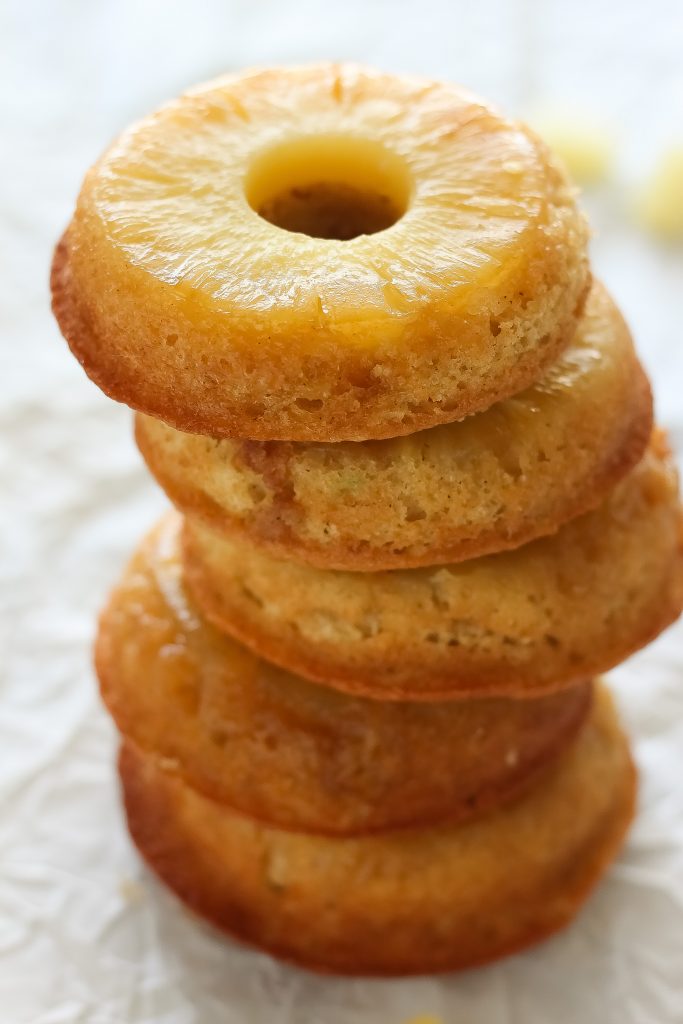 If you've been looking for a creative and unique donut recipe to really UP your donut baking game —> these are for you! An incredibly easy donut base gets an upgrade thanks to a thin slice of pineapple and a hearty sprinkle of brown sugar. The pineapple and brown sugar bake into the top of the donut, and like magic, you've made an incredible little treat in a jiffy! These donuts are proof that a lot of flavor can come from just a few basic ingredients. Who doesn't love that?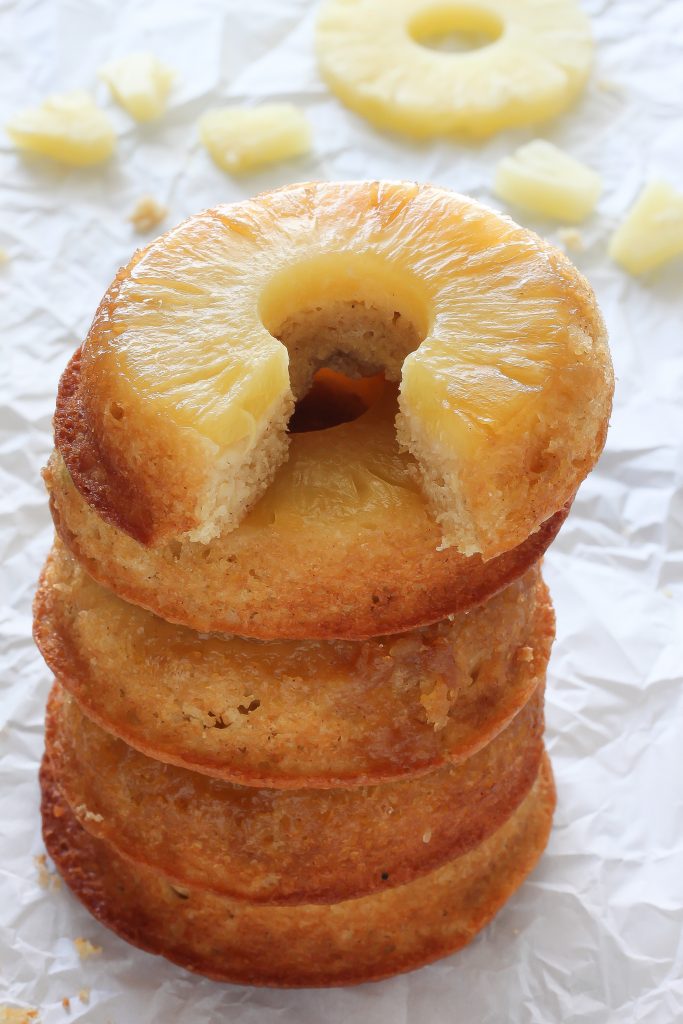 A few things you should know about this recipe:
1) I use canned pineapple rings for ease and convenience. I prefer to buy the no-sugar added variety, and recommend using it for this recipe as the donuts are already quite sweet.
2) The pineapple rings will need to be sliced into thinner rings; you'll cut each in half. The first time I made this recipe I used the rings straight out of the can and found that it was an unpleasant fruit-to-donut ratio. Slicing them in half evens everything out. I've placed some notes below the recipe in case you need more help with this step.
3) The tops of these donuts are sticky and sweet, making them quite unique. They are best eaten right away, but you can store them in the fridge for up to 48 hours, if need be.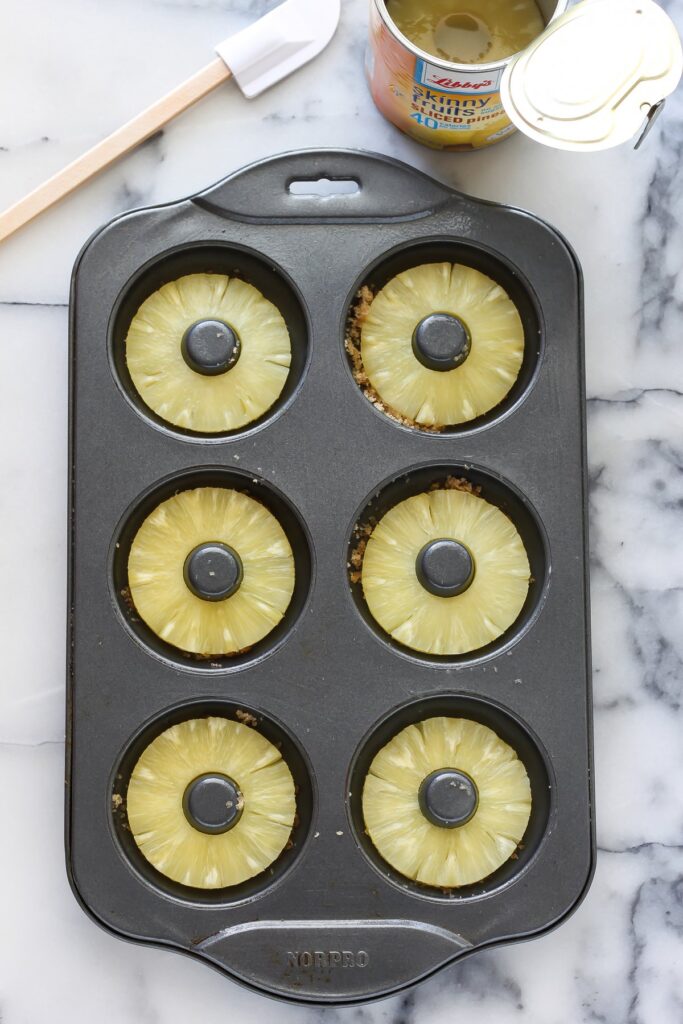 Now break out your donut pan and get baking!
Pineapple Upside-Down Donuts
Yield 6 donuts
Sweet and buttery, these baked pineapple upside-down donuts are sure to be a hit! Ready in less than 20 minutes.
Ingredients
For the batter:
1 cup + 2 tablespoons all-purpose flour
1/2 cup light brown sugar, packed
1/2 teaspoon salt
1 teaspoon baking powder
1/2 teaspoon cinnamon
1/4 cup milk (I used Vanilla Almond Milk, but Cow's Milk will work fine)
1/4 cup pineapple juice (unsweetened)
1 teaspoon vanilla extract
2 1/2 tablespoons unsalted butter, melted
1 large egg, at room temperature
For the pineapples:
6 slices pineapple, from a can, patted dry, sliced in half (see note below)
6 tablespoons dark brown sugar
Instructions
Preheat oven to 350 degrees (F).
Generously grease a doughnut pan; set aside.
In a large bowl whisk together the dry ingredients. In a separate bowl whisk together the milk, pineapple juice, vanilla, melted butter, and egg. Gently fold the wet mixture into the dry mixture - being careful not to over mix! Set aside.
Using paper towels, gently pat the pineapple slices dry; set aside. Sprinkle 1 teaspoon of brown sugar in each of the donut molds; break it up evenly around the mold, then place the pineapple over the sugar.
Spoon batter into prepared donut pan (over the pineapple slices); each mold should be filled 3/4 of the way full; you will have leftover batter. Bake for 10-11 minutes, or until the donuts spring back when lightly pressed. Allow doughnuts to cool a few minutes in the pan before transferring to a wire wrack to cool for a few more minutes. Serve warm, or set aside until needed.
Notes
You will need to slice the pre-cut rings of pineapple in half before using them in this recipe. The slices in the can will be too thick as is, causing an uneven fruit to cake ratio. I find the easiest way to slice the pineapples is using a serrated knife, and going slowly!
Courses Breakfast
Cuisine Donuts
Nutrition Facts
Serving Size 1 donut
Amount Per Serving
% Daily Value
* Percent Daily Values are based on a 2,000 calorie diet. Your daily values may be higher or lower depending on your calorie needs.