If you adore the perky combination of mint and chocolate, these thick and chewy mint chocolate chunk cookies are for you! The cookies are thick, chewy, and gooey! Peppermint extract and Andes Mints add tons of mint chocolate flavor!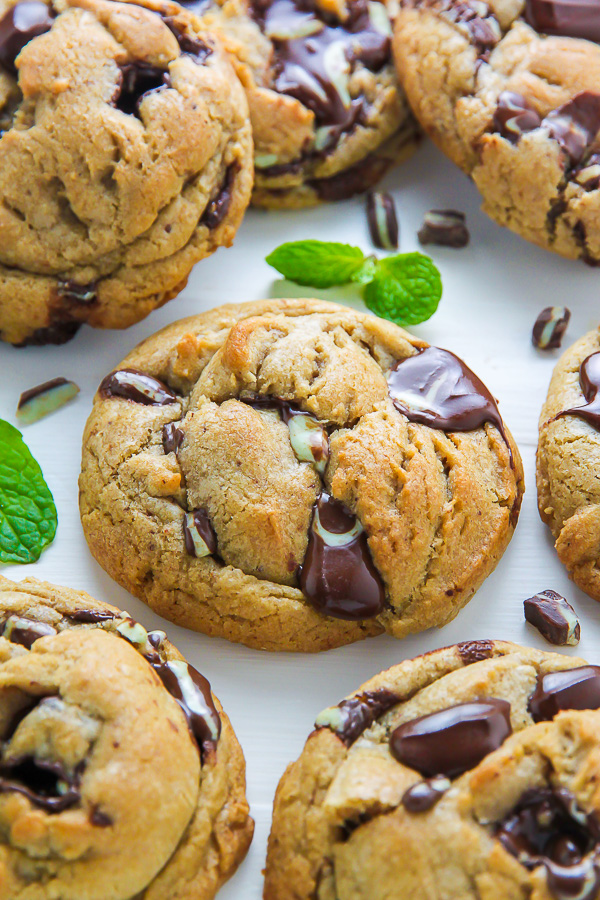 Chocolate Chunk Andes Mint Cookies
Happy Monday! Meet my new favorite cookie. They are:
ultra thick
super chewy
crispy at the edges
loaded with gooey chocolate chunks
spiked with a fresh pop of peppermint extract
exploding with creamy peppermint chips
perfect with a cold glass of milk
a must try for mint chocolate lovers!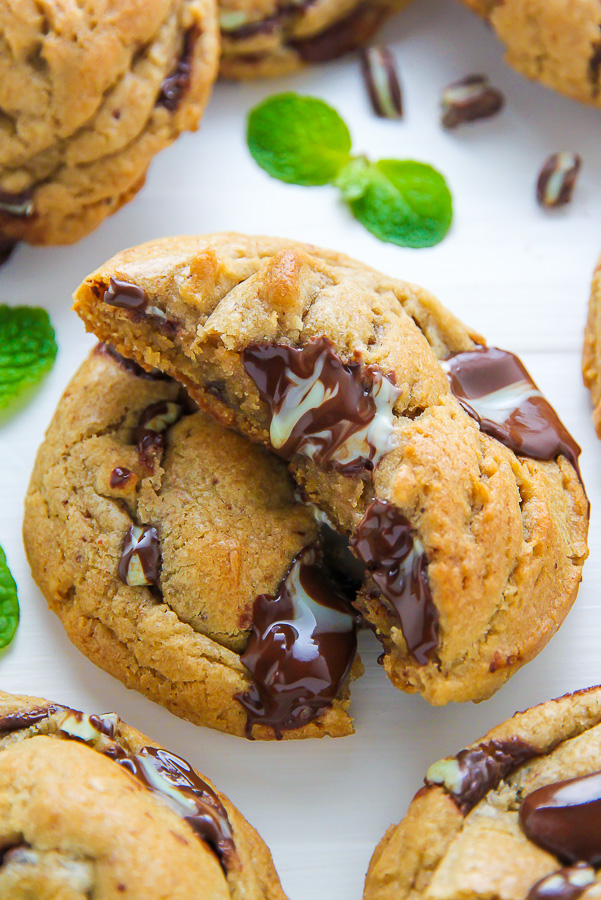 Andes Mint Cookies
Fact: If I could only bake one dessert for the rest of my life (an idea I don't like to imagine), it would probably be cookies. Because really… is there anything more comforting than a fresh baked batch of cookies? I don't think so.
Today's cookie recipe is inspired by one of my favorite ice cream flavors: mint chocolate chip. I'm already dreaming of sunny Summer days… cut-offs and ice cream cones! But I digress. I already have a ton of chocolate cookie recipes on my website, but somehow, none including mint! This issue had to be remedied at once. After a few frustrating fails, I finally nailed the perfect mint chocolate chunk cookie! The mint flavor is pure and profound without being overbearing, and the generous amount of semi-sweet chocolate chunks helps balance everything out. Due to peppermint extracts very powerful nature, I do not recommend using more than called for in the recipe. A small amount goes a long way. If you cannot find peppermint extract and do not want to order it online, you may leave it out, or replace it with vanilla extract, however doing this will cause the cookies will lose a lot of their unique peppermint flavor.
To make these cookies you will need unsalted butter, brown sugar, granulated sugar, vanilla extract, peppermint extract, eggs, all-purpose flour, baking soda, salt, semi-sweet chocolate, and Andes Creme De Menth baking chips. For this recipe you will melt the butter before adding it to the batter, which means 2 things:
You won't need an electric hand mixer or stand mixer to make these cookies.
You will need to chill the dough for 2 hours.
Chilling the dough creates ultra thick and chewy cookies that are insanely flavorful! I know… waiting is hard. But trust me when I say, it is worth it. Since time always seems to stand still when waiting is involved (especially for dessert!), I advise making the cookie dough before running errands, indulging in a Netflix binge, or heading to the gym. Going to the gym before baking cookies means you get to eat them all… right? Actually… don't answer that 😉
The cookie dough must chill for 2 hours, but may be chilled for up to 48 hours. However if you chill the dough longer than 2 hours, it will need to sit at room temperature for about 20 minutes before being rolled – or until the dough is soft enough to scoop without pulling a muscle 😉
Once the cookie dough has sufficiently chilled, you're ready to roll and bake. BE SURE YOU DON'T OVER BAKE THESE COOKIES. Sorry for yelling, but you'll thank me later. These cookies only need to bake 9-10 minutes (depending on your oven), or until they're golden and set at the edges. Don't fret if they're still a little soft looking in the center, they will firm up a lot while they cool. You're going to let the cookies cool for a full 10 minutes on the cookie sheet, before transferring them to a cooling wrack. Do not attempt to move the cookies off the tray before the 10 minutes are up, or they may crack or fall apart.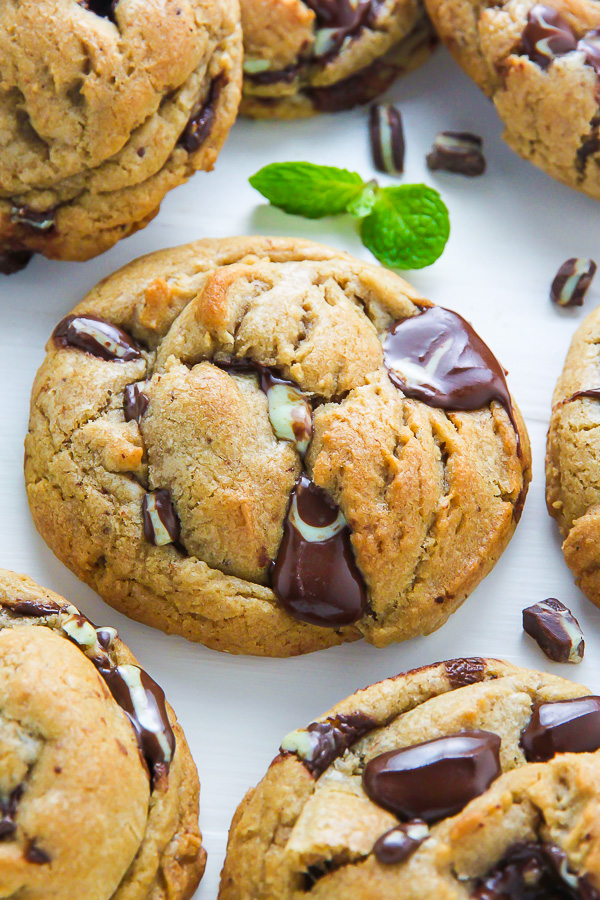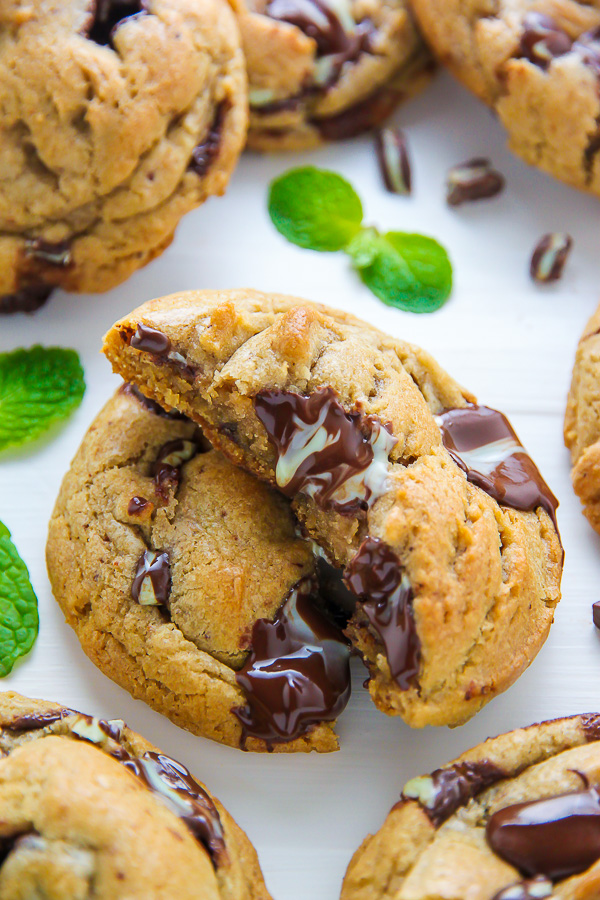 These cookies should come with a warning label; they're SO addicting! Make them today 😉
If you try this recipe, let me know! Leave a comment below and don't forget to snap a pic and tag it #bakerbynature on Instagram! Seeing your kitchen creations makes my day. ♥
More Mint Chocolate Recipes:
Mint Chocolate Chunk Cookies
Thick and chewy mint chocolate chunk cookies! The ultimate flavor combination.
Ingredients
14 tablespoons unsalted butter, melted
1 cup + 2 tablespoons light brown sugar, packed
1/2 cup granulated sugar
3/4 teaspoon pure peppermint extract
2 large eggs, at room temperature
2 and 1/2 cups all-purpose flour
1 teaspoon baking soda
1/2 teaspoon salt
10 ounces semi-sweet chocolate, chopped into chunks
1 cup Andes Creme De Menth baking chips
Instructions
Place the butter in a small sauce pan over medium heat and cook for about 2 minutes - stirring frequently - or until the butter has completely melted. Remove from heat. Transfer the butter into a large mixing bowl. Add both sugars and the peppermint extract and, using a metal whisk, beat smooth. Beat in the eggs, one at a time, mixing well after each addition. Set aside. In a medium-sized bowl combine the flour, baking soda, salt, chocolate chunks, and Creme De Menth baking chips; whisk well to combine. Add the dry ingredients into the wet ingredients, stirring just until combined. Cover the bowl and refrigerate for 2 hours.
When ready to bake:
Preheat oven to 375 degrees (F). Line two large baking sheets with parchment paper.

Roll 3 tablespoon-sized scoops of dough between your palms to form a ball (they should be big; almost a 1/4 cup), then place on prepared baking sheet (make sure to leave enough room in between each cookie for inevitable spreading). Continue this process until all the dough has been rolled. Place baking sheets in preheated oven - one at a time - and bake for 8-10 minutes, or until golden at the edges but still soft in the middle. Let cookies cool for 10 minutes on the sheet before transferring to a wire wrack to cool completely. These cookies are best on the day they are baked, but will keep, in an airtight bag or container, for up to 4 days.
Notes
*Cookie dough may be made up to 48 hours in advance, but the dough will need to sit at room temperature for 20 minutes, or until it is still firm but scoopable. *Do not over bake these cookies. They are done when they are set at the edges, golden, and still a little soft in the center. *If you'd like your cookies to look like mine do in the photos, gently press a few extra chocolate chunks and Creme De Menth pieces on top of the warm baked cookies right when they come out of the oven.