Today I have for you some absolutely spectacular spuds!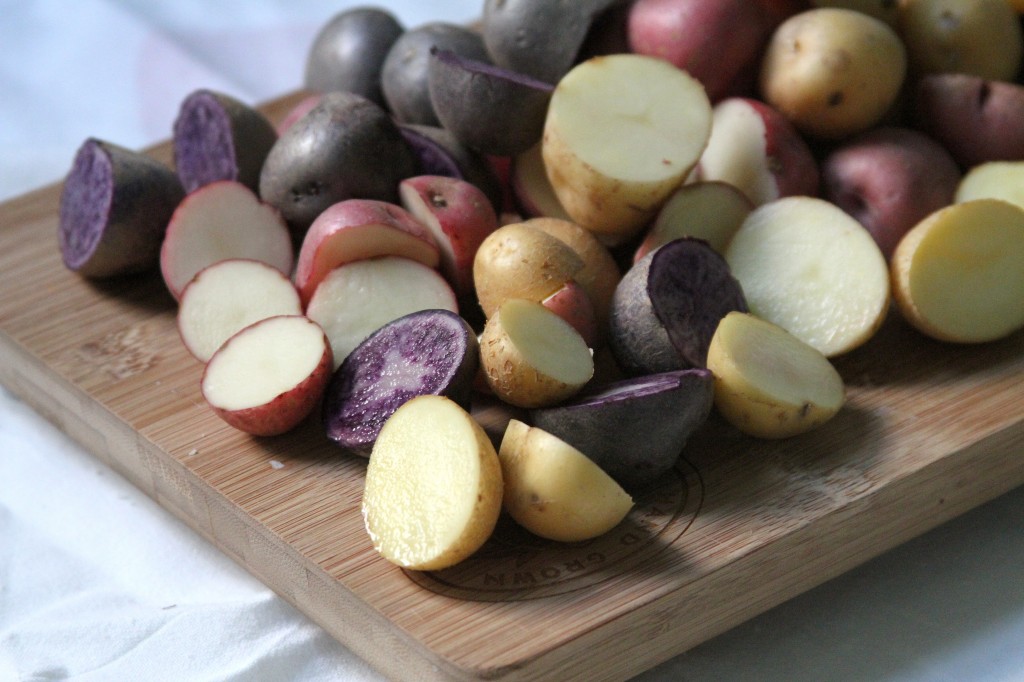 I actually can't take too much credit for these potatoes; the oven and kick ass ingredients do most of the magic. And since turning your oven on in July is work enough – the simpler the better, eh?
The base of this dish involves coarse dijon mustard, loads of chunky chopped garlic, a few gulps of extra virgin olive oil, and a squeeze of lemon. Those ingredients alone will take you to a good place! But I took it a little farther and added sliced prosciutto, shallots, and a bright basil vinaigrette. And let me tell you guys, it's where you want to go!

Mustard & Garlic Roasted Potatoes with Crispy Prosciutto, Shallots, and Fresh Basil Vinaigrette – Baker by Nature
Ingredients:
1/3 cup whole grain dijon mustard
2 tablespoons extra-virgin olive oil
2 tablespoons unsalted butter, melted
2 tablespoons fresh lemon juice
4 garlic cloves, minced
1 tablespoon dried italian seasoning
1 teaspoon lemon zest
1 teaspoon salt
1 teaspoon black pepper
2 shallots, sliced
4 ounces prosciutto, thinly sliced
3 pounds red and white skinned potatoes, cut into 1/2 chunks
Instructions:
Preheat to 425°F. Line 2 large baking sheets with parchment paper, and set aside.
In a large bowl whisk together the mustard, olive oil, butter, lemon juice, garlic, Italian seasoning, lemon zest, salt, and pepper. Add potatoes, shallots, and prosciutto to the mixture and toss, making sure to evenly coat potatoes. Spread potatoes in single layer on the prepared baking sheets and roast potatoes for 20 – 25 minutes. Rotate baking sheets and then bake for another 20 minutes – stirring occasionally – or until the potatoes are crusty on the outside but soft on the inside. Remove finished potatoes from the oven, transfer to a serving bowl, and toss with basil vinaigrette. Serve right away!
For the Vinaigrette
Ingredients:
1/2 cup basil leaves
2 tablespoons olive oil
2 tablespoons balsamic vinegar
1 tablespoon lemon juice
1/2 teaspoon salt
1/2 teaspoon black pepper
Instructions:
Pulse ingredients together until blended. Pour over warm potatoes, and toss to coat evenly. Serve right away.