An easy and delicious recipe for Broccoli and Cheddar Twice-Baked Potatoes! These super easy potatoes are loaded with shredded cheese and broccoli! Such a delicious and simple side-dish!
Broccoli Cheddar Twice Baked Potato Recipe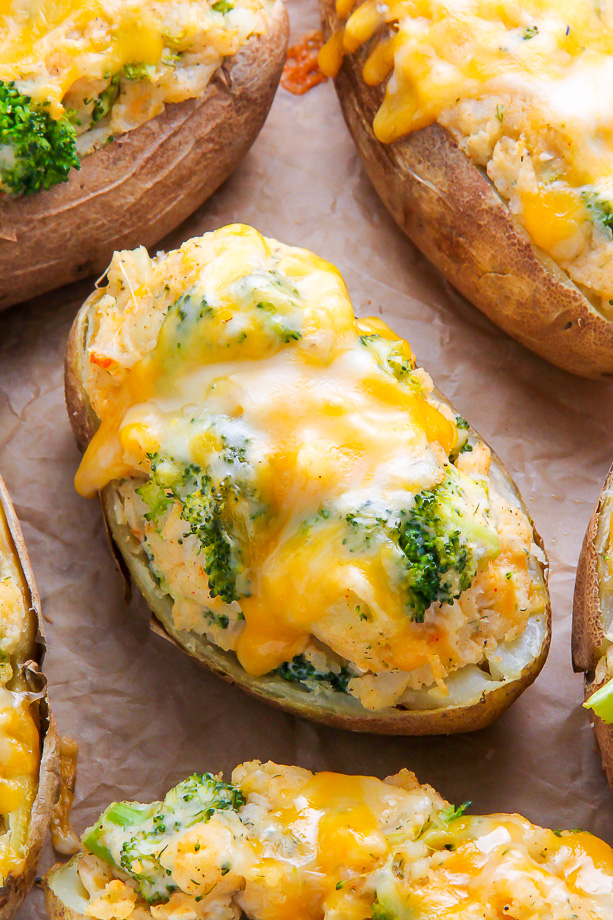 Broccoli and Cheese Potato
You can try to resist the temptation of comfort food this time of year… or, you can be like me, and just lean on into it. I vote lean. These broccoli and cheddar twice-baked potatoes are just waiting for your embrace. Aside from making you drool, these babies are sure to satisfy any cheesy/carby/cozy food cravings.
Confession: My first broccoli and cheddar twice-baked potato was from a Wendy's (drive-thru). Have you ever had one of those? Actually… they may just be broccoli and cheddar baked potatoes. I can't remember. Point is, they were pretty good, but my homemade version is 1,000,000 times better!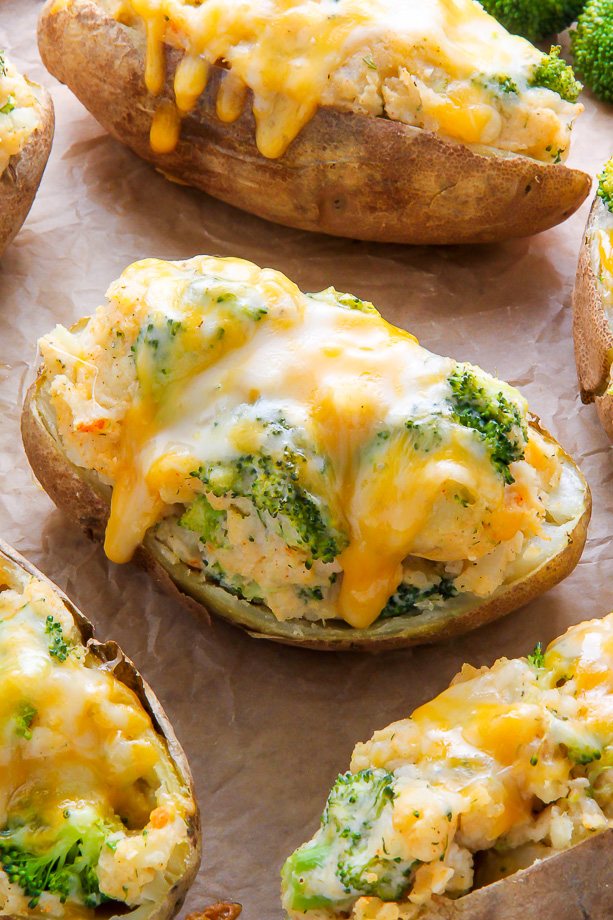 These twice-baked potatoes are:
Creamy
Crispy
Cheesy
Comforting
And so convenient
Each little potato boat is loaded with silky smooth mashed potatoes, broccoli (for our veggie fix!), and tons of cheesy goodness. These are the best!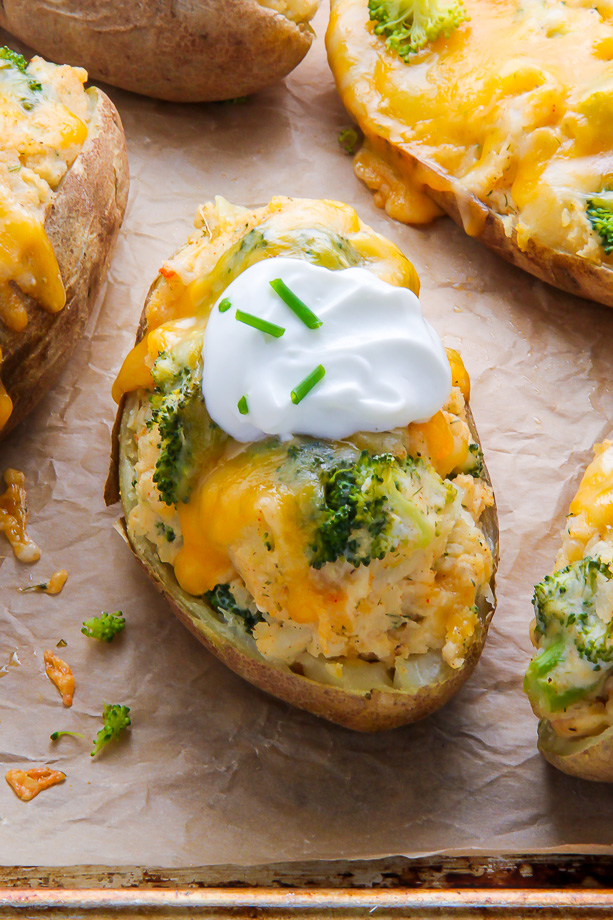 What is a Twice-Baked Potato?
Twice-baked potatoes, much like biscotti, require two – almost back to back – baking sessions. Thus, they are "twice-baked". The first baking session is to soften the potatoes; you'll need their centers to be soft enough to be easily scooped out.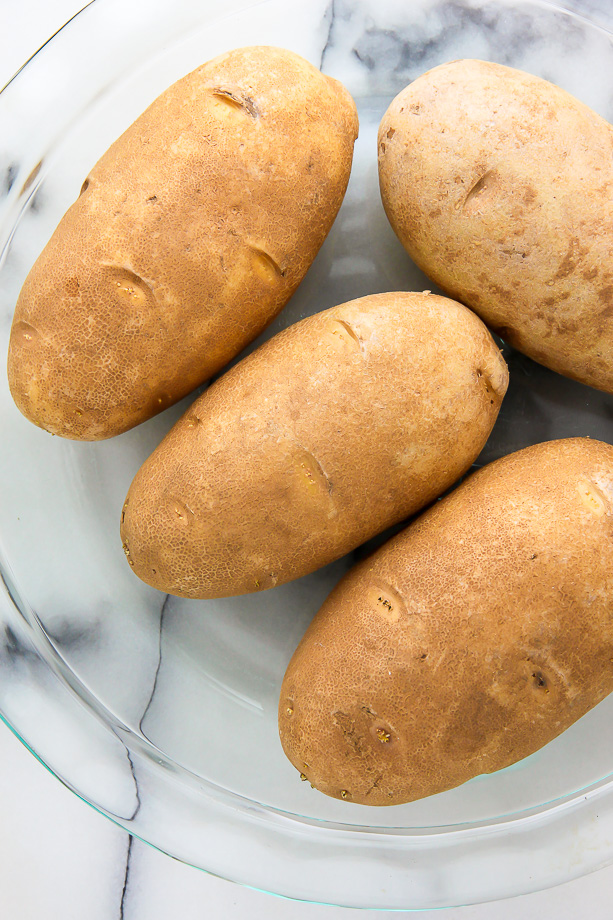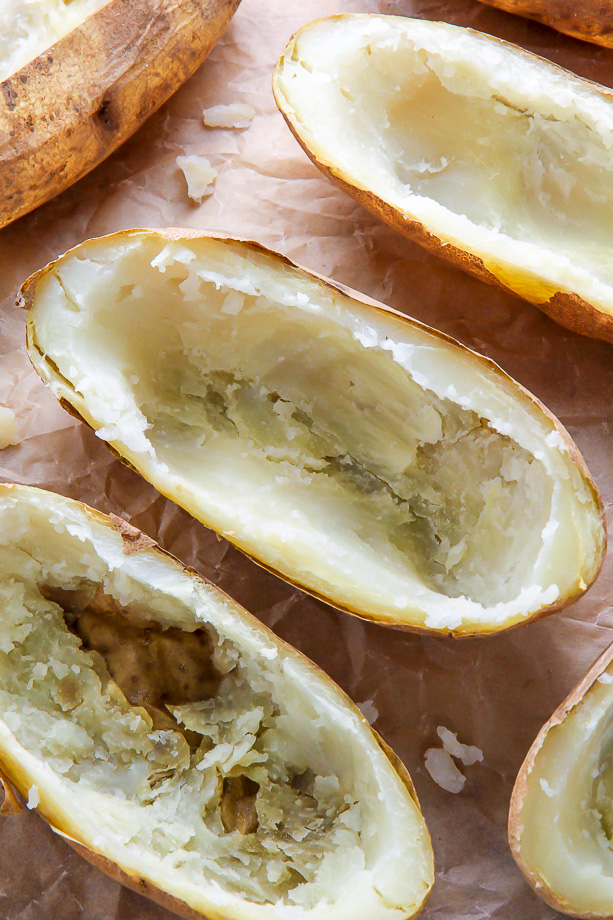 P.S. This is where things get really delicious. First you mash the scooped out potato with butter…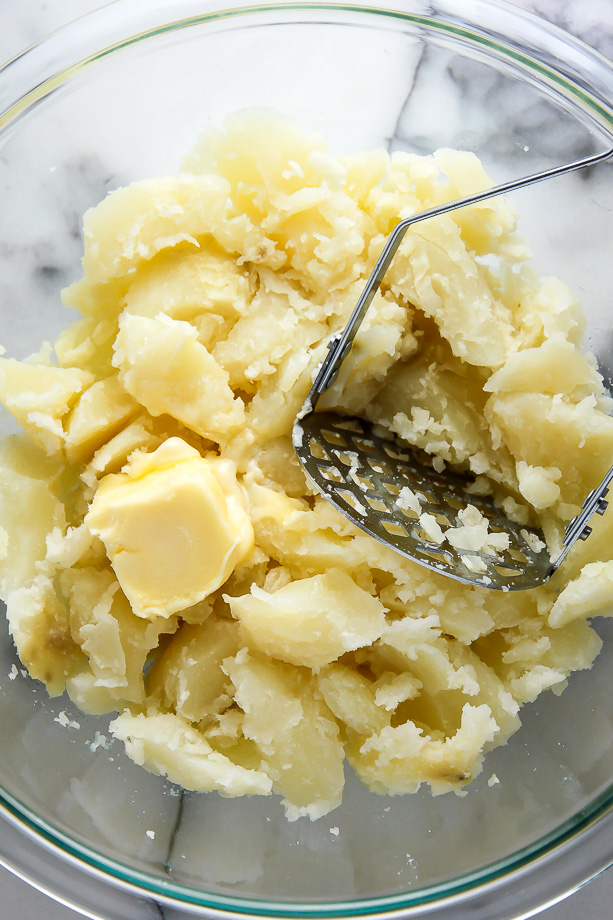 then you add in Greek yogurt, milk, cheese, broccoli, and spices. ↓ Mmmm!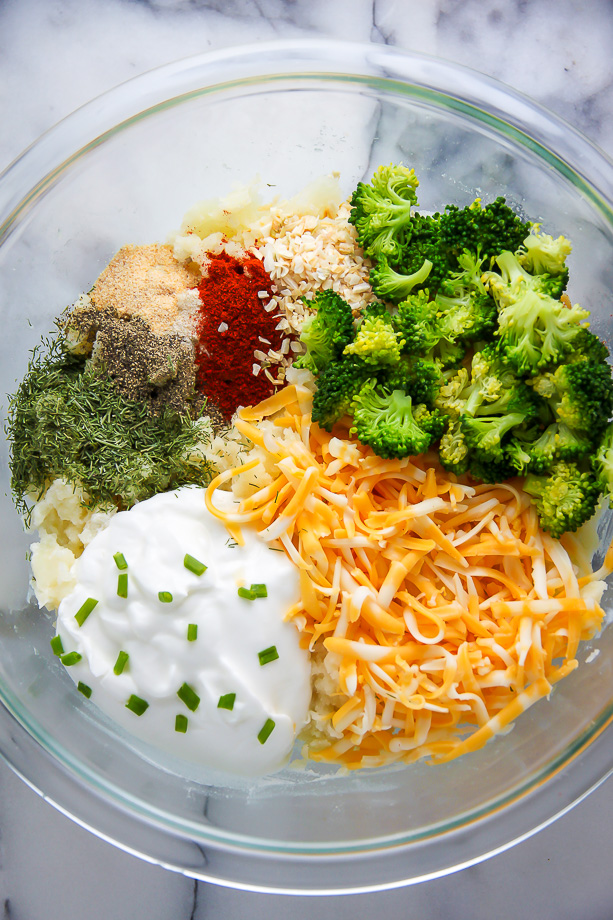 The second baking session is to warm the newly stuffed potatoes, crisp up their skins, and melt the magical cheese piled on top.
P.S. I kept these vegetarian, but if you feel inclined to get meaty, go ahead and toss some bacon bits on top of these bad boys. I won't judge.
So much texture! So much flavor! So much YUM.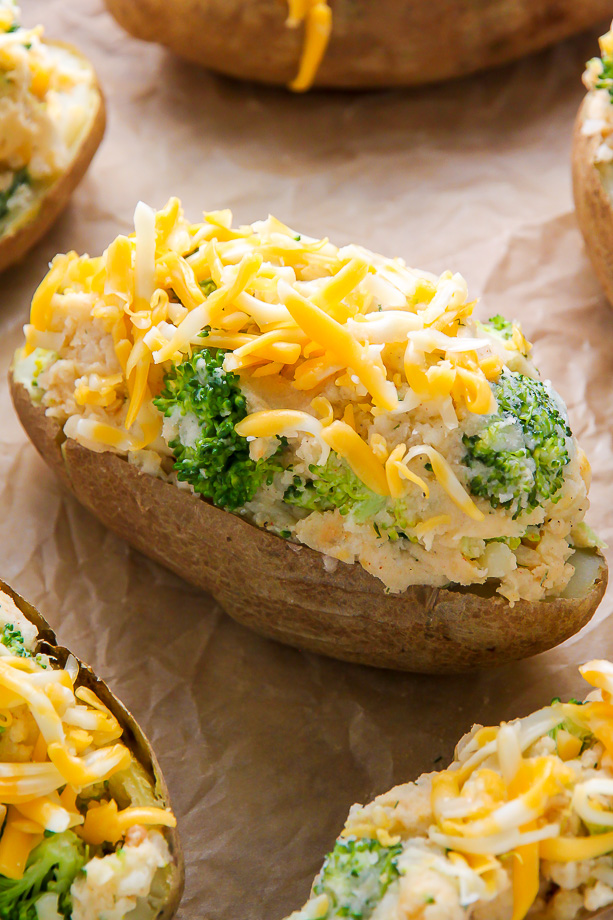 This recipe makes 8 twice-baked potatoes, which is a TON of potato if you're a smaller household. That said, if you're serving a crowd or have a wonderfully large family, this recipe can easily be doubled to suit your needs.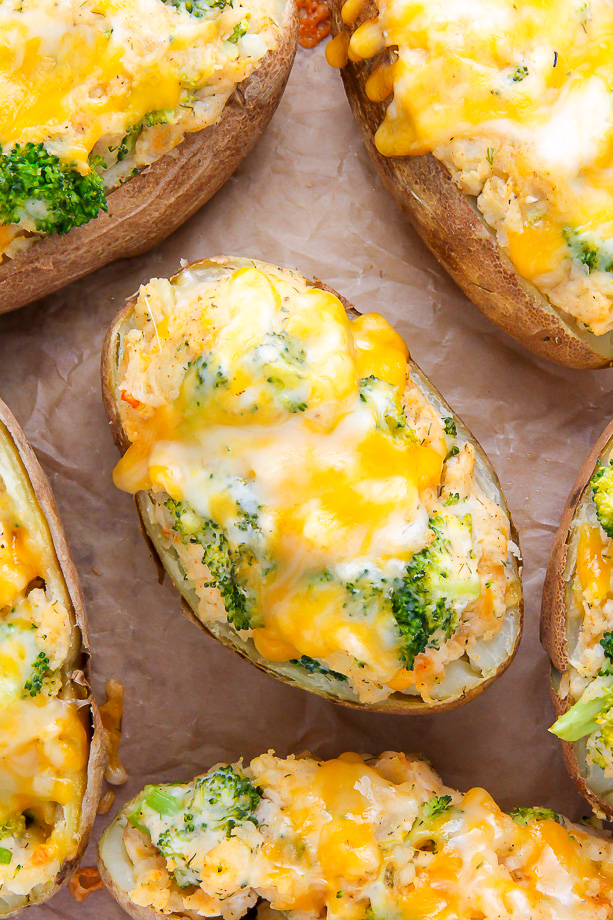 Twice-baked potatoes are totally make-ahead friendly!
Remember earlier when I said these where convenient? Well here's why! Twice-baked potatoes can be assembled, stuffed, and stored in the fridge for up to 4 days. You can also individually wrap each potato (minus the cheese) in aluminum foil and pop them in the freezer for up to two months. In my experience, cheese does not hold up well in the freezer, so you'll want to save that step for baking day. The frozen potatoes will need about 12 hours to thaw before baking, so remember to transfer them from the freezer to the fridge the day before you plan to use them.
I really, really hope you make these! Paired with a light salad, you've got yourself a whole meal.
If you try this recipe, let me know! Leave a comment below and don't forget to snap a pic and tag it #bakerbynature on instagram! Seeing your kitchen creations makes my day. ♥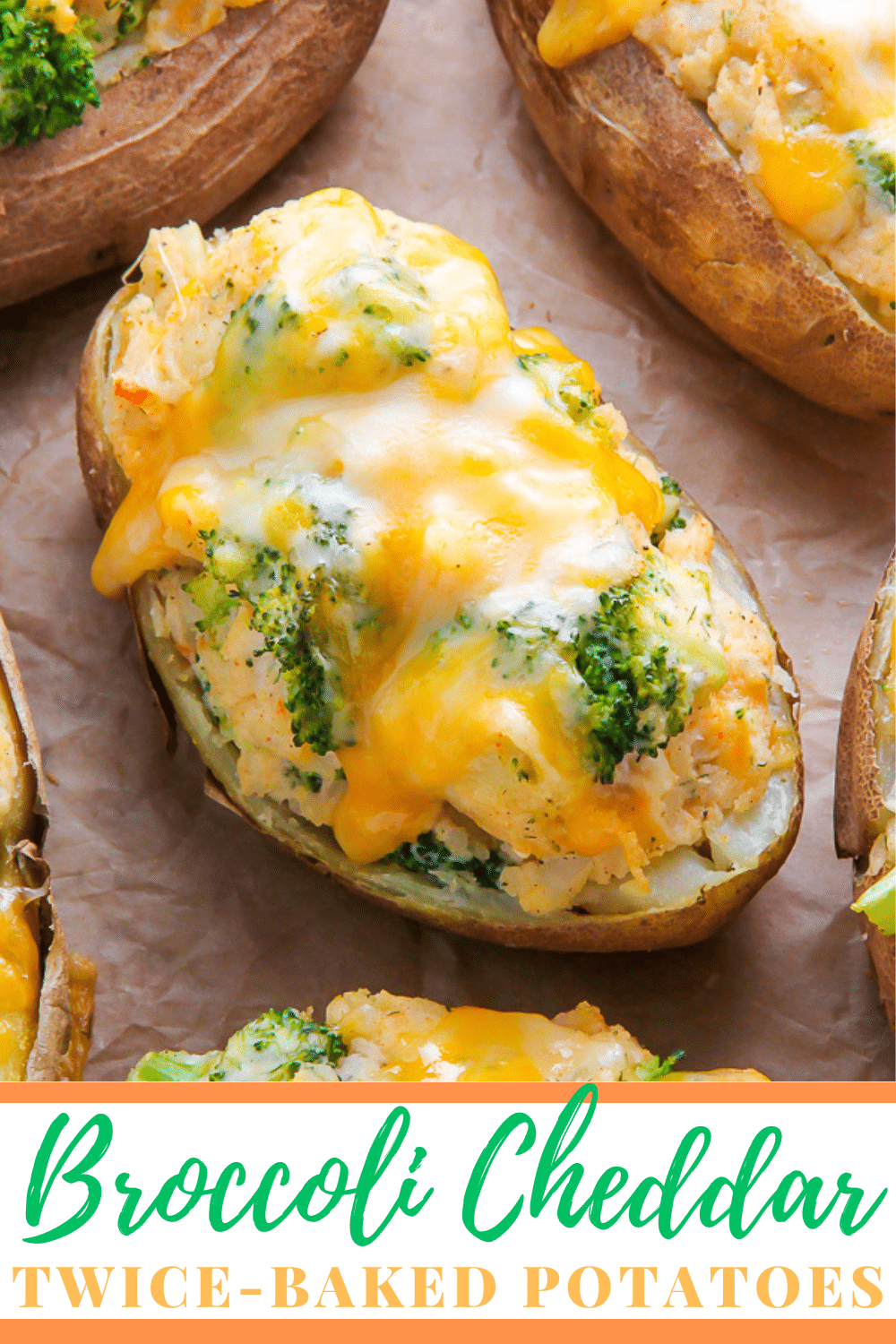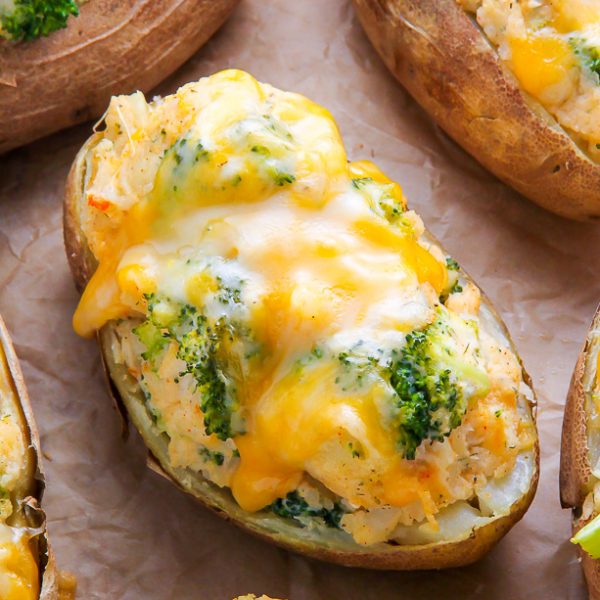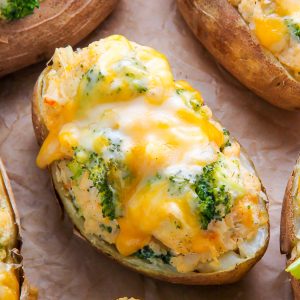 Broccoli and Cheddar Twice-Baked Potatoes
Broccoli and Cheddar Twice-Baked Potatoes are the epitome of comfort food! Add a salad to make them a full meal.
Ingredients
4 medium russet potatoes, washed well and dried
1 teaspoon olive oil
3 and 1/2 tablespoons salted butter, very soft
1/2 cup non-fat Greek yogurt
1/4 cup buttermilk
1/2 teaspoon salt
1/2 teaspoon pepper
3/4 teaspoon chives
3/4 teaspoon garlic powder
1/2 teaspoon onion powder
1/2 teaspoon dried onion flakes
1/2 teaspoon dried dill weed
1/2 teaspoon paprika
1 and 1/2 cups cooked broccoli, chopped, divided
2 cups cheddar cheese, shredded, divided
Instructions
Preheat oven to 400 degrees (F). Line a small baking sheet with parchment paper; set aside.

Place potatoes in a small baking dish and bake for 1 hour, or until soft. Remove from oven and set aside to cool. Once the potatoes are cool enough to safely handle, slice each one in half, lengthwise. Scoop out the potato pulp and place it into a large bowl, being careful to leave the skins intact. Rub the outsides of the potato skins with a little olive oil. Place the skins on the prepared baking sheet and set aside.

Add the butter to the potato pulp and mash - using an electric mixer or a potato masher - until fairly smooth; add Greek yogurt, buttermilk, salt, pepper, chives, garlic powder, onion powder, dried onion flakes, dill weed, paprika, broccoli and 3/4 cup of the cheese. Divide the filling evenly among the potato shells then top with remaining cheese. Bake for 20-25 minutes or until the cheese is melted and the potatoes are heated through. Serve at once!
Notes
You may use sour cream in place of the Greek yogurt. You may use almost any other cheese in place of the cheddar.