Elevated macaroni and cheese with bacon and gruyère is the perfect side-dish! It's great for special occasions like Thanksgiving and Christmas, or any night you're craving comfort food! The gruyère cheese gives this dish a "grown-up" sophistication, the bacon adds a crunchy element, and the shellbows are the perfect noodle to catch all of the deliciousness going on in this recipe!
Bacon and Gruyère Baked Macaroni and Cheese
We all have our own ideas of what makes a mac and cheese recipe perfect, don't we?
Some folks love a quick and extra creamy stovetop mac and cheese… while others prefer a thicker, heartier baked variety. There are the mac and cheese purists; and the mac and cheese extremists who try to shove a million different ingredients into their dish! And then of course, there are the folks who prefer their macaroni and cheese… straight out of the box!
Hey, no judgement here! But do me a favor? And let me bend your ear a little more about MY perfect macaroni and cheese recipe, ok? Because I have a feeling I might just bring you over to my side!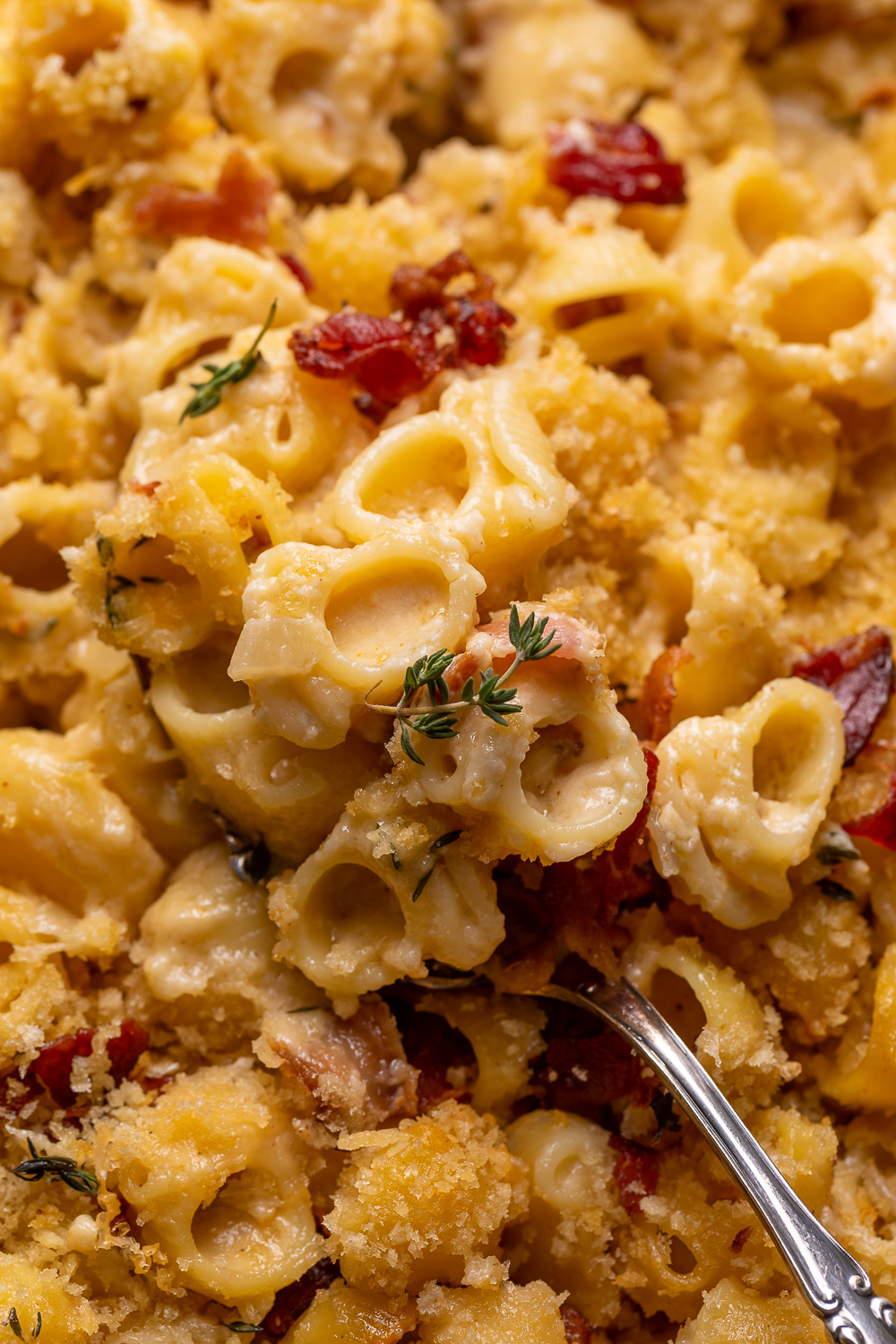 Let's Talk MACARONI
My perfect macaroni and cheese starts with the perfect noodle! And that noodle is SHELLBOWS! Aka the delightful shell-elbow macaroni hybrid from my favorite pasta company DeLallo. As a life long pasta lover, I can wholeheartedly say these are the best of the best!
Not only do the noodles hold up to the thick and heavy cheese sauce (no sad soggy noodles here!), but the sauce is also easily captured in its curved tube and ridged exterior. Meaning you get delicious cheesy flavor in EVERY SINGLE BITE! It's truly the perfect noodle for baked pasta dishes! But we also love using it in hearty soups like Minestrone!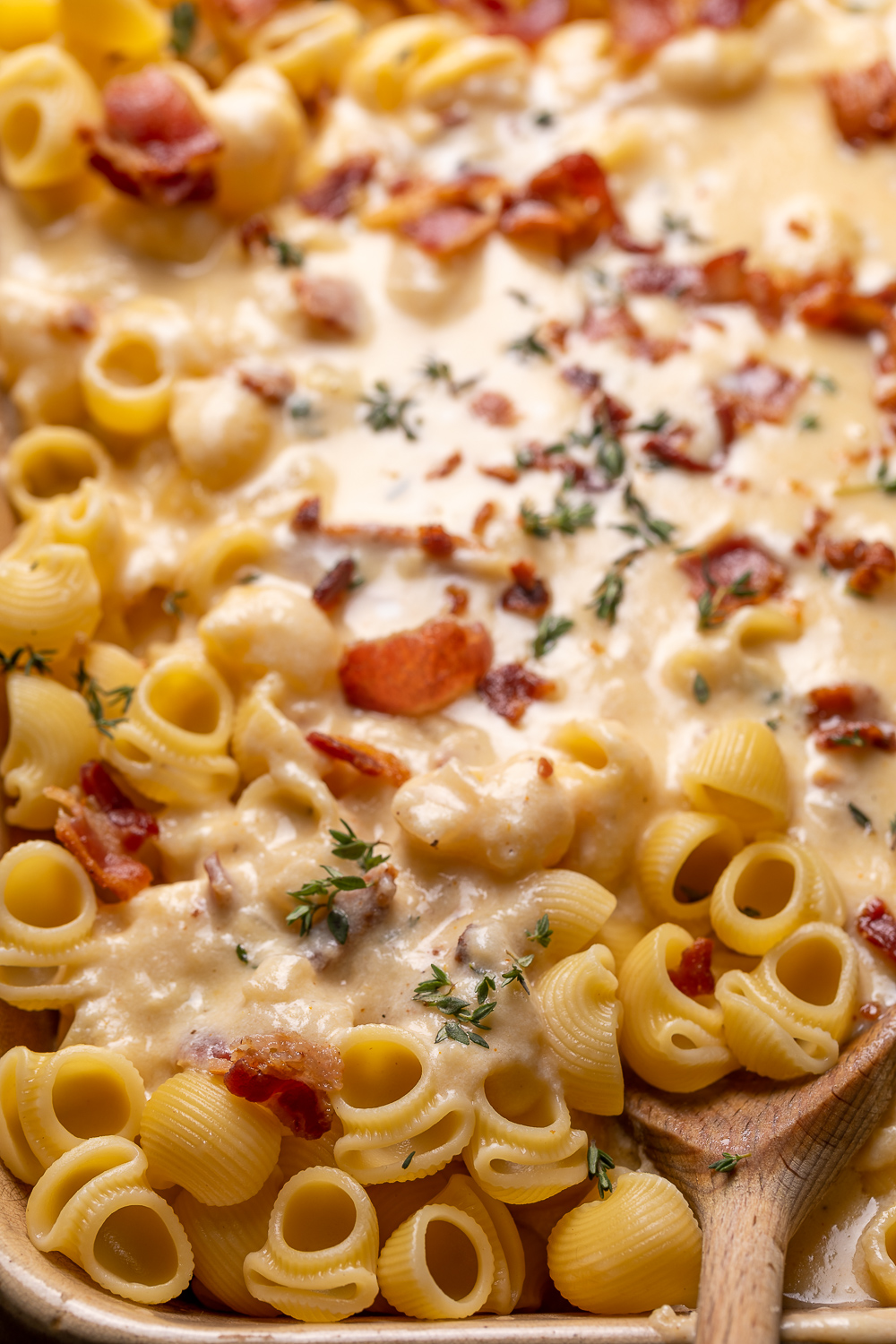 Let's Get Cheesy
Ok, now that we have our noodles covered. Let's move onto the cheese sauce!
For this bacon mac and cheese, you'll need sharp white cheddar cheese and gruyere cheese. Plus, milk, melted butter, and heavy cream. This combination is oh-so-delicious! And adds an elevated taste your guests are SURE to notice!
The sauce also gets dolled up with flavor boosters like shallots, fresh thyme, nutmeg, and cayenne pepper. You'll also use salt and pepper to season, but be sure to taste first, then add as needed. Cheese is salty! So you don't want to add too much! And remember, you're adding bacon, too!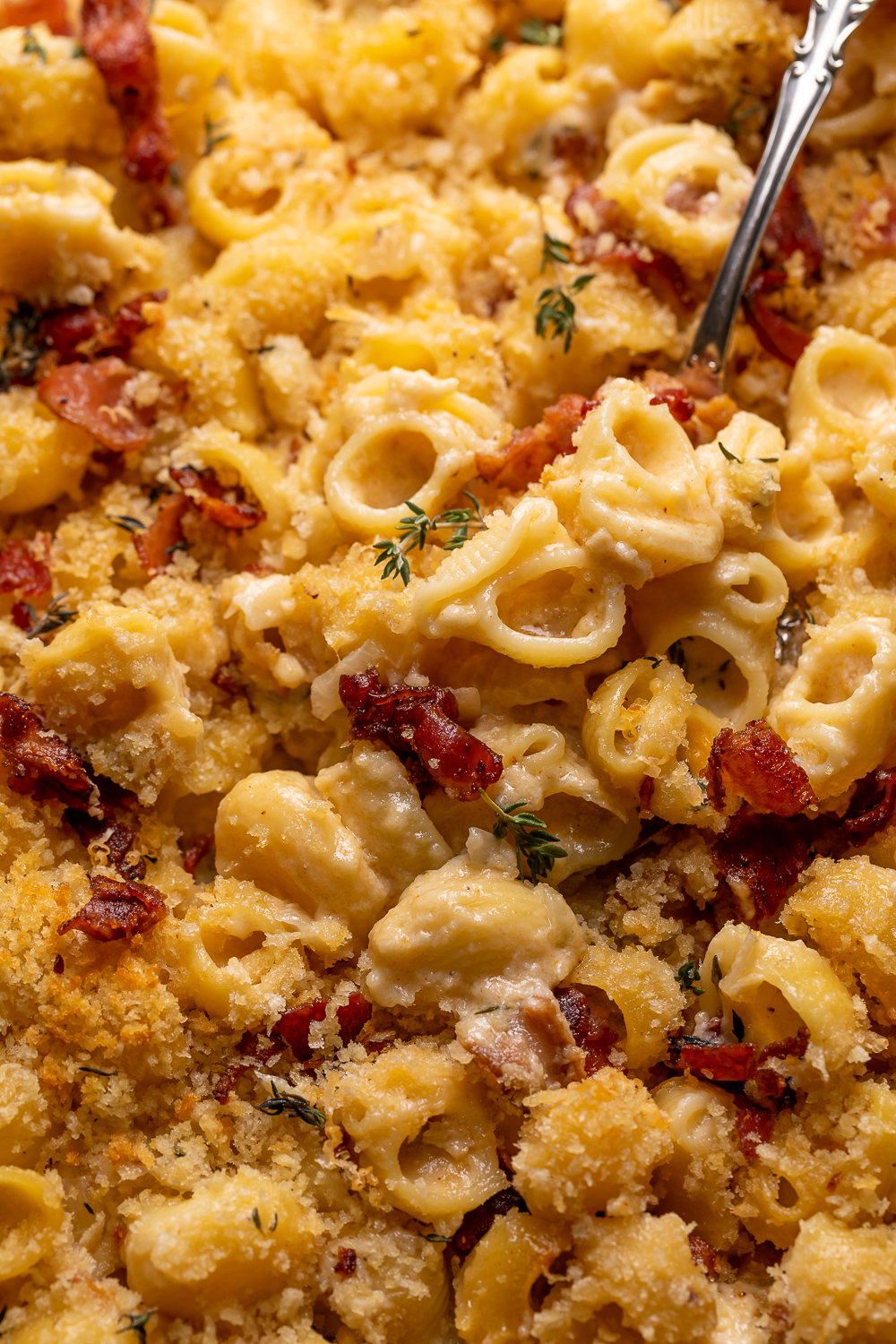 The Topping
This is a baked macaroni and cheese recipe, meaning the macaroni and cheese is scraped into a baking dish, then topped with crunchy buttery bread crumbs before getting baked for 20 minutes!
You can cook your bacon any way your heart desires, but here's a method works great! Simply heat a large skillet over medium-high heat, slap on the bacon and cook until it's crispy on both sides! Be sure to transfer it to a paper towel lined plate and blot any excess oil with a paper towel, then chop into small bits. Viola!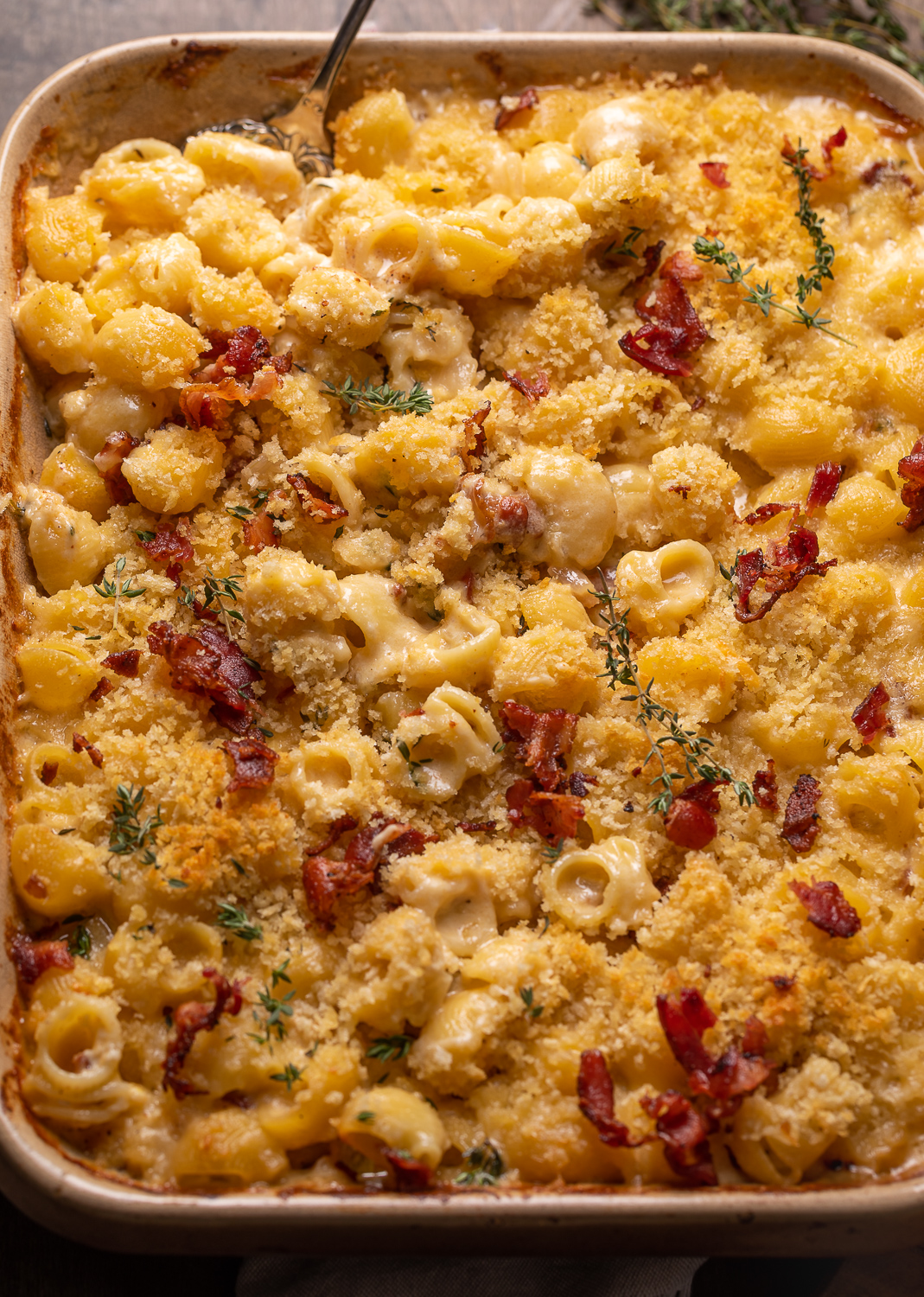 Gooey, cheesy, hearty, and so flavorful, this is truly the ultimate baked macaroni and cheese recipe! So order some shellbows, grate some cheese, and bust out your baking dish! This is a recipe I know you'll want to make again and again!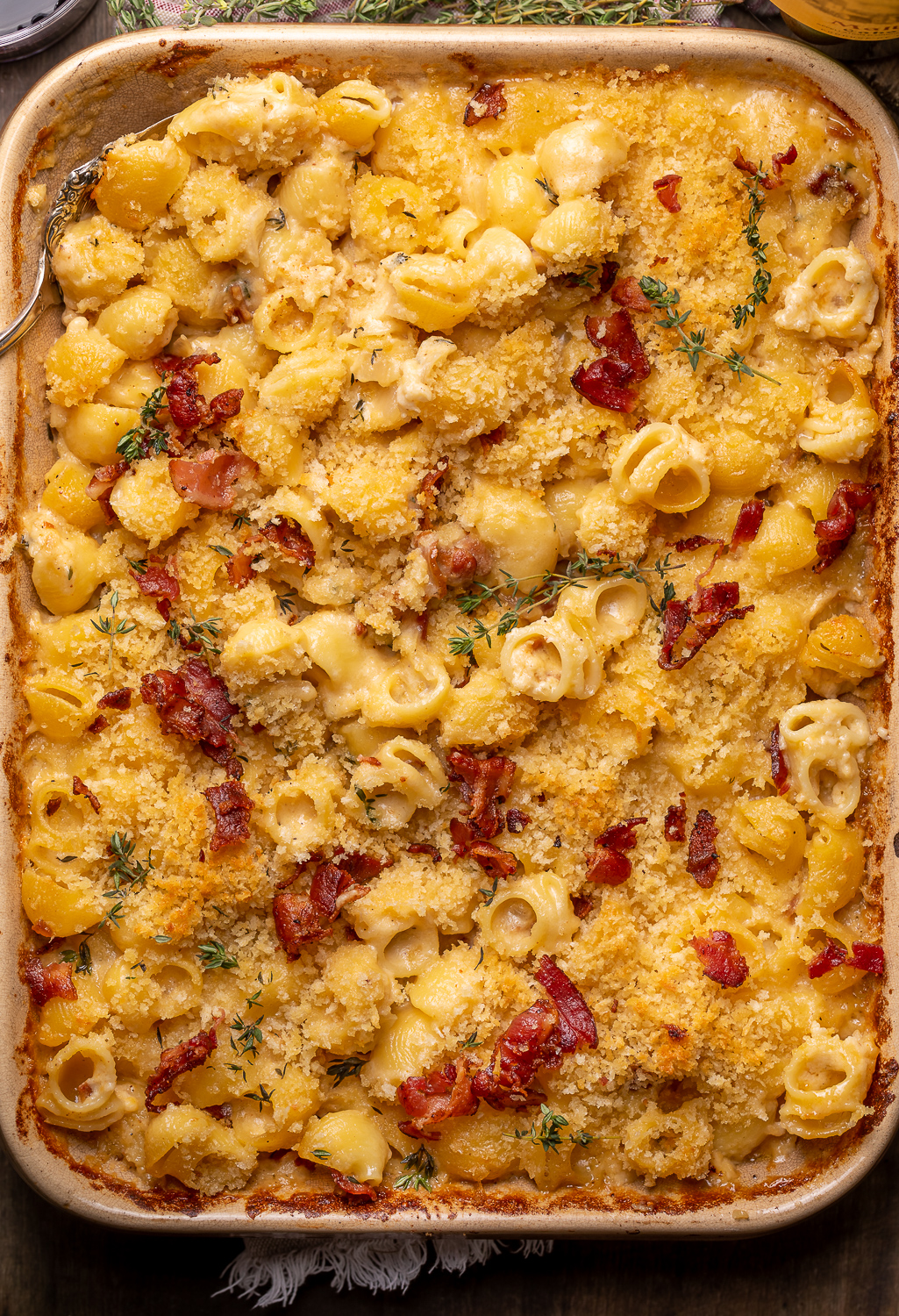 More Side-Dish Recipes: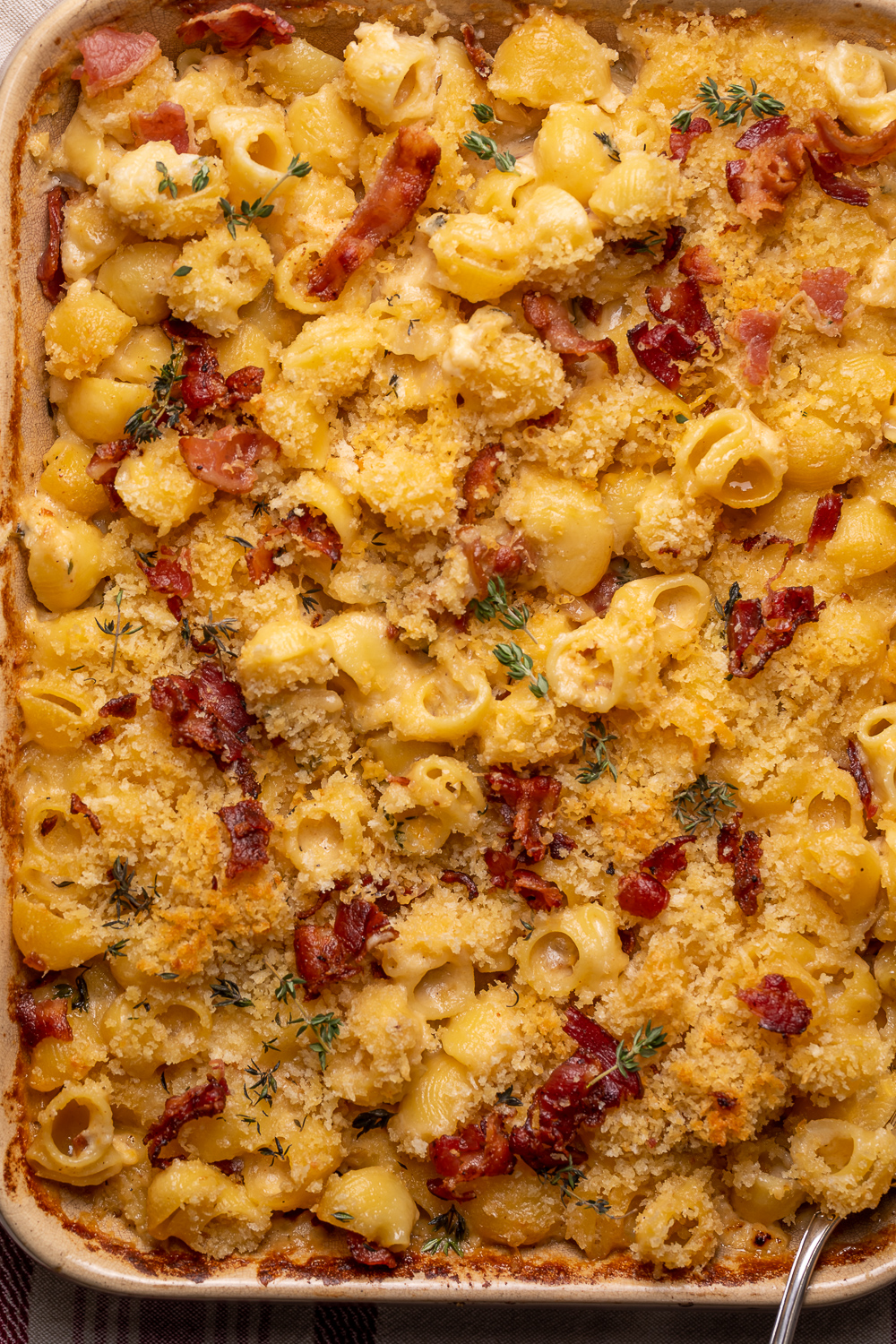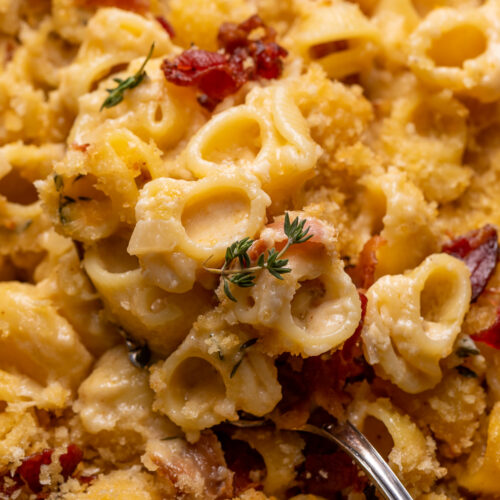 Elevated Macaroni and Cheese with Bacon and Gruyère
Elevated macaroni and cheese with bacon and gruyère is the perfect side-dish! It's great for special occasions like Thanksgiving and Christmas, or any night you're craving comfort food!
Ingredients
1 pound Shellbows Pasta
1 pound bacon
4 and 1/2 Tablespoons unsalted butter
3 shallots diced
2 and 1/2 teaspoons fresh thyme chopped
1/4 cup (30 grams) all-purpose flour
3 and 3/4 cups whole milk
1 teaspoon light brown sugar
1 teaspoon salt
1/2 teaspoon black pepper
1/4 teaspoon cayenne pepper
1/4 teaspoon ground nutmeg
1/3 cup heavy cream
8 ounces white extra sharp cheddar cheese grated
6 ounces gruyère cheese grated
4 ounces sharp cheddar (use an orange variety if you want a slightly orange hue like mine) grated
1/2 cup panko bread crumbs
1 Tablespoon olive oil
Instructions
Preheat the oven to 375 degrees (F). Lightly grease a 3-quart baking dish and set side until needed. 

Bring a large pot of water to a boil over high heat. Add the salt and shellbows and cook for 6 minutes. The pasta will be very al dente. Pour pasta into prepared baking dish and set aside until needed.

In a large skillet over medium-heat, cook the bacon until crispy on both sides, about 4 to 5 minutes per side. Remove from heat and place on a paper towel lined plate. Blot any excess oil with a paper towel, then chop into small bits. Set aside. 

In a large pan, melt the butter over medium-heat. Add in the chopped shallots and thyme and cook, stirring frequently, for 5 to 6 minutes, or until softened and nearly translucent. 

Sprinkle in the flour, and stirring constantly, cook for 1 minute. Slowly pour in the milk, whisking constantly as you add. 

Cook, whisking constantly, until the mixture begins to thicken, about 5 minutes. Whisk in the brown sugar, salt, pepper, cayenne pepper, and nutmeg.  

Remove the pan from heat. Immediately stir in the heavy cream, then add the extra sharp white cheddar, gruyère, sharp cheddar. Fold in half of the chopped bacon.

Pour sauce over cooked pasta and stir gently to combine. 

In a small bowl combine the bread crumbs and olive oil, mixing well until the bread crumbs are evenly coated in the oil. Sprinkle on top of the macaroni and cheese. 

Place the baking dish in the preheated oven and bake for 20 minutes. Sprinkle the top with remaining bacon and bake for an additional 5 minutes. Serve warm!