This No-Bake Baileys Chocolate Pie is one of our favorite easy chocolate desserts! This deep dish pie has a chocolate cookie crust, Irish cream chocolate pie filling, and plenty of whipped cream on top.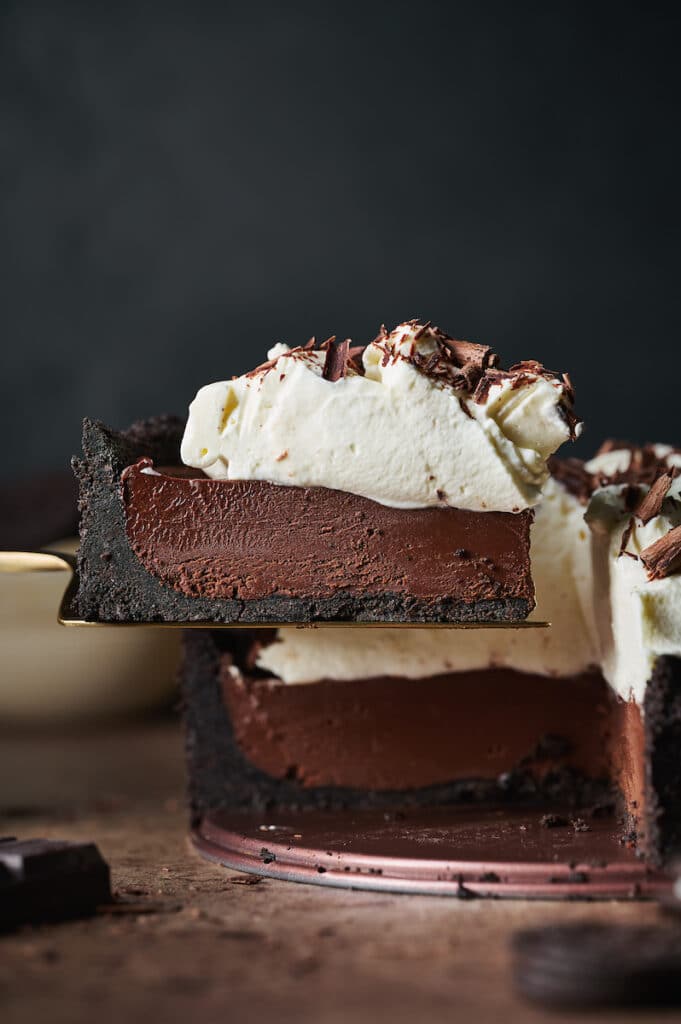 Baileys Chocolate Pie Recipe
It's officially "too hot to bake" weather most days! But that doesn't mean we stop craving dessert, right? Right! Our solution? No-bake desserts! And this no-bake chocolate pie so delicious, it basically puts all other chocolate pies to shame!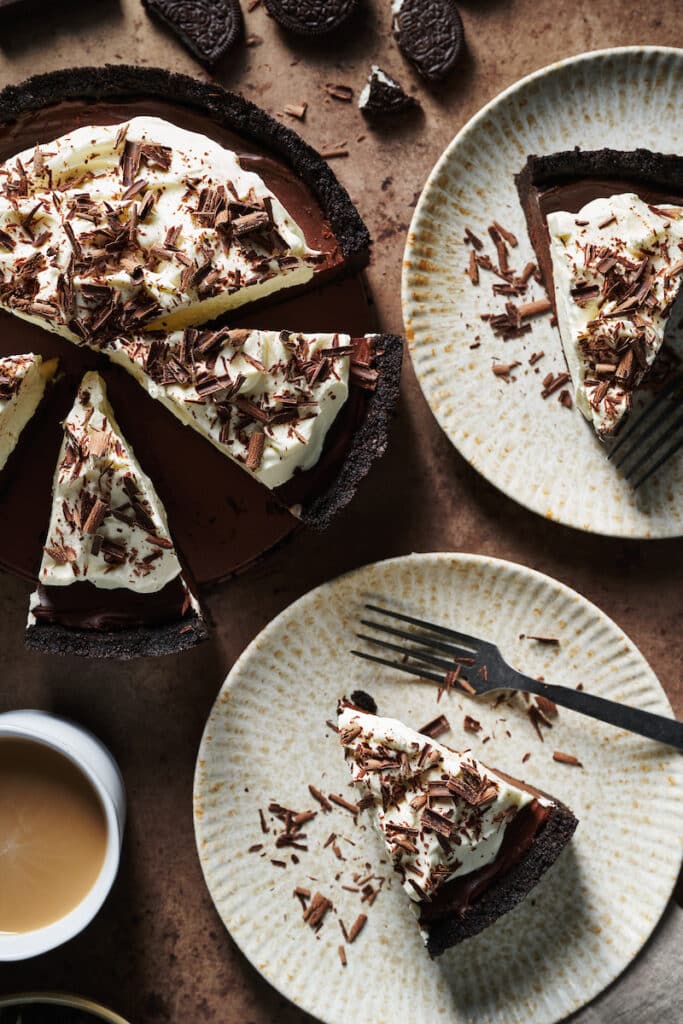 I make the homemade pie crust recipe from Oreo cookies and butter… that's it! And the chocolate filling is a dense version of my baileys chocolate pudding. To top it all off, I pile a mountain of freshly whipped cream on top. And finish it off with some chocolate shavings! Who wants a slice?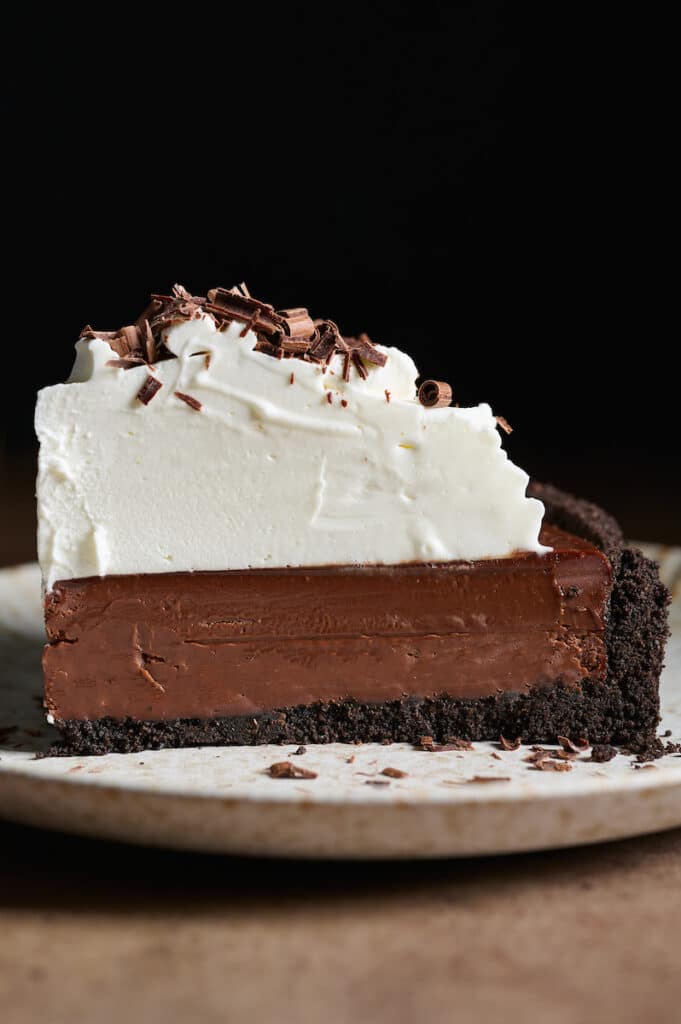 Ingredients for Baileys Chocolate Pie
Oreo Cookies: You'll need (1) standard package of regular Oreo cookies. This is typically 35 Oreo cookies. You count them out if you can't find a standard package.
Butter: You'll use butter in the crust and in the chocolate pie filling. Unsalted butter works best here!
Chocolate: I strongly suggest using a quality chocolate brand! Do not sub cocoa powder for chocolate.
Heavy Cream: Aka whipping cream. You can find this ingredient in the dairy aisle.
Baileys Irish Cream: If you don't drink, feel free to use an equal amount of regular heavy cream.
Vanilla Extract: This ingredient enhances all of the other flavors in the recipe. Be sure to use real vanilla, not imitation.
Espresso Powder: If you can't find espresso powder, I suggest omitting it instead of trying to replace it.
Fine Sea Salt: In a pinch, regular salt will work just fine.
Confectioners' Sugar: People also know this ingredient as powdered sugar! Be sure to sift out any large lumps before use.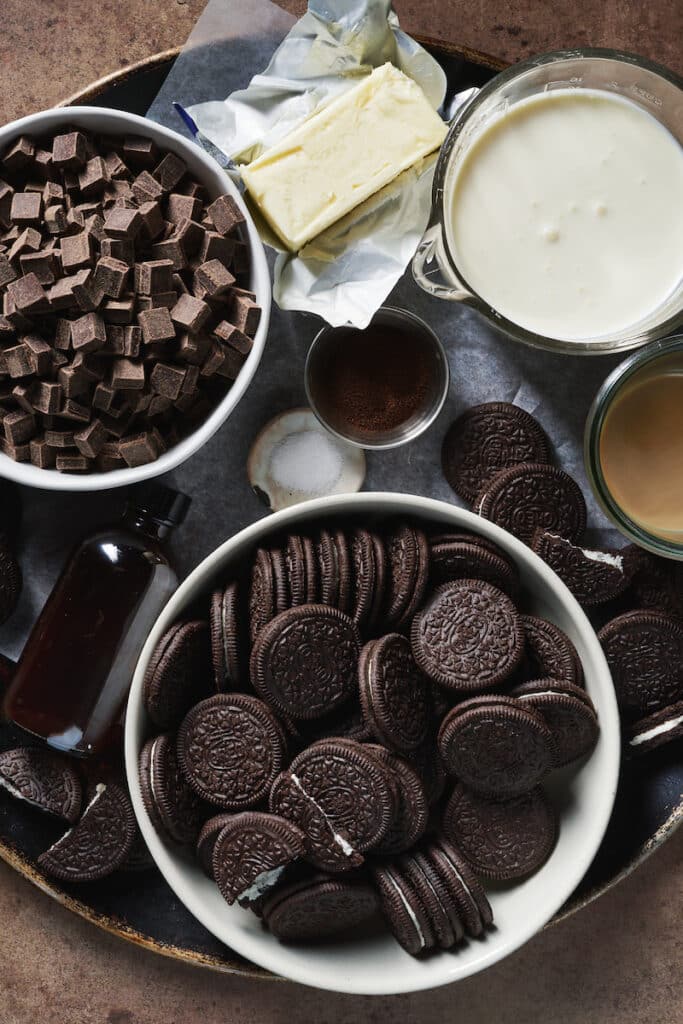 Can I use a Store Bought Crust?
Don't use a store-bought or previously baked pie shell for this recipe! I use a springform pan because it's the only pan that will hold all of the chocolate filling. If you do use store-bought, you will likely have enough filling for two pies. In that case, feel free to use a chocolate cookie crust or graham cracker crust.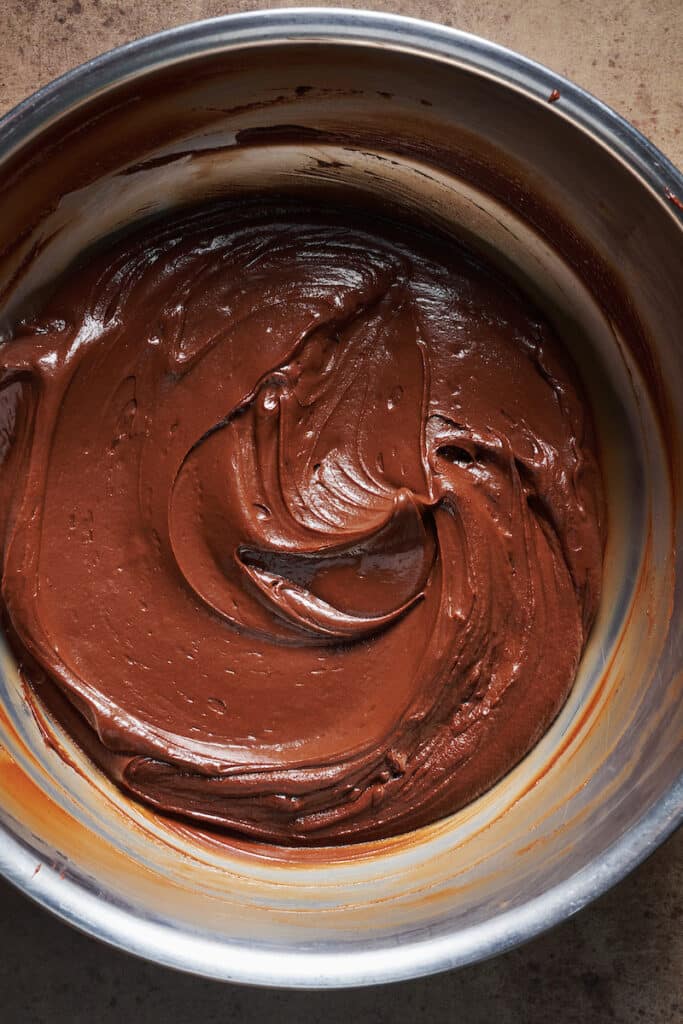 How to Make Chocolate Pie
Make the Cookie Crust: Press the crust into the prepared pan and freeze for at least 30 minutes! This ensures it won't fall apart when sliced.
Make the Pie Filling: Combine the chopped chocolate with the hot cream mixture. Then toss in the other pie flavoring sand butter and whisk until smooth and glossy! The most important part of this recipe is to NOT over cook the cream mixture. You want a full simmer, not a rolling boil!
Assemble the Pie: Pour the chocolate pie filling on top of the homemade pie crust. Then chill the pie in your refrigerator for at least 3 hours! Wrap the pan tightly with plastic wrap, ensuring the plastic doesn't touch the pie filling.
Top with Whipped Cream: Right before you plan on serving the pie, remove it from the refrigerator. Top the pie with freshly whipped cream and chocolate shavings, then slice and serve!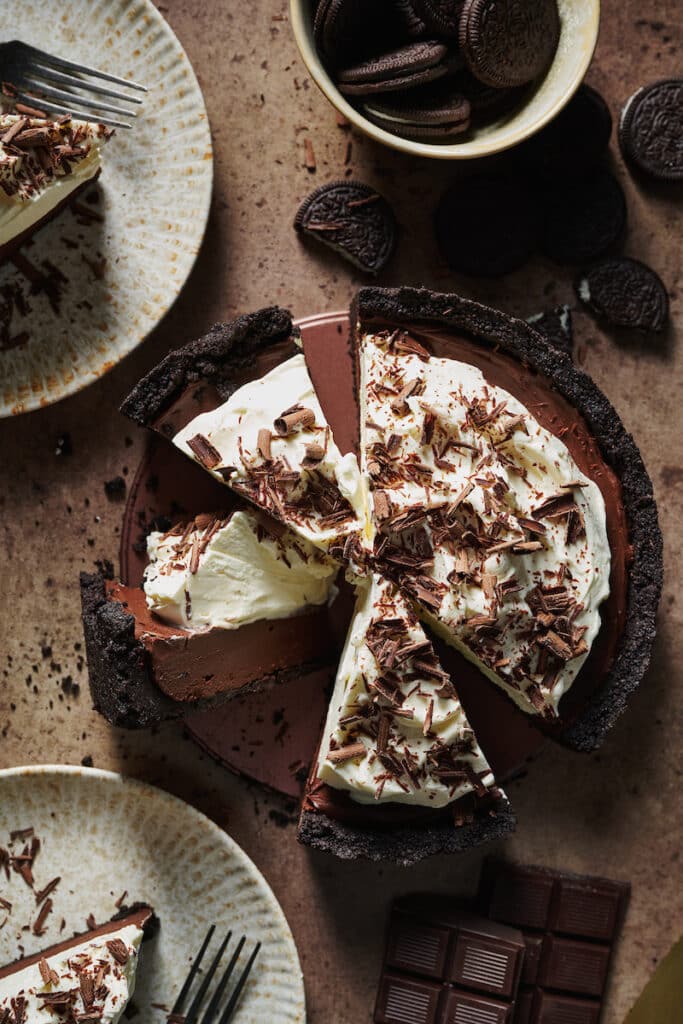 Does this Pie Freeze Well?
Yes, without the whipped cream on top, this pie will freeze great for up to 2 months! And because there are no eggs or egg whites, I find the pie travels quite well, too. Again, this is WITHOUT the whipped cream on top.
If you plan on driving with this pie for the holidays, I'd suggest freezing it for an hour before your journey. And adding the whipped cream topping once you've reached your destination.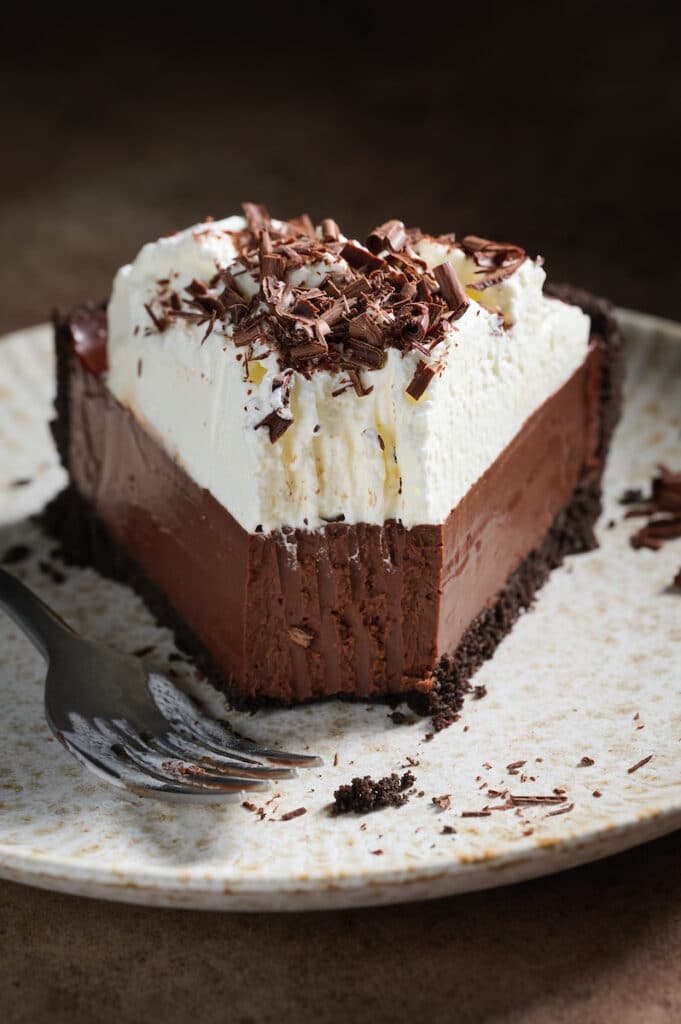 Tools for this Recipe (Affiliate Links)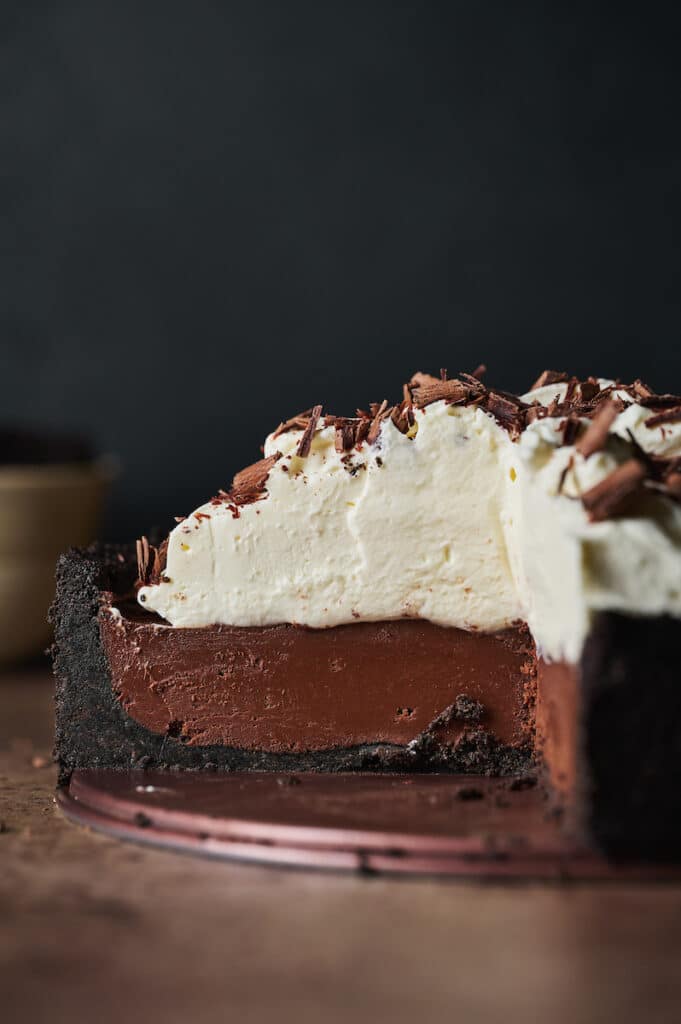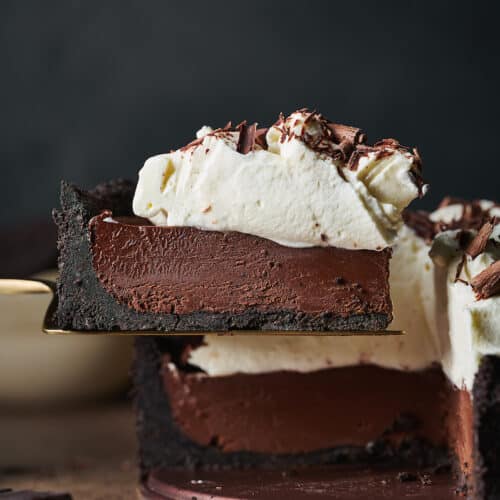 No-Bake Baileys Chocolate Pie
This No-Bake Baileys Chocolate Pie is one of our favorite easy chocolate desserts! This deep dish pie features a chocolate cookie crust, Irish cream chocolate filling, and plenty of whipped cream on top.
Ingredients
For the Oreo Crust:
35 regular variety Oreo cookies
1/2 cup (113g) unsalted butter melted
For the Chocolate Pie Filling:
12 ounces 72% cocoa dark chocolate finely chopped
1 and 3/4 cups (397ml) heavy cream
1/2 cup (113ml) Baileys Irish cream
2 teaspoons vanilla extract
2 teaspoons espresso powder
1/4 teaspoon fine sea salt
1/2 cup (113g) unsalted butter cut into cubes, at room temperature
For the Whipped Cream:
2 cups (454ml) heavy cream cold
1/4 cup (24g) confectioners' sugar sifted
chocolate shavings for garnish, optional
Instructions
For the Oreo Crust:
Lightly spray a 9-inch springform pan with nonstick baking spray. Set aside. 

In a food processor or blender, pulse the Oreo cookies until they're transformed into fine crumbs.

In a large bowl combine Oreo cookie crumbs and melted butter, mix well to combine. 

Firmly pat the mixture into the prepared pan, working it from the center and up the sides (about 3-inches). Place the crust in the freezer for 30 minutes.
For the Chocolate Pie Filling:
Add chopped chocolate to a large heatproof bowl. Set aside.

In a small saucepan over medium-heat, combine the heavy cream and baileys. Bring the mixture to a simmer then remove from heat. Stir in the vanilla, espresso powder, and sea salt. 

Pour the hot cream mixture on top of the chopped chocolate and set aside for 1 minute. Using a whisk, stir the chocolate and cream together, whisking until the melted chocolate and cream are completely combined, about 2 minutes.

Add in the butter and vigorously whisk it into the mixture until the butter is completely melted.

The mixture should be smooth and glossy. Set aside until needed.
For the Whipped Cream:
In a large bowl using a handheld mixer, or in the bowl of a stand mixer fitted with the whisk attachment, beat together the heavy cream and confectioners' sugar until medium-soft peaks are formed.

Note: Whipped cream should be made right before you plan on serving the pie. Read assembly below before making.
Assembly:
Remove the Oreo cookie crust from the freezer. Carefully pour the chocolate ganache inside the crust. The crust will be VERY full! 

Carefully place the chocolate pie in the fridge to set, at least 3 hours (or overnight). 

When ready to serve, dollop the whipped cream in the center of the pie and using a spoon, gently swirl it around the pie, leaving the edges exposed. Don't apply too much pressure or over swirl here, or you'll lose the texture and volume. Top with chocolate shavings. Slice and serve at once!