An easy and delicious recipe for No-Bake Espresso Chocolate Cheesecake! So rich and creamy… it's hard to stop at one slice. If you love the flavor combination of coffee and chocolate, you'll love this espresso cheesecake recipe!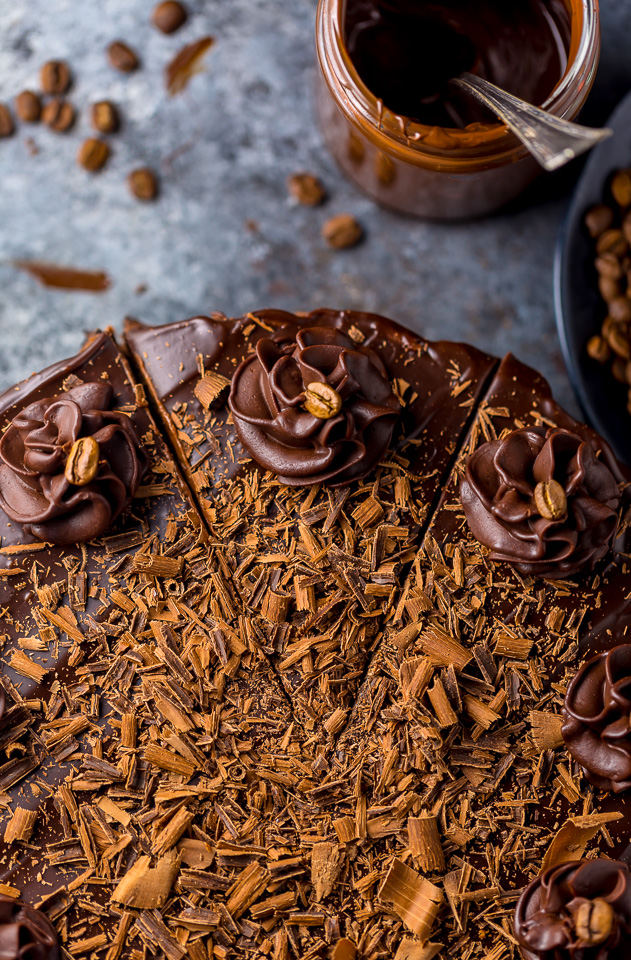 No Bake Chocolate Cheesecake
I'm not one of those people who typically says things like "it's too hot to bake" or "I'm not turning my oven on until September…
But today? IT'S JUST TOO HOT TO BAKE! And while I don't plan on going on a baking strike for the rest of the Summer, I do plan on sharing a few no-bake treats to see us through this heatwave! Starting with today's new recipe for no-bake chocolate espresso cheesecake. This gorgeous dessert is so rich, creamy, and flavorful!!!
Just look at that texture ↓
Coffee Cheesecake
I've baked hundreds of cheesecake in my life – and shared many of them here on the blog – but this is the first time I'm posting a no-bake cheesecake. However it certainly won't be my last! Because while I can't speak for all no-bake cheesecakes, this No-Bake Espresso Chocolate Cheesecake tastes just as good – if not better – than baked cheesecake! What more can you ask for?!
This might just be the best no bake cheesecake recipe ever…!
Ok, so let's talk about flavor for a second. Because this cheesecake has lots of it! And it comes from the rich dark chocolate and the espresso powder. So obviously you should use quality brands for both! You know I'm a major fan girl of Lindt chocolate, so I use their 70% dark chocolate in this recipe. And for the espresso powder, I use King Arthur. I highly recommend them both!!!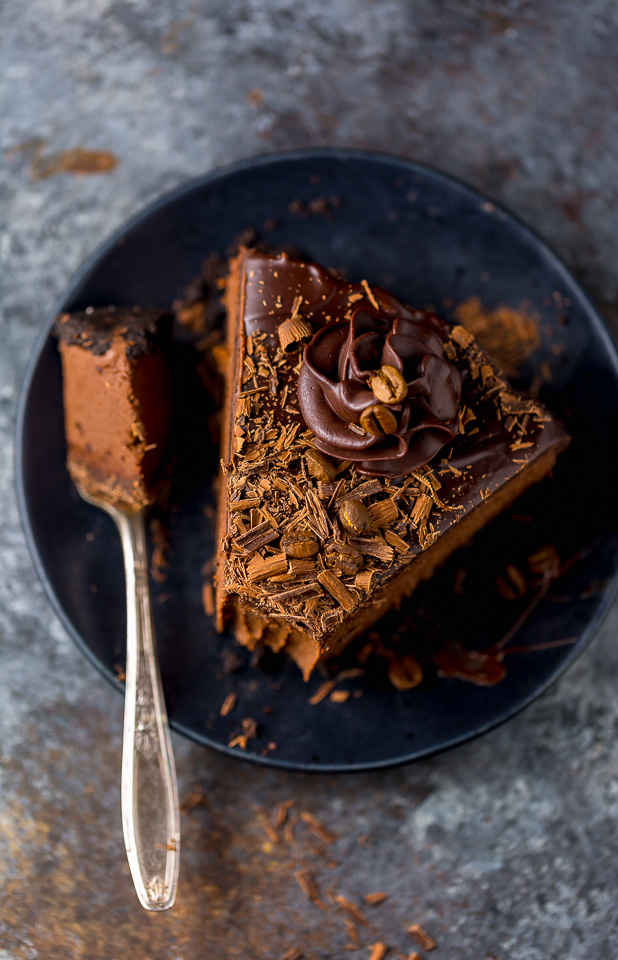 How to make Cheesecake without Baking
Tips and Tricks for Recipe Success:
To make the chocolate cookie crust you will need three ingredients: melted butter, Oreo cookies, and espresso powder. That's it! You do not need to remove the cream from the center of the cookies. Simply place them in a blender or food processor and pulverize them into small crumbs.
Because the crust will not be baked, be sure you press it down into the bottom the pan very firmly! This will help the crust stay together when you slice the cheesecake.
This recipe does requires a springform pan, so if you don't already own one and need a good place to start, feel free to click here and check out the one I've been using for years.
Because cold cream cheese won't blend smoothly, it MUST be very soft before you begin assembling this recipe. I typically leave it out on the counter for at least two hours before I plan on baking. You can use any full-fat brand, but I love Philadelphia Cream Cheese blocks.
And you should also bring your cream to room temperature, because batters made with cold ingredients don't come together smoothly.
As for the chocolate, it will need to be melted and slightly cooled, 10 minutes or so should do the job.
Finally, you'll want to be sure you chill the espresso cheesecake in the refrigerator for at least 6 hours before slicing and serving. Otherwise it'll be too soft to slice!
Another great thing about this no-bake chocolate cheesecake? No water bath required!!! So if you've been avoiding cheesecake recipes because of the water bath process, this recipe is a great place to start!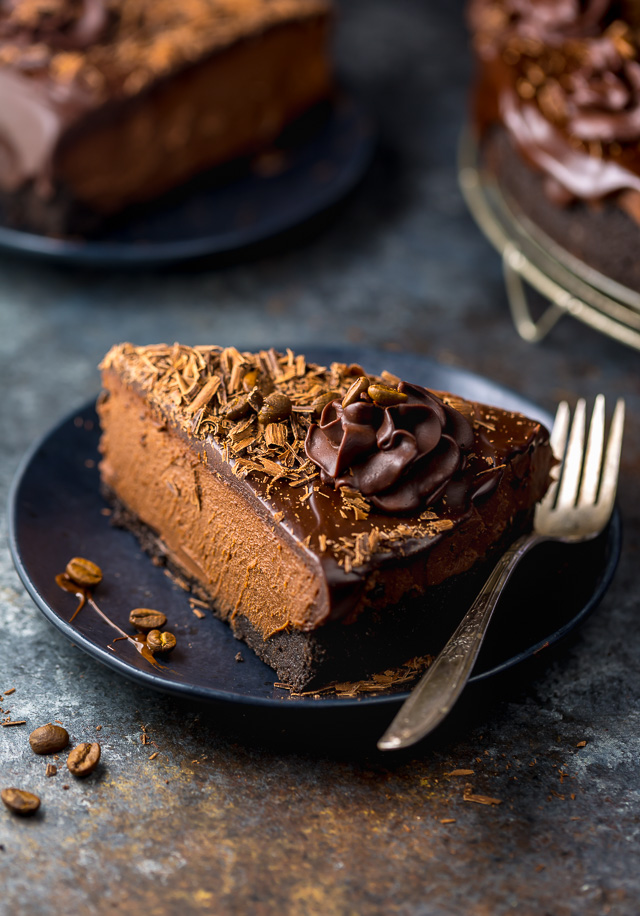 But the good news? This easy Summer cheesecake recipe will keep, stored in the refrigerator, for up to 4 days. And if you'd like, you can also freeze a few slices and save them for a rainy day!
An easy and decadent recipe for No-Bake Espresso Chocolate Cheesecake… does it get any better than that?!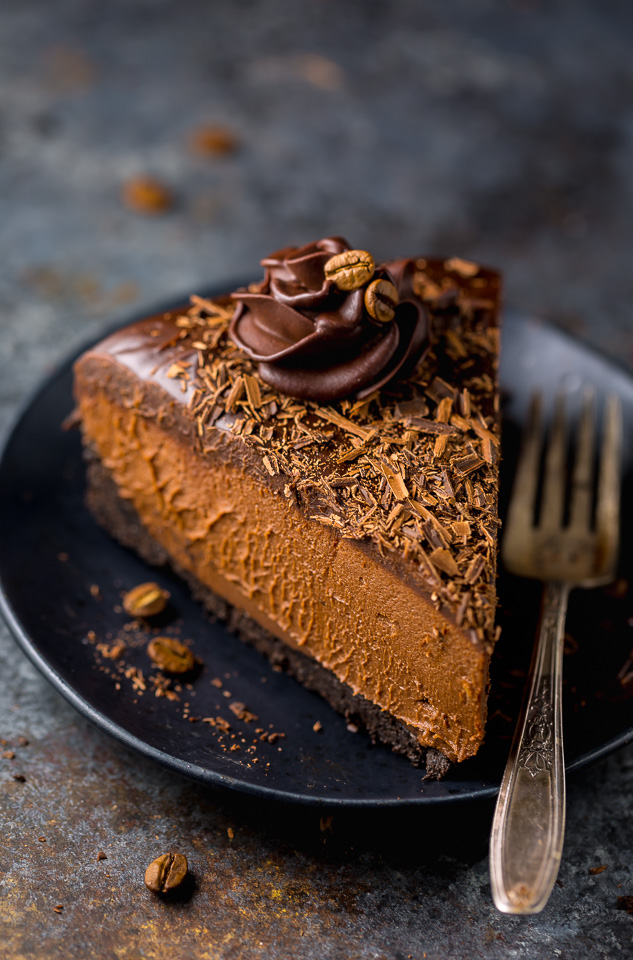 Fore more Espresso Recipes, Check Out: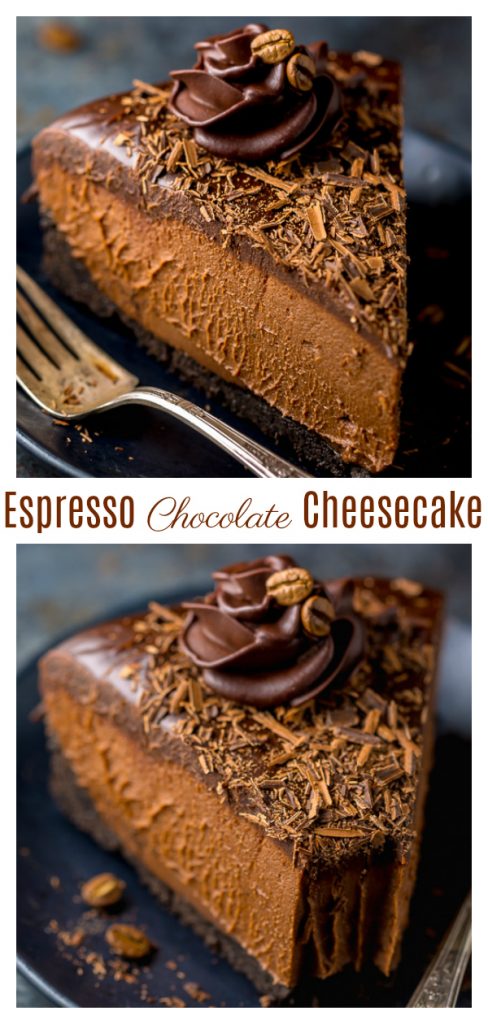 For more Chocolate Cheesecake Recipes, Check Out: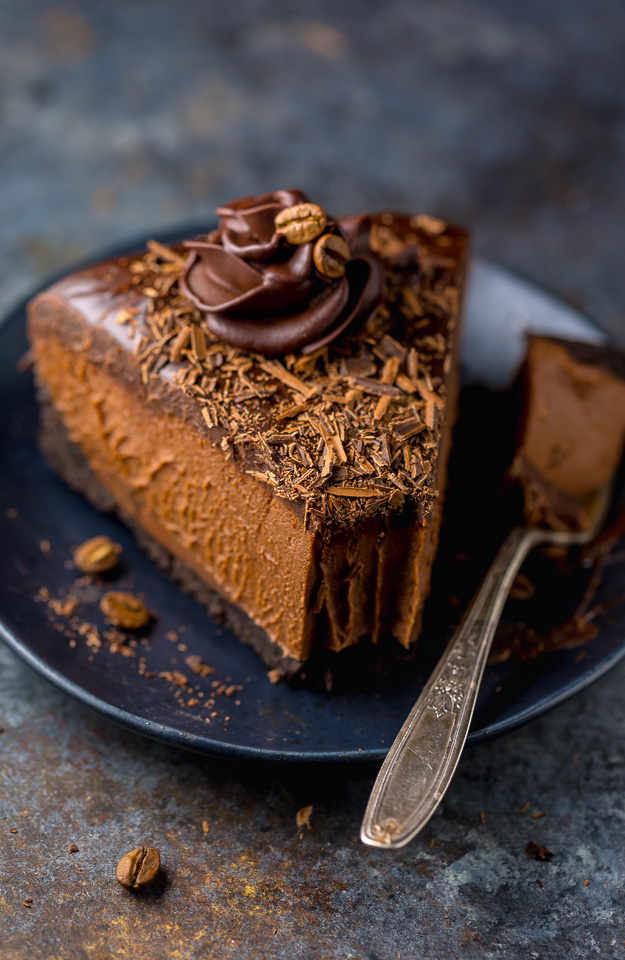 If you try this recipe for No-Bake Espresso Chocolate Cheesecake, please let me know what you think! Leave a comment below, and don't forget to snap a pic and tag it #bakerbynature on instagram! Seeing your creations seriously makes my day ♥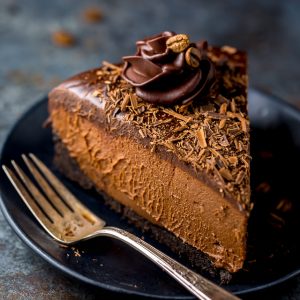 No-Bake Espresso Chocolate Cheesecake
An easy and delicious recipe for No-Bake Espresso Chocolate Cheesecake! So rich and creamy... it's hard to stop at one slice.
Ingredients
For the Chocolate Cookie Crust:
(1) regular full-size package Oreo cookies, crushed into fine crumbs
8 tablespoons unsalted butter, melted
1/2 teaspoon espresso powder
For the Espresso Cheesecake Filling:
14 ounces bittersweet chocolate, coarsely chopped
1 and 1/2 teaspoons espresso powder
1 and 1/2 pounds (680g/24 ounces) full-fat cream cheese, at room temperature
1 cup (198g/7 ounces) granulated sugar
1/4 cup (53g/1 and 7/8 ounces) light brown sugar, packed
1 Tablespoons Dutch-process cocoa powder
1 and 1/2 teaspoons vanilla extract
1 cup (8 ounces) heavy cream, at room temperature
For the Espresso Ganache: 
1 and 1/3 cups (226g/8 ounces) semi-sweet chocolate, finely chopped
1 and 1/4 cups (10 ounces) heavy cream
1/4 cup (57g/2 ounces) unsalted butter, at room temperature, cut into cubes
1 teaspoon espresso powder
Espresso beans, for garnish, optional
Chocolate shavings, for garnish, optional
Instructions
For the Chocolate Cookie Crust:
Lightly grease the bottom and sides of a 9-inch springform pan. 

In a large bowl combine the Oreo cookie crumbs, melted butter, and espresso powder; mix well to combine.

Press the crust into the prepared pan, pressing it firmly down in the middle and slightly up the sides. Place crust in the freezer while you prepare the filling. 
For the Espresso Cheesecake Filling:
Fill a medium pot one-third full with water and bring it to a low simmer over medium heat.

Place a heatproof bowl that will fit on top of the pan snugly, but will not touch the simmering water, on top of the pan. Reduce the heat to low and add the chopped chocolate into the bowl over the pot. Heat until the chocolate is completely melted, stirring occasionally with a silicon spatula. Remove the pot from the heat, leaving the bowl of chocolate over the hot water. Stir in the espresso powder. Set aside until needed.

In the bowl of a food processor (or high-powered blender), pulse the cream cheese until completely smooth, scraping down the sides of the bowl as needed, about 2 minutes. Add in both sugars and cocoa powder and beat smooth. Add in the vanilla and heavy cream and mix until just combined, about 20 seconds. Fold in the chocolate until evenly combined. 

Remove the bowl from the food processor and, using a rubber spatula, stir the filling several times to ensure it's evenly blended.

Remove the crust form the freezer.

Scrape the filling over the crust and smooth the top. 

Transfer the cheesecake to the refrigerator to chill for at least 6 hours. 
For the Espresso Chocolate Ganache:
Add chopped chocolate to a medium bowl; set aside.

In a small saucepan over medium-heat, bring the cream to a low simmer. Pour half of the cream on top of the chocolate pieces and set aside for 2 minutes. With a whisk, begin to incorporate the melted chocolate into the cream. Slowly add the remaining cream and continue carefully whisking until smooth and glossy.

Add in the butter and use a spatula to stir until the butter is completely melted. Fold in the espresso powder. The mixture will be dark and glossy. 

Place a 1/2 cup of the ganache in a small bowl, and set it aside until needed.

Pour remaining ganache over the chilled cheesecake. Sprinkle with chocolate shavings, if using. Set aside until ganache is set, about 1 hour.

Scrape reserved ganache into a piping bag fitted with a

star tip

. Pipe ganache stars around the edge of the cheesecake and top each star with a few espresso beans (this is all optional). 

To serve, slice the cheesecake with a thin-bladed sharp knife, wiping the knife clean between each cut.

Store, loosely covered, in the refrigerator, for up to 4 days.