Thick and chewy brown butter blondies loaded with toffee and chocolate covered espresso beans! HEAVEN.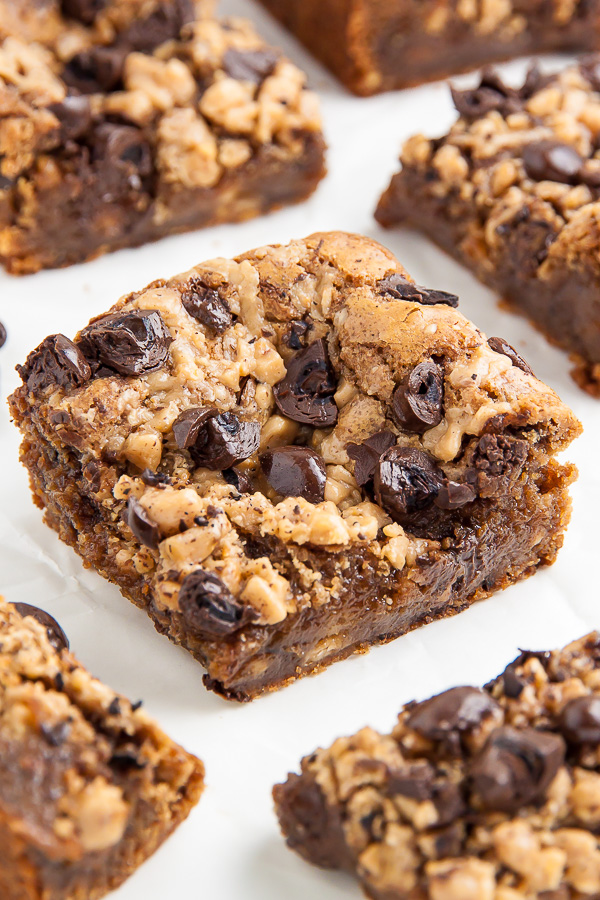 Over the weekend I turned my beloved espresso toffee chocolate chip cookies into blondies. The results were EPIC. ↓
So naturally I polished off the first tray and got busy baking a second batch to photograph and share with you guys ASAP. #commitment
The base of these blondies is made up of the usual suspects: melted butter (in this case, browned butter), brown sugar, an egg, vanilla extract, baking powder, a pinch of cinnamon, and flour.
The first step is browning the butter ↓

If you've never done this before, don't worry; it's an extremely simple step. You'll need a pan, a stick of butter, and a touch of patience – that's it! You'll start off melting the butter in a skillet. Once the butter has completely melted, you'll continue to cook the butter, on medium heat (or medium-low if your stove top runs hot), until it's turned a golden brown and smells slightly nutty. Just be sure you stay stove side once the butter has melted, as browned butter can turn into burnt butter very fast.
The two special ingredients in this recipe are toffee bits…
and chocolate covered espresso beans!
Chopping up the espresso beans can be a bit of a drag (they roll around like crazy!), so if you have a food processor, feel free to use it for this step.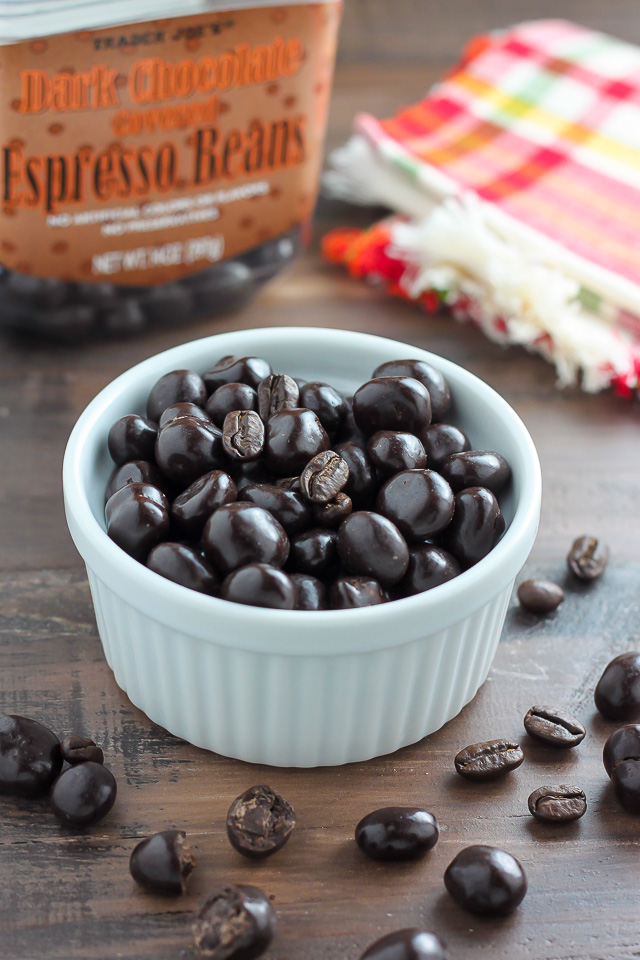 I love to bake my blondies in a loaf pan
pan so that they come out SUPER thick and chewy, but you can also use an 8-inch square baking pan
for a more uniformly even blondie. The choice is yours!
IMPORTANT: I know I'm like a broken record with this, BUT my biggest piece of advice when it comes to this recipe is be sure you don't over bake your blondies! When you pull them from the oven, they might look a little jiggly in the center. This is a good thing! They firm up a great deal during the cooling process.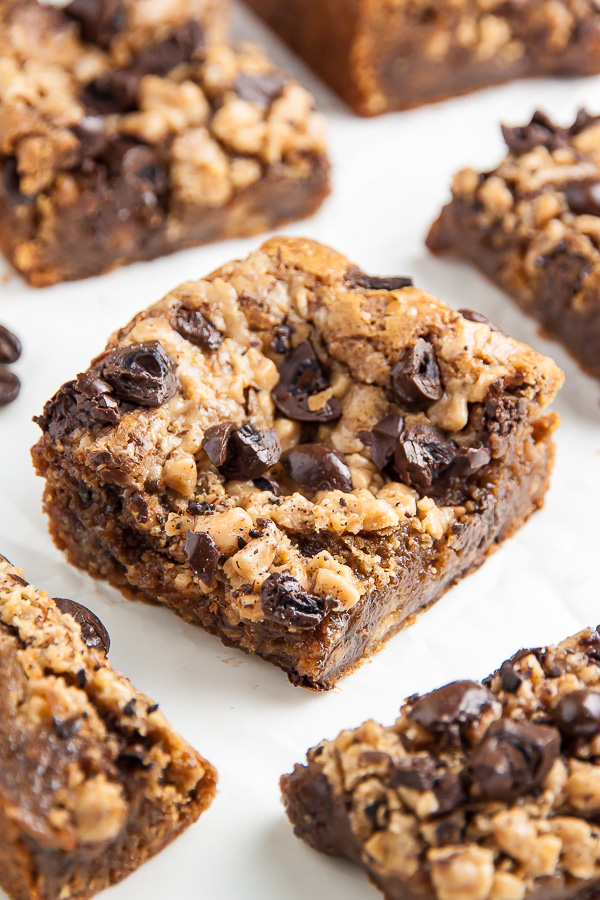 So… are you ready to bake some Brown Butter Espresso Toffee Blondies right now or what?!
If you try this recipe, let me know! Leave a comment below and don't forget to snap a pic and tag it #bakerbynature on Instagram! Seeing your kitchen creations makes my day. ♥
Brown Butter Espresso Toffee Blondies
Thick and chewy brown butter blondies loaded with toffee and chocolate covered espresso beans!
Ingredients
1/2 cup unsalted butter
1 cup light brown sugar, packed
1 large egg, at room temperature
1 cup all-purpose flour (be sure not to pack your flour)
1/2 teaspoon baking powder
1/2 teaspoon cinnamon
3/4 cup toffee bits
1/2 cup chocolate covered espresso beans, chopped
Instructions
Preheat oven to 350 degrees (F). Line an 8x8 baking pan (or loaf pan) with parchment paper and spray parchment lightly with non-stick spray, set aside.
Melt butter in a medium-sized skillet over medium heat. Continue cooking butter, stirring frequently, until it's a light amber color and smells slightly nutty. Remove from heat at once and cool for a few minutes before whisking in the brown sugar; beat until well combined. Add in the egg, beating until combined. Gently stir in the flour, baking powder, and cinnamon, being sure not to over mix. Fold in the toffee bits and chocolate covered espresso beans.
Bake for 25-28 minutes, or until the edges are firm and golden and the center is just slightly wobbly. Cool in pan for at least 15 minutes before cutting.
Notes
*Be sure not to over bake the blondies; they are ready when the center is just set. Over baking will lead to dry blondies. *For ultra thick blondies, bake them in a loaf pan. *This post contains affiliate links
Nutrition Facts
Serving Size 1 blondie
Amount Per Serving
% Daily Value
* Percent Daily Values are based on a 2,000 calorie diet. Your daily values may be higher or lower depending on your calorie needs.