Breakfast. It's the best part of any morning.
Whether it's a big bowl of Life, a black cup of coffee, or a seductive plate of bacon, eggs, and toast (yes… I'm eating that right now), a morning meal makes your smile, skin, and spirit just shine a little bit brighter.
I think you'll agree with me on this.
Today, I'm here to tell you, yet again, to add some olive oil to your morning meal.
A few weeks ago it was with these Peanut Butter – Banana Olive Oil Pancakes, and now, it's granola time.
Again I say, trust me on this one! We're friends. I've got your back on the olive oil front!
Olive oil granola is where it's at! And where it's at, should be your breakfast table. You dig?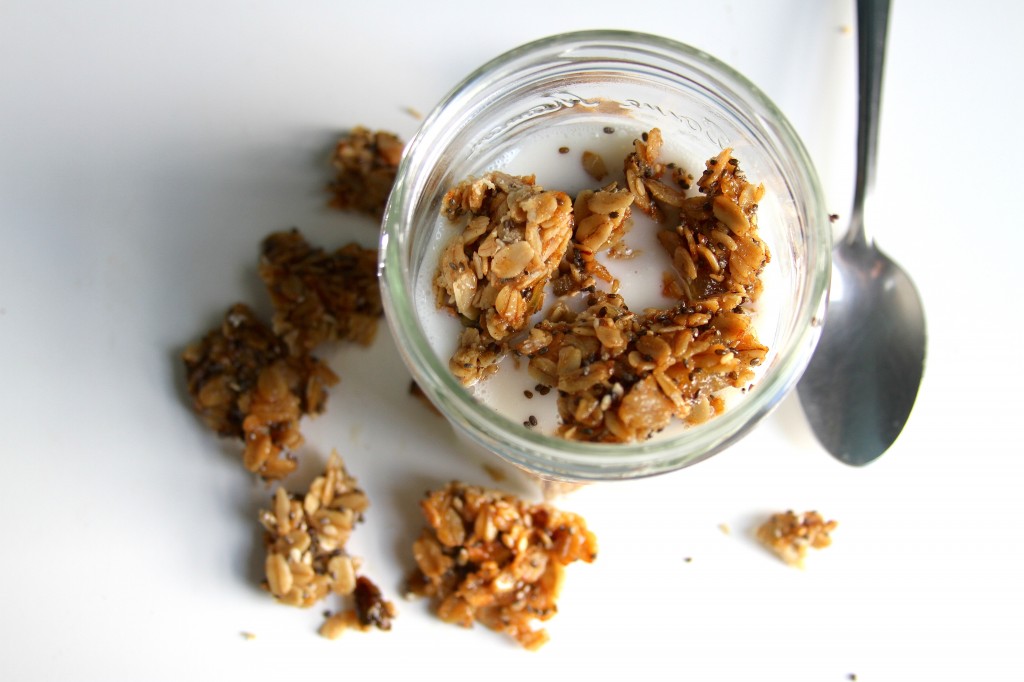 Cool. Let's dig into this granola situation!
Now you already know that when you make your batch of granola you can add as much or as little of whatever dang ingredients you fancy. I adore that about granola. So easy to work with!
For this version (which I've made twice now in two weeks – always a solid sign of tastiness), I used crystalized ginger, lemon zest, chia seeds, sesame seeds, pine nuts, and cashews. The binder in which holds all the oat/filling amazingness together is a simple honey/brown sugar/olive oil glue. It does it's job well.
Let's make mornings a little less dreadful with a darn good breakfast! Let's make big batches of big clustered granola and eat our darn breakfast like good little adults! Let's make this week a darn good one. Join me in this!
I love you guys… thanks for letting me shove olive oil granola in all your pretty faces today! xx
Olive Oil Granola – Baker by Nature
Serves 12 very hungry people, or one with plenty of leftovers
3 1/4 cups quick oats (I used the gluten free version from Trader Joe's)
1/2 teaspoon cinnamon
1/2 cup crystalized ginger, chopped into very small pieces
1/4 cup chia seeds
1/4 cup sesame seeds
1 cup cashews, chopped
1/2 cup pine nuts
Zest of one lemon
1/2 cup olive oil
1/2 cup honey
4 tablespoons brown sugar
Instructions:
Preheat oven to 300 degrees (F). Line a large baking sheet with parchment paper and lightly grease with olive oil.
In a large mixing bowl combine all the dry ingredients, mixing well.
In a small sauce pan bring combine the lemon zest, olive oil, honey, and brown sugar, bring to a boil over medium heat, and cook until it comes to a boil. Once it reaches a boil turn flame off and remove from heat immediately. 
Stir the honey/ olive oil mixture into the dry ingredients, stirring well to ensure everything is evenly coated.
Spread the olive oil granola mixture onto your prepared baking sheet and bake for 45-50 minutes, or until firm and golden brown. Transfer the granola (on the parchment paper) to a cooking wrack and let cool.
Break granola into large chunks and enjoy with milk, greek yogurt, fruit, or whatever you want.
*Keeps fresh in an airtight container for up to 4 days (maybe longer, but it never lasts more than that here)