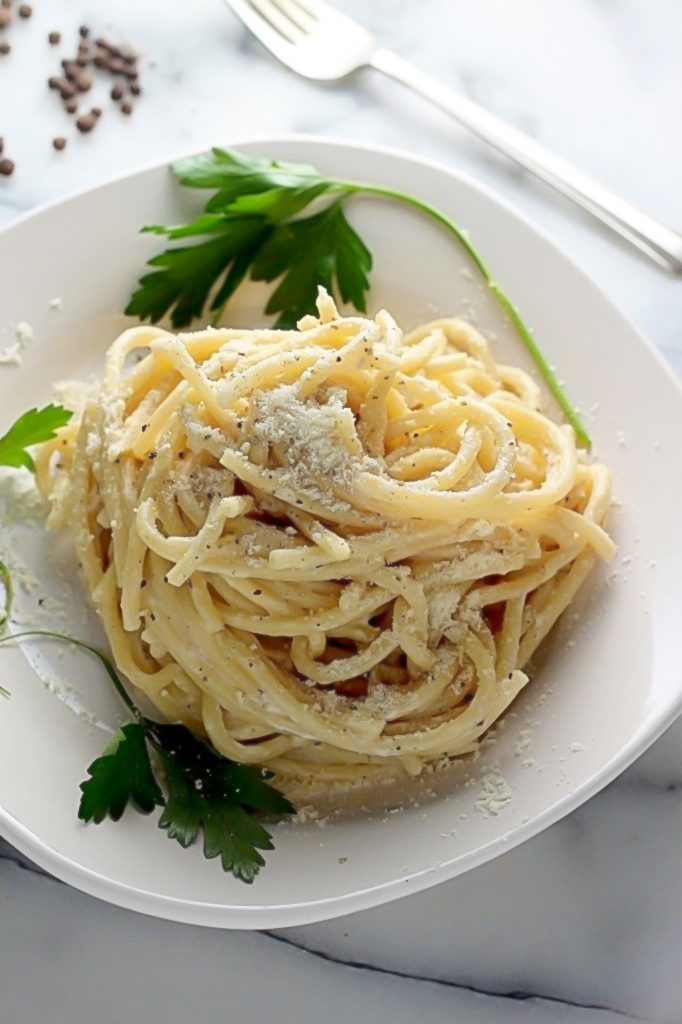 This recipe reminds me so much of the amazing meals we ate in Rome. Full of flavor, easy to prepare, and best made with the highest quality of ingredients you can get your hands on. The good news is that there's only 5 ingredients in this recipe, so it's totally worth it to splurge on good cheese, pasta, and pepper – if possible. If you can only spend big on one item, I highly recommend buying the best cheese you can afford. And fresh cracked pepper! It makes all the difference. My grocery store sells the "grind-it-yourself" pepper mills for like 3 bucks, so keep an eye out 😉
Cacio e Pepe is a classic Italian dish known for its simplicity and ease. I've gone ahead and made this recipe even easier by transforming it into a one-pan situation. Yep! All this, and only one dirty dish. Can I hear an amen, my friends?! Cause ain't nobody got time for mountains of dishes. Pssh.
Also, a few step by steps photos. Just because I love you!
First you want to add your oil and pepper to the pot. You'll place the pot over medium-high, simmer until it shimmers…
then add your pasta! I used bucatini in this recipes, and highly recommend it, if you can find it. I know not all grocery stores carry it, but Barilla came out with a new line which included the thick, tube noodle, so it may be easier to find than I think.
Once your pasta is in, add your water (and a dash of salt, if you want), and boil!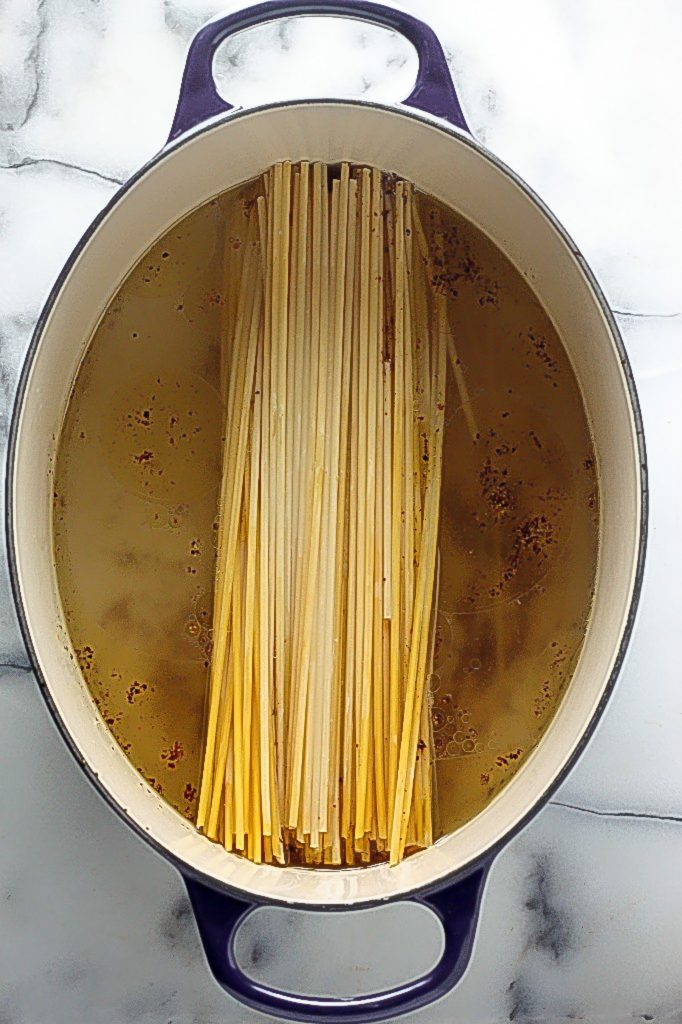 Once it's boiled for about 11 minutes, you'll toss in the cheese (hooray!), stir like a madman, and that's it. Dinner is done! How easy is that? xoxo
You can top this with extra cheese if you're a hardcore cheese head (meeeee), or serve as is! Just be sure to plate it and get it out right away, as this dish is best hot from the pan 😉
One-Pan Cacio e Pepe
Ingredients
1/4 cup Olive Oil
1 teaspoon ground black pepper
4 1/2 cups water
1 pound bucatini pasta (you may sub spaghetti here if you can't find bucatini)
1 cup parmesan cheese
*salt and additional pepper to taste
Instructions
In a large pot or dutch oven heat the oil and pepper over medium-high. Cook for 2 minutes, then add water and pasta.

Cook on high, stirring frequently, until the only about a 1/2 cup of liquid remains; about 11 minutes.

Add the cheese into the pasta/water mixture and stir like crazy! Cook for another 30 seconds, then remove from heat. Add more salt and pepper to taste, and serve at once! Enjoy 😉