Hey there, lovelies! Guess who finally did some baking this weekend?!
Funny how intensely one can miss something as inanimate as an oven, but I was truly grateful to spend Sunday afternoon catching up with mine.
While our chemistry was a little rusty – there were far more misses than scores – it felt exhilarating to be in it and at it again.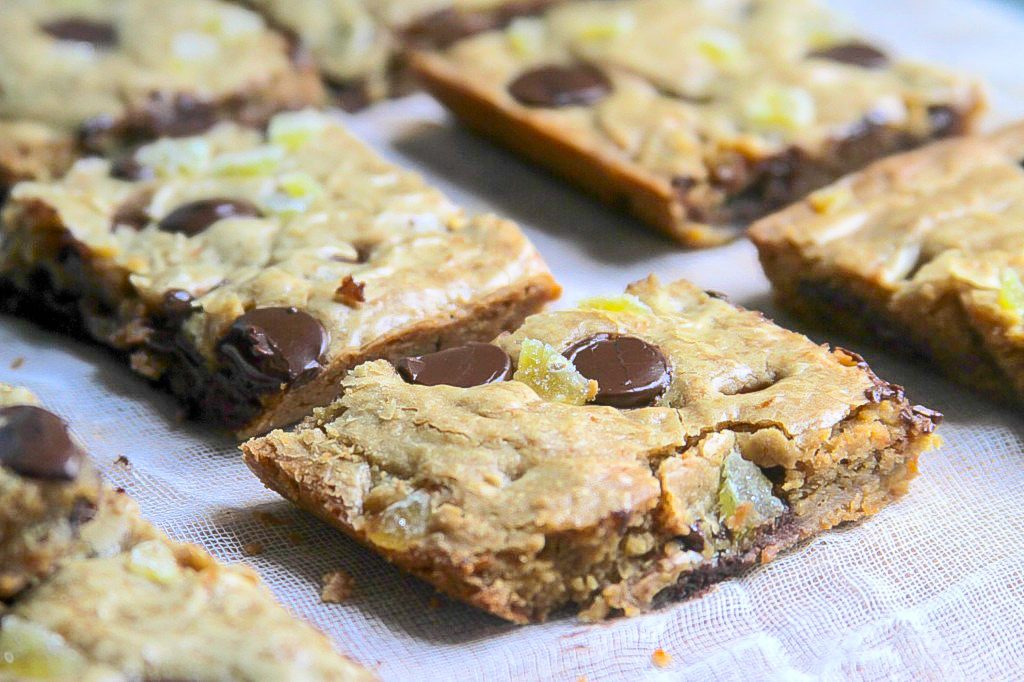 The best thing to come out of my kitchen that day? These flavor boom blondies!
A very basic base jazzed up with zingy orange zest, candied ginger, and big ol' chocolate chips. They were the perfect rainy afternoon pick me up, and between me and you, they make an excellent base for an ice cream sandwich, if you're into that kind of thing.
Orange Ginger Chocolate Blondies – Baker by Nature
1 stick (4 ounces) unsalted butter, melted
1 cup packed brown sugar (I used light brown granulated sugar)
1 large egg, at room temperature
1/2 teaspoon salt
1/2 teaspoon ground ginger
1 cup all purpose flour
Zest of 1 large orange
1/3 cup crystallized ginger, plus additional 1 tablespoon for sprinkling on top
1/3 cup dark chocolate chips, plus additional 1 tablespoon for sprinkling on top
Preheat oven to 350 degrees (F). Grease an 8×8 baking pan.
In a large bowl combine the melted butter, sugar, and vanilla extract – beat until smooth. Beat in the egg. Gently stir in salt, ground ginger and flour. Fold in orange zest, crystalized ginger, and chocolate chips. Pour batter into prepared pan, sprinkle with additional crystalized ginger and chocolate, and bake for 25 minutes, or until set in the middle and edges are golden.