Fluffy buttermilk waffles topped with crispy "oven-fried" chicken and creamy white pepper gravy. Brunch perfection.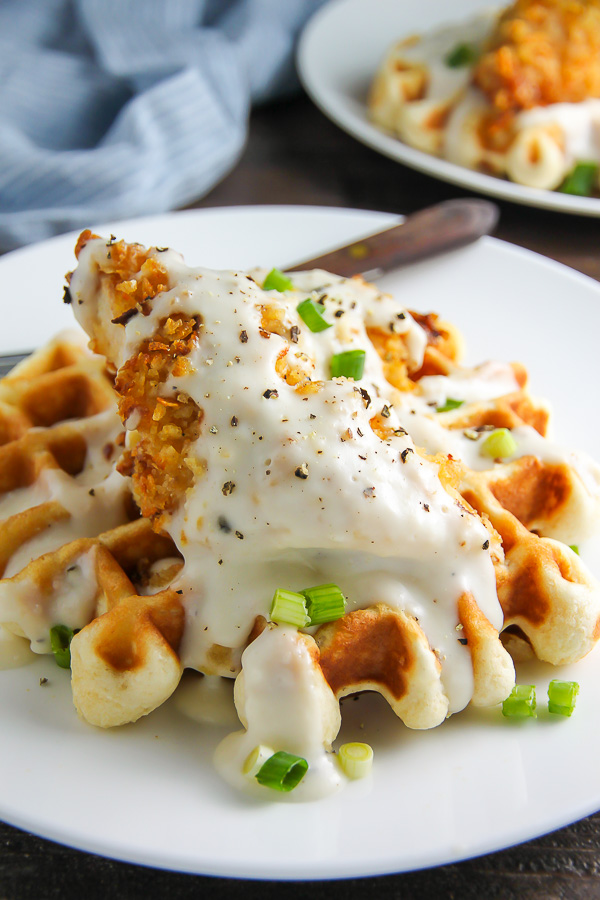 Happy Wednesday! How is your week so far? Are you getting by alright? I always find the weeks leading up to a major holiday to be the toughest. Dreaming of days off… sleeping in… long breakfasts… and lazy afternoons with a good book. Anyone with me on this? I call it the pre-holiday blues.
The best way to muddle through? A treat yo' self meal! We still have 14 days to go until Thanksgiving, so a big plate of comfort food t-o-d-a-y is just what the doctor ordered.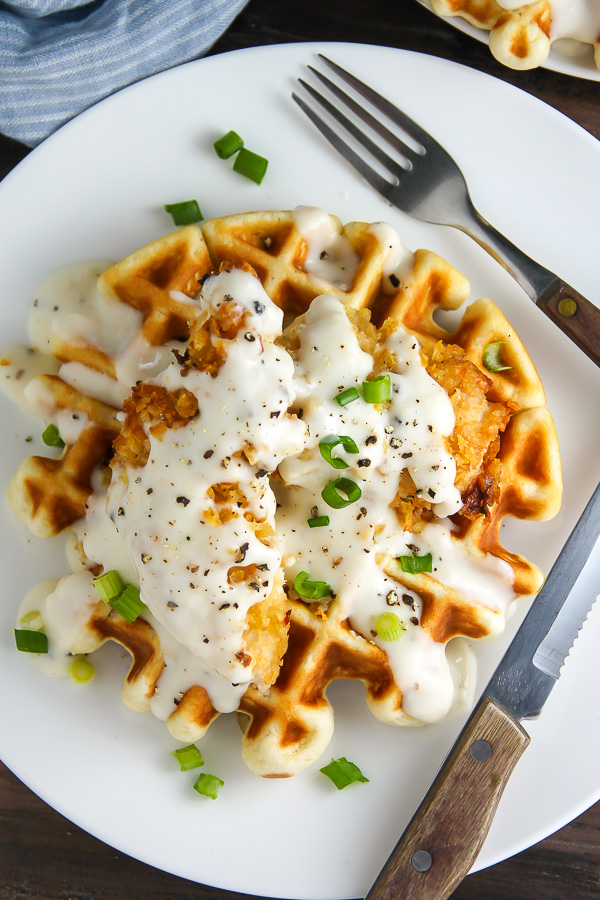 Enter these oven-fried chicken and waffles with white gravy. ♥♥♥
This stellar recipe is from my friend Julie's upcoming cookbook Dinner for Two
.
↑ Do you know Julie? Have you pre-ordered her book
? If your answer is somehow no, please go check her out now. Her blog is wonderful and her book is a true delight! She was sweet enough to send me a copy last week and, hand to God, I have been dogearing pages like crazy! When you open up your copy I know you'll find yourself doing the same.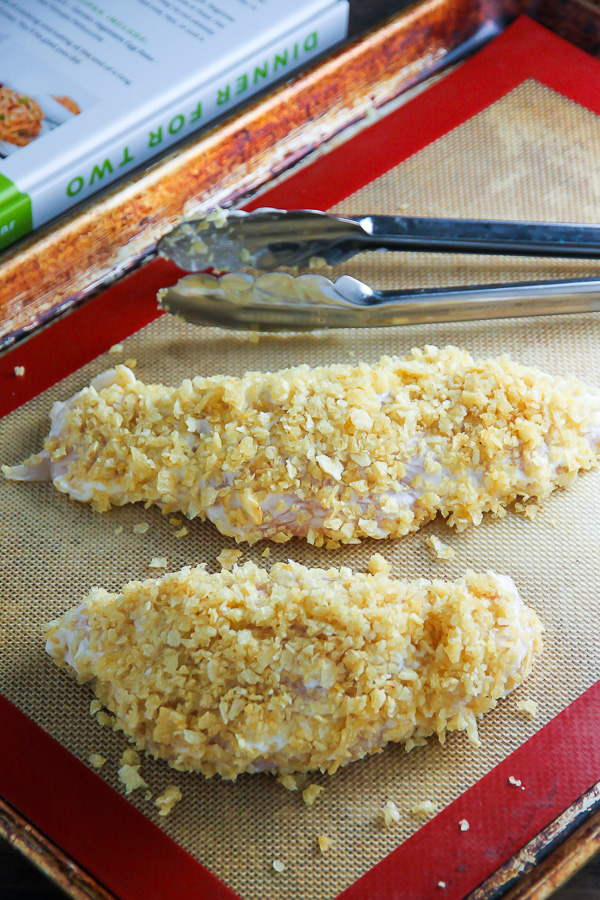 What you need to know about this dish:
You will need a waffle iron; here is the one I use, in case you're in the market.
There are three steps in this recipe: the chicken, the waffles, and the gravy. Although each step is simple and straightforward, I encourage you to fully read through the recipe at least once before beginning. When you "wing it" or speed read, you run the risk of skipping a crucial step or not having the proper ingredients ready. The recipe below is broken down step-by-step, which should make grocery shopping and assembly a breeze!
The fried chicken isn't really fried! It's faux fried in the oven, but tastes just like the real thing.
The white gravy is thick, creamy, and mildly spicy thanks to black pepper. If you're sensitive to spice, I wouldn't worry too much as this recipe only uses 1/4 teaspoon. If you're a spice fanatic (hand raised), you can use up to a 1/2 teaspoon of black pepper. Also, a few dashes of hot sauce is always a good idea 😉
Start to finish this recipe will take about an hour. It makes for a fun "activity meal" with the kids or a cute brunch date with your significant other.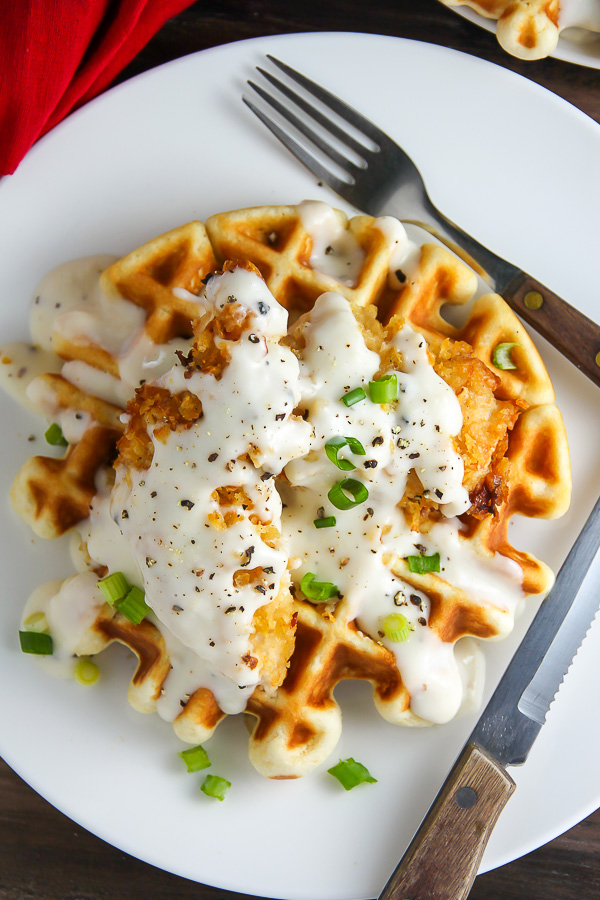 I know you guys are just going to love this meal! We've already added it to our Christmas morning menu, but I have a feeling it will be made quite a few times before then.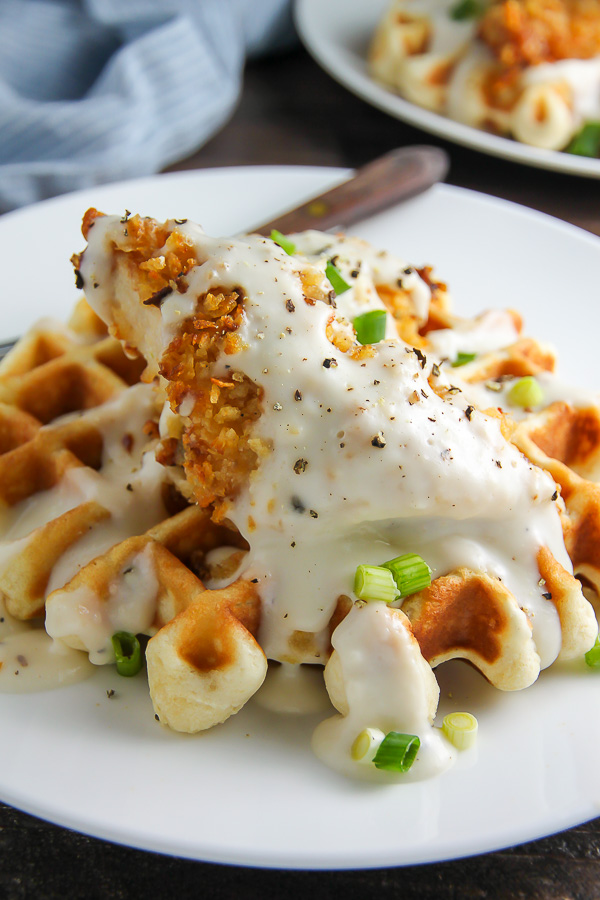 If you try this recipe, let me know! Leave a comment below and don't forget to snap a pic and tag it #bakerbynature on instagram! Seeing your kitchen creations makes my day. ♥

Oven-Fried Chicken with Waffles and White Gravy
Yield 2 servings
Fluffy buttermilk waffles topped with crispy fried chicken and creamy white pepper gravy.
Ingredients
For the chicken:
1 large boneless, skinless, chicken breast, sliced in half lengthwise
3 tablespoons mayonnaise
1 cup salt and pepper kettle-cooked potato chips, finely crushed
For the waffles:
1 large egg white
2 tablespoons granulated sugar, divided
1 and 1/4 cups all-purpose flour
1 and 1/2 teaspoons baking powder
1/4 teaspoon baking soda
1/4 teaspoon salt
2 tablespoons unsalted butter, melted
3/4 cup plus 2 tablespoons buttermilk
For the white pepper gravy:
2 tablespoons unsalted butter
2 tablespoons all-purpose flour
1/2 cup plus 2 tablespoons whole milk
1/4 teaspoon salt
1/4 teaspoon black pepper
2 tablespoons scallions, chopped, optional
Instructions
For the chicken:
Preheat oven to 400 degrees (F). Line a large baking sheet with parchment paper or a silicon baking mat; set aside.
Place the chicken breast on a clean work surface. Rub the chicken breast halves with mayonnaise then generously coat all sides of the chicken with the crushed kettle chips. Don't worry if they don't all stick! Transfer the chicken to the prepared baking sheet and bake for 15-17 minutes, or until the chicken is cooked through and the outer crust is slightly browned. Transfer chicken to a plate and store in the microwave or a warmer drawer until needed.
For the waffles:
While the chicken is baking, preheat your waffle iron.
In a small bowl, using a hand mixer, beat egg white and one tablespoon of sugar on medium-speed until light and fluffy and soft peaks begin to form, about 1 minute; set aside.
In a large bowl whisk together flour, remaining sugar, baking powder, baking soda, and salt. Make a well in the center of the batter and pour in the melted butter and buttermilk. Whisk until mixture is smooth and no lumps remain. Using a spatula, gently fold in the egg whites, stirring just until incorporated.
Using a 3/4 cup measuring cup, scoop batter, and pour onto heated waffle iron. Cook until waffle is browned and crispy on the outside, about 5 minutes. Repeat for the second waffle. Once the waffles are done, place them on a plate and store inside the microwave or a warming drawer.
For the white pepper gravy:
In a small pan over medium-heat, melt the butter and whisk together with the flour for about 2 minutes. Add in the milk, salt, and pepper. Let simmer until thickened; about 5 minutes. Remove from heat.
Assembly:
Place a waffle on a serving plate. Top with chicken, then generously pour gravy on top of chicken and waffle. Repeat for the second waffle dish. Top with chopped scallions, if desired.
Serve warm.
Courses Breakfast
Cuisine Southern
Nutrition Facts
Serving Size 1 serving
Amount Per Serving
% Daily Value
* Percent Daily Values are based on a 2,000 calorie diet. Your daily values may be higher or lower depending on your calorie needs.