Sweet and fruity Raspberry Peach Muffins! Theses soft muffins are loaded with fresh peaches and juicy raspberries.Perfect for breakfast!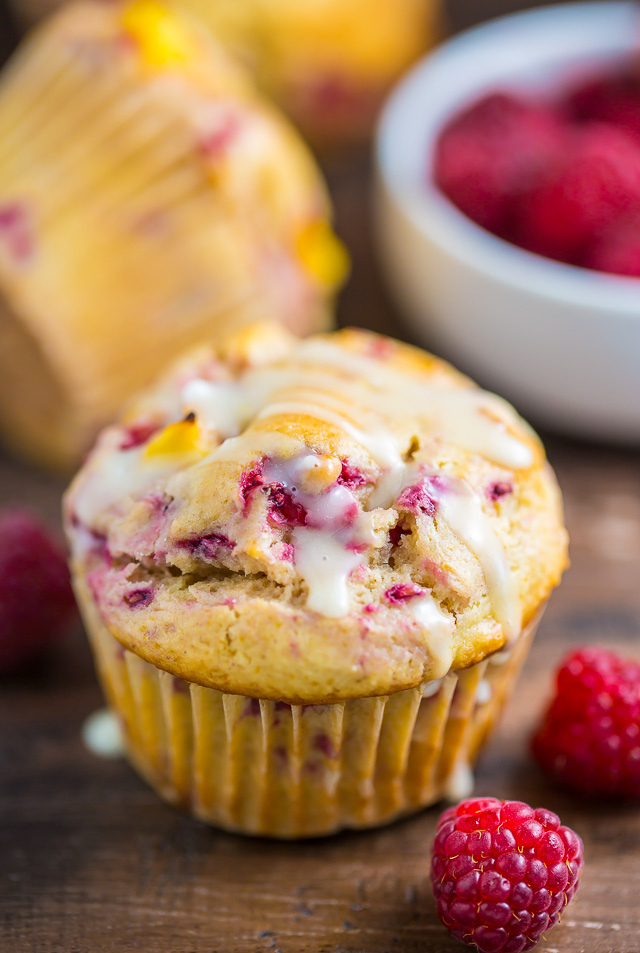 Raspberry Peach Muffin Recipe
My goodness, it feels good to be home! If you follow me on Instagram, you know I've been on the road the past few days. My journey started in Philly to celebrate my sister-in-laws baby shower! From there I stopped in Manhattan to have dinner at CARBONE and cocktails with friends. And ended with a glorious day at Coney Island (beach, baseball, and fireworks!!!). It was one of those spontaneous Summer getaways I know I'll think fondly of for years to come.
But honestly? I'm so happy to be HOME. I missed y'all! I arrived home last night so ready to bake and so ready to get back to work.
Which brings us to today's recipe: Raspberry Peach Muffins! AKA the "IT girl" muffin of the Summer. Each bite is loaded with sweet raspberries, juicy peaches, and just a hint of orange!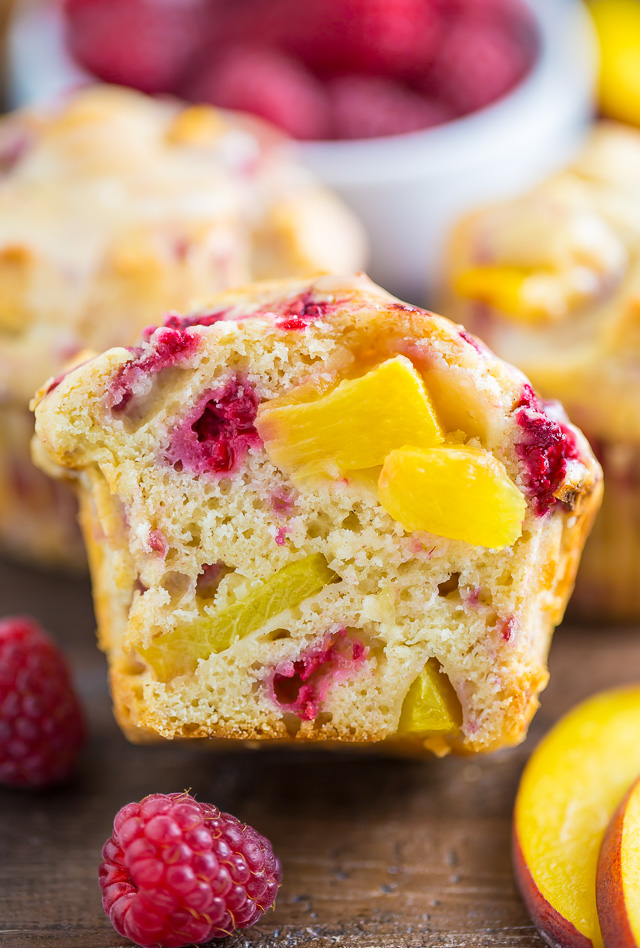 I whipped up these raspberry peach muffins a few days before my trip and – no lie – by the time I hopped in the car there wasn't one left! They make an amazing breakfast and an equally awesome afternoon snack. They also freeze great! Not that I think they'll last that long 😉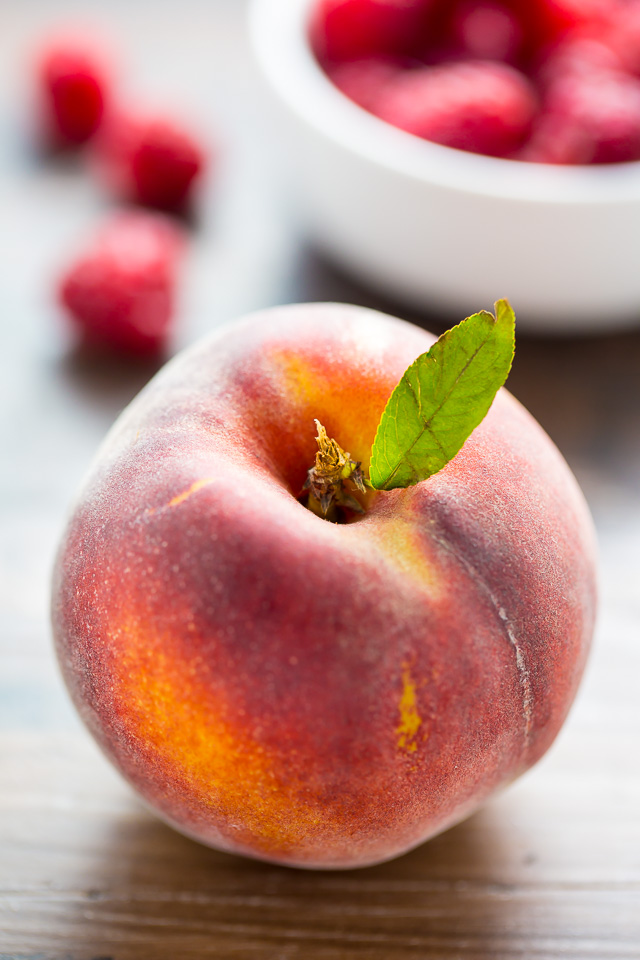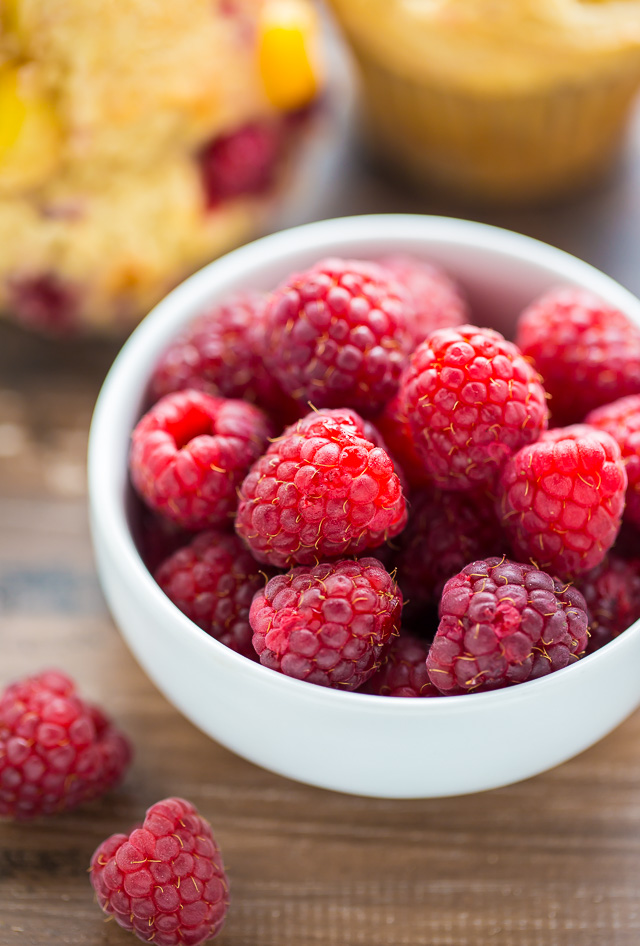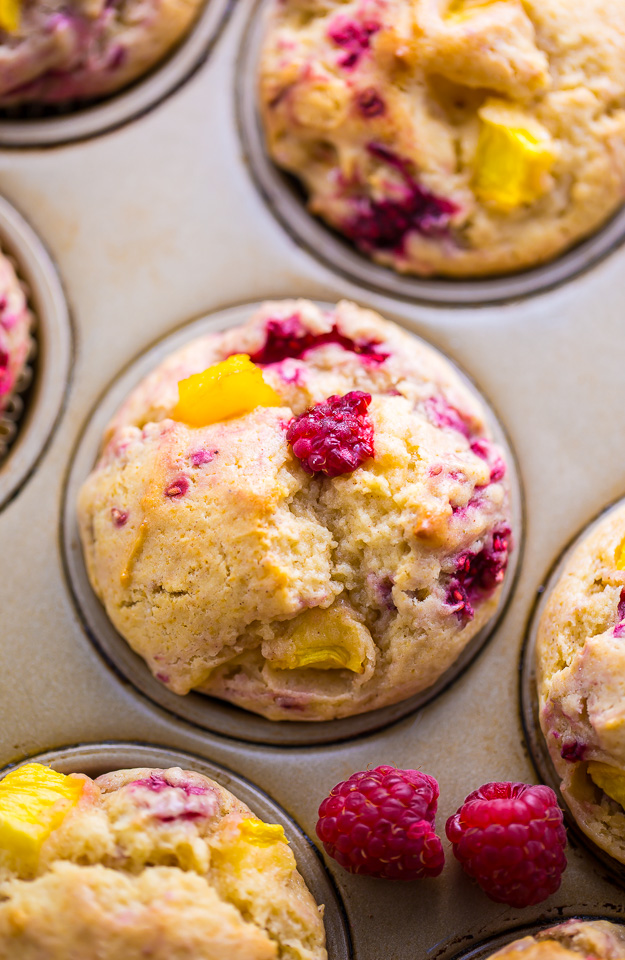 Tips and Tricks for Recipe Success:
I used fresh raspberries in this recipe, but have a feeling frozen would work fine. Just be sure not to thaw them before adding to the batter. Also, don't worry if the raspberries break up a little when you're folding them into the batter! This is normal (raspberries are extremely delicate) and won't affect the taste or texture of the muffins at all.
I recommend using fresh peaches if possible. If you cannot find them, you may sub frozen peaches. I do not recommend using canned or jarred peaches.
Before assembling the muffin batter, you'll want to bring your butter, egg, egg yolks, and milk to room temperature. Cold ingredients do not bond evenly!
The raspberry peach muffin batter will be very thick! Be sure to avoid over mixing it or your muffins will bake up dense and possibly dry.
The orange zest is optional, but adds a lovely pop of flavor to the muffins.
The vanilla glaze is also optional, but highly recommended – especially if you enjoy muffins of the sweeter variety.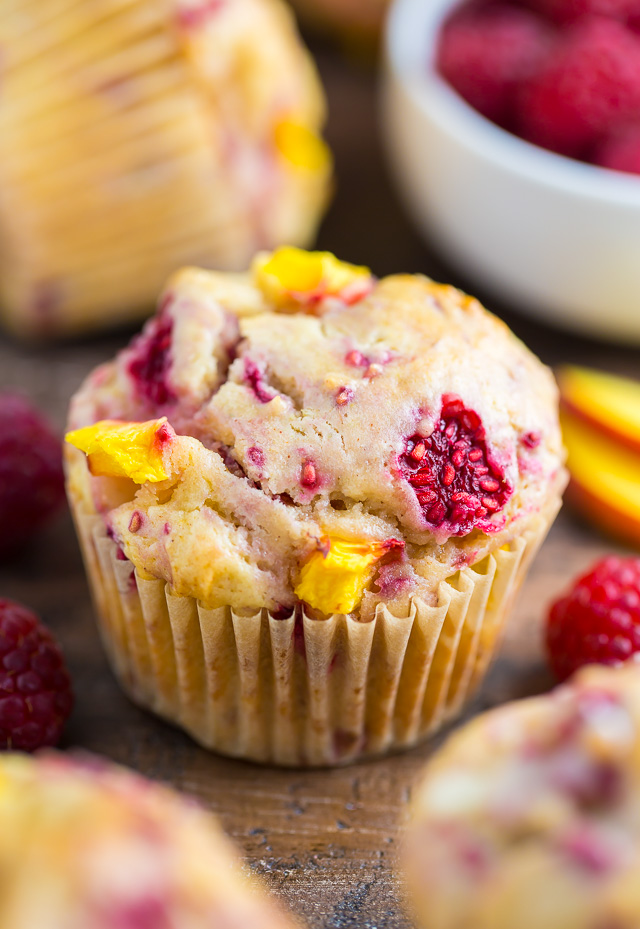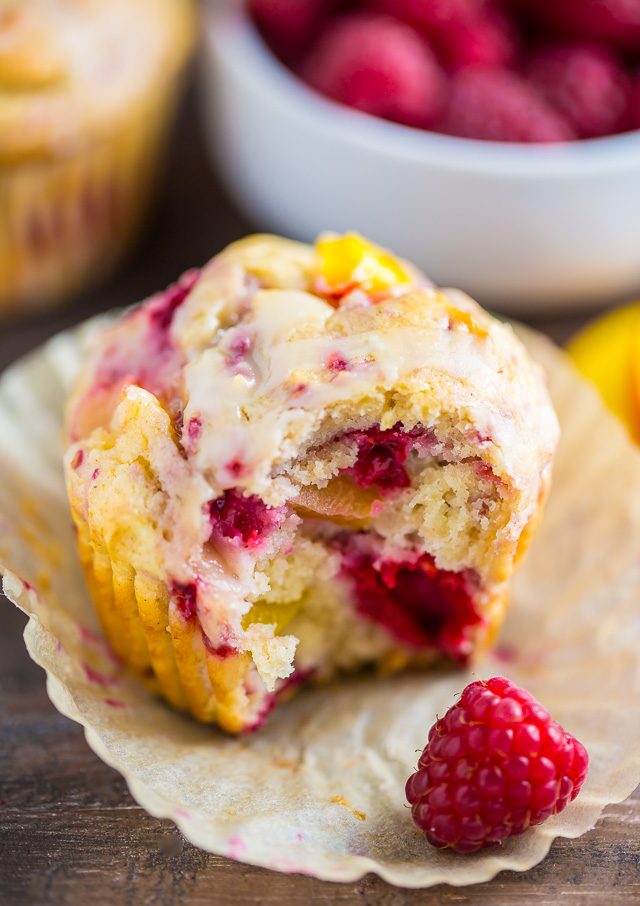 Enjoy, fellow muffin lovers! And I'll see you soon with PIE ♥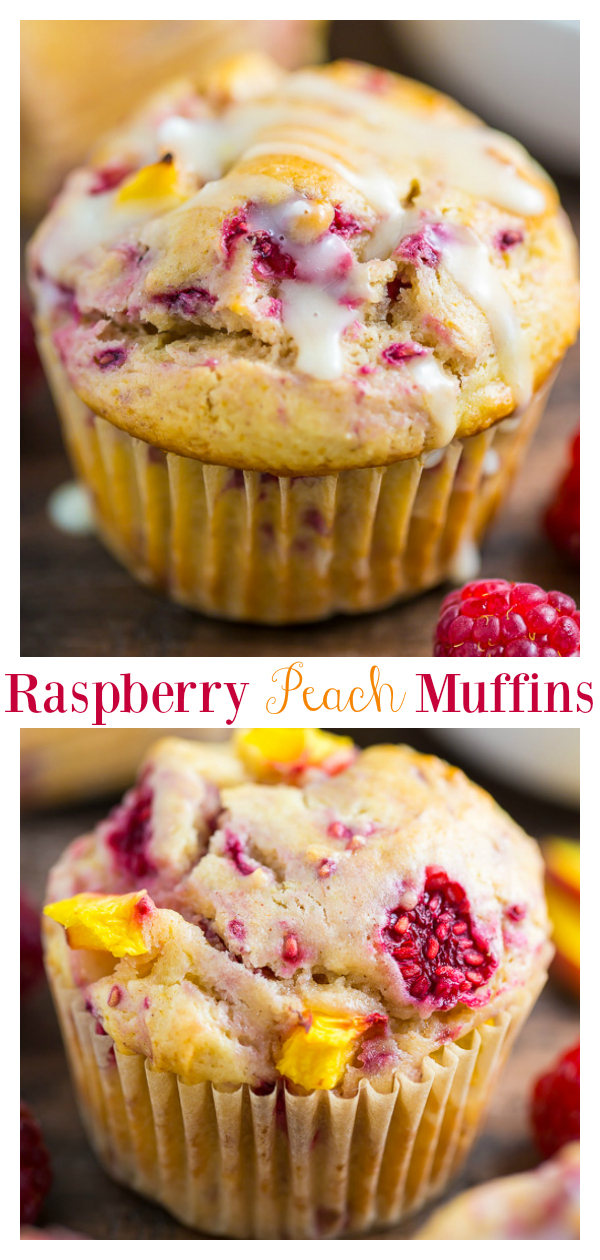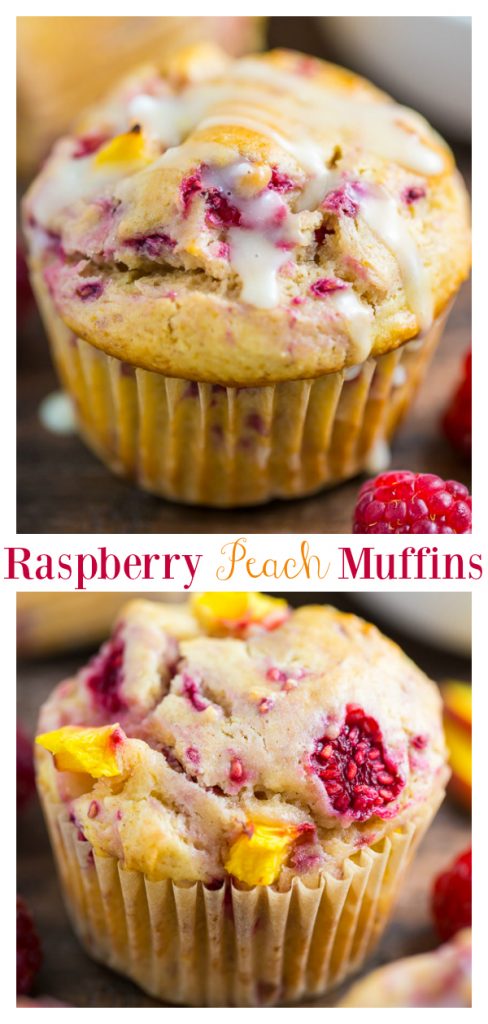 More Peach Recipes:
If you try this recipe, let me know what you think! Leave a comment below, and don't forget to snap a pic and tag it #bakerbynature on instagram! Seeing your creations makes my day ♥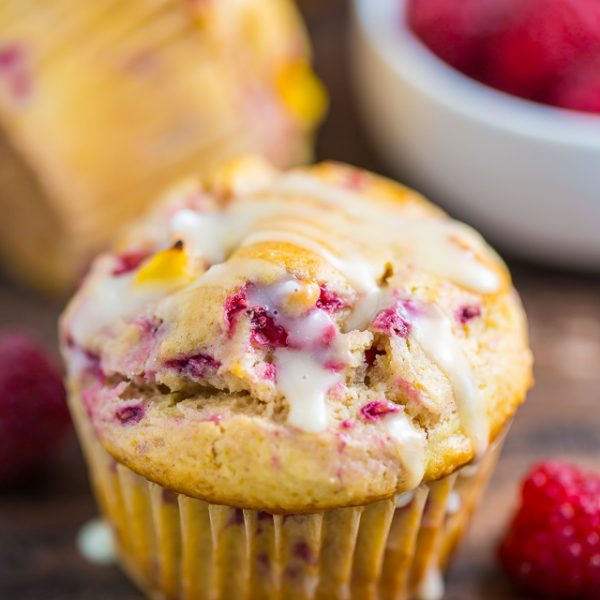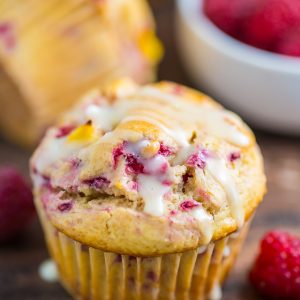 Raspberry Peach Muffins
Moist and fruity Raspberry Peach Muffins are perfect for breakfast, snack, or dessert!
Ingredients
For the Raspberry Peach Muffins:
3 cups plus 2 tablespoons all-purpose flour, divided
3 teaspoons baking powder
1/4 teaspoon ground nutmeg
1/2 teaspoon salt
6 tablespoons unsalted butter, at room temperature
1 cup granulated sugar
1/4 cup light brown sugar, packed
1 large egg plus 2 large egg yolks
2 teaspoons pure vanilla extract
1 cup whole milk
1 cup raspberries, fresh or frozen, if using frozen do not thaw
1 large peach, peeled and chopped into bite-sized pieces
For the Vanilla Glaze:
1 cup of confectioners' sugar
1/2 teaspoon vanilla extract
2 tablespoons of milk OR heavy cream, more if needed to achieve desired consistency
Instructions
For the Raspberry Peach Muffins:
Preheat oven to 400 degrees (F). Line a 12 cup muffin tin with paper liners; set aside.

In a large bowl, sift together 3 cups of the flour, baking powder, nutmeg, and salt; set aside.

In a large bowl using an electric mixer, or in the bowl of a stand mixer fitted with the paddle attachment, combine the butter and sugars and beat on medium speed until light and fluffy; about 3 minutes.

Add in the egg, egg yolks, and vanilla and continue beating until well combined. Reduce mixer speed to low; alternate adding the flour mixture and the milk, beginning and ending with flour. Be sure not to over mix here.

Turn mixer off and set batter aside for a moment. Place raspberries, peach pieces, and remaining flour into a bowl; toss to completely coat the fruit in the flour. Add the fruit and any excess flour into the batter; use a spatula to gently fold the fruit into the batter until incorporated. Don't worry if the raspberries break up a little bit.

Divide the batter evenly among prepared muffin tins.

Bake for 20 to 22 minutes, or until the tops are lightly golden brown and a toothpick inserted in the middle comes out clean, or with a just a few moist crumbs attached. Cool muffins 10 minutes in the pan before transferring to a cooling rack.
For the Vanilla Glaze:
In a small bowl combine the confectioners' sugar, vanilla, and cream; whisk until smooth, adding more cream as needed to reach desired consistency. Drizzle over the muffins right before serving.