Say hello to SUMMER on a plate! This Cinnamon Sugar Peach Pie features a flaky all-butter pie crust and the juiciest peach pie filling. Top with ice cream for the ultimate Summer dessert!
Brown Sugar Cinnamon Peach Pie
Seriously though… doesn't peach pie just SCREAM Summer? Especially when a scoop of ice cream on top is involved. Just looking at it makes me so happy!!! Eating it makes me even happier.
Won't you join me for a slice?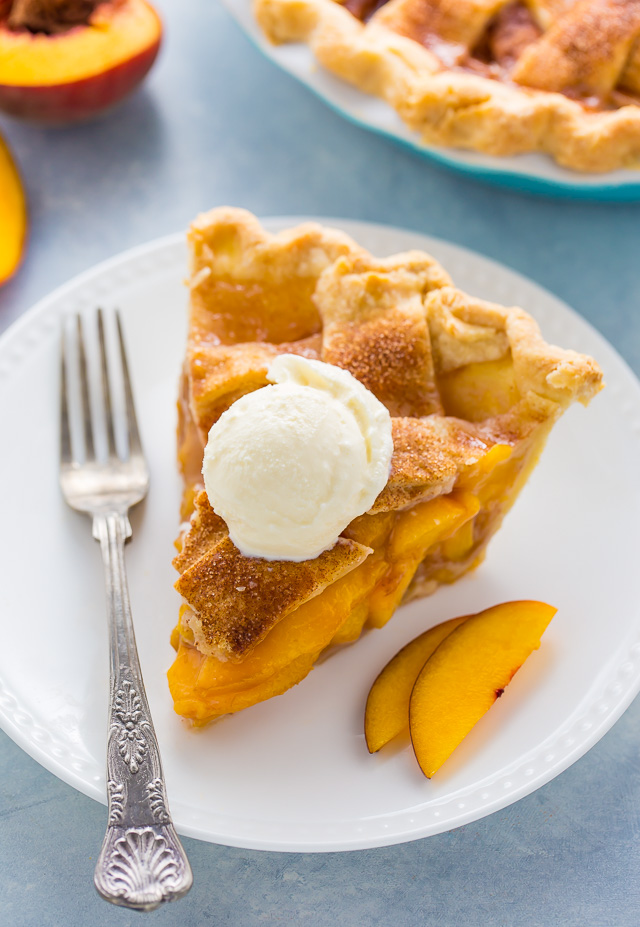 If you're a regular reader of BBN, you know I've been working my way through my Summer 2016 Baking Bucket List. This month I've checked off Lemon Cupcakes with Fresh Blueberry Buttercream, Blackberries and Cream Donuts, Brown Butter Oatmeal Crumb Apple Pie, and now, cinnamon sugar PEACH PIE! I still have 12 more recipes to go… so don't be surprised if the next two weeks are extra Summerlicious! I'm shooting an ice cream cake this afternoon (!!!) and 3 berry awesome recipes tomorrow morning.
But I digress. Let's get back to the pie!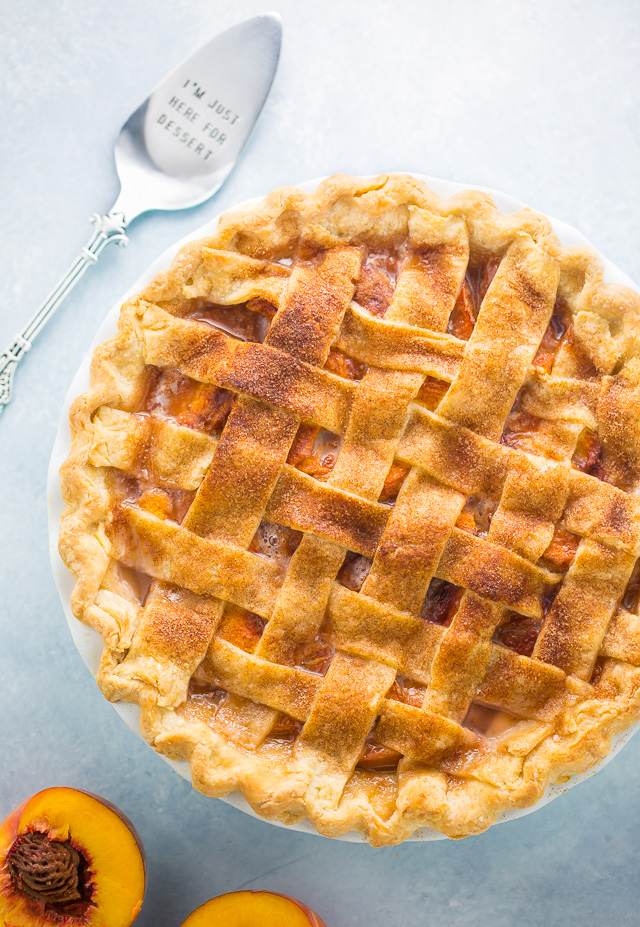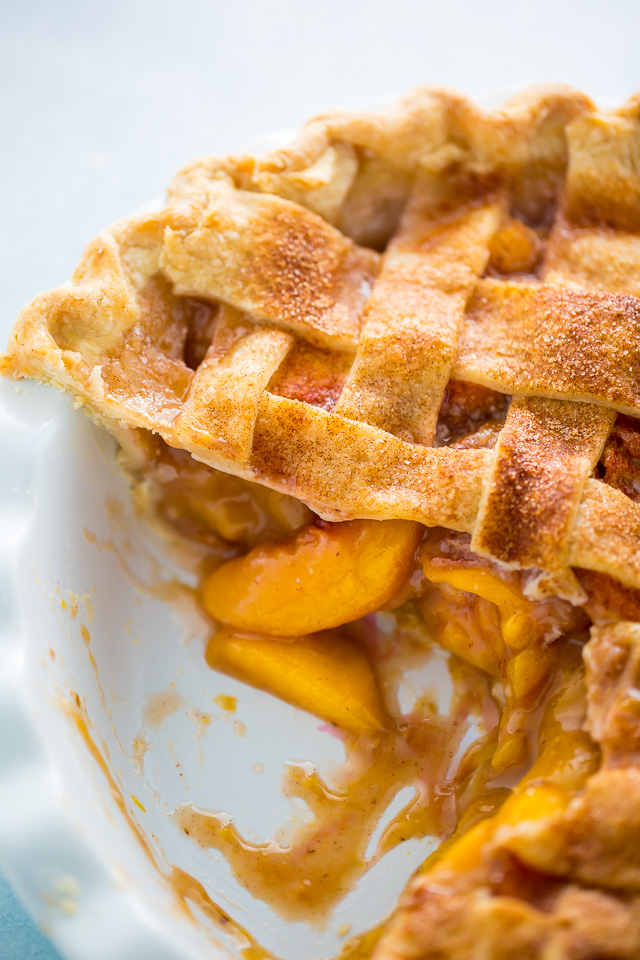 Perfecting this recipe was definitely not "easy as pie"! My first two attempts turned out so soupy I literally had to spoon the pie out of the plate and scrape the sad, soggy crust out with a spatula. Womp womp. My third try was a little better… but the flavor and texture were still off. Fourth try failed too. Finally, on my fifth try, I got it juuuust right. Hard work does pay off!
Here's what I LOVE about this cinnamon sugar peach pie: the homemade crust is flaky, buttery, and finished with a sprinkle of cinnamon sugar; the filling is loaded with juicy peaches, not too sweet, and firm enough to be sliced easily without making a HUGE mess. ← The combination of the two is simply unbeatable!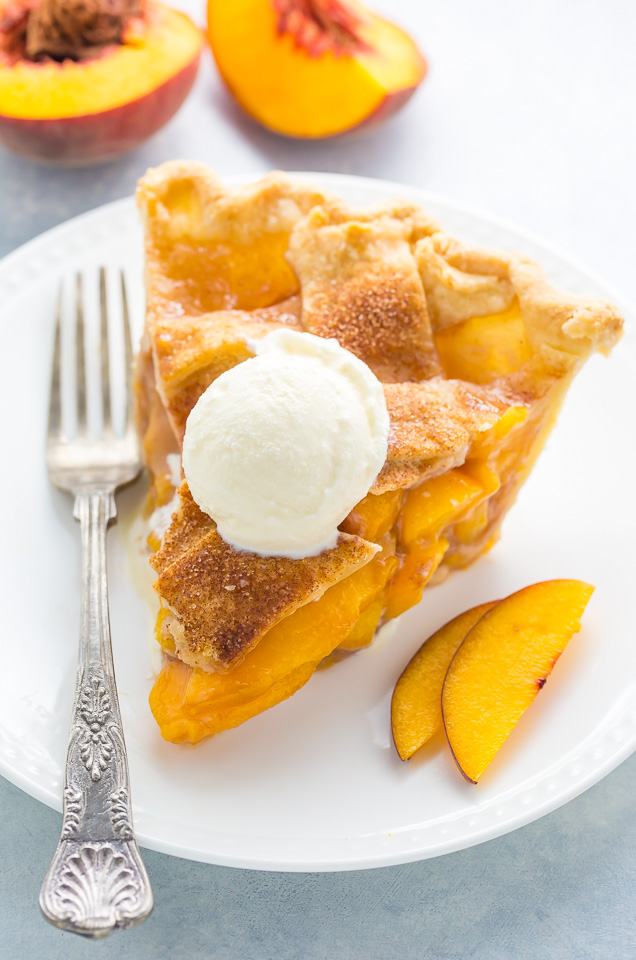 How to make Peach Pie
Tips and Tricks for Recipe Success:
Pick the right peaches! The perfect peaches for this cinnamon sugar peach pie are ripe, but not mushy, with very little to no bruising. Overly ripe or badly bruised peaches will yield a soupy filling, so avoid using them.
The easiest way to peel peaches is to blanch them. Here's exactly what you do: slice a small x on the bottom of each peach and set them aside; fill a large bowl with ice water and set it aside; bring a pot of water to a rolling boil; one at a time, carefully add the peaches to boiling water and blanch for 30 seconds; using a slotted spoon carefully remove the peaches from the hot water and immediately emerge them in the ice water for 20 seconds (this stops the cooking process); drain peaches and pat dry; use a paring knife to gently pull the skin at the x on each peach. The skin should peel right off!
Slice your peaches on the thicker side. This helps them hold their shape and create a sturdy filling.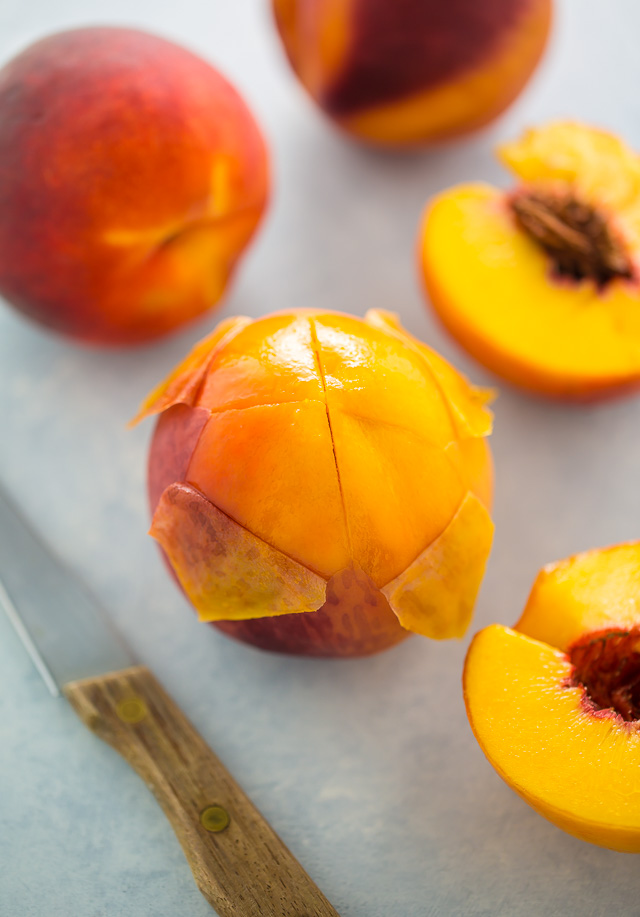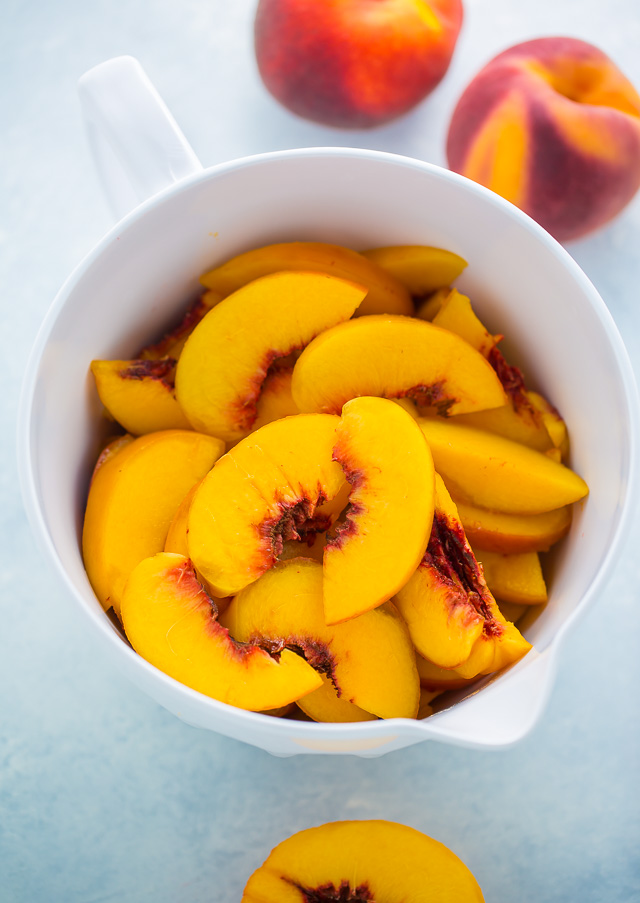 Make the filling RIGHT before you plan on adding it to the crust and baking. If you make the filling in advance, the peach juices will begin to release, which will result in a soupier pie filling.
Don't skip the orange zest! Seriously… it adds the most subtle but amazing flavor!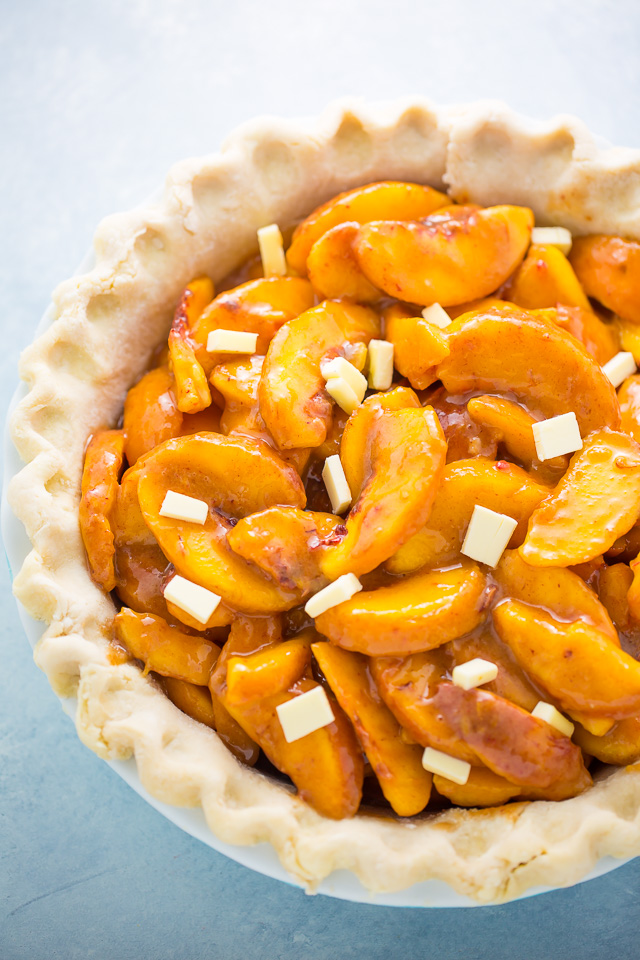 Make your pie crust ahead of time! You can do this step up to two months in advance, since pie crusts freeze great. If you'd like to make it the day of, be sure you plan in advance and have plenty of time. The crust needs to chill for at least an hour before being rolled out, and then another 30 minutes before being filled.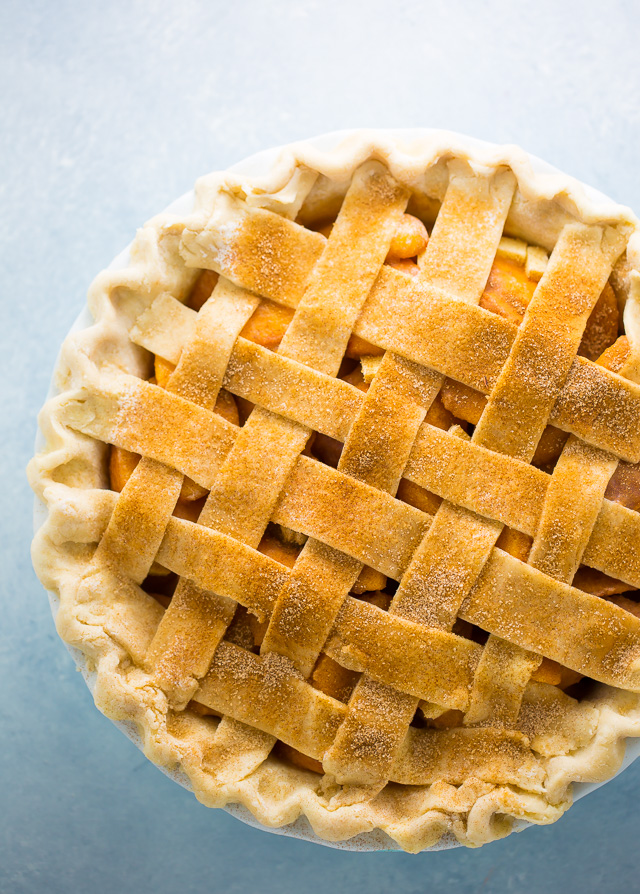 To avoid burning your beautiful cinnamon sugar pie crust, I suggest using a pie crust shield or lightly wrapping the crust with tin foil. Both work great!
Be sure to let your pie to cool for at least 6 hours IN THE FRIDGE before slicing! If you attempt to slice it still warm the filling will leak and ooze everywhere. It takes a full 8 hours for it to set and slice like you see in my photos. If you don't mind a gooey pie, you can slice it at the 6 hour mark.
If you prefer a warm slice of cinnamon sugar peach pie, you can heat your cooled slice in the microwave for a few seconds. Works like a charm!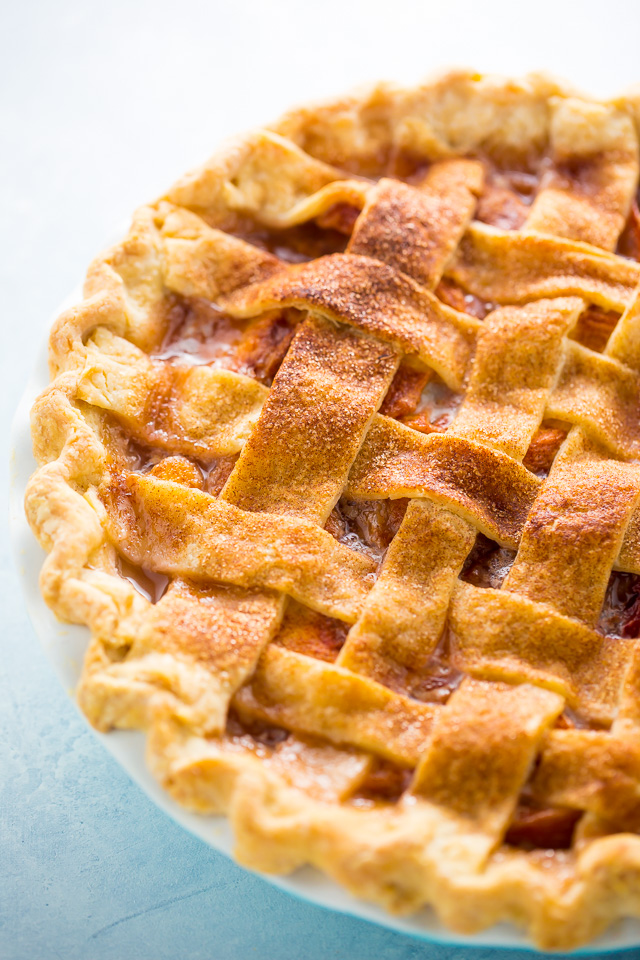 Loaded with layer upon layer of fresh, juicy peaches and topped with a cinnamon sugar sprinkled all-butter crust… this pretty peach pie is sure to win your heart this Summer!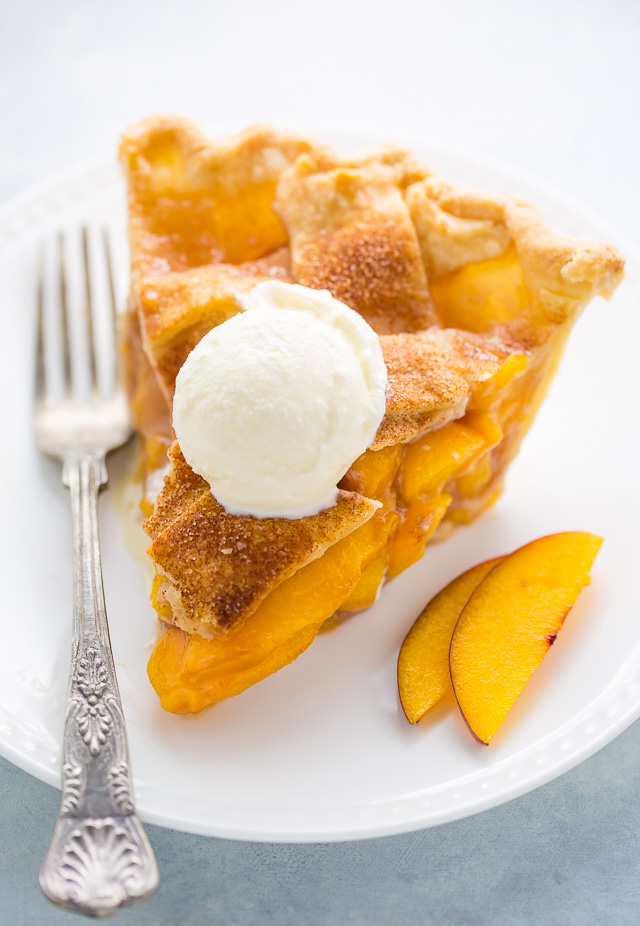 More Peach Recipes:
If you try this perfect peach pie recipe recipe, let me know what you think! Leave a comment below, and don't forget to snap a pic and tag it #bakerbynature on instagram! Seeing your creations makes my day ♥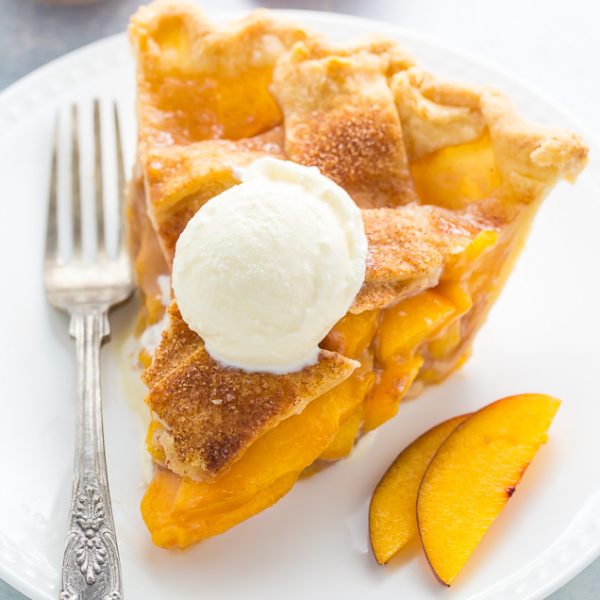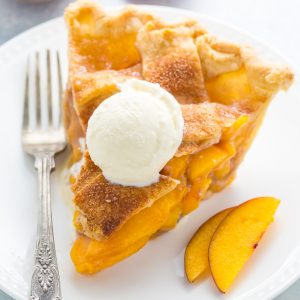 Cinnamon Sugar Peach Pie
Fresh Peach Pie with a Cinnamon Sugar Crust! This iconic Summer dessert is so good with a scoop of vanilla ice cream on top!
Ingredients
For the Cinnamon Sugar Crust:
2 and 1/2 cups all-purpose flour
2 tablespoons granulated sugar
1/2 teaspoon salt
1 cup very cold unsalted butter, cut into tiny cubes
1/2 cup ice water (you probably won't use it all)
1 tablespoon milk or cream (for brushing the pie crust)
2 teaspoons granulated sugar
1/2 teaspoon cinnamon
For the Peach Pie Filling:
7 cups fresh peaches, peeled and sliced (about 7 medium peaches)
2 teaspoons fresh squeezed orange juice
1 teaspoon finely grated orange zest
1/2 teaspoon vanilla extract
1/4 cup light brown sugar
3/4 cup granulated sugar
1/2 cup + 2 tablespoons all-purpose flour
1/2 teaspoon ground cinnamon
1/4 teaspoon ground nutmeg
1/4 teaspoon salt
1 tablespoon unsalted butter, cut into small bits
Instructions
For the Crust:
Combine flour, sugar, and salt in a food processor or blender; mix well to combine. Add butter and pulse until a coarse meal forms. Be sure not to pulse too long, the butter should be no smaller than the size of peas. Slowly add in just enough ice water to form moist clumps. Gather the dough and gently knead it into a ball; divide in half evenly (you can use a kitchen scale if you want them to be perfectly even). Form dough into 2 balls and gently flatten into disks. Wrap each disk in plastic and place in the refrigerator to chill for at least one hour.
For the Peach Pie Filling:
In a large bowl combine the peaches, orange juice, orange zest and vanilla extract; gently mix to coat the peaches in the liquid; set aside. In a separate bowl add both sugars, flour, cinnamon, nutmeg and salt; whisk well to combine. Add the dry mixture to the peach mixture and toss gently, making sure each peach slice is coated in the mixture.
Assembly:
Preheat oven to 400 degrees (F). Lightly grease a 9" pie plate with non-stick spray OR butter and a little flour; set aside. Roll out half of the chilled dough on a lightly floured work surface, rolling it to about a 12-inch round. Gently place the dough into the prepared pie dish and trim the edges so that only 1/2 an inch of pie dough is hanging around the side. Sprinkle the bottom of the pie shell with 1 teaspoon of flour and 1 teaspoon of granulated sugar (this helps soak up excess moisture). Place pie shell in the fridge while you prepare your lattice topping.

Line a large baking sheet with parchment paper and set aside. On a lightly floured work surface, roll out the second disk of chilled dough, rolling it out into a 12-inch round. Slice the dough into 8 even sized strips. The best way to do this is by using a pizza/pastry wheel, but you can also use a ruler and knife. Carefully transfer the strips onto the prepared baking sheet (making sure they don't touch) and place the pan in the fridge while you prepare the peach pie filling (instructions for peach pie filling are above).

Fill your prepared pie shell with the peach filling. Place 4 parallel strips of the pie dough on top of the filling, leaving about a 1/2 inch of space in between them. Gently fold back every other strip. Place one strip of pie dough perpendicular to the parallel strips, then unfold the folded strips over the perpendicular strip. Carefully take the parallel strips under the perpendicular strip and fold them black over the perpendicular strip. Now lay down a second perpendicular strip of dough a 1/2 inch next to the first strip; unfold the folded parallel strips over the second strip. Repeat this process until the lattice weave is complete on top of the pie. Trim the edges of the strips of pie dough, so that they're only 1/2 an inch over the sides. Fold the excess pie crust underneath the rim of the pie dish, then gently crimp the crust using two of your fingers. Loosely cover the crust with tinfoil or a pie crust shield.

Bake pie in preheat oven for for 45 minutes, then carefully remove foil or pie crust shield and bake an additional 10 minutes longer, or until the crust is golden and filling is bubbly. Cool pie on a wire rack for 30 minutes then transfer to the refrigerator to cool for at least 8 hours before slicing.
Notes
Prep and cook time listed above does not include chill time. For best results read this recipe in entirety before you begin baking.