These moist and fluffy Peaches and Cream Muffins are sure to make you weak at the knees! Loaded with fresh peach pieces, topped with buttery crumbs, and drizzled with vanilla glaze, these are perfect for breakfast, brunch, or as an afternoon snack! A great way to use up Summer peaches!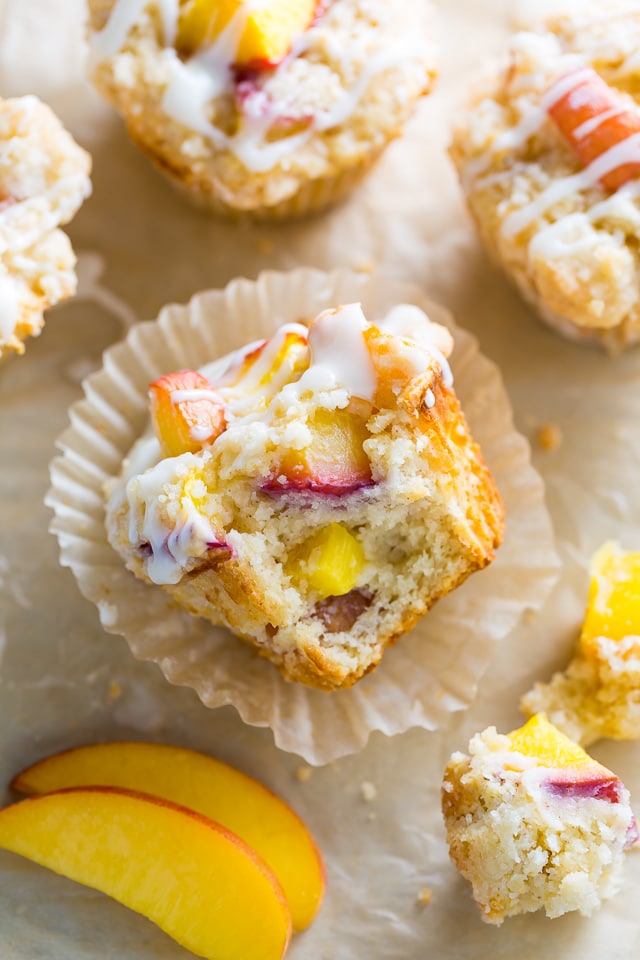 Peach Muffins
When it comes to entertaining, I try to keep an open door policy for friends and family. I love the spontaneity of friends just "popping by" for a few minutes or my mom swinging over on a weekday to surprise me with lunch. Last weekend new neighborhood friends of ours swung by in the morning and I threw together an impromptu breakfast. It was a gorgeous sunny morning – the temperature was hovering at that "just brisk enough for a light cardigan" spot – and I wanted to make something we could all enjoy on our patio. I set out a carafe of coffee for the friends and darted into the kitchen to see what I could whip up. As a food blogger, it's always fun to cook for people and NOT have a plan 😉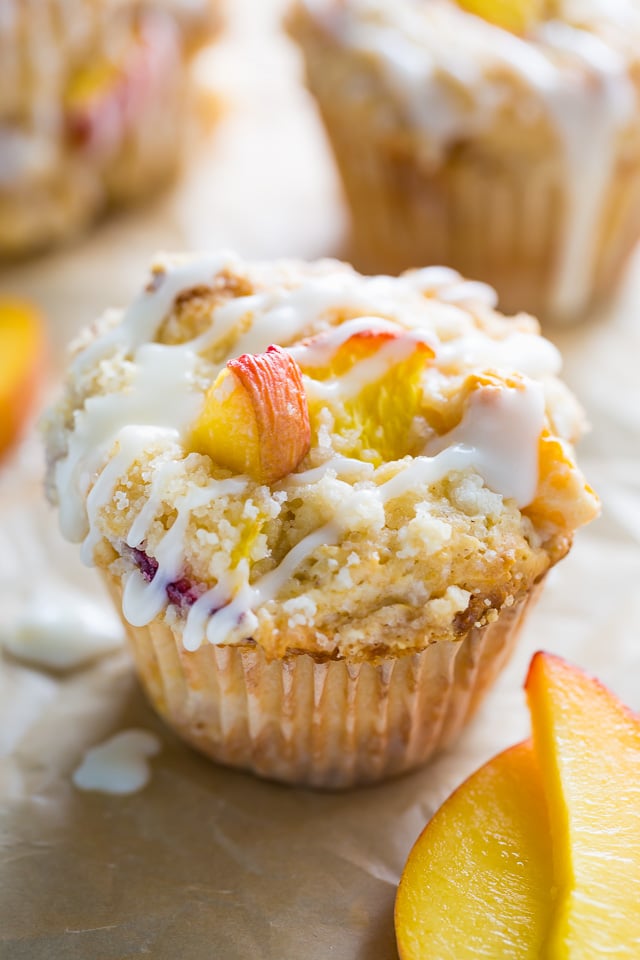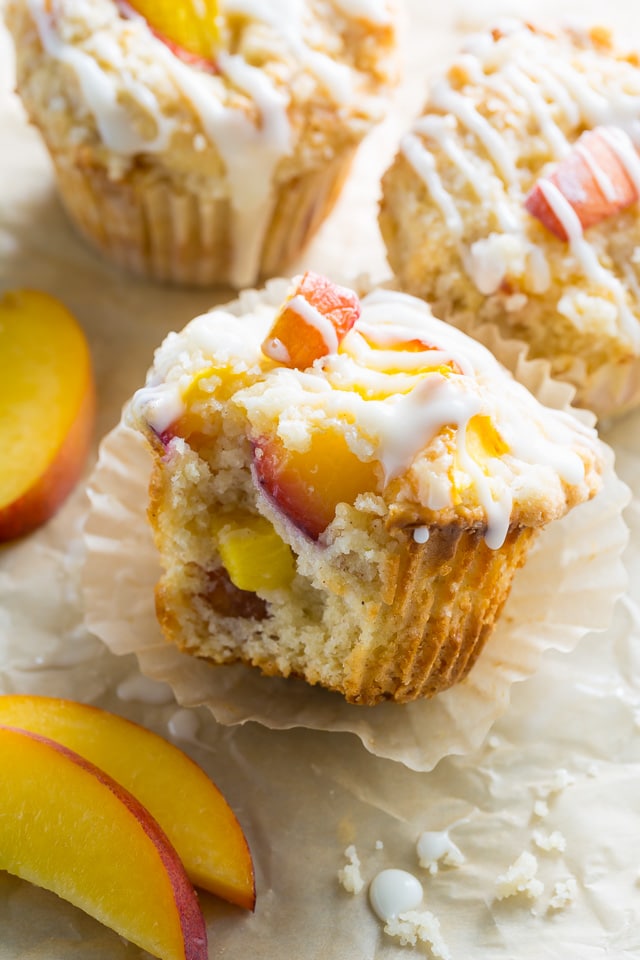 Enter these Peaches and Cream Muffins! I new I was in luck when I found 4 incredibly sweet smelling peaches sitting pretty on our countertop. The best part? Making these muffins is SO easy. I quickly tossed together the basic batter, topped it with a light buttery crumb, and 18 minutes later – it was muffin time! Once plated, I drizzled each muffin with the easiest ever cinnamon glaze and served them with great applaud to our gracious guests. <—— I am no rock star in the hosting department; these muffins are really just that simple.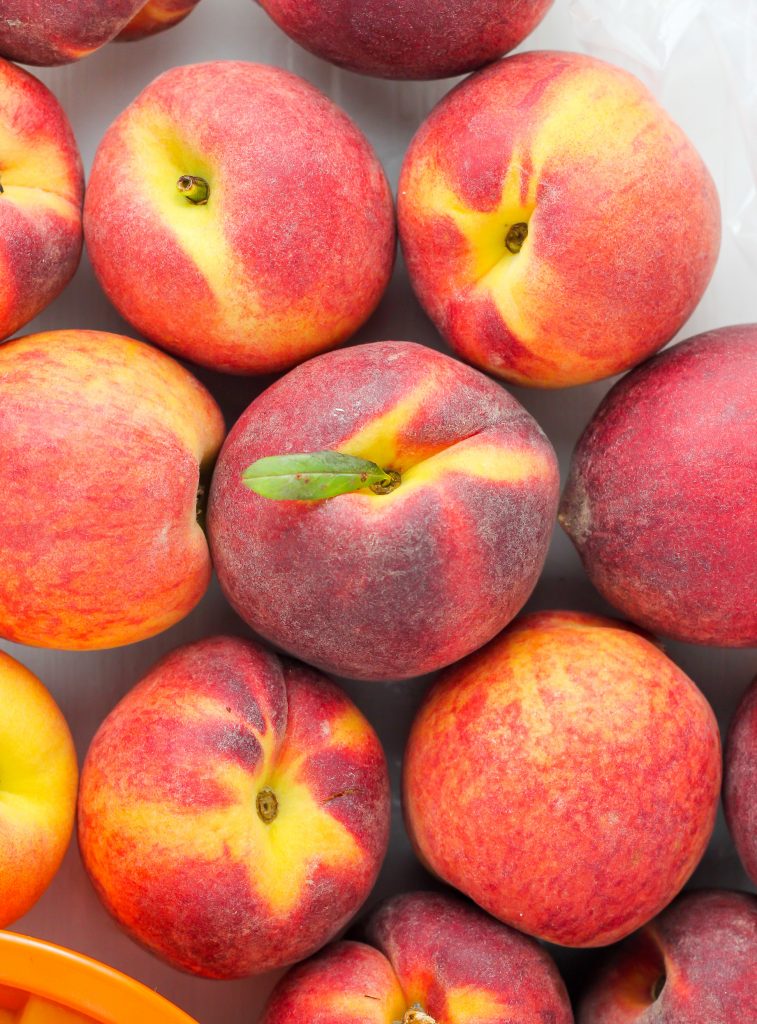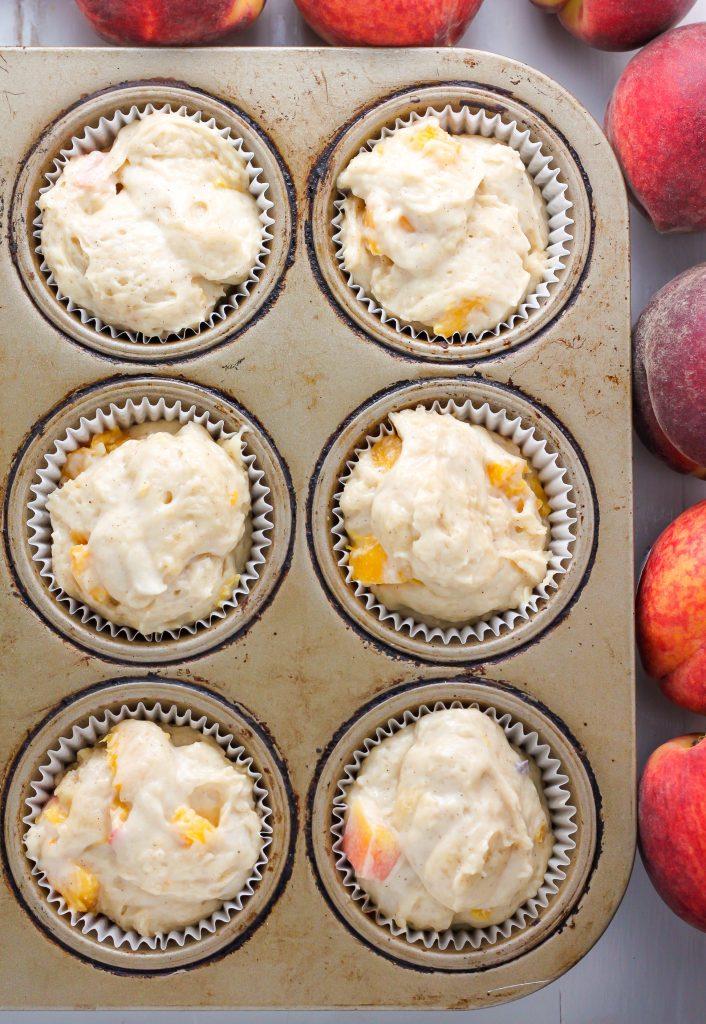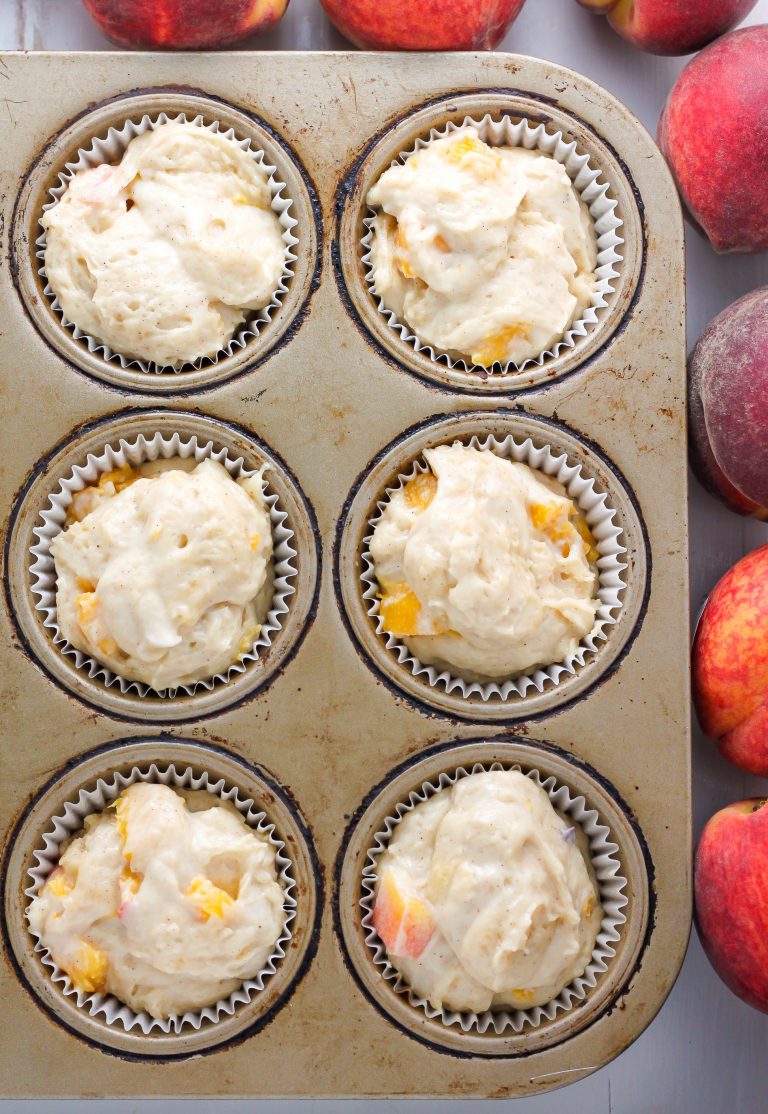 They're also fabulous without the glaze… just in case you're looking to "cut back" but still treat yourself 😉
These muffins are incredibly soft, exploding with juicy pockets of fresh peach, and completely decadent thanks to the cinnamon vanilla glaze. I like to enjoy them as an extra special breakfast or brunch, but they also make a worthy dessert option. When I made this recipe the second time (for you guys!), we froze a few and I'm happy to report they reheat quite nicely (minus the glaze).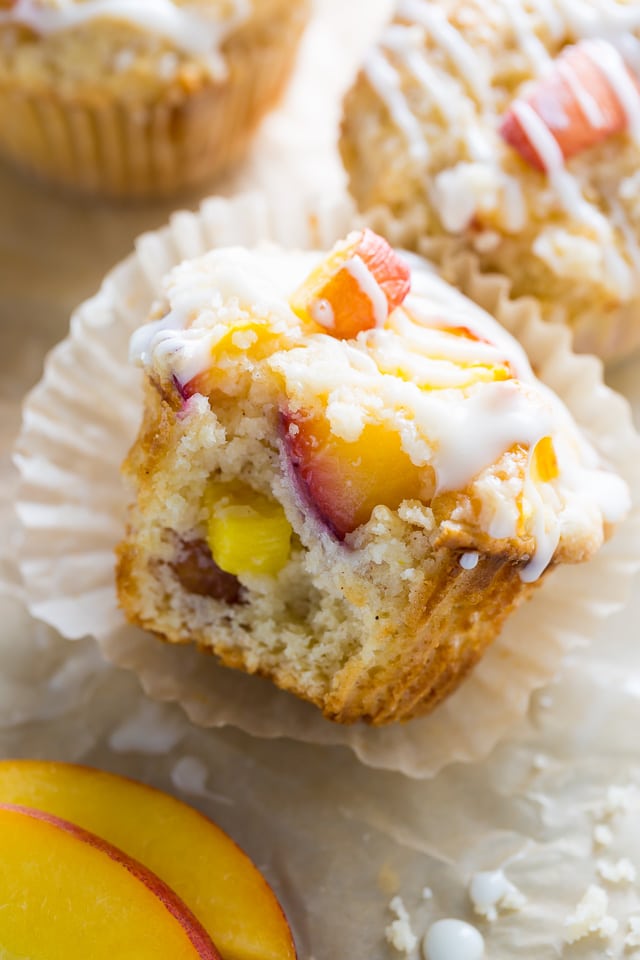 More Peach Recipes: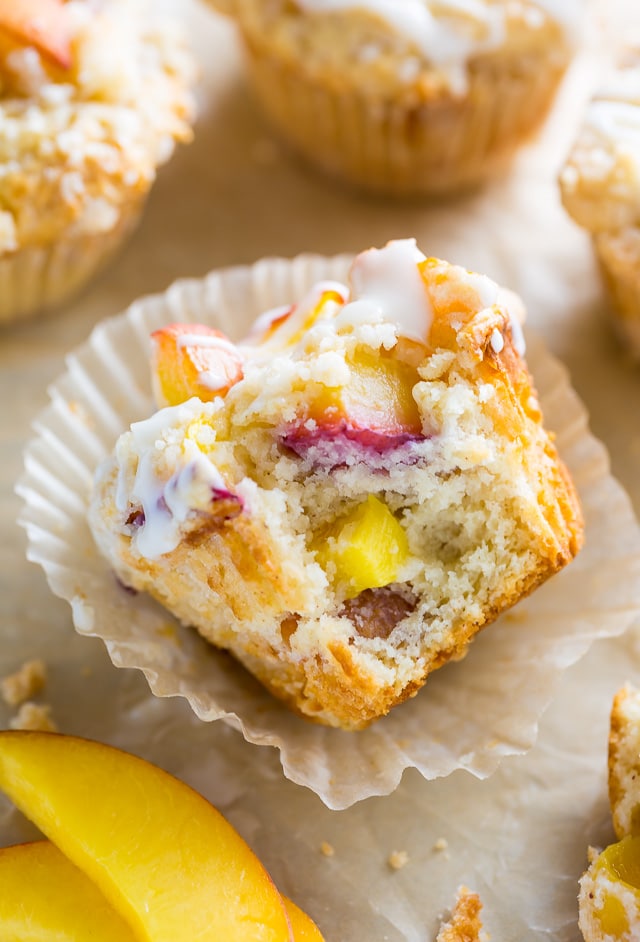 Prediction: Making these muffins will be the best 30 minutes you spend all weekend. Enjoy! xo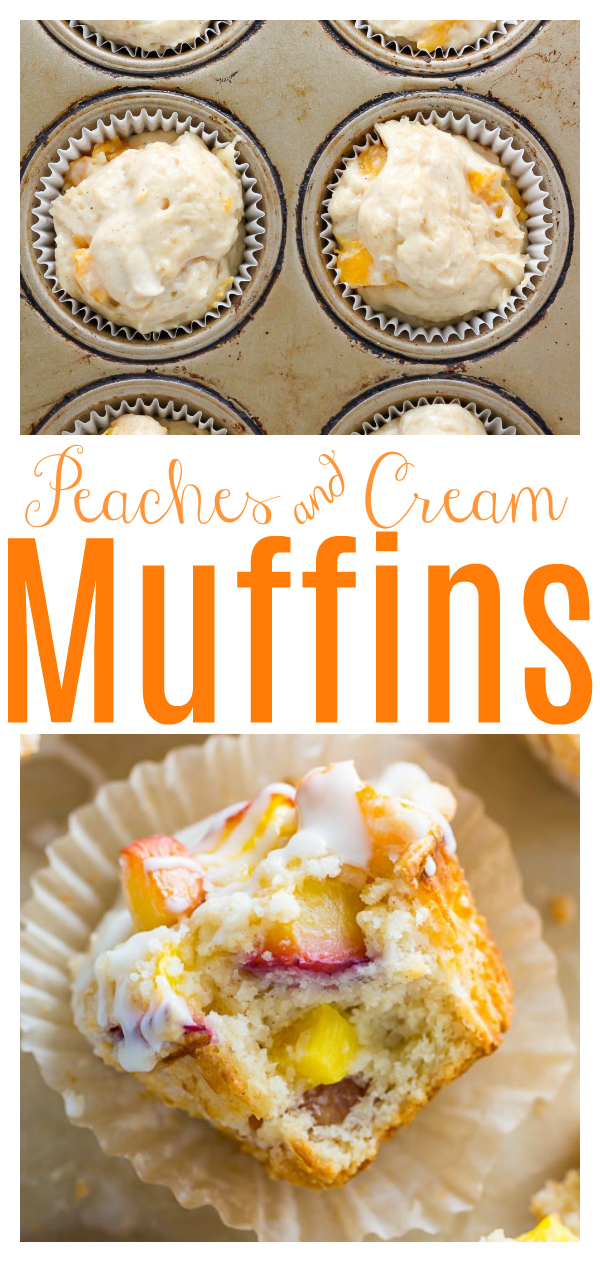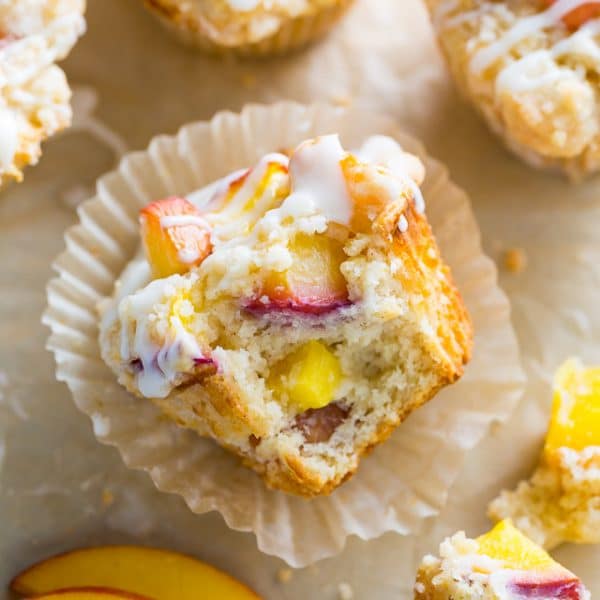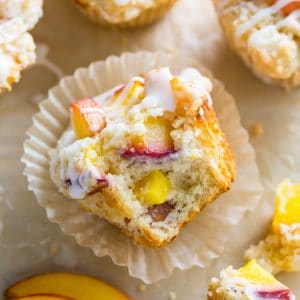 Peaches and Cream Muffins
Moist and fluffy Peaches and Cream Muffins! 
Ingredients
For the Crumb Topping:
1/4 cup granulated sugar
1/3 cup all-purpose flour (not packed)
1/4 teaspoon ground cinnamon
3 tablespoons unsalted butter, chilled and cut into tiny pieces
For the Peach Muffins:
3 cups plus 2 tablespoons all-purpose flour, divided
1 tablespoon baking powder
1/4 teaspoon ground nutmeg
1/2 teaspoon ground cinnamon
3/4 teaspoon salt
6 tablespoons unsalted butter, at room temperature
1 cup granulated sugar
1/3 cup light brown sugar, packed
2 large eggs, at room temperature
2 teaspoons pure vanilla extract
1 cup full-fat sour cream
1 and 1/2 cups fresh peach chunks (cut them into bite-sized chunks; peeled or unpeeled is fine)
For the Vanilla Glaze:
1 cup of confectioners' sugar, sifted
1/2 teaspoon vanilla extract
2 tablespoons of milk OR heavy cream, more if needed to achieve desired consistency
Instructions
For the Crumb Topping:
In a large bowl combine the granulated sugar, flour, cinnamon, and butter; using two forks or a pastry cutter, combine ingredients until the mixture is very crumbly and resembles a coarse meal. The crumbs should be pea-sized. Place mixture in the fridge or freezer until needed.
For the Peach Muffins:
Preheat your oven to 400 degrees (F). Line a 12 cup muffin tin with paper liners; set aside.

In a large bowl, sift together 3 cups of the flour, baking powder, nutmeg, cinnamon, and salt; set aside.

In a large bowl using an electric mixer, or in the bowl of a stand mixer fitted with the paddle attachment, combine the butter and both sugars and beat on medium speed until light and fluffy; about 3 minutes.

Add in the eggs and vanilla and continue beating until well combined. Reduce mixer speed to low; alternate adding the flour mixture and the sour cream, beginning and ending with flour. Be sure not to over mix here.

Turn mixer off and set batter aside for a moment. Place peach chunks and remaining flour into a bowl; toss to completely coat the peaches in the flour. Add the peaches and any excess flour into the batter; use a spatula to gently fold the peach chunks into the batter until incorporated.

Divide the batter evenly among prepared muffin tins, then top with crumb topping.

Bake for 20 to 22 minutes, or until the tops are lightly golden brown and a toothpick inserted in the middle comes out clean, or with a just a few moist crumbs attached.

Cool muffins 10 minutes in the pan before transferring to a cooling rack.
For the Vanilla Glaze:
In a small bowl combine the confectioners' sugar, vanilla, and cream; whisk until smooth, adding more cream as needed to reach desired consistency.

Drizzle over the muffins right before serving.