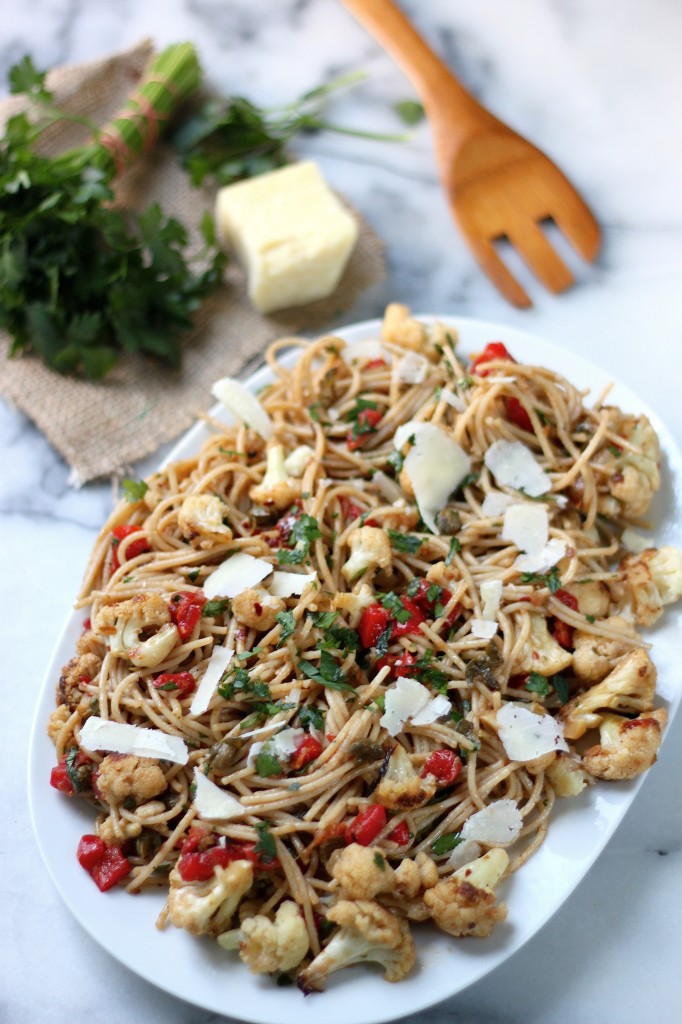 Although Spring has definitely started to flirt with us here on the East Coast, the produce at my local market is still very much overrun with a bounty of heavy Winter fare. Every week I've been hoping to see a peek of pink or green or day I say RED (I miss fresh jersey tomatoes like crazy!), but alas, it is still mainly just brown (so many potatoes!), with pops of green and white. But you know what? I'll take it. Cauliflower and broccoli… game on!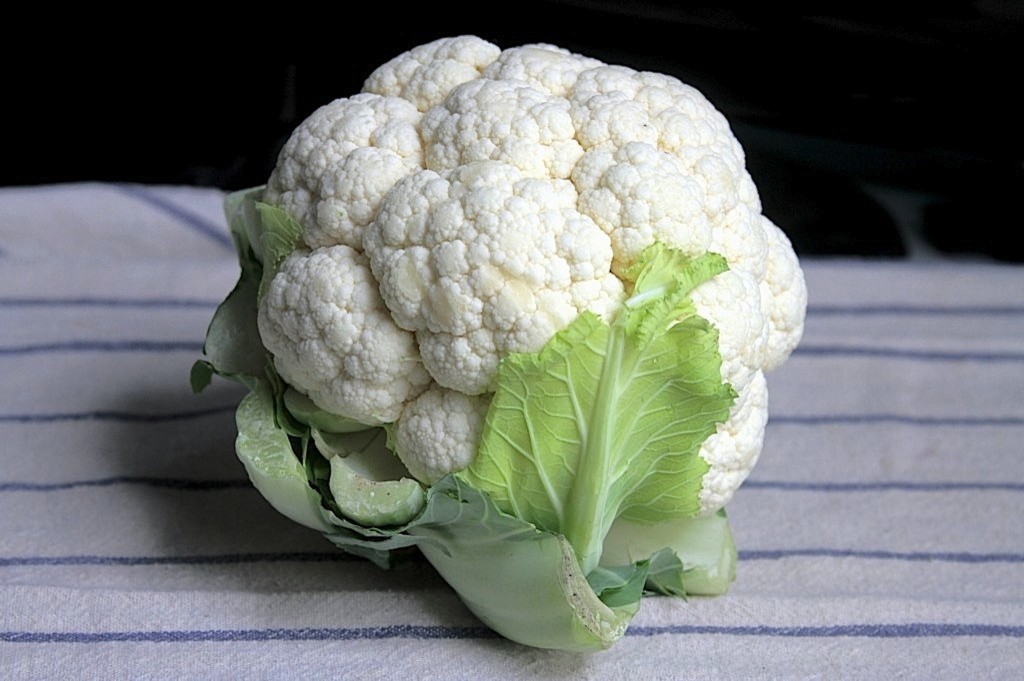 Today we focus on the cauliflower. I really wanted to use it in a light, vibrant pasta that would sing Spring, while staying true to it's hearty roots. This roasted cauliflower pasta did the job! And well.
I roasted the cauliflower in a simple bath of olive oil, salt, and pepper. No need to over do  it there!
I made a simple garlicky sauce to coat the spaghetti in. It's pretty basic, but gets perked up with fresh parsley, capers, anchovies, and roasted red pepper. There's also a big pinch of crushed red pepper in the mix for a little heat. And it's topped off with shaved parmesan, of course. Pasta and parmesan forever!
This is a great weeknight meal, but ya know what? We also love it for dinner parties! It makes enough for 4, but it easily doubles and goes GREAT with a few bottles of white wine 😉
Roasted Cauliflower Pasta with Anchovy Garlic Sauce
Ingredients
For the Roasted Cauliflower:
6 cups (about) cauliflower florets, from 1 medium cauliflower
1/4 cup extra-virgin olive oil
1 teaspoon salt
1/2 teaspoon black pepper
For the Pasta:
8 ounces dried spaghetti, cooked al dente
Salt, for the water
For the Anchovy Garlic Sauce:
1/4 cup olive oil
6 cloves garlic, minced
1 (2-oz.) tin oil-packed anchovies
1/2 teaspoon (or more if you like it hot) crushed red chile flakes
1 roasted red pepper, diced
2 tablespoons capers, rinsed
2 tbsp. butter, cubed
3 tbsp parsley, finely chopped
Salt and freshly ground black pepper, to taste
Freshly shaved parmesan, for garnish
1/4 cup reserved pasta water
Instructions
For the Roasted Cauliflower:
Preheat the oven to 500 degrees (F).

Place the cauliflower florets in a large, heavy roasting pan/ baking sheet. Drizzle the olive oil over the cauliflower, and season with salt and pepper.

Place the pan in the oven and roast for 16 minutes, stirring occasionally for even roasting.

Carefully remove the pan from the oven and set aside until needed.
For the Pasta:
Bring a large pot of very salted water to boil. Add pasta and cook for 7-8 minutes, or until al dente. Reserve 1/2 cup of the salty pasta water before draining noodles.
For the sauce:
Heat oil in a large skillet over medium-heat. Add garlic and cook - stirring occasionally - until fragrant and lightly golden; 2–3 minutes. Add anchovies and using a wooden spoon break them up in the oil until there are no large chunks and it resembles a paste. Add chile flakes and cook for 4 - 5 minutes before adding the red peppers and capers. Cook for an additional 2 minutes, then reduce heat to medium-lol and stir in butter, mixing until butter has completely melted.

Add reserved pasta water, spaghetti, parsley, and roasted cauliflower to the skillet; season with salt and pepper; and toss to coat. Divide among serving bowls and garnish with parmesan.