The Best Homemade Lasagna Recipe is cheesy, meaty, saucy! Sprinkle with parsley for a pop of freshness! This recipe can be made ahead of time and stored in the refrigerator for 24 hours before baking. A hearty recipe that's perfect for feeding large groups!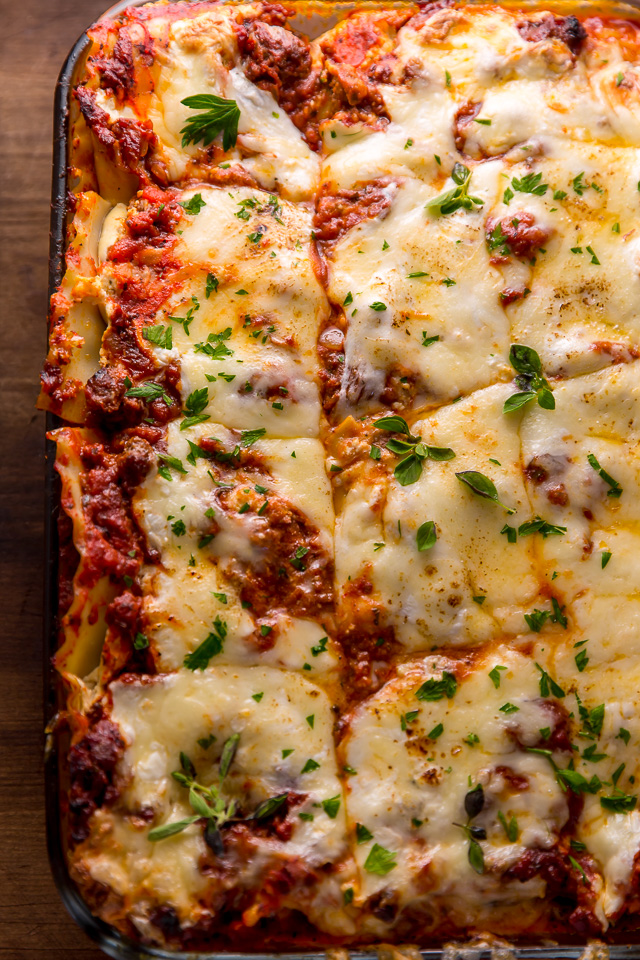 Classic Lasagna Recipe
Today we're talking about everyones favorite comfort food  recipe: lasagna! And while I won't say this is an easy lasagna recipe, it is 100% the best lasagna recipe! Jump to the recipe and read the reviews if you don't believe me *wink.
Truth be told, I don't make lasagna very often. It's a labor of love! But when I do, it's THIS lasagna! It's a meaty, cheesy, and totally indulgent special occasion dinner that'll serve a crowd! I make one every Christmas and it basically flies out of the baking dish!
Especially when I serve it with a side of my famous easy baked meatballs and garlic knots. Add some wine and a big Italian chopped salad, and you've got yourself the perfect Italian dinner!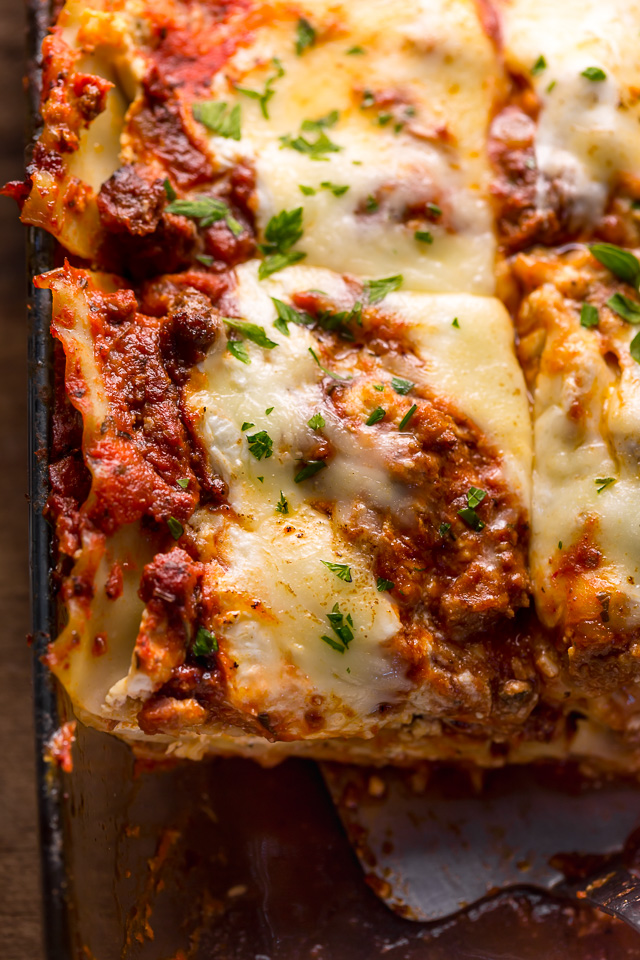 Last Sunday, I decided it was high time I shared this epic lasagna recipe with you! So I opened a bottle of wine, cranked on the Sinatra, and spent the entire day in the kitchen. Sipping, stirring, and shooting a ton of photos (apologies in advance… this post is picture heavy lol). It was not a bad way to spend a rainy day!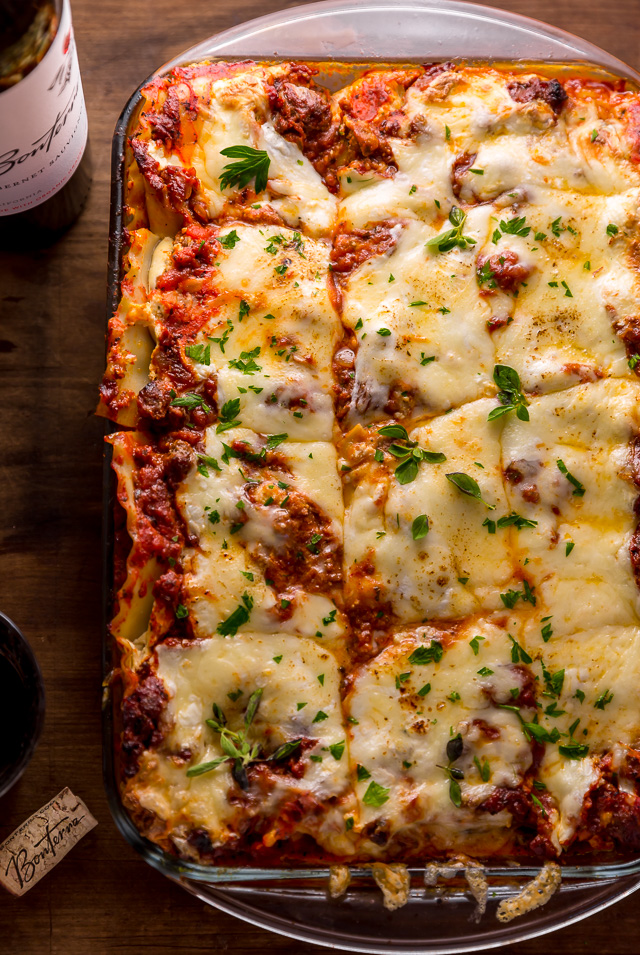 The Hearty Meat Sauce
You'll want to start by making the meat sauce, because that takes the most time. The meat sauce is also what makes this recipe so magical! It consists of ground beef, spicy Italian sausage, and pancetta! So there's plenty of protein and flavor in there. There's also onion and garlic, olive oil, tons of tomato sauce, and fresh herbs. No fennel seeds because my sausage already has them, but if you want, add a half teaspoon or so.
Oh, and of course there's a hearty splash of vino in there, too! Red wine opens up the sauce and compliments the meat flavors. It's basically the most delicious marinara sauce loaded with meat. Caution: season with care! I suggest starting with a teaspoon of salt and adding ore as needed. The pancetta and sausage can add a lot of sodium, and you can always add another teaspoon salt as needed.
I know this is not at all lady like to say… but I literally am drooling just looking at that large skillet of saucy goodness below. Are you with me?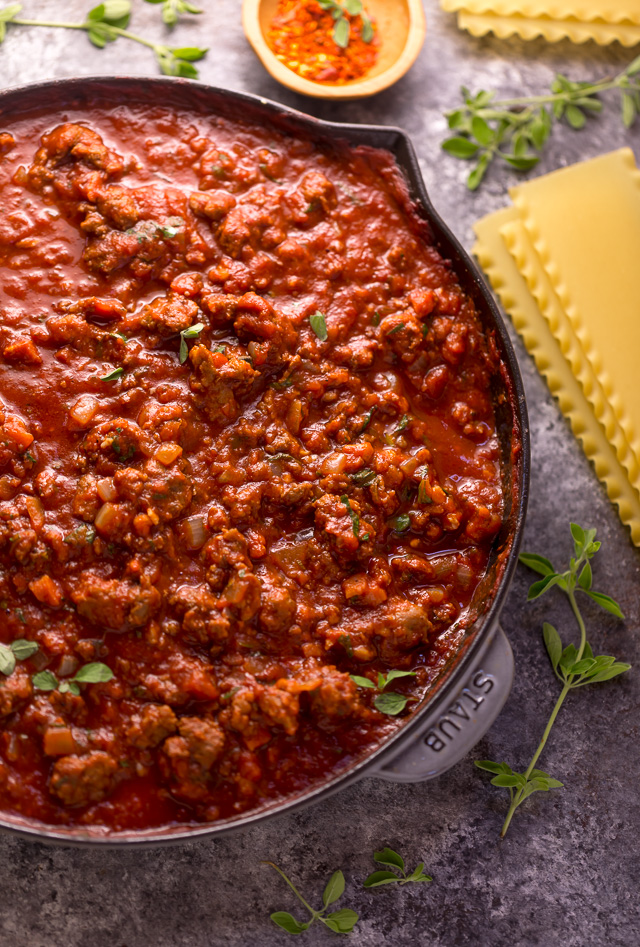 Do I need to Boil the Lasagna Noodles?
Yes, but only for a few minutes! You're not looking to cook the lasagna noodles as much as you're looking to soften them, and remove some of the starch. You can cook the noodles the old-fashioned way, by bringing a very large pot of water to a boil, and then adding the noodles for 4 minutes. They'll still be very hard and pretty much hold their shape at this point. That's a good thing! Because they'll continue to cook in the oven. So be sure not to overcook.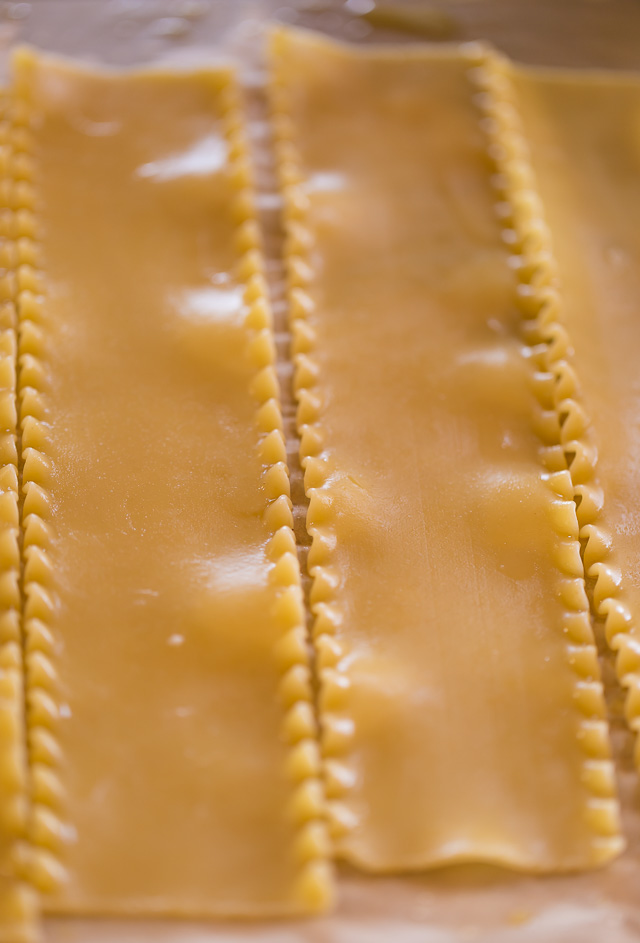 How to Prevent Noodles from Sticking
To prevent your precious noodles from sticking together, you're going to want to place a long piece of parchment paper across your countertop. Drizzle some olive oil on top of the parchment paper, and use a pantry brush (or your hands) to coat the entire piece of paper with the oil. Place the drained noodles on the paper, side by side, not letting them touch.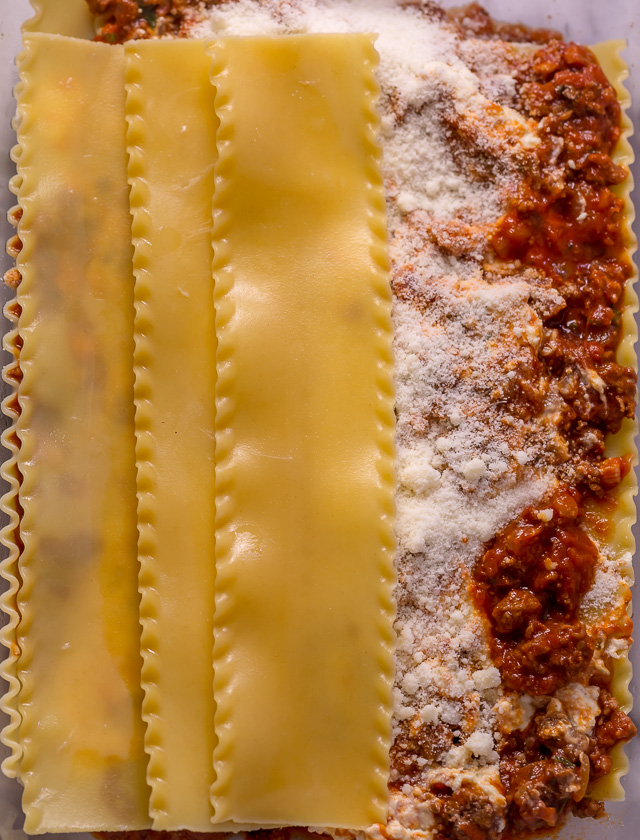 How to Make Lasagna
Make your Meat Sauce. Cook it for at least 45 minutes for the best flavor!!! But you can simmer it for up to 4 hours if you want! Just depends on how much time you have. You can even make it the day before if you're looking to break this recipe up over a few days. This recipe yields about 5 cups of meat sauce, so make sure you use a large saucepan!
Make the ricotta cheese mixture. My secret ingredients here are fontina cheese… and a pinch of nutmeg! Trust me… you don't want to skip it these! An Italian grandma taught me this once and I've been doing it ever since! If you cannot find ricotta cheese, cottage cheese is an acceptable substitute for the ricotta mixture.
Cook the lasagna noodles. Remember, don't over cook! They should only spend 4 to 5 minutes in the hot water before being removed. You want them EXTRA al dente, since they'll continue to cook in the oven.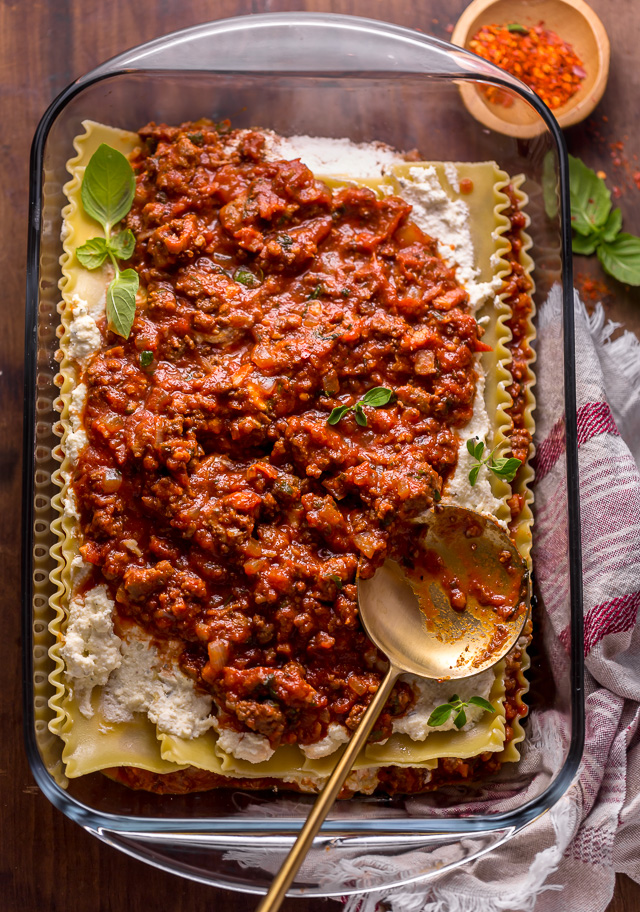 What is the Correct Order to Layer Lasagna?
The first thing I'll say here is PLEASE don't let layering stress you out! If you skip a step of miss a layer, it's not the end of the world. That being said, here's how I suggest layering your lasagna recipe: 
Start with a good scoop of meat sauce on the bottom of 9×13 bakingpan. Then layer 5 noodles on top, then add cheese and more sauce. Then repeat two more times. Basically pasta noodles, sauce, cheese, and repeat lol. Don't get yourself worked up on these layers being too perfect! It'll all melt together once in the oven!
And Bake. You'll want to cover your assembled lasagna with foil, and then pop it your oven, which should be preheated to 375 degrees. Bake with foil for the first 30 minutes, and then remove it towards the end so the mozzarella cheese can melt and slightly brown.
How to Avoid Soupy Sloppy Lasagna?
Three words: Let it rest! As tempting as it is to dig right in, if you cut into your lasagna as soon as it comes out of the oven, it'll be very messy! But if you let it cool for about 15 minutes, it'll firm up and cut into clean pieces!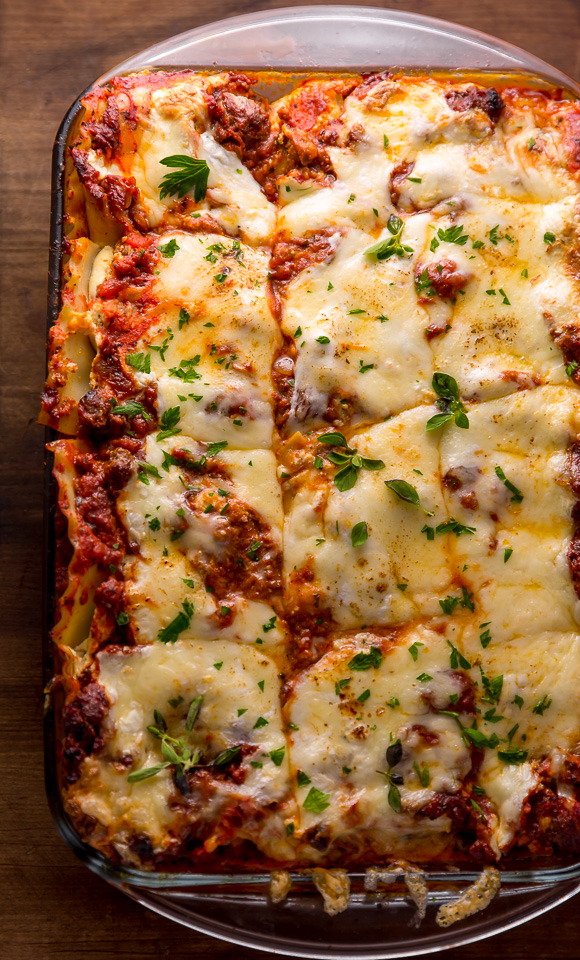 Can I make Lasagna Ahead of Time?
You can and you SHOULD! Not only does making lasagna ahead of time make life so much easier, it actually enhances the taste of the lasagna, too. Because they flavors have time to meld together and soak into the noodles. Feel free to assemble and store in the fridge for up to 24 hours before baking.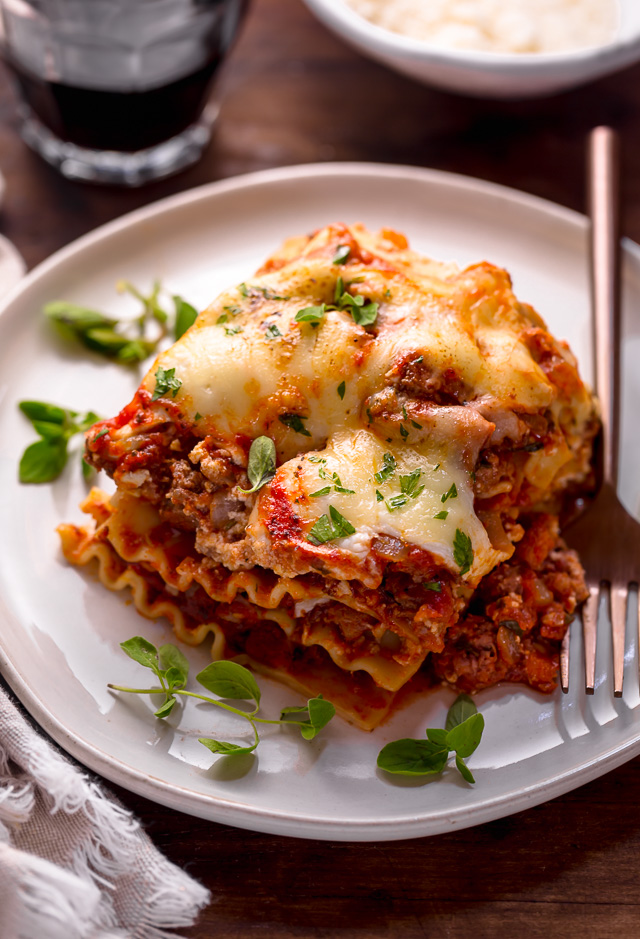 How to Freeze and Thaw Lasagna?
One of the most common questions asked is can you freeze lasagna! And the answer is: Yes!!!  And you have options: you can freeze it before OR after baking. Just follow my instructions below for freezing.
If you're freezing an unbaked lasagna: you'll simply wrap the baking dish with assembled with several layers of plastic wrap AND then several layers of heavy duty foil. When prepared like this, it will keep, stored in the freezer, for up to two months. Since it's not ideal to loose a baking dish for a few months, you may want to use a disposable 9×13 foil pan in this case!
How to Bake Frozen Lasagna: It's so easy! Simply unwrap the lasagna completely and cover with a slice of foil. Bake at 325 degrees for 45 minutes, then remove the foil and finish baking at 375 degrees for the last 30 minutes.
If you're freezing a Baked Lasagna: You'll need to allow the casserole to completely first! Then wrap the baking dish with with serval layers of plastic wrap and then several layers of heavy duty aluminum foil. Again, this will keep, stored in the freezer, for two month.
How to Reheat a Baked Lasagna: Simply unwrap the lasagna completely, then cover with a slice of foil and bake at 350 degrees for about 40 minutes, or until sufficiently warm.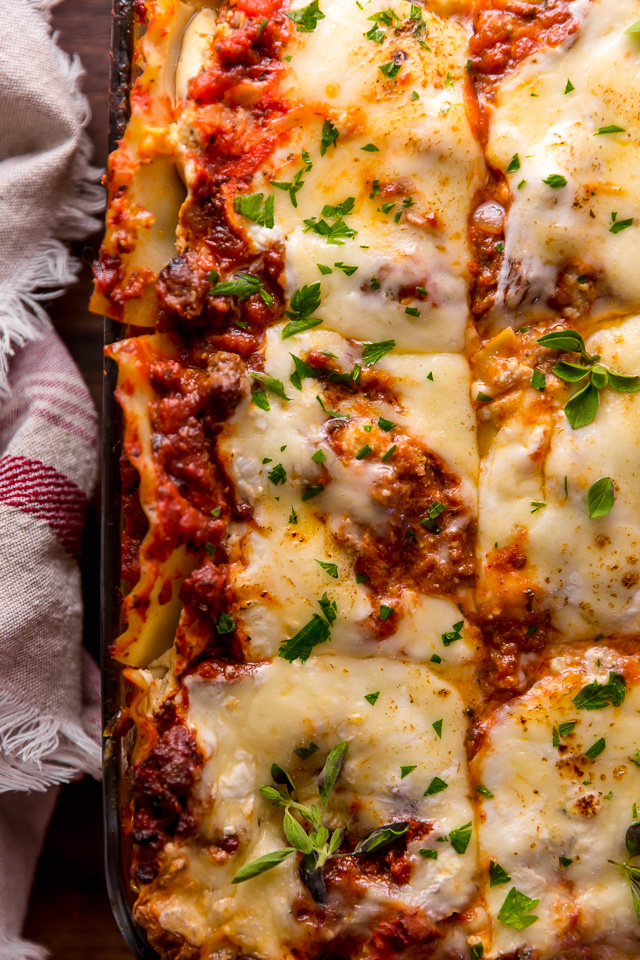 What to Serve with Lasagna?
So many side-dishes go well with lasagna, but here are a few of our favorites:
And if you're looking for something like this recipe, but a little lightened up, go check out my lightened up chicken parmesan lasagna! Not as indulgent as this classic recipe, but still super delicious… with less calories and carbohydrates.
More Baked Pasta Recipes: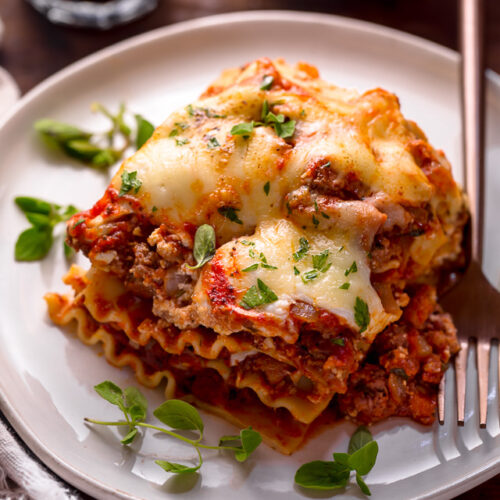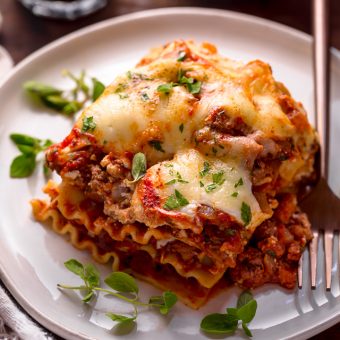 The Best Homemade Lasagna Recipe
The Best Homemade Lasagna Recipe is cheesy, meaty, saucy, and SO delicious!!! And while this recipe requires a bit of work, it can be made ahead of time and stored in the fridge for up to 24 hours before baking. A hearty recipe that's perfect for feeding large groups!
Ingredients
For the Meat Sauce:
2 tablespoons extra-virgin olive oil
5 ounces pancetta, diced into small bits
1 pound hot Italian sausage
1 pound ground beef
6 cloves garlic, crushed and chopped
1 cup onion, chopped
3 Tablespoons tomato paste
1 cup dry red wine (use something you'd enjoy drinking)
1/2 cup beef stock
2 (28 ounce) cans crushed tomatoes
2 teaspoons sugar
1/2 cup fresh basil, chopped
3 Tablespoons fresh parsley, chopped
2 Tablespoons fresh oregano, chopped
Salt and pepper, to taste
For the Ricotta Layer:
16 ounces ricotta cheese
5 ounces fontina cheese, grated
1 large egg plus 1 egg yolk
1/4 teaspoon ground nutmeg
For the Lasagna:
15 lasagna noodles
8 ounces mozzarella cheese, shredded
1/2 cup parmesan cheese, finely grated
Instructions
For the Meat Sauce:
Place a large saucepan or pot over medium high heat. Add oil and pancetta cook for 2 to 3 minutes, or until browned. Add in the sausage and beef and use a wooden spoon to break the meat up into pieces. Continue cooking until meat is browned and no pink remains, about 5 minutes. 

Add garlic and cook for 1 minute, or until fragrant. Add in the onion and continue cooking, stirring occasionally, for 6 to 8 minutes, or until onion has softened and is almost translucent. Stir in the tomato paste. 

Add in the wine and stir to combine. Cook for 5 minutes. Then stir in the stock and crushed tomatoes, stirring well to combine. Bring sauce to a boil, then reduce to medium low and continue cooking for at least 40 minutes. 

Stir in the sugar, basil, parsley, and oregano. Cook for another 5 minutes. Taste and add salt and pepper as needed. 

Remove from heat allow to slightly cool before using it in the lasagna. 
For the Ricotta Layer:
In a large bowl combine the ricotta, fontina, egg, egg yolk, and nutmeg, mixing until well combined. Set aside until needed. 
For the Lasagna:
Place a long sheet of parchment paper (about 16") on you countertop. Lightly brush with olive oil. 

Bring a large pot of water to a rolling boil. Add a pinch of salt, then add in the lasagna noodles. Cook for 4 minutes, then use tongs to remove the noodles, placing them side by side on the prepared parchment paper. 

Shred mozzarella cheese and set aside until needed. Grate the parmesan cheese and set aside until needed. 
Assembly:
Preheat oven to 375 degrees (F). Lightly grease a 9x13-inch casserole dish. 

Pour 1 cup of meat sauce on the bottom of the casserole dish. Then layer 5 noodles on top of the sauce. Top with 3/4 cup of the ricotta filling, 1 and 1/2 cups of the sauce, and 1/4 cup of the parmesan cheese. Repeat 2 more times. 

On the top layer, add the remaining sauce and mozzarella cheese. 

Cover with aluminum foil and bake for 30 minutes. Remove foil and continue baking to 15 to 20 minutes, or until cheese is melted and bubbling. 

Remove from oven and let the lasagna rest for at least 15 minutes before slicing.